SF Giants: 10 Players Who Could Be All-Stars Next Season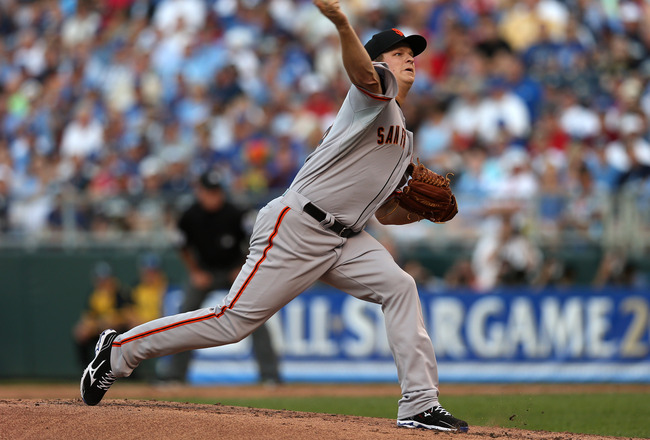 Jonathan Daniel/Getty Images
The San Francisco Giants dominated the 2012 MLB All-Star game.
Even taking juicer Melky Cabrera out of the mix, Buster Posey, Pablo Sandoval and Matt Cain were all key contributors to the National League's victory over the American League. It's a good thing, too—by performing well in the All-Star game, the Giants solidified themselves home-field advantage in the World Series.
With Bruce Bochy given managerial rights for the National League in 2013, the Giants are primed to be heavily represented next season. Add to that the hoards of Giants fans who come out to vote, and the National League is sure to include a lot of orange and black on their roster.
While I believe every Giant is an all star, these are the 10 most likely to either be given the nod or at least some strong consideration.
Matt Cain, Pitcher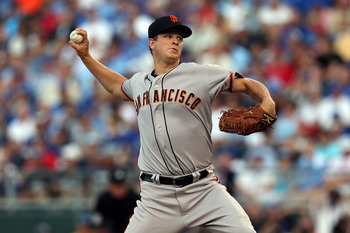 Jonathan Daniel/Getty Images
2012 statistics:
16-5, 2.79 ERA, 1.04 WHIP, 1 perfect game
Matt Cain: the staff ace on a staff full of aces. Not only do I predict he will make the squad, but that he will be picked to start the game, just as he did in 2012.
Although Cain's performance dropped slightly the second half of the season, he remained consistent and never ceased to be a presence on the mound.
Cain will have stiff competition in 2013 with the arrival of Zack Greinke to the National League. However, with Cain's track record and the fact that his own skipper, Bruce Bochy, will be making the call, Cain should be a preseason favorite to represent the National League as their starting pitcher.
Buster Posey, Catcher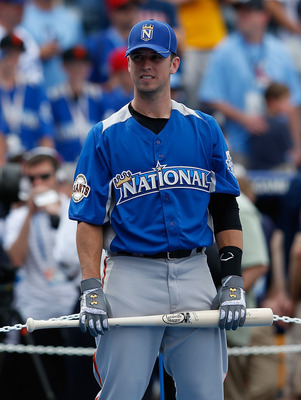 Jamie Squire/Getty Images
2012 statistics:
.336 batting average, 39 doubles, 24 HRs, 103 RBI, 1 MVP award
Catcher Buster Posey has enjoyed one of the most successful beginnings to a career in major league history: two World Series championships and a recipient of the Rookie of the Year award in 2010 and NL MVP award in 2012. Posey has emerged as a team leader, known for his poise and maturity as a player.
Unlike Cain, Posey came alive in the second half of the season. His average climbed from .289 to .336, enough to earn the young catcher the NL batting title.
Not to mention the competition at catcher stops with Yadier Molina. The Phillies' Carlos Ruiz posted an excellent 2012 season, but in terms of year-to-year consistency, Molina and Posey are the leading catchers currently playing in the NL.
As long as Posey stays healthy and keeps up the pace, he is a near lock for the 2013 NL All-Star team.
Pablo Sandoval, Third Base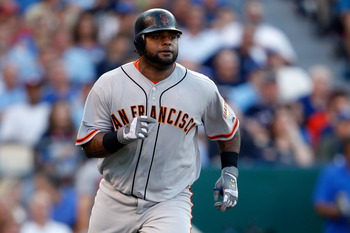 Jamie Squire/Getty Images
2012 statistics:
.283 batting average, 25 doubles, 12 HRs in only 108 games played, 3 HRs in 1 game against pitcher Justin Verlander
Third baseman Pablo Sandoval suffered injuries in 2012 that prevented his performance from reaching its potential. However, the young Sandoval showed moments of complete brilliance, including a bases-clearing triple in the All-Star Game.
Sandoval also has major ownage of star pitcher Justin Verlander, not only tripling off of the flamethrower but also tagging the ace for two of his three home runs in his first two at-bats in Game 1 of the World Series.
Sandoval, a notorious free-swinger, demonstrated more patience at the plate, walking 38 times. Still, Sandoval can hit pretty much any ball thrown anywhere, and swings at pretty much any ball thrown anywhere.
Fellow third basemen David Wright of the Mets, Ryan Zimmerman of the Nationals, Chase Headley of the Padres and David Freese of the Cardinals are others sure to be in the running. Freese and Zimmerman play for teams deep in talent, but Headley and Wright may need to represent the Padres and Mets out of necessity.
But Sandoval is poised for a breakout season in 2013 and is a fan favorite in San Francisco. The Kung Fu Panda is rivaled only by Buster Posey in terms of vote-getting potential.
Hunter Pence, Right Field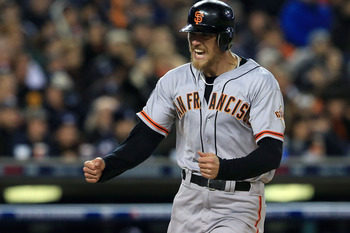 Doug Pensinger/Getty Images
I am choosing the refrain from posting Hunter Pence's 2012 statistics. The right fielder had a down year last season, but is normally an all-star caliber outfielder.
Pence needs to perform at an all-star level next season. The outfield is a huge question mark for the Giants going into 2013, with Andres Torres and Gregor Blanco platooning in left field, Pence coming off of the worst season of his career and Pagan needing to play at the same level he did in 2012.
Pence has proven his leadership qualities and value in the clubhouse since his arrival in San Francisco. He wants to play for the orange and black. He loves the team. He loves the fans.
Last season, Pence arrived in San Francisco after being (surprisingly) unloaded by the Philadelphia Phillies in their 2012 fire sale. In 2013, Pence has nothing but positivity running through his veins as he returns to the team he has learned to love.
Additionally, Pence is a two-time all-star already.
I predict Pence will continue to take a leadership role in the outfield, and will return to his power-producing former self in 2013. If and when he does, Bochy will choose Pence to represent the NL in the 84th annual All-Star game.
Sergio Romo, Relief Pitcher
Doug Pensinger/Getty Images
2012 Statistics:
1.79 ERA, 14 saves, 0.849 WHIP
With Brian Wilson's return to the Giants still uncertain, career set-up man Sergio Romo is poised to be the team's closer in 2013. Even if Wilson does return, Romo will still be the closer at the start of the season.
Once Romo fulfills his closer potential, it will be hard to separate the right-hander from the ninth inning.
As long as Romo is able to stay healthy, there is little question that he will prove effective as the Giants' closer. And padding the roster with relievers is a good strategy for any manager of an all-star team.
Bochy has already shown his faith in Romo by naming him the team's closer for 2013, even with Wilson's status unknown. Bochy trusts his reliever, and recognizes his talent on the mound and composure under pressure.
Romo recorded the last out to clinch the 2012 World Series by striking out AL MVP Miguel Cabrera in the bottom of the tenth inning. He can handle pressure.
Angel Pagan, Center Field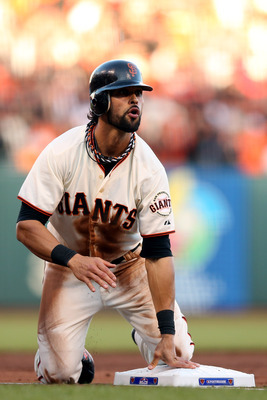 Ezra Shaw/Getty Images
2012 statistics:
.288 batting average, 15 triples, 29 stolen bases
A lot of other teams, including the Philadelphia Phillies, believed the speedy center fielder had all-star potential as they attempted to sign the former free agent. The Giants were the victors, signing Pagan to a four-year, $40 million deal.
Pagan has spent much of his career as a consistent (albeit under-the-radar) outfielder with speed and pop at the plate. An ideal leadoff hitter who feasts off of the strange dimensions at AT&T Park, Pagan hit a career-high 15 triples in 2012 and is also an ideal fit for the style of play the Giants specialize in. He has true speed on the base paths, and because the Giants employ a strategy of small-ball, Pagan will be given plenty of opportunities to swipe bags.
Like Pence, Pagan will shoulder a large responsibility to produce in the outfield. In 2013, I predict Pagan will explode with more triples and more stolen bases than his previous season in San Francisco, and will prove his value on the NL All-Star team.
Madison Bumgarner, Pitcher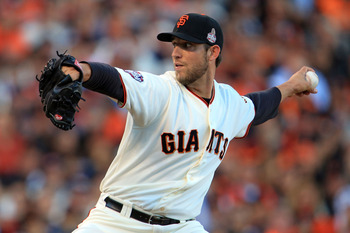 Doug Pensinger/Getty Images
2012 statistics:
16-11, 3.37 ERA, 191 K's, 1.114 WHIP
Madison Bumgarner faded at the end of the 2012 season, but returned just in time for the World Series. The powerful left-hander arguably should have been named to the 2012 NL All-Star team, and he has a strong chance of joining the squad in 2013.
The young pitcher has yet to make an all-star appearance, and 2013 seems to be the right year. Bumgarner's primary competition will be against his own teammates, as the Giants are overloaded with all-star caliber pitchers.
Luckily, as the NL manager, Bochy will have the option of stacking the NL All-Star team with Giants. Bumgarner is sure to be a top candidate in Bochy's mind.
Marco Scutaro, Second Base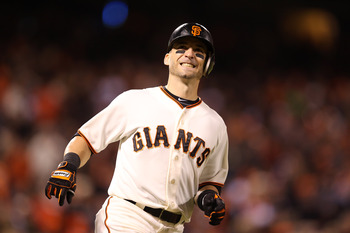 Christian Petersen/Getty Images
2012 statistics:
.306 batting average (.362 as a Giant), 49 total Ks all season - a rate of 12.7AB per K, best in the majors (next best was 11.5AB per K)
Marco Scutaro should be an all-star already as carry-over from his insane tear at the end of the 2012 season.
His defense is a sight to see. He swings and (almost) never misses. Like a fine wine, Scuatro just gets better with age.
And the veteran journeyman appears to have finally found a permanent home in San Francisco. For the next three years, at least, Scutaro is sure to contribute even more to the Giants.
One of those contributions could be driving in an RBI in the 2013 All-Star game, giving the Giants home-field advantage in the World Series again (not to jump the gun, of course).
Ryan Vogelsong, Pitcher
Christian Petersen/Getty Images
2012 statistics:
14-9, 3.37 ERA, 1.228 WHIP
Ryan Vogelsong was robbed from representing the NL at the All-Star Game in 2012. At the start of the second half of the season, Vogelsong led the NL in ERA, posting an impressive 2.36 ERA.
Vogelsong proved he was the real deal on the national stage when he shut down the Reds, Cardinals and Tigers in the postseason.
Arguably the most consistent starter of 2012 for the Giants, Vogelsong shows no signs of slowing down in his major league success. And with Bochy managing the NL in 2013, there is no way Vogelsong will be passed up for a second consecutive year.
Tim Lincecum, Pitcher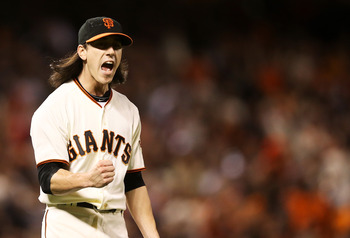 Ezra Shaw/Getty Images
Tim Lincecum is the wild card for the Giants going into 2013.
He had a season to forget in 2012. Last year was the only blemish on an otherwise impressive career—one that has provided the right-hander with two World Series rings and two Cy Young awards.
Lincecum struggled throughout 2012. His mechanics were off, he lost velocity on his pitches, his control was out of whack and everything that could go wrong for a starting pitcher went wrong.
2013 is a year of transition for Lincecum. He becomes a free agent after next season, and although his resume is one of the best in the league, baseball higher-ups possess short-term memories. He has a lot to prove: either to solidify his spot in San Francisco for years to come or showcase his abilities to other teams going into 2014.
Call it hopeful optimism, but I predict Lincecum will regain his former ace form next season. At the end of 2012, he most improved his game in the postseason (of all places) and ended the year strongly as a reliever in the playoffs.
The Freak will return in 2013.
Keep Reading

San Francisco Giants: Like this team?