WWE Worst of the Week: Del Rio, Cesaro and More!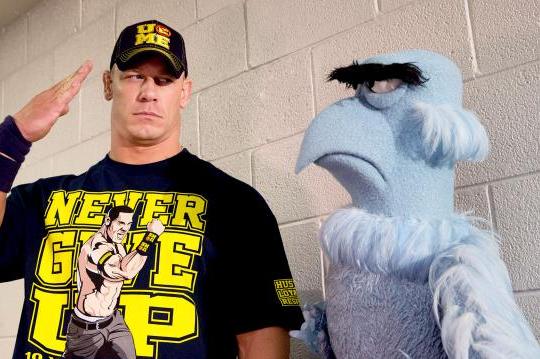 photo from wwe.com
WWE overloaded us with gifts this week. I hope you kept the receipts!
It was an exhausting seven days for the company, as we had over 10 hours of WWE TV to take in.
Some of the presents were nice: Ric Flair came back, The Shield vs. Team Hell No and Ryback was fantastic, and Ziggler got to keep his Money-in-the-Bank contract.
But as usual, The Slammy's were a big lump of coal.
The awards are apparently so worthless that Cena looked for the first opportunity to get rid of his.
With that out of the way, let's take a look back at the the week that was in WWE and find the worst from Dec. 16-22.
Begin Slideshow

»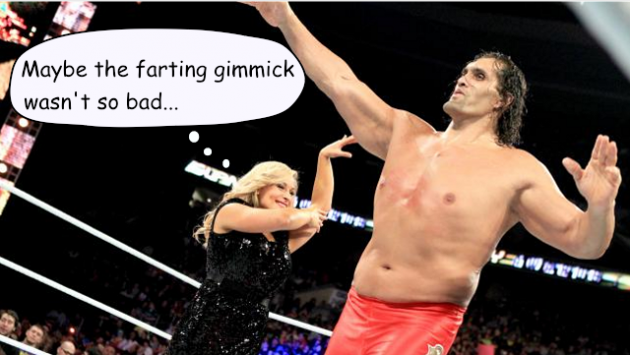 photo from wwe.com
Three times. Three lousy times.
Since October 30, we've watched David Otunga take on The Great Khali on three occasions in a one-on-one match on.
Somehow, every match has gone exactly the same.
Yet they keep booking it!
Every match is a two-minute squash that ends with a head chop.
We get it: David Otunga isn't in The Great Khali's league (as sad as that is to say).
Can't they find someone else for Khali to fight now? Can't he just move into a new feud, or maybe into a new career instead?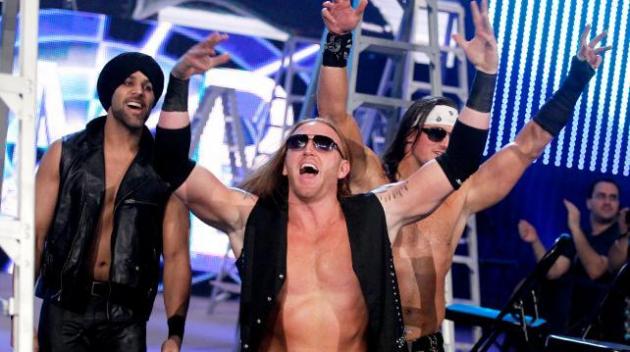 photo from wwe.com
If fans weren't paying for the privilege of watching this segment, it would have been a good time to change the channel.
So far, WWE has wasted no time in overdoing Miz TV.
Besides the show airing at least once a week, fans got to pay to watch it at TLC.
Well, since WWE was charging us for this one, they must have pulled out all the stops and given us a great guest right?
Nope. It was the Three Man Band baby!
The announcers immediately proceeded to say how terrible the group was. Which made it seem like they were telling us how foolish we were for buying the show.
The 3MB really wasn't a good "get" on Miz's part.
Really, it's about as low as he can go. Next he'll probably start interviewing puppets.
Sadly, this segment at TLC wasn't the worst of it, as it led into...
photo from wwe.com
What is going on with Alberto Del Rio? And why is WWE doing it?
If they wanted to turn him face, they could have done a better job than involving the 3MB.
Del Rio has been one of the top heels in the company the past couple of years. If they're going all in on a turn, it should have been a bigger deal.
Why would the man who hated fans across the country suddenly give Tommy Dreamer a friendly pat on the belly?
The whole thing was sudden and, so far, makes no sense. Since when did Ricardo Rodriquez have such an affinity for the Spanish announce team?
One last thing.
Let me also get this straight: Rodriguez tried to take on The Shield all by himself on Raw, and yet John Cena didn't save Ric Flair when they beat the crap out of him only minutes after he gave him his Slammy?
I think we found our new top babyface!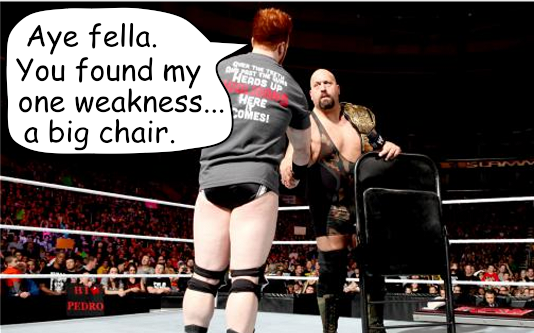 photo from WWE.com
What's worse than getting hit with a steel chair?
The correct answer is a really big chair!
A Knockout punch, a chokeslam, a Vader Bomb and a bunch of chair shots to the back are simply no match for a chair that is bigger than the previous one that was just used.
photo from wwe.com
WWE just doesn't get it. They used to get it. But they don't get it anymore.
Strong heels and strong babyfaces fighting makes money. Building up a heel and jobbing him out essentially three times in a week makes no money.
There aren't many wrestlers that Ryback could face whom fans would buy as a believable threat.
After Cena, Orton, Sheamus and Show, there's basically no one.
It would be wise for the company to invest in more of its own talent.
Lately, Cesaro has taken his game to a new level in the ring (his character still leaves a lot to be desired). WWE could have held off for a showdown between the two, but instead they showed us two nights in a row that Cesaro just can't hang with him.
What makes it more frustrating is that Ryback isn't the U.S. Champ now. If Ryback doesn't care about the title, then why should the fans?
Cesaro then ended the week by losing to Cena in their first ever meeting in an unadvertised match. Again, we don't have a new champion.
He's clearly labeled a second-tier player now, and fans no longer have the "what if" thoughts of Cesaro taking on a top guy.
Hopefully Cesaro enjoys a holiday break so he can return refreshed and ready for a productive 2013. Or they can just feed him to Cena and Ryback a few more times. Hey, it's their money.
Well, that's all for this week. Agree? Disagree? Did anything worse happen? Sound off below, and have a happy holiday!