Chicago Bears Mock Draft: How the Rich Can Get Richer in 2013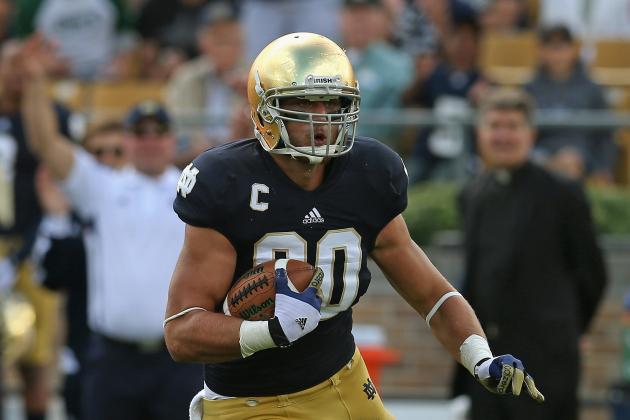 Jonathan Daniel/Getty Images
Notre Dame Tight End, Tyler Eifert
Bears general manager Phil Emery said in his first press conference (h/t Chicago Now):
"I'm a very different person than Jerry"
Jerry being former general manager Jerry Angelo, who struggled to draft well and was ultimately fired after the 2011 season.
Emery made a bold choice in his first draft, selecting Shea McClellin with the 19th overall selection, then trading up to get receiver Alshon Jeffery in the second round and drafting oft-injured safety Brandon Hardin. All three have suffered through injuries this season, with Hardin's injury in the preseason placing him on injured reserve.
With a solid core in place, the Bears still have holes to be filled, and Emery's second draft will help show how he is a "very different person than Jerry".
Here is the latest mock draft on how the rich can get richer.
Begin Slideshow

»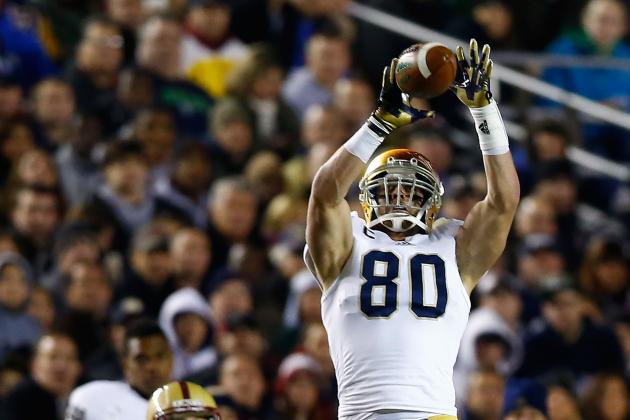 Jared Wickerham/Getty Images

Despite the need for help along the offensive line, when the Bears do select, it will likely be in the later half of the draft with much of the top-tier offensive line talent off of the board.
The addition of Brandon Marshall has been worth every penny, and rookie receiver Alshon Jeffery looks like he can mold himself into another big target for Jay Cutler.
The lack of big passing plays across the middle can be directly attributed to the lack of a top tight end receiving threat.
Kellen Davis was touted as being the next elite tight end by head coach Lovie Smith (h/t Chicago Tribune) saying:
"He can do anything the good tight ends in this league can do"

Davis has not proven at all this season that he can do anything that the good tight ends do, as he has struggled in both run and pass blocking and has struggled to catch passes.
Tyler Eifert is thought to be the best tight end in this year's draft and would add another weapon to Cutler's growing arsenal. He had 44 catches for 624 yards and four touchdowns for a Notre Dame team that has struggled to move the football through the air.
He has good size (6'6", 250 lbs) and is an excellent route runner. He is good at making the catch in traffic and is a solid blocker who could improve with more coaching.
The addition of Eifert could add more of a threat across the middle, and his blocking could help improve the running game.
Ronald Martinez/Getty Images

Since his arrival prior to the 2009 season, Jay Cutler has been stuck behind an offensive line that has struggled to find continuity and to protect him.
Offensive line coach and current offensive coordinator Mike Tice has been steadfast in his belief that former seventh round tackle J'Marcus Webb is the answer to protect Cutler's blind side. Webb has improved in some areas this season, but he continues to prove on a weekly basis that he does not belong as a starting left tackle.
The Bears will likely do their best to try and sign a free agent left tackle if one of the big names become available (Jake Long, Ryan Clady, Branden Albert) this offseason, but they would be wise to find a suitable tackle in the upcoming draft.
With the majority of the big impact tackles gone in the first round, Virginia tackle Oday Aboushi could still be available in the mid-to-late second round. Aboushi was inconsistent at times his junior season, but he appeared to progress during his senior campaign, combining athleticism with strength and a nastiness that the Bears offensive line sorely lacks.
He is good in pass blocking and will need to improve in the running game but has all of the tools that are desired for an NFL left tackle.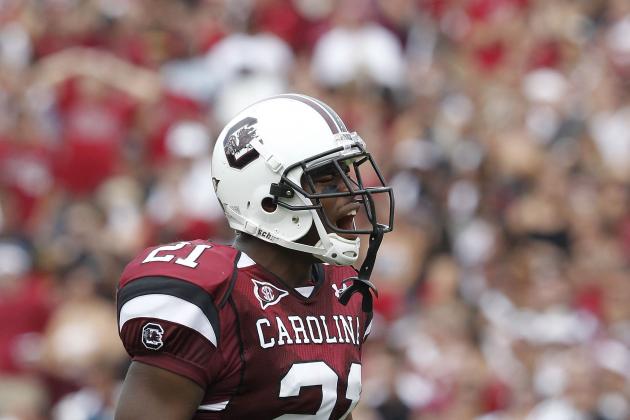 Mike Zarrilli/Getty Images

Following a knee injury at the end of last season, the future for the Bears' middle linebacker Brian Urlacher was up in the air.
He was able to start on opening day, but in the weeks to follow, it was evident that he was not the same type of player. In their Week 13 loss to the Seattle Seahawks, Urlacher suffered a grade 2 hamstring tear and is expected to miss the rest of the regular season.
His contract expires at the end of this year, and the Bears have no successor in place to take the reigns after he leaves. The Bears could bring him back on a one-or-two-year deal but will need to look towards the draft for an eventual replacement.
South Carolina's DeVonte Holloman spent the first three years of his collegiate career as a safety before being moved to the Gamecocks' "spur" position, a safety/linebacker hybrid similar to the "lobo" position Urlacher played at New Mexico before being drafted by the Bears in 2000.
At 6'2" and 241 pounds, Holloman has the frame of an NFL linebacker and the speed to match up with some of the best tight ends and running backs in the game. He has excelled in pass coverage given his experience as a safety and has six career interceptions.
He is likely a project and would make the most sense for Chicago if they were able to keep Urlacher along to help groom Holloman for the future.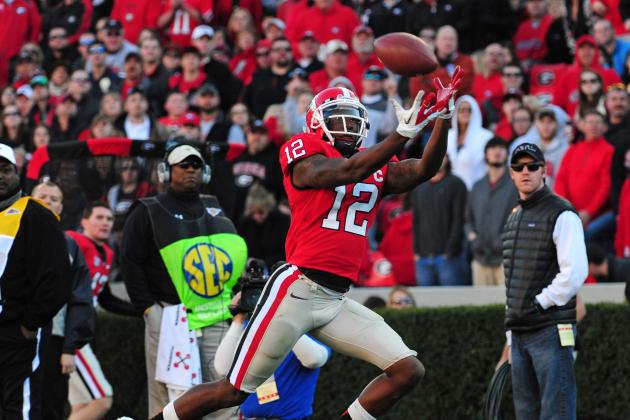 Scott Cunningham/Getty Images

This past offseason, Jay Cutler finally got the big-bodied receiver he desperately wanted in former teammate Brandon Marshall. GM Phil Emery then went and drafted another big-bodied receiver in Alshon Jeffery in the second round of the 2012 draft.
Other than Marshall's incredible season, Jeffery, as well as veteran receivers Devin Hester and Earl Bennett, have struggled with injuries and have proven to be ineffective at times. The Bears could look to add another veteran to their wide receiving corps, but also adding a talent like Tavarres King in the later rounds could provide depth for years to come.
King was overshadowed by A.J. Green and Malcolm Mitchell in the past, but had his best season this past year, hauling in 39 catches for 846 yards and eight touchdowns. He averaged nearly 22 yards per catch for quarterback Aaron Murray and provided a deep threat week in and week out.
At 6'1" 190 pounds, he has the size to go up and catch the football and the speed to get past defenders. He faced tough defenses on a weekly basis in the SEC and was still able to be productive.
He has a chance to improve his draft stock in the Senior Bowl, and given his frame and body of work, it is possible that he will not be available in the fifth round. If he is, however, the Bears would find a receiver that could perfectly compliment Marshall and Jeffery.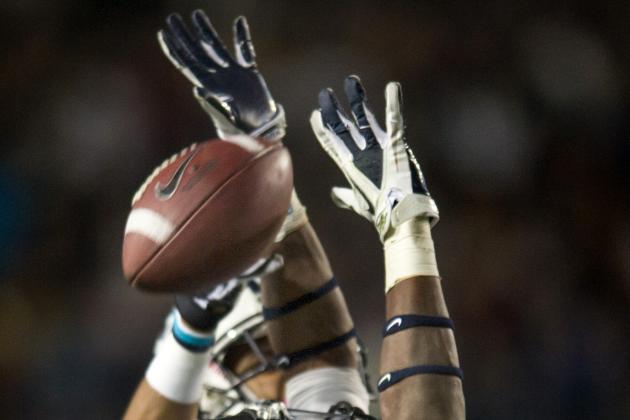 Douglas C. Pizac-USA TODAY Sports

Despite the strong play from both Charles Tillman and Tim Jennings (both likely Pro Bowlers), as well as signing veteran Kelvin Hayden, the Bears will need to add some youth to their secondary this offseason.
Phil Emery used two late picks last year on Isaiah Frey and Greg McCoy, but neither were impressive in training camp nor the preseason, resulting in McCoy being let go and Frey getting assigned to the practice squad.
Both Hayden and D.J. Moore are slated to become free agents at the end of the season, and with his recent fallout with head coach Lovie Smith, Moore is unlikely to return.
Hayden could be brought back as an insurance plan, but drafting Will Davis in the sixth round could prove to be a steal.
He has good size and speed and plays well in press coverage. He will have to improve on his instincts, as he often waits for the play to develop before making a jump on the receiver. He played against lesser talent in the WAC and will need time to develop but has the frame and speed to become a starting NFL cornerback.
He still needs to work on his footwork and will need to add some weight, but if they select Davis in the sixth round, the Bears may have found a guy they can mold into an eventual successor to Tillman.