Buccaneers vs. Saints: Final Report Card, Grades for New Orleans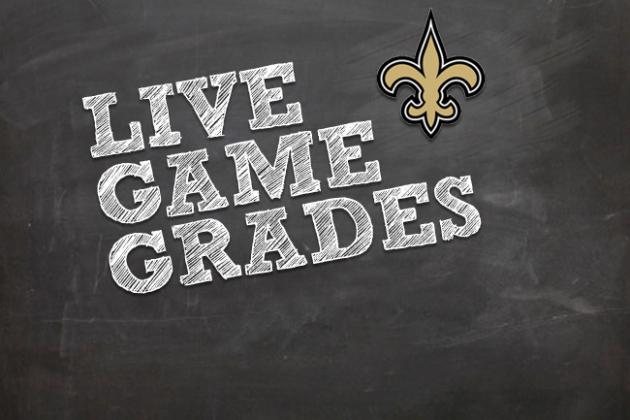 Final
New Orleans 41
Drew Brees was brilliant for the New Orleans Saints, throwing four touchdown passes and for the first time in weeks, not throwing an interception. He was flawless in all aspects of the game.
The defense was nearly flawless too. It gave up 386 yards (but the fourth week in a row of giving up less than 400) but most of those were in garbage time. More importantly it did not give up even one field goal.
It held Tampa Bay out of the end zone for the entire game. That's called a perfect game.
The win dropped Tampa Bay to 6-8 and raised New Orleans' season record to 6-8. Now the two have two games to battle each other for second place in the NFC South and in reverse effect, NFL draft position.
Begin Slideshow

»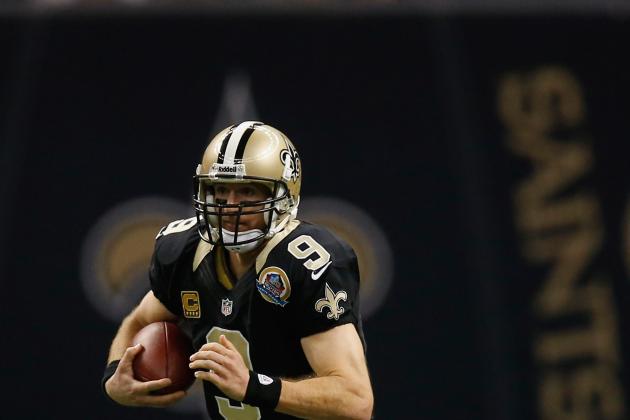 Chris Graythen/Getty Images
Drew Brees did most of his damage through the air Sunday. But he also had a key run to extend a scoring drive.
Overall Game Grade--A-
Between Drew Brees' 26-for-39, 307 yard, four touchdowns and Chase Daniel's mop-up action, this is the finest the Saints' quarterbacks have played all season long.
Brees' decision-making, accuracy and command of his offense and the Tampa Bay defense made for a near perfect Brees performance.
It was a brilliant day for Brees. This was so important after the pitiful performances from him in the three previous weeks.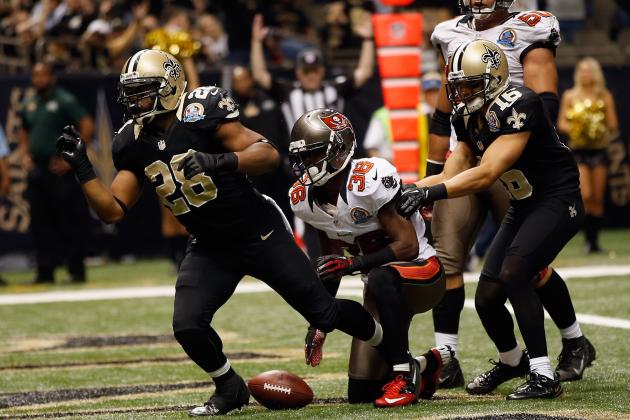 Chris Graythen/Getty Images

Pierre Thomas—Grade—A
Pierre Thomas continued his outstanding play. Though the numbers were not flashy—and rarely are for this stalwart—Thomas was key to moving the ball effectively and putting the ball in the end zone with regularity on the day. His work in the screen and draw game kept Tampa off the field.
Mark Ingram—Grade—A-
Mark Ingram continued to show that when given carries, he is an every down back.
More impressive than his 31-yard burst which set up the Saints' fourth touchdown of the day, was his blitz pickup on the same drive which enabled Drew Brees to complete his fourth TD pass of the game. He came across the formation and got just enough of the Bucs defender to allow Brees to step into his deep throw up the sideline. Ingram is looking like he could be a star next season.
Of course scoring a touchdown and securing multiple explosive runs isn't too bad either.
Darren Sproles—Grade—A
Much like a week ago, Darren Sproles was used effectively as a runner and receiver. When he is used in both avenues, the Saints' offense is as good as it can be. His versatility is a large reason the Saints offense exploded in this contest.
Chris Ivory—Grade—N/A
Chris Ivory missed the game due to a hamstring injury.
Travaris Cadet—Grade—C
Travaris Cadet saw limited meaningful snaps. He was effective when used though.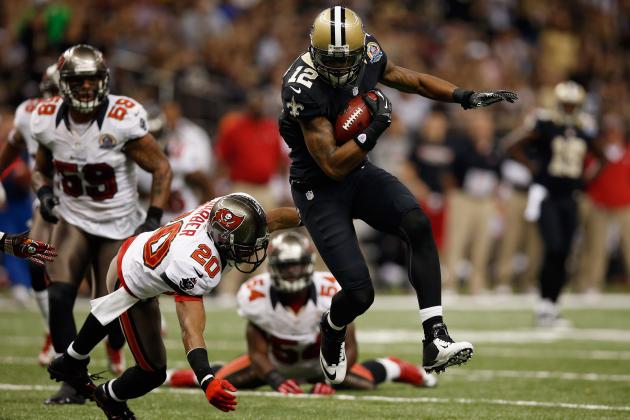 Chris Graythen/Getty Images

Marques Colston—Grade—B
Marques Colston regularly found holes in the Tampa Bay zone coverage. His clutch receptions kept the ball moving down the field in New Orleans' favor. Give Colston a great deal of credit for that.
Lance Moore—Grade—B+
Lance Moore was Lance Moore again. He continued to be a key receiver on third down and for other key receptions.
Devery Henderson—Grade—C
Devery Henderson was most effective as a runner on the day. That's to take nothing away from him. But his deep-threat receiver role has pretty much been taken from him by Joseph Morgan.
Joseph Morgan—Grade—B+
Joe Morgan made yet another big play. It's become almost an automatic thing that he will make at least one deep reception in every game. In one sense he has been very consistent. It would be nice to see him become a more consistent intermediate threat. More time in the system and reps with Brees will give him that opportunity.
Courtney Roby—Grade—C+
Roby played, but was not as good on special teams as he was in the early part of this season.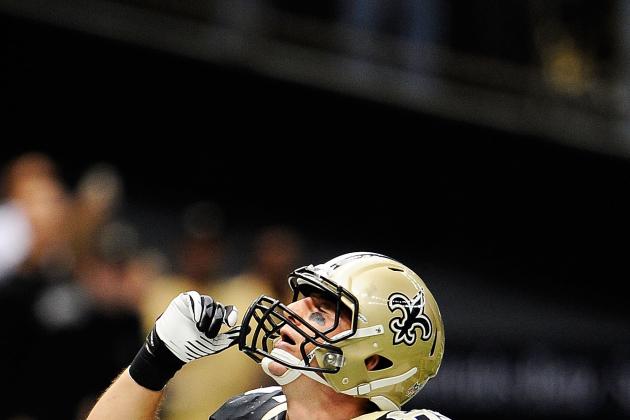 Stacy Revere/Getty Images

Jimmy Graham—Grade—B+
Jimmy Graham had one of his better games this season. He was regularly open over the middle. He made some spectacular catches on throws up the seam. His drops over the middle continued to hurt the Saints offense, but his hand injury can explain much of that.
David Thomas—Grade—B
Thomas found a ton of holes to exploit early in the contest. The result was two early catches and a touchdown. His work in the run game and in pass protection was key as well.
Michael Higgins—Grade—N/A
After playing for the first time all season two weeks ago, Higgins did not see action Sunday as he was officially inactive.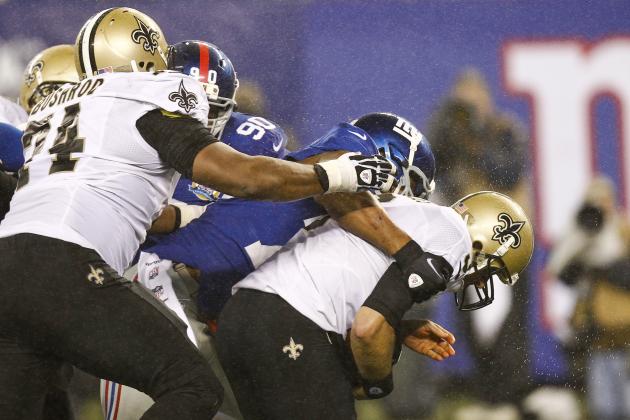 Jeff Zelevansky/Getty Images

LT Jermon Bushrod—Grade—A-
Bushrod was used effectively when the Saints tossed the ball out to Darren Sproles on the sweep plays. And he played very well in pass protection as well.
LG Ben Grubbs—Grade—A-
The Saints' offense gave up very little pressure and moved the ball effectively with the rushing game. Give props to Ben Grubbs, among others, for opening rushing lanes for the Saints' trio of talented backs.
C Brian de la Puente—Grade—A-
Brian de la Puente played another fine game. Much like with Sed Ellis a few weeks back, de la Puente likely knows he is playing for a job next season. His play up until last week was mediocre at best. These past two weeks have been much better.
RG Jahri Evans—Grade—A-
Jahri Evans played another fine game. His performance last week was his best of the season. It's possible we could repeat that statement of today's game as well.
RT Zach Strief—Grade—N/A
Zach Strief did not play in this game.
Charles Brown—Grade—N/A
Charles Brown did not play in this game.
Bryce Harris—Grade—N/A
Bryce Harris has been moved to the IR.
William Robinson—Grade—C
Robinson held his own, from what I saw.
Eric Olsen—Grade—B
Olsen was more often than he was a week ago. He played masterfully in those reps on the day.
Correction: An earlier version of this article mistakenly noted that Zach Strief played in this game, but Strief missed the game with a groin injury.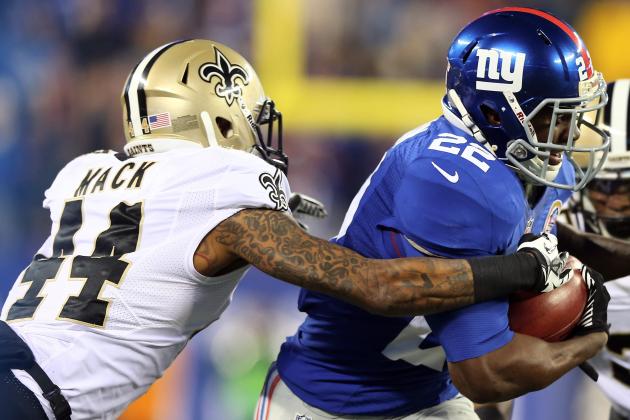 Elsa/Getty Images

DE Will Smith—Grade—A
Will Smith has been underrated for his play this season. He has been solid all year long. Today he was an absolute beast. His play against the run epitomized what we've come to expect from him. And he managed to create a ton of pressure on Josh freeman.
DT Brodrick Bunkley—Grade—C
Brodrick Bunkley didn't see a ton of action in this game. And his production seemed to regress a bit.
DT Sedrick Ellis—Grade—B
Sedrick Ellis flew around the field with regularity on the day. He was scraping across the line in the run game and shedding blocks to create penetration in the running game and pressure on Josh Freeman.
DE Cameron Jordan—Grade—A+
Cam Jordan played his best game of an already masterful sophomore campaign. His play all year has been outstanding. Today, he was around the football on almost every play. And he got in Josh Freeman's face almost every time Freeman dropped back to pass.
DT Tom Johnson—Grade—B
Tom Johnson was constantly around the football on the day, when he was in the game. He played well against the run and was a big reason for the Saints' defensive dominance.
DT Akiem Hicks—Grade—B
Akiem Hicks did not make a ton of plays in this game. But his play was consistent. That's a regular theme for the rookie. That's a good sign overall. This is a regular statement about Hicks. His future looks very bright.
DE Junior Galette—Grade—B
Galette found himself in the backfield on a number of occasions today. His pressure caused Josh Freeman to throw prematurely on a high number of throws.
DE Martez Wilson—Grade—B
Martez Wilson saw an increased number of snaps in this contest. With them he was quite effective, regularly creating pressure on Josh Freeman.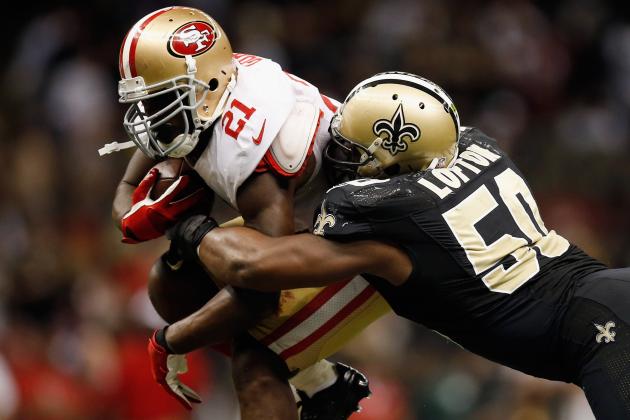 Chris Graythen/Getty Images

MLB Curtis Lofton—Grade—B
Curtis Lofton was all over the field in this one. He regularly wrapped up in the open field. His play was consistent.
OLB Scott Shanle—Grade—N/A
Scott Shanle did not play in this game, as he was officially inactive.
OLB Will Herring—Grade—Incomplete
Herring didn't play enough to warrant a grade.
Jonathan Casillas—Grade—B
Casillas made a memorable open field tackle in punt coverage. Unfortunately that was about it for him in this contest.
Jon Vilma—Grade—B
Jon Vilma actually shed a block in this game to create a tackle for loss. As difficult as it was to believe, it actually happened. It is a key reason he gets a stronger grade for his efforts today.
David Hawthorne—Grade—B
David Hawthorne nearly had an easy interception in this one. Aside from that he merely played solid football. And there's zero wrong with that.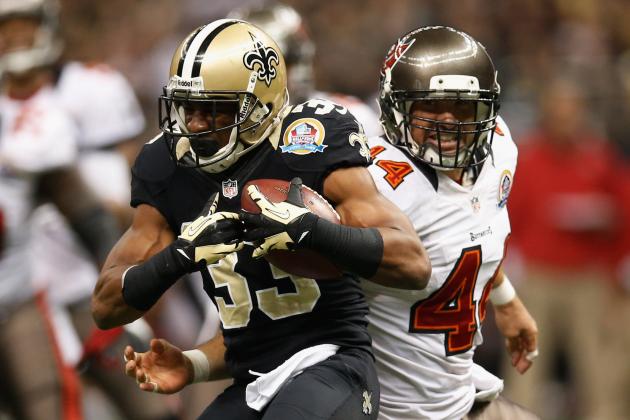 Chris Graythen/Getty Images

CB Jabari Greer—Grade—A-
Two interceptions speaks volumes about the play of Jabari Greer in this contest. There was one play in which Greer was beaten badly in one-on-one coverage but Josh Freeman overthrew his intended target. Aside from that, Greer played a near perfect game.
CB Corey White—Grade—N/A
White is out again, due to an injury.
CB Patrick Robinson—Grade—B+
Patrick Robinson played OK. As he has become the Saints' No. 1 corner, he is being targeted less often than in the past. Still, Robinson was pushed off against on the lone memorable reception that came against him.
CB Elbert Mack—Grade—B
Mack continued his solid play as the nickel corner. His play has been a bit of a revelation in the past month.
S Roman Harper—Grade—B-
Roman Harper didn't play as well as in previous weeks. He made a key mistake on an early third down wheel route out of the backfield. He had his eyes caught in the backfield instead of on his man. But he continued to fly all over the field and make key tackles.
S Malcolm Jenkins—Grade—N/A
Malcolm Jenkins was placed on Injured Reserve earlier this week.
S Isa Abdul-Quddas—Grade—B
Quddas had one of the easiest interceptions any NFL defender could ever have. He easily stayed with the aging Dallas Clark one-on-one on a deep route and simply caught the interception with almost no resistance from Clark. His play was solid otherwise.
S Rafael Bush—Grade—B+
Bush saw more time in defensive sub-packages and again made a huge impact on the football game. Much like Mack, Bush has been a revelation for the Saints' defense. He has the ball skills that are often seen from elite corners or safeties. He also has the body of a corner. Could we see him switch to corner this offseason?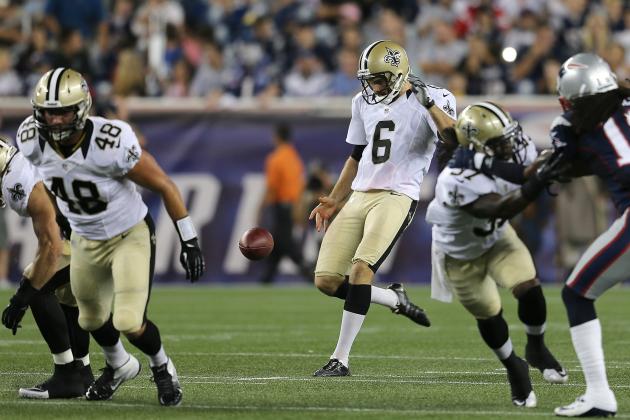 Jim Rogash/Getty Images

Overall Game Grade--B
It was a solid bounce-back effort from the Saints' special teams units. Only one return was had against them. Most importantly, Thomas Morstead's efforts as a kicker and punter was steady.
His performance was much more effective and efficient, if such a qualifier can be used for a punter.
P Thomas Morstead—Grade—A
Thomas Morstead had a rebound performance and was perfect on each of his kickoffs and punts. What a great performance from Morstead.
K Garrett Hartley—Grade—B+
Hartley kicked two field goals—this time each was of minimal range. He was money on both. He has had two field goals each of the last three weeks, and has had zero misses. He's become one of the most consistent place kickers in the entire league.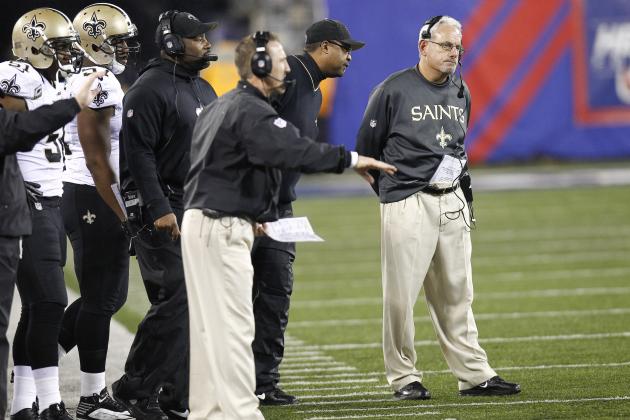 Jeff Zelevansky/Getty Images

Overall Game Grade--A-
What a beautifully orchestrated game plan from all three phases of the Saints football team!
Special teams recovered and executed much better than a week ago. The defense, under Steve Spagnuolo, continued its ascension to becoming one of the best defenses in the league. Its improved play in the last month was capped by a shutout today.
And offensively, Pete Carmichael wisely featured all three of his feature running backs. Featuring Mark Ingram was the best decision the coaching staff could have made. But getting the ball to Darren Sproles and Pierre Thomas in the passing game was also crucial.
As a result, Drew Brees had plenty of time to throw the football. And all the receivers and other skill players were used exactly as they should be. The result was a great effort from the offense and a dominant win for New Orleans.