Full Report Card Grades for Jeremy Lin at NBA Quarter-Season Mark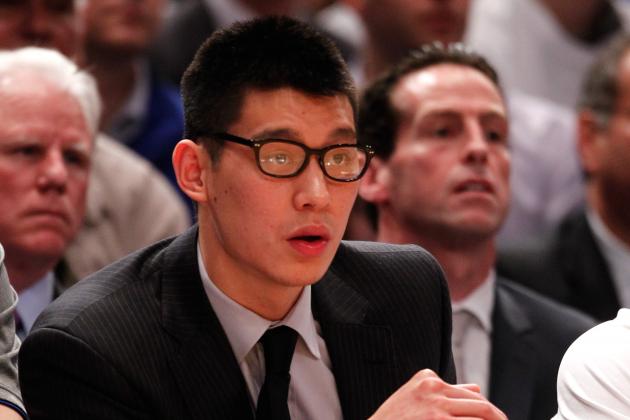 Jeff Zelevansky/Getty Images
It's every Harvard graduate's favorite time: report cards!
Let's face it: Most NBA players value a three-pointer much more than a 3.0.
College for most was about exposure and learning the game—a training ground for the pros. What college was not about was the grades.
But one NBA player—just one—graduated from Harvard with a degree in economics, and to a Harvard man, making the grade always matters.
Thus, I am honored to be grading Houston Rockets point guard Jeremy Lin's basketball season.
So does Mr. Lin go to the head of the class? Flunk out? Or more likely, does he fall somewhere in between?
I'll grade in four categories:
• Offensive game
• Defensive game
• Intangibles—like leadership, doing what the coaching staff asks of him, off-ball contributions to the game and the like.
• Value: Is Lin playing to the level of his contract and to his potential? In other words, does his game have the value to the Houston Rockets that they anticipated having when they signed him?
Does everyone have their number two pencils—and a cheat sheet written on the inside edge of their Converse All-Star Chuck Taylor soles?
(That's how I cheated in high school: When I crossed one leg over the other, the notes were right there in my lap. Look where it got me! See the final slide for a visual depiction in case you feel inspired to emulate me...though I take absolutely no responsibility if you get caught.)
OK, Mr. Lin: Dean's list, or dunce cap?
Begin Slideshow

»
Grade: C+
To be fair, after Lin dropped 38 points on the San Antonio Spurs with James Harden out of the lineup, the temptation was to give the point guard an instant incomplete on the season. After all, if that's what Lin is capable of when he controls the ball and the offense, who's to say what he'd be capable of if the offense flowed through him on a regular basis?
I've said this in other articles—the moment the Rockets traded for Harden, Lin's contribution to the Rockets instantly and drastically changed.
With Harden slashing to the basket, the most effective aspect of Lin's game was commandeered. With Harden in charge of finding the open man, Lin was relegated to jump shots--the weakest part of his game.
And, the minute Harden is out, Lin goes off for his best game as a Rocket, against arguably the best team in the Western Conference.
So how do we evaluate his offensive game?
With or without Harden, here's what Lin has succeeded at:
• Reducing turnovers: Lin's 45 turnovers over his first seven starts last year were the most of any player in the history of the NBA. By comparison, Lin averaged 2.9 turnovers per game in November and so far just 2.0 TPG in December.
• Raising his field-goal percentage: Just a couple of weeks ago, Lin's field-goal percentage was under .300, the NBA's worst for a starting point guard. Now it sits at a more respectable, though not impressive, .399. His three-point shooting, dismal earlier this season, is now at .309.
Lin is having his best year as a pro at the line, shooting a sterling .821. However, he's getting to the line less than twice as often per game than he did last year. Lin has to get better at drawing contact. But the drop in free-throw attempts is also largely due to Harden's slashing style getting priority in Houston's offense over Lin's.
Being that Harden is Houston's designated slasher, let's try this analogy. Shooting guard Harden is effectively Slash in Guns 'N Roses—except as the team's superstar, he's also the band's front man. That leaves point guard Lin as Axel Rose…without a microphone.
Another interesting consideration in evaluating Lin's offensive performance is the fact that there's supposed to be a clear book to stop Lin.
1. Lin succeeds in penetration when he goes to his right. So it would appear to be simple to stop him—simply force him to go to his left.
2. Lin's far better at attacking the basket than he is at jump shots, so sag off him in coverage, and force him to pull up.
But if the book is so clear, how did he score 38 against San Antonio?
Simple: Lin is much more difficult to stop than the book would have you believe.
All in all, we fans were hoping for more from Lin; however, much of our disappointment stems not from flaws in Lin's game, but from the offensive scheme championed by coaches and general management.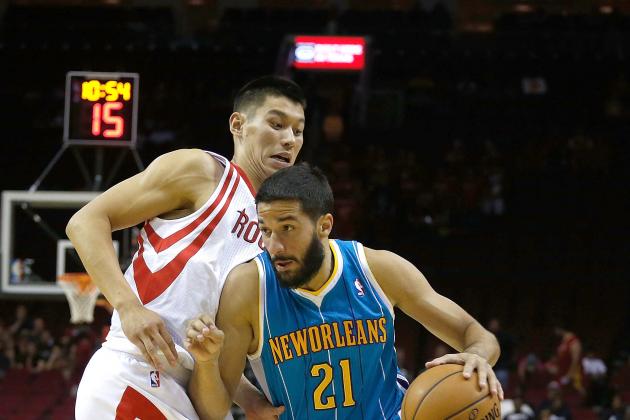 Scott Halleran/Getty Images

Grade: C-
Lin is 12th in the league in steals per game, with 1.81. In addition, both Lin's offensive and defensive rebounding averages are the highest of his career.
Less impressive is his impact on opposition scoring. Lin is allowing point men he guards to post an effective field-goal percentage of 52.3 percent, while scoring 3.1 points per 48 minutes.
Looking at impact on team defense, Lin fares more neutrally: Per 100 possessions, opponents score 108.2 points with Lin on the court, compared to 108.0 with him off it.
Overall, Lin is not by any means a lockdown defender, but his defense is improving.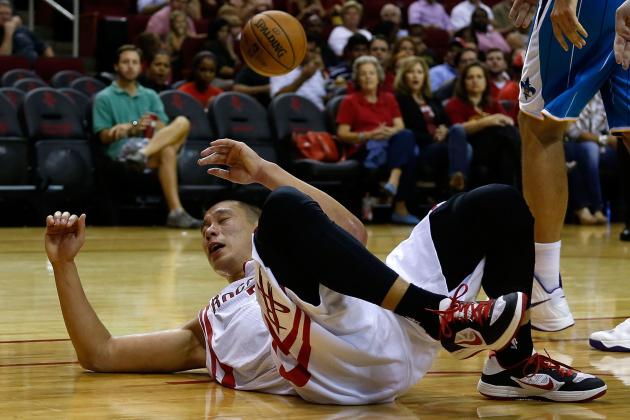 Scott Halleran/Getty Images

Grade: A-
No one can argue this point: Jeremy Lin has been a team player.
Lin could not possibly have been happy to alter his game as dramatically as the Harden addition dictated he do, but he has played through it without complaining. In addition, in big games—against his former team, the New York Knicks and against the perennial contender Spurs—Lin came up big, as he has generally seemed to do in his career.
Forced to rely on his jump shot in Houston's offense, Lin put up some historically low shooting stats at the start of the season. Yet Lin fought through it, and his numbers have slowly but steadily increased.
Without the ball in his hands a majority of the time, Lin is still averaging over six assists per game, good for 18th place and ahead of backcourt teammate Harden.
There are no objective statistics for heart, will to win and work ethic. However, judging by my personal observation and by his coaches' general comments, Lin gets high marks on all three.
Simply put, he's the kind of teammate you want in your locker room, and he is the kind of player a coach wants on his roster.
Bob Levey/Getty Images

Grade: D+
Jeremy Lin's contract value is $8.3 million per year.
Yet in player efficiency rating, Lin currently ranks 41st among point guards.
As a comparison, Goran Dragic, who signed a slightly larger deal than Lin's, ranks ninth in player efficiency. Jose Calderon, who despite making $2 million per year more than Lin has been relegated to the Toronto Raptors' bench, is 28th in PER.
Lin makes roughly the same amount as 10th-highest-paid NBA point guard Steve Nash ($8.9 million), and Nash has barely been on the floor for the Los Angeles Lakers. So it's not like Lin has been a washout.
But Lin is being paid on a par with some of the game's best point guards. Stats-wise, he's not producing at a level consistent with his salary.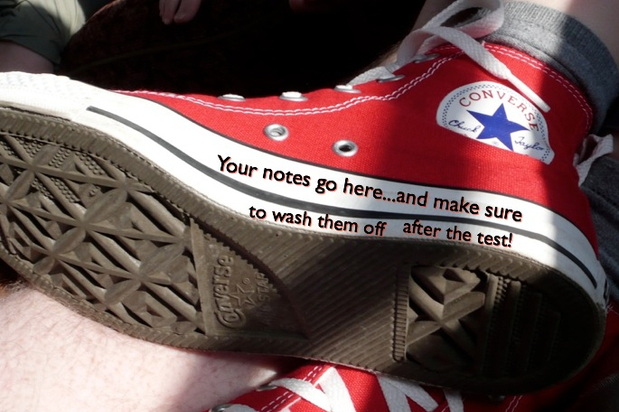 Photo source: Wikipedia
Final grade (rounding up): C+
If Lin were free to be the player he was against the Spurs, this grade might be entirely different.
If McHale means what he says by trying to adjust the offense to let Lin be the attacker he thrives at being, all Lin has to do is keep working on his jump shots and his lefty moves, and he might be a straight-A student.
Defensively, Lin still has improvements to make. But as a teammate and man, Lin has proven himself unquestionably to be an asset to this or any roster.
As a fan, and with respect to his Ivy League degree, it pains me to give Lin anything lower than an A, but it's my job to be honest and objective. If McHale and the Rockets make offensive changes to get Lin more comfortable in the offense, I am curious and excited to see how his game and contributions will change.
For now, Lin certainly has grade-A games in him, but his overall performance is somewhere in the middle of the pack.
And remember, kids: Be like good sportsman Jeremy Lin and don't cheat—no matter what you read in an online sports column. Got it?