Michigan Football: Recalling Denard Robinson's 5 Greatest Collegiate Moments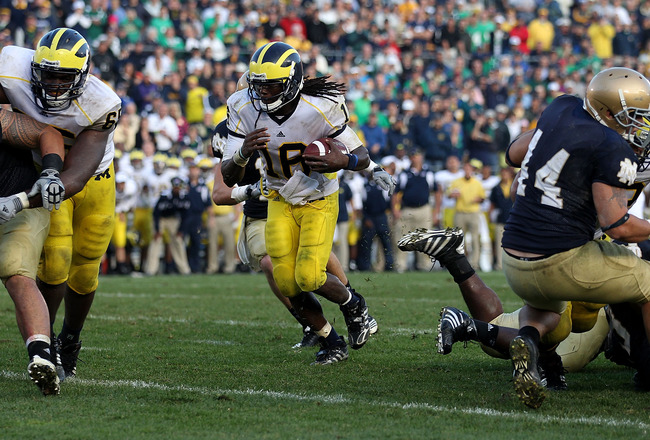 Jonathan Daniel/Getty Images
Denard Robinson's record-setting Michigan football career will come to a close at the Outback Bowl, Jan. 1.
The countless touchdown runs and game-winning passing plays have helped bridge the gap between the Rich Rodriguez and Brady Hoke regimes.
While the transition hasn't been an easy one for either Michigan or Robinson, the senior dual-threat quarterback will leave Ann Arbor with several records and a myriad of highlights.
Despite playing sparingly as a freshman and nursing an elbow injury this fall, Robinson needs just 85 yards to catch Pat White's (West Virginia) NCAA record for rushing yards by a quarterback of 4,480.
And considering he's not the prototypical drop-back quarterback, Robinson is fourth among Michigan's career touchdown passing leaders with 49 and yardage leaders with 6,250. Robinson ranks first on the Michigan career total offense list with 10,425.
The following are a few of Robinson's finest moments, just for your holiday enjoyment.
2009: Michigan 31, Western Michigan 7, Highlight: 43-Yard TD Run
Quarterback Denard Robinson fumbled the football on his first snap as a Michigan Wolverine. A mere mortal may have dove on the ball and scampered back to the huddle. But "Shoelace," who earned a reputation for playing with untied shoes, scooped up the ball and zigzagged through Western Michigan's dumbfounded defense for 43 yards and a touchdown.
Although he would spend most of 2009 as Tate Forcier's backup, Robinson's touchdown scamper was merely a preview of things to come.
"We still talk about it here," Western Michigan coach Bill Cubit told Annarbor.com as he prepared for the Wolverines a few years later. "I can remember turning on the sidelines to somebody, 'Oh, that's what they mean by Shoelace.'"
The freshman signal-caller was given another opportunity to showcase his talents when Forcier was benched in the fourth quarter at Iowa. Robinson's 11-play, 59-yard drive cut the Hawkeye's lead to 30-28, but Robinson's last-minutes interception ended the comeback.
The Iowa loss appeared to send Forcier into head coach Rich Rodriguez' doghouse, and opened the door for Robinson to take over in 2010.
2010: Michigan 28, Notre Dame 24, Highlights: 87-Yard TD Run, 2-Yard TD Run
The tradition and excitement of Notre Dame football couldn't be stronger as the Irish prepare for their national championship date with Alabama.
Michigan, of course, has played a large role in Notre Dame lore, especially since the last four meetings have ended in one-possession affairs.
In 2010, Denard Robinson earned a spot alongside the Irish greats, leading Michigan to a 28-24 come-from-behind victory.
Robinson "woke up the echoes" by scoring on a Notre Dame Stadium record 87-yard run, posting 502 yards in total offense and winning the game on a two-yard scamper with 27 seconds left.
Even the leprechaun was impressed.
2011: Michigan 35, Notre Dame 31, Highlight: 16-Yard TD Pass to Roy Roundtree
The setting was perfect for another instant classic between Michigan and Notre Dame. This time the game was played under the lights before just under 115,000 at Michigan Stadium.
The two teams traded the lead several times before Michigan regained possession of the ball trailing 31-28 with just 30 seconds on the clock. After an incomplete pass, Denard Robinson found Jeremy Gallon on a timely 67-yard pass-and-run play. Now with 10 seconds left, the safe play would have been a 33-yard field-goal attempt to tie the score.
Instead, Robinson found Roy Roundtree in the corner of the end zone for the victory.
The touchdown marked a furious comeback for the Wolverines. Michigan scored 28 points in the final quarter as Robinson passed for 207 yards and three touchdowns in the final 15 minutes.
"Every time you see a University of Michigan team, you're going to see a team that's going to play together and fight until the end until there's two zeros on the clock," Robinson told Mgoblue.com afterwards.
Robinson's mantra would be heard again as the 2011 season moved forward.
2011: Michigan 40, Ohio St. 34, Highlight: 41-Yard TD Run
Going into the final regular-season game of his junior year, Robinson had yet to beat either Ohio State or Michigan State.
He accomplished the first one by leading the Wolverines to a thrilling 40-34 victory over the Buckeyes at the Big House.
After his 41-yard run tied the score at 7-7, Robinson was simply marvelous. He finished the game with 170 yards rushing and two touchdowns. In the air, he completed 14-of-17 passes for 167 yards and three touchdowns.
"I thought Denard ran the ball with authority and really made decisions and was decisive with it. He also did a nice job throwing the football for us," head coach Brady Hoke told Mgoblue.com after the game.
"But I've said it all year, he's our quarterback and I'm glad he's the quarterback at Michigan," Hoke added.
Robinson finished the 2011 season with 1,176 yards rushing, 20 touchdown passes and 15 interceptions.
2012: Michigan 12, Michigan St. 10, Highlight: 20-Yard Pass to Drew Dileo
With a win over Ohio State and a bowl victory (Virginia Tech in the Sugar Bowl) behind him, Denard Robinson had just two battles to fight.
Sorry, Robinson's Wolverines still haven't won the Big Ten title, but the 2012 team did end its four-game losing streak to Michigan State. And Michigan had to come from behind to do it.
After Michigan State took a 10-9 lead with two minutes remaining, Michigan got the ball for the final time on its 38-yard line. A 12-yard run by Vincent Smith and a 20-yard pass from Robinson to Drew Dileo set up Brendan Gibbons' 38-yard game-winning field goal.
"I think Denard Robinson made a couple plays of the game there in the fourth quarter— that's why he has had the success here," Michigan State coach Mark Dantonio told Mgoblue.com.
"The long run gets them down there. It was a 9-7 lead I guess and we counter that, but then he hits the pass with 18 seconds to go. It was a tough deal, but a very evenly played game—great defensive game. I thought it was a great football game—a classic game," Dantonio said.
Now, Robinson gets another shot at a tough SEC team. It's still unknown if Robinson's injured arm will allow him to throw in the Outback Bowl, or if Hoke decides to mainly play Devin Gardner at quarterback anyway.
Keep Reading

Michigan Wolverines Football: Like this team?