Oregon Football: 4 Best Ways for Ducks to Use De'Anthony Thomas Against K-State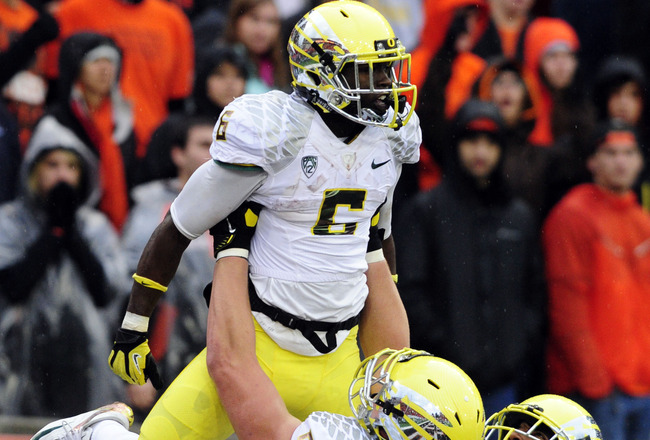 Steve Dykes/Getty Images
Have you, dear Duck fans, seen enough of De'Anthony Thomas this year?
I didn't think so. Me neither.
While Thomas has shown us flashes of his brilliance throughout the 2012 season, it feels like the Ducks have left a little DAT on the table. His Civil War performance was terrific (17 carries for 122 yards and three touchdowns), but will Thomas be one of the stars of the Fiesta Bowl?
Because we're all frustrated offensive coordinators, let's consider how we would best use De'Anthony Thomas on January 3 against Kansas State.
Punt/Kickoff Returns
Mark J. Rebilas-USA TODAY Sports
De'Anthony Thomas has scored only one touchdown this season off a punt or kickoff return—a nice punt return in the Colorado game. After scoring two TDs last year on kickoff returns, most Oregon opponents kicked away from Thomas this season.
Can't blame them.
It seems to me, however, that Oregon should be able to create more opportunities for Thomas on punt returns. With his speed and vision and a good scheme on the defenders, DAT should break into the open against the Wildcats.
I don't know how speedy Kansas State's special teams coverage players are, but I'm pretty sure they aren't as fast as Thomas.
The Ducks' game plan should include a snazzy punt return scenario, and it should let DAT shock and awe the Wildcats.
Second Half Duty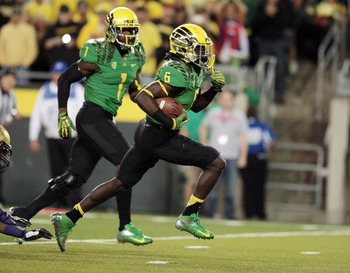 Scott Olmos-USA TODAY Sports
Last week I had the opportunity to talk with some Kansas State fans. They seemed loyal and quite knowledgeable about their team.
The one takeaway from our conversation was when they said that most K-State fans thought the Wildcats' defense got tired in the fourth quarter of the Baylor game that they lost 24-52.
Cha-ching!
Use DAT in limited fashion during the first half—just enough to keep everyone honest. Run plays at your usual frantic clip, Oregon. Kenjon Barner-boom; Marcus Mariota-boom; Colt Lyerla-boom; Josh Huff-boom, etc.
And then, late in the third quarter, run Thomas four-out-of-five plays and see if K-State can stop him. Run those plays every 11 seconds, or whatever ridiculous pace Chip Kelly likes.
If Kansas State's defense got tired playing Baylor in the fourth quarter, DAT should leave them puking on the turf of Glendale's fancy stadium.
Wildcat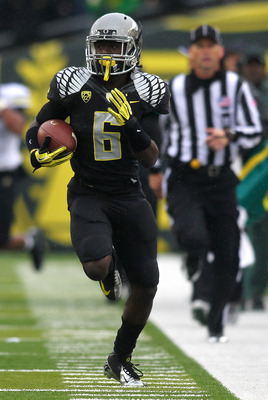 Jonathan Ferrey/Getty Images
How about using the Wildcat formation on the Wildcats?
Out of the shotgun formation, direct snap the ball to Thomas. He runs the jet sweep at a dead sprint. Or, if the Ducks really want to confuse K-State, Mariota glides into the secondary unnoticed and Thomas lofts a nice pass to the Flyin' Hawaiian, who is likely in the clear.
Is Thomas capable of passing the ball? Who knows.
But I'd like to see him try it, wouldn't you?
One Guy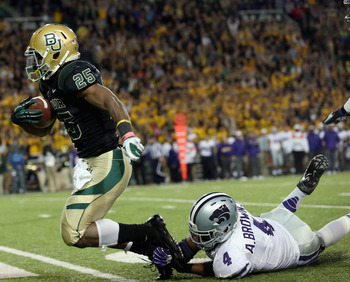 Ronald Martinez/Getty Images
One of the Kansas State defensive players who impresses me is linebacker Arthur Brown. At 6'1", 223 lbs, Brown is quick and moves side-to-side efficiently.
Brown will be in Thomas' way—Kenjon Barner's, too, for that matter—unless the Ducks take care of him.
Neutralize Arthur Brown and DAT will have a much better chance at scooting through into the secondary.
If that happens, good luck to you, Kansas State.
Kay Jennings is a member of the Football Writers Association of America.
Keep Reading

Oregon Ducks Football: Like this team?