1st Quarter Report Card Grades for Each Member of the Sacramento Kings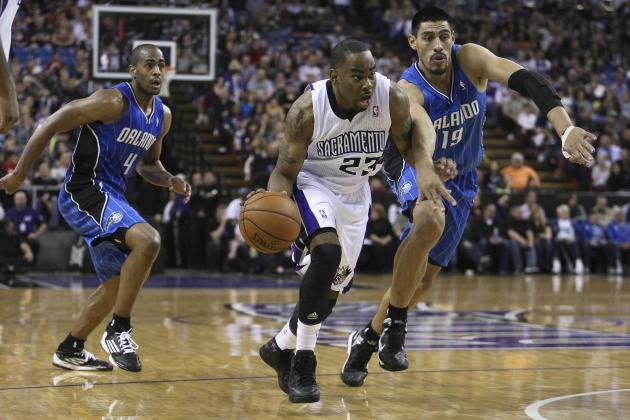 USA TODAY Sports

It's safe to say that as a team, the Sacramento Kings have underwhelmed in the first quarter of the NBA season. Not that much was expected from the Kings to begin with, but even then, they've still found a way to not meet expectations.
We know the team has left a lot to be desired, but what about the players? How have the players performed during the first quarter of the season? Have the young players taken steps in terms of on-court play or maturity? Have the veterans found a way to contribute consistently? What about those players in new roles? Have they adapted to those roles?
These are all pertinent questions to examine now that we have enough of a sample size to start making some determinations. So, here are the first-quarter grades for each and every player on the Sacramento Kings.
(Note: Grades are based on not only performance, but also performance based on expectations. So a player with better stats than another player may have a worse grade, simply because more was expected out of that player. Also, all stats used in this slideshow are current through games played on Dec. 12)
Begin Slideshow

»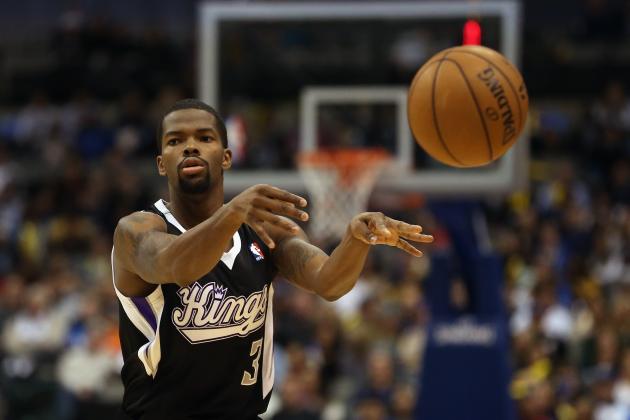 Ronald Martinez/Getty Images

Like most members of the Sacramento Kings, Aaron Brooks' season has been filled with ups and downs. He has had a few good games, including a stretch of five games when he averaged 12 points per game, but he did it behind a 72.7 percent field-goal percentage and a 64.7 percent three-point percentage.
But overall, Brooks has left a lot to be desired, especially as a distributor. In that area, he's only averaging 2.6 assists in 24 minutes of action per game. Now Brooks has never been known as a pure point guard; he has always been a shoot-first guard. However, his 3.9 assists per 36 minutes is well below his career average of 5.2 entering this season.
If Brooks isn't facilitating the offense and he isn't scoring with any regularity, then he isn't fulfilling his role as the team's starting point guard. We've seen solid defense from Brooks all season as well as some spurts of good offensive performances. Now he needs to put all that together on a more regular basis.
Grade: C-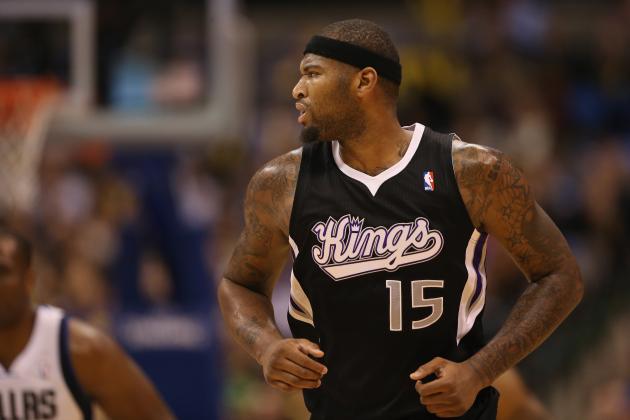 Ronald Martinez/Getty Images

For DeMarcus Cousins, the first quarter of the season has gone about as badly as expected. As far as DMC is concerned, the one thing we were hoping to see was more maturity. There's no questioning his ability—the question was if he could stay focused and in line. So far, he has utterly failed at that.
He was suspended two games earlier in the season for getting in a postgame confrontation with San Antonio Spurs broadcaster Sean Elliott. Then, a couple weeks later, he was ejected from a game against the Jazz for arguing with the refs. Most recently, on Dec. 12, Cousins was hit with a one-game suspension for striking O.J. Mayo in the groin area during the Kings' loss to the Mavericks.
On top of that, even when he's on the court, Cousins just hasn't played up to the level we expect of him, especially early in the season. In fact, on Dec. 5, DeMarcus admitted he's not playing with confidence and that he'd been terrible for the early part of the season:
"I've been terrible," Cousins said bluntly but softly, according to the Sacramento Bee. "We're losing. I don't feel like I made improvements from last year. I really don't have any confidence at all. I'm just trying to think my way through it, but right now, I'm not finding anything."
He has come on of late, averaging 21.5 points and 11.3 rebounds over his last four games. His play on the court should definitely come around simply because of DMC's talent. The real thing to take away from the first part of the season is that he has yet to show any signs of maturation, which is starting to become a major concern at this point.
Grade: D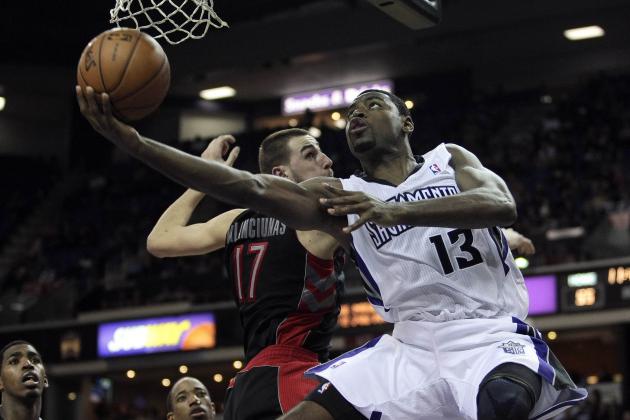 USA TODAY Sports

Whenever Tyreke Evans has been healthy this season, he has been a productive player. The problem is that he hasn't been healthy of late, missing five of the Kings' last seven games due to a nagging knee injury.
Just glancing at his numbers, you'd think Tyreke has taken a step back. His 15.6 points and 3.6 assists per game are both career lows. And while it's fair to concede he hasn't progressed as much as we'd thought following his Rookie of the Year campaign in 2009-10, he's starting to once again show some promise.
For one, Evans' efficiency has really taken a step forward this season. He's averaging only 2.6 turnovers per 36 minutes, which is the lowest of his career. His PER (player efficiency rating where 15 equals league average) of 17.6 and his win shares per 48 minutes (.092) are both the best he has posted since his promising rookie season.
But the most noteworthy aspect of Evans' season so far is his improved jump shot. It took him a few games to find his stroke this season, but now that he has, it's really taking off. Over his last eight games, Tyreke has hit 50 percent of his three-point attempts (over 16 attempts). Also, his 33.3 percent three-point percentage is a career high.
With Evans' ability to get to the basket consistently, developing a consistent jump shot was a necessity, especially since we'd seen a trend of defenders giving him space to negate his penetration, only to have Tyreke clank jumper after jumper off the iron.
There's no doubting he still has areas to improve in, and I know he has been getting a lot of negative attention from the media (I've seen articles on B/R and others) for not living up to his lofty expectations. But for the first time since that propitious rookie campaign, Evans appears to be back on an upward trend. For that, he will be graded favorably.
Now, if only he could just stay healthy.
Grade: B+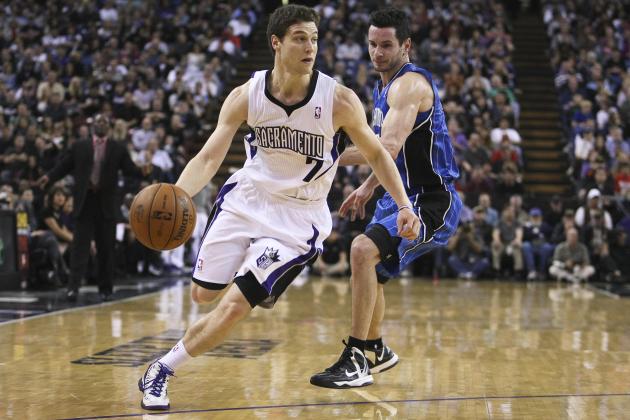 USA TODAY Sports

Like with Evans, just glancing at the back of Jimmer's basketball card won't tell the whole story of how much he has improved. Most people will see his scoring dropped to 6.8 points per game, and assume he's not getting the job done.
The real issue is that Fredette simply hasn't received the playing time to greatly influence his volume statistics. You need to look at ratio stats and per-36 minute stats to see the progress he has made.
For one, his shooting percentage of .478 is much improved from last year. It's an indication of increased basketball IQ in terms of the shots he takes, as well as increased aggressiveness and confidence in his ability.
Jimmer's minutes are down to 11.3 per game this season, compared to 18.6 last season, which is why his points per game are down. His points per 36 minutes, however, are way up. After averaging 14.7 points per 36 minutes last season, this season that number is all the way up to 21.6. His PER of 19.0 this year, compared to 10.8 last season, shows that he has gone from a below-average offensive player to an above-average one.
Because Jimmer's playing time isn't totally up to him, I'm not going to penalize him for it. All a player can do is maximize the opportunities he gets; Fredette has done that.
Grade: B+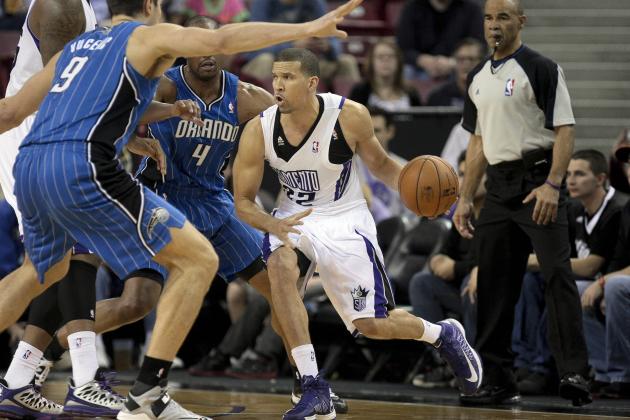 USA TODAY Sports

Francisco Garcia is the consummate professional. He's always in shape, he's always ready when the coaches call on him, he's always cheering on his teammates, and he never complains about his lack of playing time. Because of that, Garcia was more than ready when his name was called to replace Tyreke Evans while he dealt with his knee injury.
Garcia has started the last four games for the Kings, and he has had mixed results. Over that span, he's averaging 11.3 points, 3.3 rebounds and 2.5 blocks. In the game against the Mavericks, Garcia also dropped 25 points.
At this point, Garcia is never going to be worth his $5.8 million salary—to expect that of him is unrealistic—but he has shown that he can still be a valuable member of this team.
The Kings need his leadership, and they also need a player who's flexible like Garcia. He can start, he can come off the bench, and he can go a few games without getting in. Either way, Francisco is always ready when the team needs him.
Grade: C+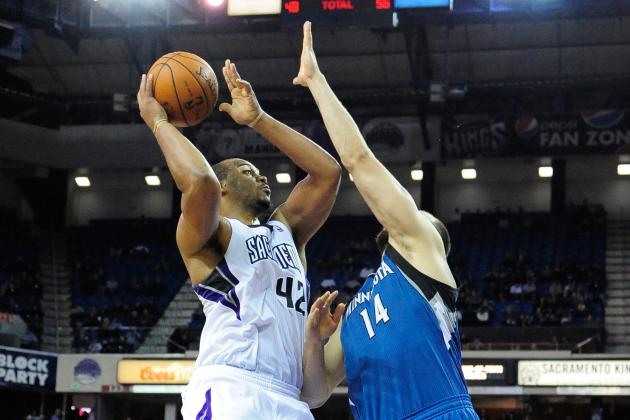 Kyle Terada-USA TODAY Sports

Chuck Hayes has given the Kings about what you would expect from him. He has done a solid job rebounding and defending when he gets in the game.
Hayes has also been called on to facilitate the offense at times, with Keith Smart having him operate things from the top of the key due to Hayes' ability to find players cutting to the basket. In fact, his 3.6 assists per 36 minutes and his 15 percent assist percentage are both career highs and are indicative of the role he fulfills on the team.
As has often been the case with Hayes throughout his career, he can't be relied on to score with any consistency. His 5.7 points per 36 minutes is well below his career average of 7.5, with most of his baskets coming on putbacks or by being set up by his teammates. When Hayes tries to do too much and create his own shot, he simply doesn't have the skill set to do it.
That said, the Kings didn't bring Hayes in for his scoring, but rather for his veteran leadership, rebounding and defense. Anything they get from him on offense is a positive, but we knew that going into the season, which is why Hayes' play thus far is par for the course.
Grade: C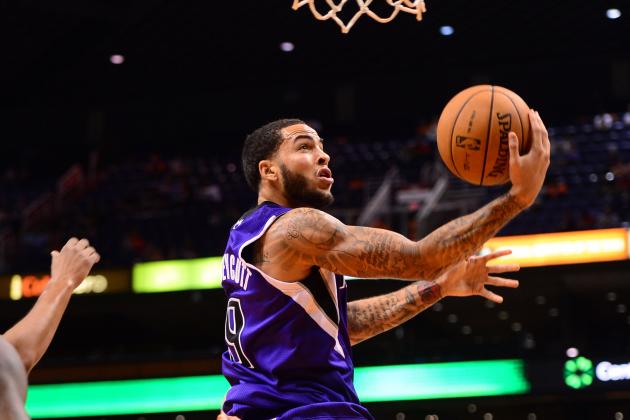 Mark J. Rebilas-USA TODAY Sports

Tyler Honeycutt has yet to appear in a game with the Kings this season. He missed all of training camp and most of the preseason with a stress fracture in his right foot. He's currently playing for the Reno Bighorns of the NBA D-League and is averaging 10.2 points and 9.4 rebounds in five games of action since returning from the injury.
Because he has yet to play in the regular season, it's impossible to evaluate Honeycutt.
Grade: Incomplete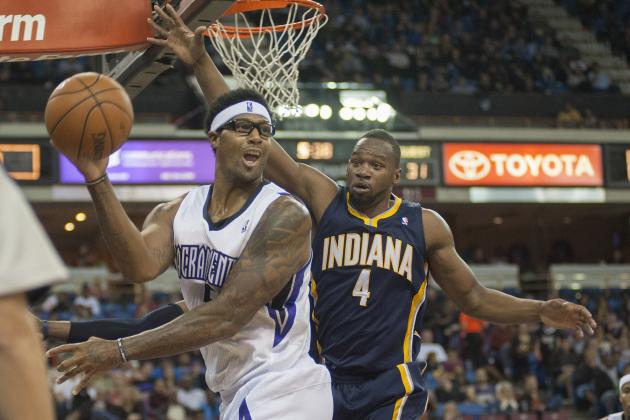 Ed Szczepanski-USA TODAY Sports

As we expected, James Johnson has been an excellent defender for the Kings. At times when he's matched-up against power forwards, he has shown the size and strength to defend them. Other times, Johnson has been locked on small forwards and has displayed enough quickness and length to bother them.
But Johnson has always been a solid defender in his three NBA seasons, and his 104 defensive rating is right in line with career defensive rating of 103. It's on the offensive end where Johnson has been severely lacking for the Kings.
In his first three seasons, Johnson was a slightly below-average offensive player, at least in terms of efficiency, with a PER of 13. This season he has seen that number drop to an atrocious 6.4. He has also seen his offensive-win shares go negative to minus-0.8. Consider that Johnson's defensive-win shares on the season are at 0.4. That means as solid as he has been on defense, his offense is so bad that his overall production detracts from the team.
Like with Chuck Hayes, Johnson's wasn't brought in for his offensive game, but his defensive presence is enough to where he still has value on this team. However, any notion of him starting (like he did to begin the season) or playing big minutes is not realistic—his lack of offense leaves too much to be desired.
Grade: D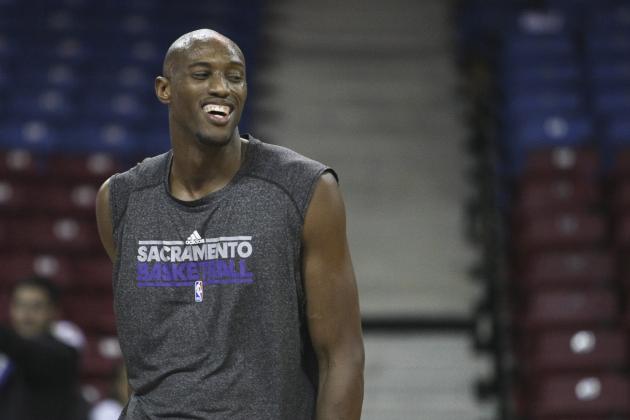 USA TODAY Sports

Travis Outlaw has actually been a positive contributor for this team, which is more than I expected entering the season. Realistically, Outlaw's still a below-average player, but he is almost directly responsible for one of the Kings' seven wins, which is more than can be said for some other players.
On Dec. 8, against the Trail Blazers, Outlaw scored 11 points in the final 14 minutes to help ice the game. He also provided some key plays on defense. For that game, Outlaw posted an offensive rating of 150, a defensive rating of 88 and a plus/minus of plus-15.
Outlaw will go long stretches without getting into games or without contributing much when he does get in. However, as long as he has flashes of brilliance like he did against the Blazers, he'll be providing a lot more than he did during the full 2011-12 season.
Grade: C+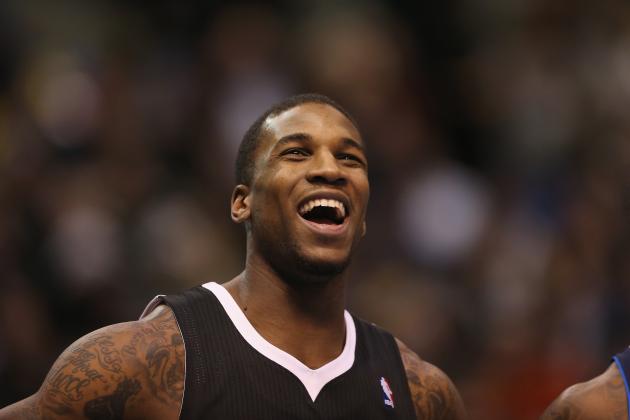 Ronald Martinez/Getty Images

It's difficult to evaluate Thomas Robinson based on the first quarter of the season. Judging based on what we've seen so far, Robinson looks like an extremely raw but athletic player. He looks like he'll struggle to contribute consistently on offense, which has been the case so far, but that doesn't mean he'll fail to progress as the season goes on.
The one thing to like about T-Rob is his ability to contribute in multiple ways, which is something we've started to see with more regularity from Robinson. For Robinson, his genesis was a game against the Orlando Magic, when he scored only one point in 16-plus minutes of action but was able to remain on the floor because of his defense, rebounding and relentless motor.
Following that game, Robinson spoke about how that contest opened his eyes to the fact that he can contribute and stay in the game even if he isn't scoring and how it boosted his confidence. For now, that's what the Kings need from Robinson. Given his work ethic and athleticism, his offensive game will develop in time.
What he needs to do right now is provide enough in other areas of the game so that he can continue to get quality minutes as the season progresses.
Grade: C-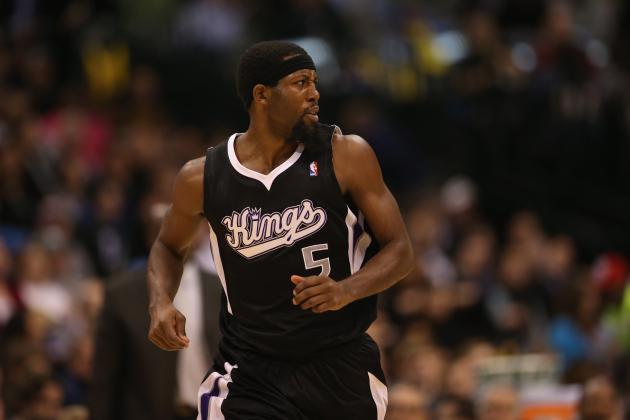 Ronald Martinez/Getty Images

The grades in this slideshow are based on a player's expectations entering the season, and whether or not he's met those expectations. With that in mind, nobody on the Kings has outperformed what's expected more than John Salmons.
Entering the season, I thought any production the Kings got out of Salmons would be a bonus—he was that bad last year. Not only has Salmons given the Kings production, he has also been one of their most consistent players, especially over the most recent stretch of games.
In his last seven games, Salmons has averaged 10.3 points, 4.9 assists and 3.1 rebounds. He's also starting to show the vintage defense that we'd come to expect of Salmons during his first stint with the Kings.
Now Salmons isn't a flashy player, and he's not one of the top players on the team, but considering what we expected of him, he's had a very nice start to the season.
Grade: B+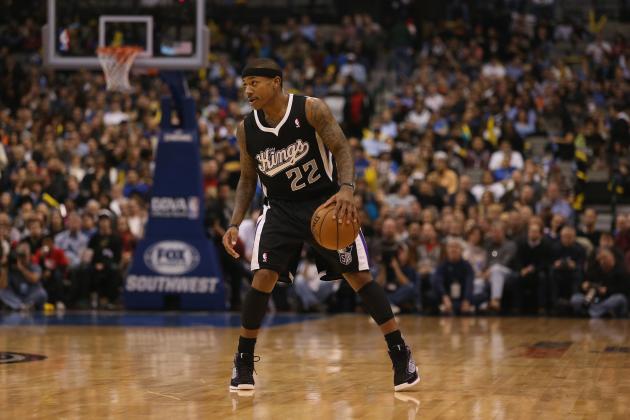 Ronald Martinez/Getty Images

Isaiah Thomas has had a strange start to the season. He was the starting point guard to open the year, but after not performing, Aaron Brooks was elevated to the starting lineup. However, after underwhelming at the start of the year, Thomas is starting to get back on track.
Thomas' scoring has really come around, now to the point where it was last season. Last year, Thomas averaged 16.3 points per 36 minutes; this year he's at 16.2.
However, his efficiency is still lacking. His PER of 12.1 is below league average and below the 17.6 he posted as a rookie last year. He's also turning to ball over too regularly, averaging 3.5 turnovers per 36 minutes, compared to 2.3 last season. Last, but certainly not least, his ability to facilitate the offense has regressed, as he's averaging 3.8 assists per 36 minutes, and his assist percentage has dropped to 17.8 percent.
Thomas' overall season hasn't been terrible, but given the expectations for him entering the season, he hasn't quite performed as well as we would have hoped.
Grade: D+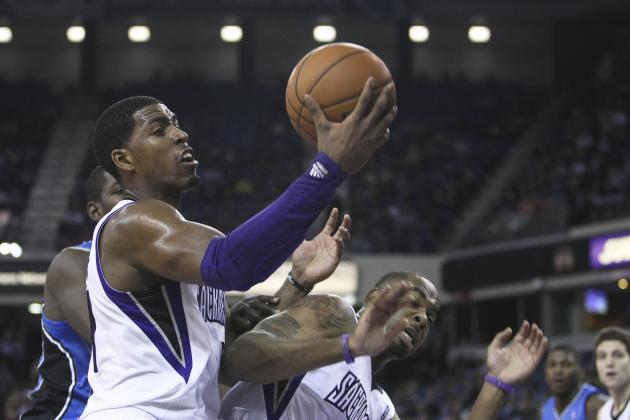 USA TODAY Sports

It's almost comical how much Jason Thompson's 2012-13 season mirrors his career production.
Thompson averages 13.7 points per 36 minutes for his career; this season he's at 12.9. He averages 9.5 rebounds per 36 minutes for his career; this season he's at 9.2. He also has a career field-goal percentage of 49.8 percent; this season he's at 50 percent.
As you can see, Thompson's been no greater than expected and no worse than expected. If slow and steady always won the race, then I'd put my money on Jason based on how this season has started out.
Grade: C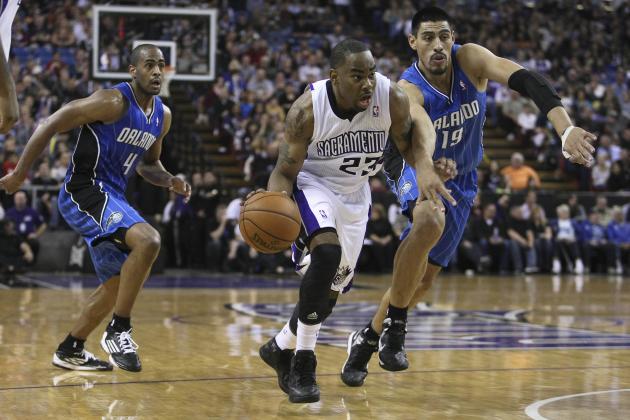 USA TODAY Sports

Marcus Thornton is more difficult to evaluate than most players on this team—that's largely because Thornton is now the Kings' sixth man, whereas he was a starter in the vast, vast majority of his previous 78 games with the Kings.
Thornton's production is down; there's no denying that. His shooting has been out of sorts all season with a career-low field-goal percentage of 40.5 percent and a career-low three-point percentage of 32.7 percent. He has also seen his win shares per 48 minutes dip to .076 after posting .123 with the Kings in 2010-11 and 0.103 last season.
The real question is, how much of this is due to bad play, and how much of it is due to Thornton not yet adapting to coming off the bench?
For now, I'll give him the benefit of the doubt and go with the latter, mainly because we've still seen Thornton hit big shots for the Kings. But there's no getting around the fact that his overall production hasn't quite been what we've come to expect from the Bayou Bomber.
Grade: C-