Tottenham Hotspur: Can Spurs Usurp Arsenal as North London's Best?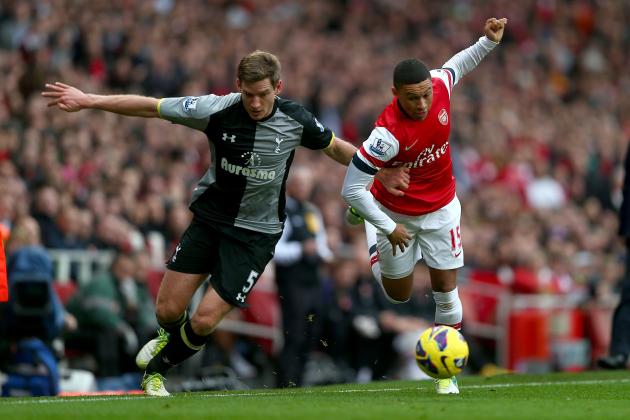 Clive Rose/Getty Images
Arsenal got the better of Tottenham in their most recent meeting, but could Spurs have the beating of them in the long run?
Arsenal's Capital One Cup quarterfinal defeat to League Two outfit Bradford City on Tuesday enveloped the already cloudy north London club in gloom.
Most clubs would be reasonably content with being seventh in the Premier League while awaiting the draw that will decide their opponents for the next round of the Champions League—but the Gunners are used to better than this.
You can understand the frustration of a fanbase that put so much faith in Arsene Wenger's strategy to build a new side that would replicate his previous teams' success, yet have seen little evidence to believe this is coming.
The remainder of the season is shaping up to be a monumental one for Arsenal, one way or another a change is gonna come.
Meanwhile, their crosstown rivals Tottenham Hotspur are feeling more optimistic about their prospects, even if the reality they inhabit is not all that different.
Tottenham sit above Arsenal in the league at the time of writing, but are they capable of establishing a permanent placing above them in a way they have failed to do so in their recent attempts?
Begin Slideshow

»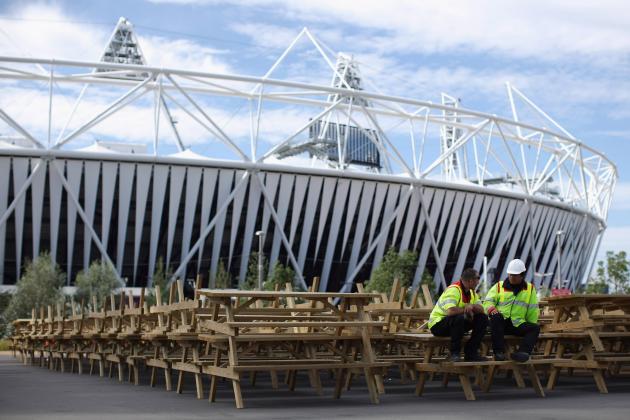 Dan Kitwood/Getty Images
How would playing in the Olympic Stadium effect West Ham?
With six London clubs currently in the Premier League, the state of football in England's capital city has never been healthier in some respects.
In other ways, it is a more convoluted state of affairs.
Chelsea are champions of Europe (and possibly about to be world club champions) and reigning FA Cup holders, but they finished out of the top four last season and are seemingly perpetually in doubt about the direction the club is taking (an uncertainty admittedly helped by being able to throw money about like they can).
Fulham are relatively stable, Queens Park Rangers are struggling but are at least in the top flight after a long absence, and West Ham United could potentially be playing in a 60,000-capacity stadium within a few years.
Tottenham and Arsenal exist somewhere between Chelsea and the other group of three right now, with the potential to move in either direction or just hang around where they are.
The west London clubs' fates are entwined by their competition for valuable real estate in the area, but it is the duo from the city's north that feel most significantly linked right now.
Clive Rose/Getty Images
Arsenal celebrate a goal during their recent defeat of Spurs.
Arsenal's 5-2 hammering of Tottenham in the most recent north London derby would have been a notable assertion of their superiority if not for their otherwise inconsistent league form.
The Gunners beat Spurs by the same scoreline in February and went on to leapfrog them into third place last season, a deserved placing for the nature of their finish after a tumultuous beginning to the campaign.
Robin van Persie's departure has notably weakened them, but Arsenal's current plight still baffles in the respect that there is still quality throughout this squad.
For them, the hope surely lies in their youth, where players like Jack Wilshere and Alex Oxlade-Chamberlain are viewed as foundations in which they can build around.
But transition is something Arsenal fans have been waiting on for a while now, and the failure of so much of their squad to perform consistently and effectively in the manner the Premier League's best teams do is a major point of concern.
Despite Tottenham coming off worse in the most recent battles with their neighbors, there is a feeling of promise around the place that is comparatively nonexistent around the Emirates Stadium.
Spurs have gotten close to Arsenal over the last half-decade but have been unable to translate a few memorable wins into sustained superiority.
So why is there optimism when despair reigns so supreme at Arsenal?
In the short term at least, Spurs are capable of finishing above them with a squad that boasts some players of genuine quality and is augmented by a crop of talented young players of their own.
They have had issues with consistency too, significantly in their failure to hold onto leads, but should they correct this there is the makings of a top-four team there (something not to be sniffed at knowing how much difficulty this club has had in sustaining a place there).
In the long run, the hope that Tottenham might be able to move ahead of Arsenal lies with their manager, Andre Villas-Boas.
Spurs supporters are cautiously optimistic their young manager will ensure they do not lose the ground they have made up in recent seasons, and that he is capable of taking them forward.
It is early days in a project that has many challenges to overcome, but the club knows where it is at right now which is not something that can be said for Arsenal.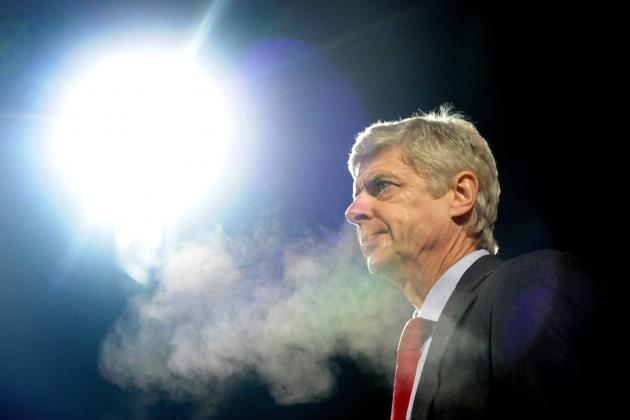 Laurence Griffiths/Getty Images
Will Wenger spend the money he is supposed to have?
Years of Champions League football, a 60,000-capacity stadium bringing in a lot of cash and backers with big bank balances should ensure that Arsenal have a financial advantage over most clubs, let alone Tottenham.
In practice it has not been as simple as throwing money at the world's best players, and Arsenal fans are wondering why.
BBC Sport was one of several media outlets reporting that Wenger has money to spend according to claims made by chief executive Ivan Gazidis at an Arsenal Supporters' Trust meeting on Wednesday.
For some time many Arsenal fans have thought that the lack of spending on top-quality players has been down to the club's hierarchy, with some calling for shareholder Alisher Usmanov to be allowed a greater influence in matters (instead of the comparatively low-key Stan Kroenke) to give Wenger greater backing.
But the general thinking seems to be moving just as much to the notion that the Frenchman, for some reason, is unwilling to spend and would rather focus on bringing through younger players brought up on his preferred style of playing.
The reasons for the disconnect between Wenger's ideals and ambitions are unclear, and whether he can find a working balance between them this January may decide his future.
Tottenham have not been shy in spending money, and have given the impression that if they were a consistent qualifier for the Champions League they would up their financial outlay accordingly.
Getting to that point is the challenge though, and until they do so they are at a comparative disadvantage to Arsenal.
It makes what happens on the pitch at both of these clubs all the more important—if Arsenal struggle any further they could feasibly begin to fall behind Spurs.
Time is of the utmost urgency for Villas-Boas in this regard.
While he will need patience if he is to ultimately succeed at White Hart Lane, there might not be a better time to get ahead of the Gunners.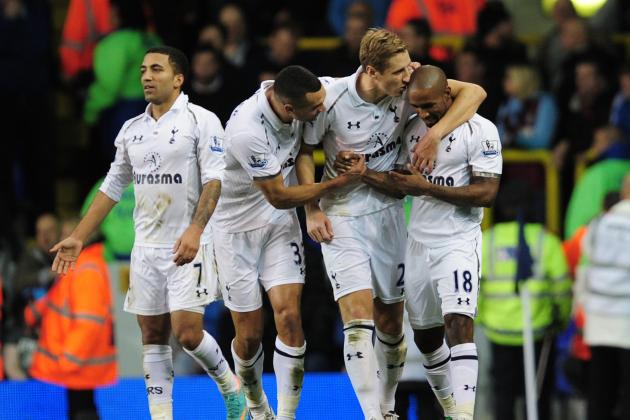 Jamie McDonald/Getty Images

Can Tottenham Hotspur become the dominant team in north London at Arsenal's expense?
They can...but whether they will, it is too early to tell.
Tottenham have a lot going for them right now, and with a new training ground, a potential new stadium and a younger manager they have high hopes for there is reason to believe things will get better.
Yet despite Arsenal's problems, it is hard to see them falling away to the extent you would regard them as being the lesser of the two clubs.
Wenger may sort things out, but if he is proven to be unable to take the Gunners any further forward, there is every chance the next man might.
Following Wenger, who is so prevalent and influential a figure at the club, would not be easy.
But whoever it would be would have tools at his disposal that would be the envy of managers the world over.
Arsenal remains a great club, and even if Spurs get the better of them this season, doing so in the long-run will take a lot of work.