WWE: What You Missed Since Raw; Mahal Biggest Winner, Gabriel Biggest Loser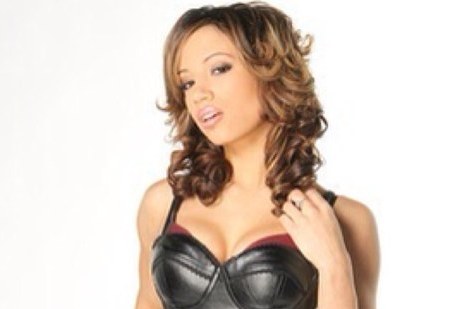 Sasha Banks debuts on NXT (image from @SashaBanksWWE on Twitter)
WWE TLC: Tables, Ladders and Chairs looks good on paper. Of the seven matches announced for the Barclays Center in Brooklyn as of Sunday afternoon (including the pre-show battle royal), every match comes with a stipulation or a title defense, giving every match the chance to be really impressive.
But the potential for a solid WWE pay-per-view doesn't always translate to a solid product. This is something that every WWE fan knows to be true. The final week of build-up can make all the difference when it comes to buy rates, and Vince knows this as well as anyone.
While most of the WWE Universe will make their decision to buy the pay-per-view based on their Raw and SmackDown experiences, the WWE has at least four more opportunities to sell its product every week. And that's what this review is all about.
If the lineup is good enough, people will tune in. If the action is good enough, people will pay attention. If they're really paying attention, they can't help but be inundated with TLC propaganda. It stands to reason, then, that the better WWE's programming is for these other shows, the better chance that the viewers will pay for Tables, Ladders and Chairs.
To that extent, I take a look at WWE's four "other" shows: NXT, Main Event, Superstars and Saturday Morning Slam. After we review everything that happened on these shows, we'll decide who benefited the most last week and who needs to be sending feelers to TNA and ROH.
My "highlights" version of all four shows is below.
If it piques your interest enough to read on, the slideshow breaks down the shows individually, segment by segment, complete with my questions, predictions and/or honorable mentions. If you disagree with my selections for who benefited/suffered the most, let's chat about it.
Highlights
On NXT, Paige opened the show with a solid match in which she was victorious over Sasha Banks, who was making her NXT debut. This was followed by one promo from Roman Reigns and another from Kassius Ohno and Leo Kruger.
In the next match, Bray Wyatt introduced Rowen as the newest member of the Wyatt Family, as he was victorious over Oliver Grey. Then Dusty Rhodes addressed Vickie Guerrero's bounty on Big E. Langston and set up a match for next week featuring Langston and Camacho.
In the main event, Seth Rollins wrestled Jinder Mahal for over eighteen minutes to successfully defend his NXT Championship.
On Main Event, the feature presentation saw Ryback get an expected victory over Alberto Del Rio after Ricardo Rodriguez tried (and failed) to show a seventeen minute highlight reel of ADR's career.
This was followed by 3MB coming to the ring to make some complaints. They were challenged to a handicap tag match by Justin Gabriel and Tyson Kidd, and the heel trio came away with the win.
On Superstars, 3MB faced International Airstrike again, but this time in a regular tag match with Slater in the corner. Once again, 3MB takes the win.
Along with several Raw replays, the only other action on the show was Brodus Clay winning for the third week in a row, this time in a match with Michael McGillicutty.
On Saturday Morning Slam, Gabriel and Kidd finally get a win when they squared off against the Primetime Players. In the main event, Ryback squashed two jobbers in a handicap match.
Other segments from SMS included JBL's take on Tribute to the Troops and a Saturday Morning Spotlight segment starring Ryback.
Now, if you care to read more about any of these happenings, please enjoy the slideshow.
Begin Slideshow

»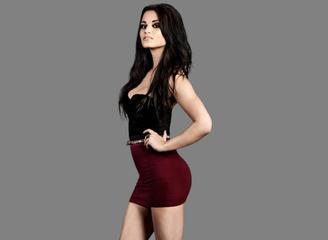 The most dominant female in the NXT Universe, Paige (photo credit WWE.com)
Tom Phillips and William Regal welcome us to NXT after a video package reminds us of the encounter between Seth Rollins and Jinder Mahal from two weeks ago when Michael Cole interviewed both men in the middle of the ring. The NXT Championship is on the line tonight, but we start things off with some NXT Divas action.
Paige vs. Sasha Banks (match length 4:07)
Paige is the unofficial queen of the NXT female division, yet to suffer a defeat on NXT, according to the commentary team. Sasha Banks is making her NXT debut.
Other than a complexion that brings to mind someone like Mariah Carey, Banks' look reminds me of Alicia Fox (more slim than athletic, long hair, bright ring attire). Based on this short match, I'd say she's a better in-ring performer than Alicia.
Given Paige's reputation within NXT, it was never really a question whether she'd take home the victory, but it wasn't a squash match. Banks got in some decent offense, and even a couple of pin attempts, before she suffered the Paige Turner.
Look for Sasha Banks to be a contender down the road.
Post-match, Roman Reigns is backstage for an interview. A couple of weeks ago, he was set for an interview but sent a note instead saying he was too busy. Reigns spends a few seconds talking about how important he is, implying that he's wealthy, and leaves the interview to take a cell-phone call.
Then we are shown a replay of the end of last week's matchup between Tyson Kidd and Leo Kruger. After Kidd got the win, he was attacked by Kruger and Kassius Ohno, only to be saved by William Regal.
Backstage, Kruger and Ohno give a promo, further establishing their partnership. Counting Richie Steamboat, Trent Barretta and Kidd, Kruger says they now have three "trophies" and that there will be more. Ohno admonishes Regal for getting involved, ending the interview with a great line: "I'll see you in the ICU."
When we return from a commercial break, Bray Wyatt makes his way to the ring, talking about love in a very cult-leader-like way. He introduces the newest member of the Wyatt Family without providing a name.
Oliver Grey vs. Rowen (match length 1:58)
Comparable in size to someone like Kane, the newest member of the Wyatt Family is bald with a long red beard that puts Daniel Bryan's facial hair to shame. The new guy brings a rocking chair out with him and leaves it at the top of the ramp for Wyatt to sit in while he watches the match.
Despite Grey's impressive physique, he is dominated by this man that Wyatt calls a "son." Regal repeatedly calls the new guy a "disciple" of Wyatt. Wyatt's second son ends the match with a really impressive sidewalk slam. Post-match, he appears to be counting something on his hand, but it is unclear what's going through his mind.
As the new disciple heads up the ramp, Wyatt gets back on the mic. After listening three times, I believe he says the following as they exit together: "Welcome the second son of the Wyatt family, Rowen. Follow the buzzards."
After a commercial break, The American Dream comes out to play commissioner. He addresses the issue of Vickie Guerrero putting a bounty on Big E. Langston. Rhodes says that no one can put out a bounty in NXT except for him and he is quickly interrupted by Camacho.
At this point, the segment arguably gets a tiny bit racist. Rhodes asks what his position would be called in Spanish, and Camacho calls him "El Cap-i-tan," to which Rhodes laughs and says, "I love el cap-i-tan, isn't that good?" Camacho says he needs that bounty money because his friend Hunico is stuck in Mexico.
After Camacho begins to threaten Rhodes, Langston makes an appearance. Rhodes sets up a handicap match for next week, Big E. Langston vs. Camacho and a partner of Camacho's choosing.
Then we get a pre-recorded comment from The Big Show. He is answering the open challenge that Bo Dallas put out last week. Along with the handicap match, we'll also see The Big Show vs. Bo Dallas next week. We take another commercial break before the main event.
For the first time on NXT, Mahal comes out with his 3MB gimmick instead of his traditional ethnic attire. This is a rematch from the finals of the "Gold Rush Tournament" in which Rollins initially won the title. As they go through the traditional in-ring announcements for a world title match, there's a little more than 20 minutes of programming remaining.
Seth Rollins vs. Jinder Mahal (televised match length 18:10)
NXT Championship Match
Throughout the entire match, these two men are portrayed as equals, control going back-and-forth, neither man maintaining an advantage for long. As we head to a commercial break, Mahal is in control but growing frustrated after Rollins kicks out of back-to-back pin attempts.
Mahal is still in control as we return from the commercial break, and remains in control for several minutes. Rollins makes a few attempts to build a comeback, but each attempt is squashed by Mahal. As we head to another commercial break, Mahal is in control again.
Showing that they aren't even trying to hide the fact that this show is recorded several weeks in advance, we see a TLC promo when we return from commercial break, highlighting the main event in which Seth Rollins is featured as a member of The Shield.
Mahal has Rollins in a submission hold when we get back to the action, and switches to a sleeper hold soon after. There are no more commercial breaks, so we're on the last leg of this match. Rollins gets some space between himself and the challenger after a brutal kick to the challenger's head.
Both men appear tired as they exchange blows, a gut-check to see who will take control. Mahal is clotheslined to the outside and Rollins follows up with a suicide dive between the middle and top ropes. Mahal refuses to be pinned once he's back in the ring, but Rollins is firmly in control again.
After several minutes of big moves and near falls from both men, Rollins hits the Skywalker for the pinfall victory. It will be interesting to see how the NXT storyline goes now that Rollins is fully integrated into the main WWE roster with no mention of his NXT title reign.
On Rollins' way back to the locker room, NXT relative newbie Cory Graves gives a sarcastic congratulatory applaud, implying that he'll be the next to challenge for the title.
Prediction: After Rollins works a brief program with Graves, he'll get involved with Kassius Ohno and Leo Kruger, who will relieve him of his championship duties.
Question: Where in the world was Dean Ambrose during all of this? How is it that he's not even featured on television, but he still gets the call up to the main roster with Reigns and Rollins, arguably the two biggest names on NXT?
Honorable Mention: Seth Rollins looked absolutely fantastic in his title defense, and his affiliation with The Shield was mentioned on almost every show. He was close to being named this week's biggest winner.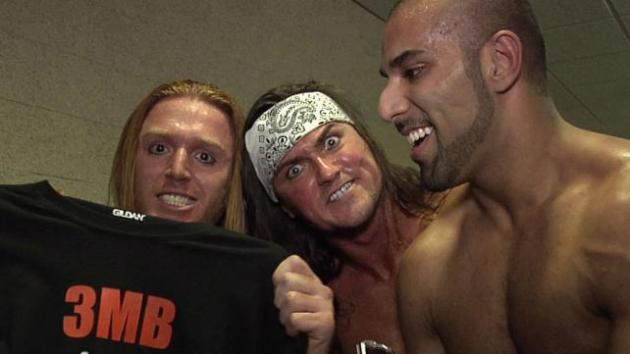 Image credit: WWE.com
The Miz and Michael Cole welcome us to another edition of WWE's Main Event. Almost immediately, they talk about Ryback and the TLC main event, cutting to a promo to get us all caught up on the involvement of Team Hell No and, more importantly, The Shield.
After the vignette, Cole and Miz are interrupted by Ricardo Rodriguez. Rather than going into his intro for ADR, he cuts a promo on the way to the ring, spouting the glories of Del Rio and dismissing the accomplishments of Ryback.
When he finally gets to the ring, he says he has compiled a 17-minute ADR highlight video. He introduces his over-the-top video package. But after only a couple of minutes, Ryback makes his way to the ring. Rodriguez scurries from the ring and hides behind the announce table.
Shortly after, ADR makes his way to the ring without a car or Ricardo's elongated introduction.
Alberto Del Rio vs. Ryback (televised match length 9:20)
Ryback takes the advantage early on, and after sending ADR to the outside after about a minute, we go to a commercial break. Ryback continues to dominate after the break. Every time it looks like ADR may turn the momentum in his favor, Ryback comes right back.
Eventually, ADR is backed into the corner. He moves out of the way as Ryback charges, sending Ryback's shoulder into the ring post. He continues to work on the shoulder and finally takes control as we head to another commercial.
Del Rio is still in control when we return, but it isn't long before Ryback finally fights back and the "Feed Me More" chants start to build. Over the next couple of minutes, both men edge closer and closer to their finisher, ADR constantly going for Ryback's shoulder, Ryback getting more and more revved up as the match continues.
As expected, Ryback eventually hits the Shell Shock and takes home the win.
After a commercial break, Matt Striker is backstage for an interview with Ryback. After another bland promo, Striker asks if Ryback will be able to work alongside Team Hell No. Ryback ends the segment with his own "Yes!" chant.
After a vignette for the Ziggler/Cena match at TLC, 3MB make their way to the ring playing air guitar. Slater gets on the mic and expresses his frustration that they weren't invited to play at the enormous 12-12-12 benefit concert at Madison Square Garden.
McIntyre then complains that 3MB wasn't invited to play at Saturday's Rolling Stones concert that is being promoted by WWE. Mahal complains that Lady Gaga and Bruce Springsteen were added to the show, but not 3MB.
Eventually, they are interrupted by Tyson Kidd and Justin Gabriel and a 2-on-3 handicap match is set up. It will happen after another commercial break.
3MB vs. Tyson Kidd and Justin Gabriel (televised match length 8:55)
The match gets underway as soon as we return from the commercial break with 11 minutes of programming remaining. The action goes back and forth, and it's not clear whether this will be an instance of the heels winning because of their advantage or the faces winning in spite of their disadvantage.
As we approach a commercial break, Gabriel and McIntyre are the legal men in the ring. With McIntyre down, Gabriel goes to the top rope. But Slater and Mahal provide a distraction and McIntyre rolls out the ring near his teammates.
Gabriel and Kidd both hit high-risk dives to the outside of the ring, breaking up 3MB's huddle, putting all five men outside the ring. McIntyre slams fellow legal-man Gabriel into the steel steps as we head to break.
3MB is firmly in control after the commercial break, Mahal working over Gabriel. 3MB utilizes quick tags and isolates Gabriel from his partner, building anticipation for an eventual hot tag. 3MB stays in control for quite some time, but the hot tag is finally made and Kidd goes ballistic on Slater.
Gabriel grabs Mahal as Kidd attempts to put Slater in the Sharpshooter, but McIntyre breaks up the submission hold before it can be locked in. After your standard end-of-a-tag-team-match melee, Slater is alone in the ring with Kidd, nails the Smash Hit DDT and 3MB takes home the victory.
Post-match, they show a replay of last month's Main Event, when Cody Rhodes suffered his shoulder injury at the hands of Team Hell No. Next week, on Main Event, Rhodes gets a chance for revenge in a singles match against Kane.
Prediction: Cody Rhodes will get the victory over Kane next week, perpetuating the feud after Team Rhodes Scholars defeat the combo of Rey and Sin Cara at TLC.
Question: How far will 3MB go before the inevitable break-up and singles pushes? Which of those three will benefit the most?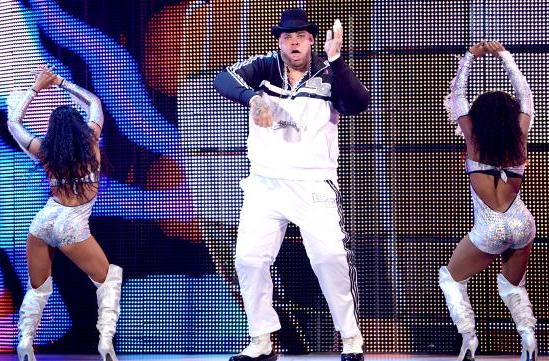 Image retrieved from Tumblr.com/tagged/brodus-clay
Scott Stanford and Matt Striker are at the announce booth as this week's WWE Superstars kicks off, and 3MB are making their way to the ring. We're set for a tag team match, Slater accompanying his bandmates for moral support.
Jinder Mahal & Drew McIntyre vs. Justin Gabriel & Tyson Kidd (televised match length 9:09)
This is almost a rematch from the final show on Main Event, except that Slater is on the outside rather than making it a legitimate handicap match. Perhaps due to timing of the tapings or maybe just an intentional programming note, they don't even mention the match that aired the day before.

Gabriel and Kidd are in control for most of the beginning of the match, and just as it happened on Main Event, we go to a commercial break after Gabriel and Kidd both hit moves outside the ring, leaving the referee alone in the squared circle as we pause for promotional consideration.
Gabriel is working over Mahal when we return to the program, but it isn't long before McIntyre gets back into the ring and 3MB takes control. It appears as though Kidd will get the hot tag before long, just as he did on Main Event.
As the end of the match approaches, Kidd receives the tag and finds himself in the ring with Mahal. Kidd makes a cover that should have ended the match, but Slater puts Mahal's foot on the bottom rope and from there, the match quickly slides into chaos.
Kidd attacks Slater and McIntyre, setting up a spot for Gabriel to come flying over the ropes to take both opponents and himself out for the remainder of the contest. Left alone in the ring with the final graduate of the Hart Dungeon, Mahal takes advantage of a Kidd slip-up and gets the pin for another 3MB victory.
Then we get another commercial break.
Then we get a Raw Rebound, reminding us that Punk still feels disrespected and won't be competing at TLC.
Then we get another commercial break.
Then we saw a replay of the match between AJ Lee and Vickie Guerrero from Raw.
Then we get another commercial break.
And then finally we hear those funky beats and get to enjoy watching the Funkadactyls accompany Brodus Clay to the ring for the only other original match of the evening.
Brodus Clay vs. Michael McGillicutty (match length 3:30)
Although it's a fairly short match, control manages to go from Clay to McGillicutty and back to Clay before it ends. Neither men do anything especially impressive, but they managed to remain botch-free and put on a decent match, even if it lasted less than four minutes.
The match ends when Brodus Clay hits the Splat for the pinfall victory. According to the commentary, this was Clay's third Superstars win in as many weeks.
This sends us to another commercial break and another Raw replay (of Cena vs. Show and the eventual involvement of everyone scheduled for the three main events at TLC) and then the program ends.
Prediction: As long as Clay remains undefeated on Superstars, he will continue to job on Raw and SmackDown.
Question: Does an impressive record on Superstars mean anything good? Or is it simply a way to for WWE to appease its favorite jobbers?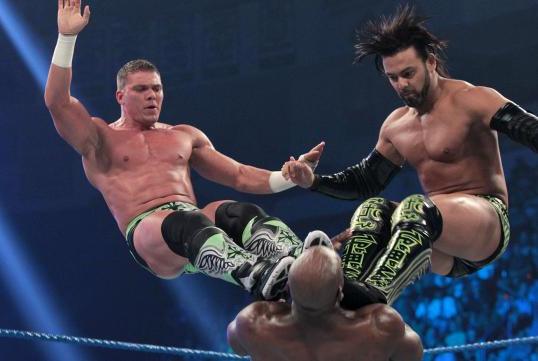 Image retrieved from Tumblr.com/tagged/titus-o'neal
As Saturday Morning Slam begins, we are reminded that Ryback will be featured in the main event, but his opponent's name is yet to be revealed. For a star as big as Ryback advertised to compete on a show like SMS without naming the other competitor, you can bet that it won't be anyone worth remembering. That being said, I'm going to do things a little out of order for this slide.
Prediction: Ryback's opponent for this show will either be Michael McGillicutty or JTG.
As we prepare for the opening match, Josh Matthews and R-Truth are on commentary. The Primetime Players make their way to the ring.
Primetime Players vs. Justin Gabriel and Tyson Kidd (televised match length 7:36)
Having come off of back-to-back loses to 3MB on Main Event and Superstars, Gabriel and Kidd are looking to avoid a record of 0-3 for this week's review. This match actually lasts long enough to be interrupted by a commercial break.
Before that break, however, the high-flying babyfaces take control of the match. In what will probably be one of this team's signature moves (since it's impressive and they used it against 3MB on Superstars), the last move before the break is what gives Kidd and Gabriel the advantage.
Kidd is on the apron with PTP on the outside. Kidd hops up so that his feet are on the second rope and his hands are on the top rope. Gabriel, inside the ring, runs towards Kidd. As he does so, Kidd stretches the second and top ropes apart. Gabriel performs a suicide dive through Kidd's legs and lands on Young and O'Neal.
Finally, we are returning to the days of tag team specialists.
By the time we return from the commercial break, the Primetime Players have formed something of a comeback and Kidd is getting worked over. As always, they're building toward a hot tag to Gabriel as PTP isolate Kidd.
Darren Young manages to lose his team's advantage as Kidd manages to pull away and tag in Gabriel. After another minute or so of impressive tag team action from the team unofficially dubbed International Airstrike, Kidd gets the pin and the win.
After another commercial break, JBL hosts a brief segment in which he talks about WWE's Tribute to the Troops, how it came to be and exactly what the WWE Superstars do there.
This was followed by the Saturday Morning Spotlight (which I had previously been calling the "Superstar Spotlight," so I guess I'd better start paying closer attention) which featured Ryback and showed off how powerful his moves can be.
After another commercial break, we're ready for the main event.
Ryback vs. Robbie Matthews and Yanni Greeco (match length 3:57)
So I was wrong about the specifics of my prediction but correct in the general idea: chances are you won't remember Ryback's opponents' names by tomorrow.
Although the match could have been over after about 20 seconds, nothing happened that you wouldn't expect. Both of his opponents failed to administer any offense and spent most of the match trying to avoid Ryback.
As you've probably guessed, the match ended with a double Shell Shock. And on that note, we are finished with another episode of Saturday Morning Slam.
Question: Do guys like Matthews and Greeco (Ryback's opponents, in case you already forgot) benefit much from a spot like this? Do they earn any consideration for the future with WWE? Or is an opportunity like this simply a one-off with a better paycheck and more exposure than these two will ever get again?
Honorable Mention: It's rare that a main-eventer would be featured more than once in a week on these shows, but Ryback managed to appear as the headliner for Main Event and Saturday Morning Slam. If he weren't already one of the most over wrestlers in the industry, he would have received this week's designation as the biggest winner.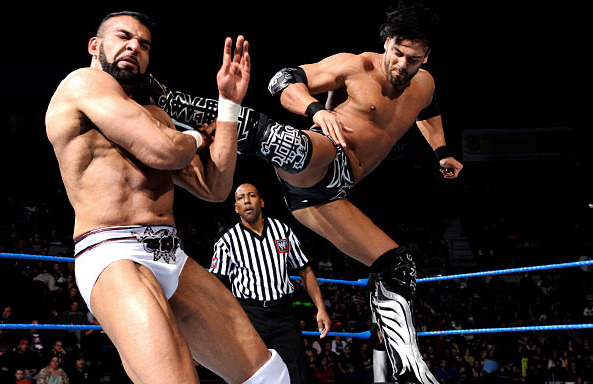 Image retrieved from SportsKeeda.com
After taking a look at all four of WWE's "other" shows from last week, which superstar came away the biggest winner? Who came away the biggest loser?
Biggest winner: Jinder Mahal

Jinder Mahal appeared on three of this week's lower shows and came out looking good after all three spots.
On NXT, he wrestled for more than 18 minutes in the NXT Championship match against Seth Rollins. Rollins may have come away with the win, but Mahal showed that he can headline a show and work a really solid, lengthy match against an impressive in-ring competitor like Seth Rollins.
With results like that, WWE can start to feel confident about putting Mahal in marquee matches down the road, as his character continues to develop. Over the next decade or so, I fully expect Mahal to take a route similar to Hunter Hearst Helmsley. He'll start out jobbing as a physically negligible social elitist, only to become a beefed-up bad-ass competing for world titles.
On Main Event, Mahal closed the show again, this time as part of 3MB in a handicap match against International Airstrike. Although he didn't score the pin, he was a part of the heel team that won against a babyface team thanks to the unfair handicap advantage. As 3MB continues to build heat, Mahal invariably builds heat as well.
Finally, on Superstars, Mahal and McIntyre open the show with Slater in their corner. It was another match against Gabriel and Kidd. Once again, 3MB gets the win. Mahal actually gets the pin after taking advantage of one of Kidd's mistakes.
From his position as one of the top singles competitors on NXT, to his involvement with one of the fastest-rising heel factions in recent memory, Jinder Mahal looked great on these shows this week.
Biggest loser: Justin Gabriel

Gabriel also made three appearances this week, but his outing wasn't as successful as Mahal's.
With Team Rhodes Scholars facing off against Rey Mystero and Sin Cara at the pay-per-view, the rest of the revived tag team division is scrambling to be noticed.
Having been together for more than eight months now, the unofficial International Airstrike have yet to reach the spot they were at when they first teamed together, competing for the tag titles at WrestleMania.
This week, they jobbed twice to a faction that is still on their way up the ranks in WWE. The only saving grace for Gabriel in those two losses is that Kidd lost the fall in both bouts. In both cases, however, Gabriel was the one getting worked over for most of the match, looking desperate as he struggled to tag out.
Although they finally won on Saturday Morning Slam, Kidd was the one that made the pin, and their opponents, the Primetime Players, aren't exactly at the top of the tag team totem poll these days. A hard-fought victory over PTP isn't enough to make up for two losses to 3MB, and with Kidd looking slightly better that Gabriel this week, it's enough to earn the South African the designation of biggest loser.
Do you think someone else had a better week on these shows than Mahal? Do you think someone took a bigger hit than Gabriel? Please, let's discuss!
You can follow Dustin on Twitter, check out his blog or listen to his podcast.