Biggest Areas of Liverpool Improvement Under Brendan Rodgers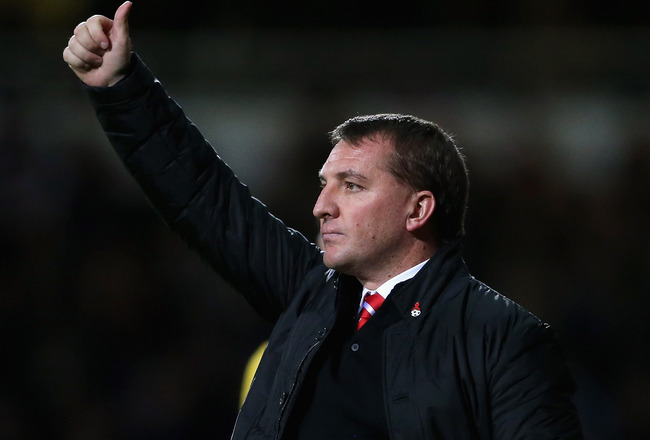 Scott Heavey/Getty Images
Brendan Rodgers has been manager of Liverpool for a little over six months now, and though the Premier League position alone does not seem to indicate progression, it is clear that there have been several areas of the team which he has improved.
Liverpool are expected to be a team who challenge for cup trophies and are sat in the upper reaches of the league table, and their League Cup win last season was the first silverware in six seasons.
Needless to say, final league positions have not been too impressive for the past three years either.
It's a big job, then, that Rodgers has taken on. So, as the halfway point in his first season approaches, now is a good time to see just what has improved under the former Swansea City boss.
Here are the biggest areas of improvement evident in Liverpool's first team.
A Settled System of Play
Clive Brunskill/Getty Images
Too often last season, Liverpool went out and tried to beat teams by simply attacking, but it wasn't controlled or organised attacking.
There was little evidence of patterns of play in the final third, and the off-the-ball movement wasn't good enough. Lots of chances to shoot, certainly, but not a high enough percentage were of a clear quality of chance.
This season, the Reds still have a lot of ground to make up in this area, but there are certainly improvements to be seen.
Two very simple runs in the penalty box basically gave Liverpool the win against West Ham last week; one from Joe Cole and the other from Jonjo Shelvey.
Liverpool need more of this from their forwards, in particular the wide forwards.
The defence is set in their methods and it is working better recently, while the midfield shape has been generally good.
Bit by bit the shape of the entire team is improving, and the players all know by now where their teammates will be available to receive the ball and how to progress up the pitch as a unit during prolonged spells of possession.
The Basic Formation Is Better for the Players Liverpool Have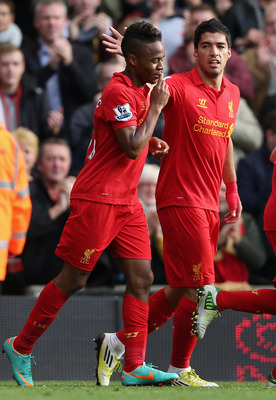 Clive Brunskill/Getty Images
Liverpool have good passing players in midfield, so it makes sense to start with a shape which utilises these.
The 4-3-3 not only incorporates the more adventurous attacking central players with the solidity of Lucas—when fit—providing protection behind them, but it also allows the wide forwards to be closer to the penalty area.
Last season in a 4-4-2 or 4-4-1-1 there was very often only one player for the Reds in the penalty area, and crosses from wide areas came in too regularly to be useful in that case.
Playing more as a forward instead of a winger or wide midfielder, whoever flanks the centre-forward is now obliged to get themselves in the penalty area and become a goal threat.
True, this is the area the Reds need to continue improving (and spending) in, but the shape is visibly aiding Liverpool's attacks and build-up phases.
Increase in Goals Scored, and Recently a Drop in Goals Conceded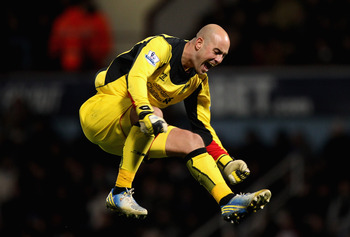 Ben Hoskins/Getty Images
Liverpool had a pretty good defensive record last season—they had the joint third-least goals conceded for 2011-12, with only Manchester sides City and United letting in less.
At the other end, of course, it was a different story, with the Reds averaging 1.24 goals per game and finishing in the bottom half of the table in terms of goals scored overall.
This year, Liverpool have improved somewhat in regard to scoring, with 22 in 16 games giving them an average of 1.38 goals per game. They are still missing plenty of chances, though, and as everybody by now knows, Rodgers wants to add more attacking talent in the January transfer window to overcome this.
Encouragingly, since the start of the season where the Reds conceded seven times in three games, there has been a big improvement of late.
It was always likely that defensive issues would take a few months to sort out as the players learnt the positions and became organised in the way which the new manager wanted; so, conceding a few more goals at the start of the season was not unexpected.
However, in the past 10 league matches Liverpool have conceded only eight goals, averaging 0.8 per game against them compared to more than a goal-per-game average from last term.
If they can keep up the recent spate of clean sheets it will aid them enormously in attempting to get back toward the top six or four of the league.
Let's Talk About the Passing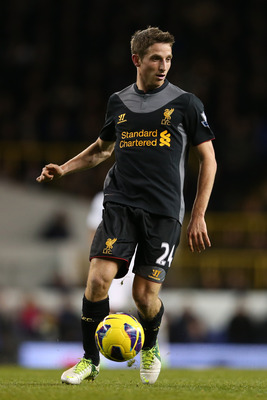 Julian Finney/Getty Images
Brendan Rodgers wasn't brought to Liverpool to make them pass the ball, they've always done that. Rather it was the other way round; Liverpool chose Rodgers because they believed he was the man who could ensure that the club retained that identity and use it to bring success.
So, has the full-on passing approach been a success so far? It's certainly getting there. Liverpool are dominating games more often and this is giving them an increased chance of winning; though, of course it all keeps coming back to a lack of end product.
Even so, a patient approach and having belief in the way they are playing has already benefited the team. The confidence borne of out-playing opponents such as Manchester United was very much apparent, even if events on the field dictated the end result was a defeat.
Liverpool are passing more often, in good areas of the pitch and more accurately.
Add a few more quality players and this particular improvement should reap even more benefits.
Luis Suarez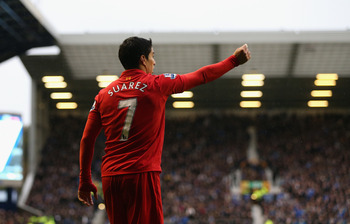 Clive Brunskill/Getty Images
One of the biggest improvements notable in Liverpool this season is the play of Luis Suarez.
He was one of the team's best players last season anyway, but this term he has really stepped up several notches. In part, this is due to his role in the team, as he excels as a false-nine forward by himself, but it is also because the team is set up to support him.
Again, yes, further improvements should be expected when more players are brought in.
But Suarez has been perhaps the league's best player so far, certainly up there with only a small handful of others, and has added more goals to his game as well as having his usual telling impact on the ball.
Brendan Rodgers is getting the best out of the Uruguayan and that is great news for the team.
As the rest of the squad continues to improve and play the way Rodgers wants them to, and further new signings add to the quality of the squad, Suarez could well become even more productive in front of goal; and with him in top form, the Reds will be a real force to be reckoned with.
Keep Reading

Liverpool: Like this team?