What Shin-Soo Choo to the Cincinnati Reds Means for the Seattle Mariners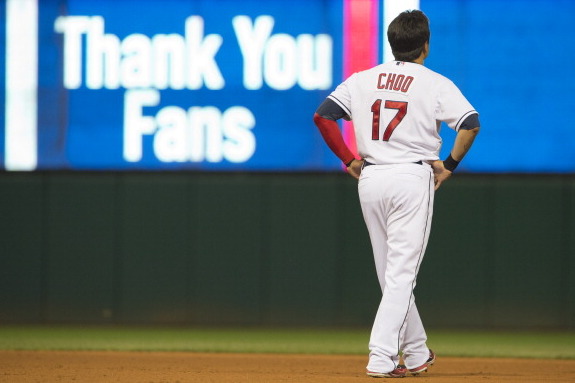 Jason Miller/Getty Images

With yet another mega deal happening on Tuesday, the Seattle Mariners have yet again watched their free-agent market shift.
With the Cincinnati Reds getting Shin-Soo Choo, the outfielder they needed, they are no longer in the market for a centerfielder.
The Arizona Diamondbacks received Didi Gregorius, the shortstop they needed, and they are no longer looking for their shortstop for the future.
Finally, the Cleveland Indians received super prospect Trevor Bauer and outfielder Drew Stubbs, giving them a replacement for Choo and an important piece of their rotation moving forward.
But what does this have to do with the Mariners?
Interestingly enough, this trade could very well make or break the Mariners' offseason.
Begin Slideshow

»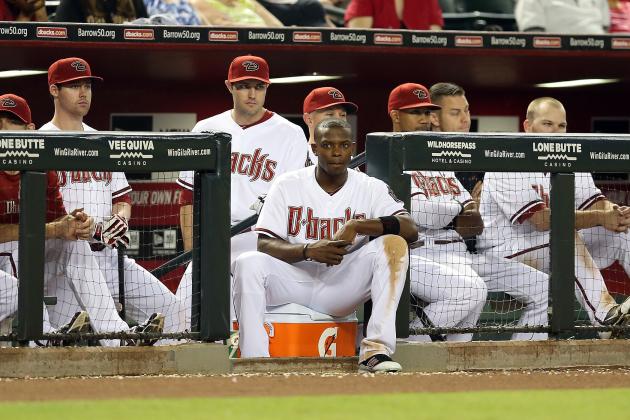 Christian Petersen/Getty Images

Justin Upton has had a rough go of things over the last few years.
After putting up a line of .300/.366/.532 with 26 homers, 86 RBI and 20 stolen bases in 2009, Upton signed a six-year $51.26 million contract extension, which appeared to make him the face of the Arizona franchise for years to come.
However, things have not turned out how either party had anticipated.
Since then, Arizona's franchise player has average a split line of .281/.360/.467 with an average of 21 homers, 74 RBI and 19 stolen bases. Normally, this line wouldn't be anything to be disappointed with, but one can only imagine what these numbers would have been if he wasn't dealing with trade rumors.
Now, with Arizona finding its shortstop of the future, it no longer has a need to trade Upton to get what it needs.
Expect Jason Kubel rumors to pick up, many of which will include the Mariners, but this all but puts an end to the Upton trade rumors.
For now.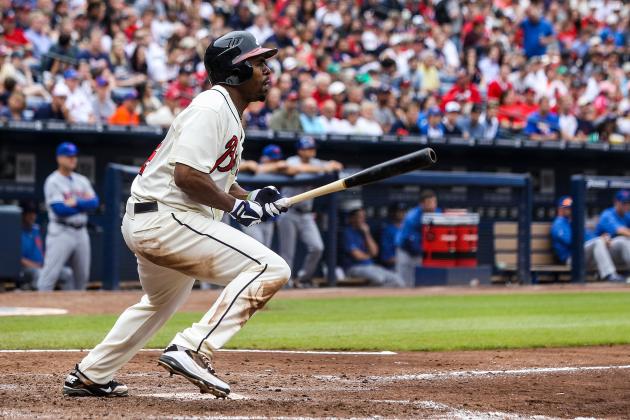 Daniel Shirey/Getty Images

Scott Boras must be losing his mind.
Or he knows something we don't.
With essentially all of the teams filling their center field needs, (Philadelphia, Washington and Cincinnati), Michael Bourn is suddenly lacking suitors for his Gold Glove services.
With Boston having a crowded outfield and the Yankees "promising" they won't be spending Dodger-like money, one has to wonder who is going to be out there to drive up the price for Bourn.
This is one of the victories for Seattle, as it seems to be the best fit at this point, with nobody to bid against. However, many people are still worried that Bourn will turn into Chone Figgins, version 2.0.
Scott Boras may not be getting his client Werth-like money, but don't underestimate him.
Remember, Boras always seems to have the "mystery team" card in his deck.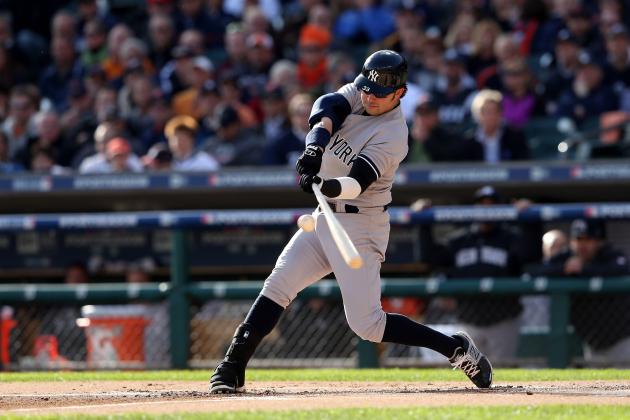 Leon Halip/Getty Images

Nick Swisher is the second biggest winner of this deal.
A few days ago, Swisher was essentially looking at two options, Cleveland and Seattle.
Then, ESPN reported on Tuesday that four teams had jumped into the Swisher Sweepstakes: Cleveland, Boston, New York and San Francisco.
Was it something we said?
With Cleveland suddenly looking like a much better option and three contenders looking into Swisher's services, Seattle seems like it could be the odd team out here.
Unless ownership allows Jack Zduriencik to open up the wallet, Swisher's price tag maybe a little too steep for the Mariners to jump in.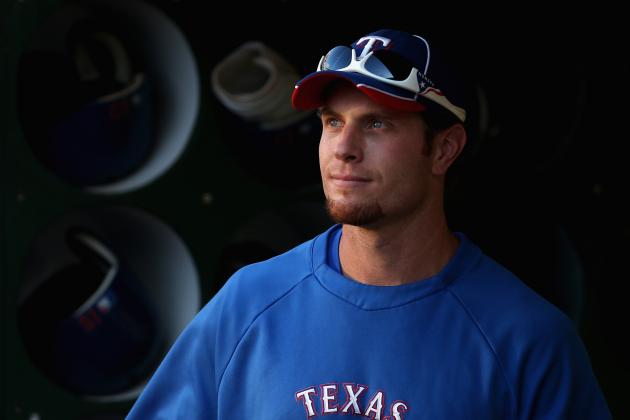 Ezra Shaw/Getty Images

Well, that $25 million a year doesn't look too bad anymore does it?
With Texas losing out on Greinke and Upton, one has to think they will be shifting their focus to re-signing Josh Hamilton.
Texas may not want to give him the years that they want, but they may not have a choice. Losing Michael Young, Mike Napoli, AND Josh Hamilton would be huge loss, and with no other middle of the order bats available on the market, Hamilton maybe their only option.
So what's this mean for Seattle?
The Mariner's had been talking 3 year deals with Hamilton, but with Hamilton appearing to want at least 4 years, the Mariner's will have to go all-in to lure Hamilton away from the Rangers.
At this point, this may be the best move for Seattle. Not only will they get the bat they covet, but they will continue to weaken the powerful Rangers lineup.
Again, this is all on ownership to allow the GM Z the funds to do so.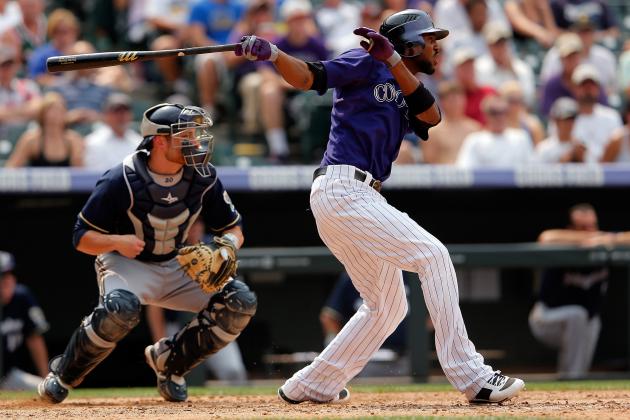 Doug Pensinger/Getty Images

One would wonder why any team would want to trade a young, salary-friendly outfielder who posted career offensive highs in almost all categories across the board.
Well, when you need pitching as badly as the Colorado Rockies do, you start to see why.
Thankfully for Seattle, it has the pitching prospects to do it.
Dexter Fowler put up a stat line of .300/.389/.474 (all career highs) with career highs in homers, hits and OPS and would be a solid piece to add to an already good defensive outfield.
The better thing about Fowler is, he is not the power bat whose numbers could be inflated by Coors Field; instead, he is the Michael Bourn-type that won't cost the Mariners $75-$90 million.
What he will cost is a couple of very good prospects, which would probably include either James Paxton, Taijuan Walker or Danny Hultzen, and then some.
Then again, that's the going rate these days for star-caliber players, and may be something the Mariners strongly consider if they strike out in free agency.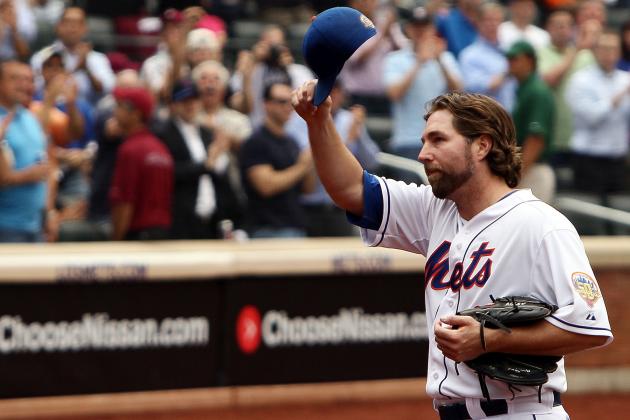 Alex Trautwig/Getty Images

Tell me you haven't heard this line before.
If Seattle strikes out on all the free agents and can't work out any deals to acquire available bats like Dexter Fowler or Curtis Granderson, it may go down the same route it has for what has seemed like eternity.
Pitching.
Don't get me wrong, I wouldn't be mad if the Mariners went out and acquired R.A Dickey for a reasonable package, nor would I be mad if they went and signed an Edwin Jackson or Kyle Lohse to slot in around Felix Hernandez, Jason Vargas and Hisashi Iwakuma.
However, unless ownership really thinks the fences will make the difference in the lineup, they still need to find a bat.
Maybe Jack Z thinks the kids finally make the big step this year.
Maybe Jack Z thinks the Mariners can model the San Francisco Giants and out-pitch everyone en route to a World Series title.
And maybe Jesus Montero turns into Buster Posey overnight...
I'm just not buying it, and if the Mariners come out of this offseason with Jason Bay as the only "big bat" they acquire, they will continue to alienate a fanbase who is already a few steps out the door.
Which leads me to my final point...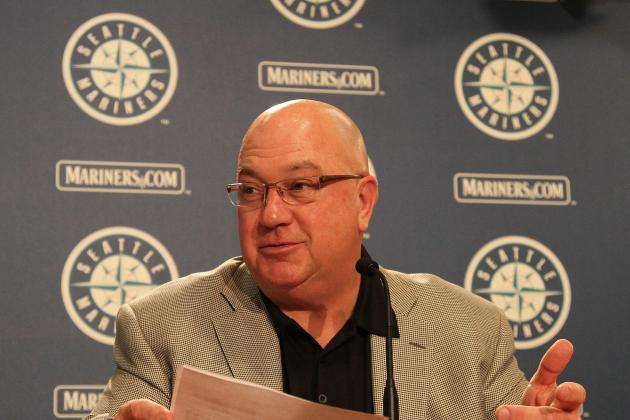 Otto Greule Jr/Getty Images

This almost goes without saying.
The Mariners need bats, and the bats are out there. The problem is, there is something keeping these bats from coming to Seattle.
As Jack always likes to say when it comes to free agency, "It takes two to tango."
Whether it's via free agency, or letting go of prospects for other pieces, Seattle has to get more pop in the order to show its fanbase that it is serious about competing.
And don't even get me started on Felix. The King has reiterated time and time again that he wants to stay in Seattle, but you have to wonder how much never-ending mediocrity could change his mind.
This offseason could very well be make or break for the current front office.
And if it is break, let's hope they try to go down with a fight.