WWE TLC 2012: Top 7 Championship Matches in the Event's History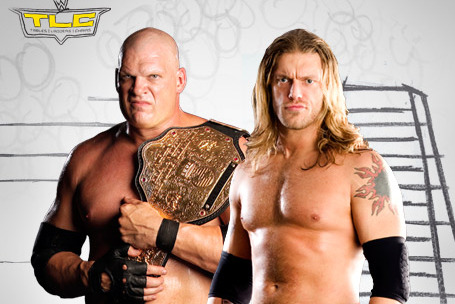 photo credit: WWE
The TLC pay-per-view's history is short, but it already boasts a number of exhilarating championship matches.
The event's best match remains the Sheamus vs. John Morrison ladder match in 2010, but that was not for a title. Instead the No. 1 contender spot was up for grabs.
TLC's best matches for titles have not surprisingly utilized the violent impact of steel on flesh to enhance the action. Ladder and table matches with some of WWE's biggest stars highlight the list.
From TLC 2009 when the Christian and Shelton Benjamin produced a classic to TLC 2011, when CM Punk had to perform a miraculous escape, the event's catalogue of great championship matches is worth revisiting.
With Punk unable to defend his WWE title at TLC 2012, it''l be up to the other champions and challengers to try and join this list
Begin Slideshow

»
In 2009, DX won the Unified WWE Tag Team Championship from Jeri-Show in an entertaining TLC match.
The stars were big and the spots were fantastic, but there was a lack of energy and a sluggish pace that held this match back.
Two years later, Big Show and Mark Henry fought in a brutal but short chairs match.
As thrillingly violent as this clash of big men was, it was more about Daniel Bryan's Money in the Bank moment post-match. Taking advantage of Big Show being out cold, Bryan won the World Heavyweight title.
Tables Match
Randy Orton was dominant for much of the match, always seemingly just a moment away from overcoming being outnumbered, one RKO from defeating the WWE champ.
With Alex Riley at his side, Miz found a number of ways to weasel his way into retaining the gold.
Riley slid a table out of the way of an Orton superplex, saving his mentor. This was the recurring theme throughout. Miz came off as crafty and slippery, frustrating The Viper in the process.
The match managed to keep the audience on edge, waiting hungrily to see Orton pounce on his prey.
Orton rocked Riley with an RKO through a table and Miz snuck in and delivered his Skull Crushing Finale. The ref was lying face first outside the ring. Miz wisely placed Orton in the table debris so it would appear that Miz had won.
It looked as if the cheating champ would escape there, but the ref realized his mistake and reversed his decision. This extension of the match added to the excitement, giving fans two climaxes in total.
The match continued until Miz used Riley as an unwilling battering ram, knocking Orton into a table and winning outright this time.
Tables Match
The awkward ending and that fact that Sheamus won the WWE title so early in his career hampered this match somewhat, but it was still a compelling clash of powerhouses.
An aggressive John Cena smashed Sheamus into the announce table. Sheamus knocked Cena around, looking like a more than worthy foe.
Both men made good use of the table stipulation.
Cena teetered on the ring apron with a table just below him. Sheamus and Cena looked ready to be smashed through the furniture at any moment.
They slugged it out on the entrance ramp and in the crowd.
A slightly faster pace at times and a turn of the violence dial upward would have made this even better, but it was intriguing nonetheless.
When it ended suddenly, Cena falling through the table, crumpled among the splintered wood, the crowd was stunned.
One's enjoyment of that shocking result either elevates or deflates how one feels about this match.
Fans had been clamoring for Zack Ryder to get a moment in the limelight. The buzz for him leading up to this point was swelling.
He and Dolph Ziggler made the most of the moment, pleasing the fans with a satisfying title match.
The always overconfident Ziggler seemed to take Ryder for granted. Meanwhile, Long Island Iced Z rode a giant wave of momentum.
Energy pulsated throughout the arena.
Ryder almost won the match with a Broski Boot but Vickie Guerrero put Ziggler's foot on the ropes to save the champ.
Ziggler made every one of Ryder's moves look vicious, flopping around like a crash test dummy. Both he and Ryder made it feel as if this was the card's biggest and most important match, that the US title meant everything to them.
They each came painfully close to winning with roll-ups, dropkicks and just about every move in their arsenals.
When Ryder later hit his Ruff Ryder leg lariat, he let loose a flood of excitement in the crowd.
Triple Threat Ladder Match
Kofi Kingston's innovation and energy highlighted an exciting three-man ladder match.
Kingston used his athleticism and in-ring artistry to create stunning new spots with the ladder. At one point, he held himself up with the ladder and stabbed his feet through to kick his opponent.
Ziggler landed a neckbreaker off the ladder in the corner, refusing to let Kingston show him up.
There was a sense of desperation for much of the match. Swagger, Ziggler and Kingston seemed to meld together, not making this a series of alternating one-on-one encounters but a cohesive Triple Threat affair.
The match benefited from some moments of realism, either designed or accidental.
Swagger had to get his wrists taped up at some point. He later bumped heads with Kingston during a frenzied moment.
Both standing near the top of the ladder, Swagger and Kingston yanked down the IC title and in the process of fighting for it, dropped it on the canvas. A wily Ziggler took on the scavenger role and scooped it up for himself.
TLC Match
Opening with a rapid aggressive pace, the main event for TLC 2011 had a number of memorable moments and an unpredictable feel.
Say what you want about Alberto Del Rio not being able to carry a main event, but in multi-wrestler matches, he tends to shine.
He, Miz and Punk all had moments of brilliance.
Miz countered a Punk bulldog, slamming him into a chair. Del Rio snapped off a number of thunderous kicks.
The match featured plenty of table-crash teases as well as actual table crashes including one where Ricardo Rodriguez fell from a significant height before splitting a table in half.
Punk had two Houdini-like escapes from handcuffs.
For the first one, he broke away from being cuffed to a ladder. The last one became the lasting image of the night.
Cuffed to the corner of the ring, it looked for sure that Punk would lose the title. Del Rio and Miz had him beaten, outsmarted and cheated out of his gold.
Watching Punk then unscrew his way free, the ropes falling limply on the mat, was a thrill.
Ladder Match
The opener for the first-ever TLC pay-per-view remains one of its best matches.
Christian and Shelton Benjamin used their extensive ladder match experience to carve out a classic. They promised to steal the show and so they did.
Their clash began with some standard wrestling in the ring and soon moved to include steel and great heights as well. The two ladder vets showed off some tremendous innovation, slapping, throwing and eventually breaking ladders.
Benjamin flipped over and scurried up a ladder at one point. They fought around and under a propped-up ladder.
The only thing that held Benjamin and Christian back was a cut above Christian's eye.
Officials stopped the match to tend to the wound and stop the bleeding. Not only did it prevent fans from seeing the visual of blood dripping down the champion's face during the match, the stoppage slowed the momentum.
Risking everything, both men took each other to their limits. Channeling circus performers and demolition workers, Christian and Benjamin made the ECW title feel more important than it actually was.
Fatal 4-Way TLC
Intertwined rivalries and violent ladder shots marked TLC 2010's main event.
Rey Mysterio hated Alberto Del Rio. Alberto Del Rio hated Edge. Kane hated everybody.
Some may view this as a spotfest, but even if it was, it was one hell of a fun match to watch. The action flowed extremely well, getting every man involved.
Rey Mysterio climbed on prop tables hanging from the ceiling. Edge blocked a 619 with a chair and later sent Rey flying face-first off a ladder.
Kane showed why he's been such a dominant monster and why he requires a double team or more effort to lose.
Del Rio threw in his speed and kicks.
The frenzy that was this Fatal 4-Way ending with Edge retrieving the World Heavyweight Championship, his opponents mangled below him.
Looking back now and realizing that this was one of Edge's last major matches, his victory is that much more meaningful.