Chicago Bears: 5 Players to Watch in Week 15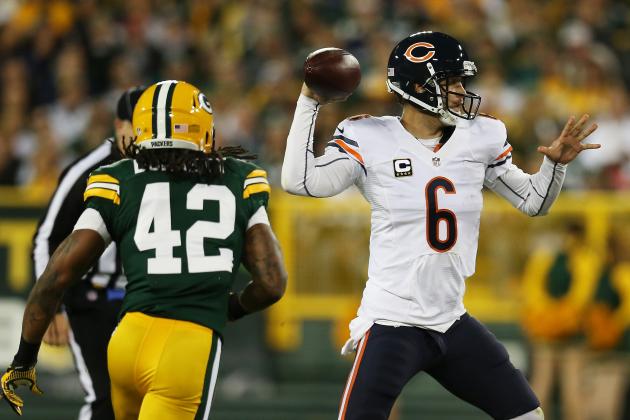 Jonathan Daniel/Getty Images

After starting the season 7-1, the Chicago Bears have been on a slide, going just 1-4 in their last five games.
Their lead in the NFC North was lost to the Green Bay Packers, and with their matchup against them this Sunday, a loss would mean another NFC North championship for their hated rival.
The two teams met in Week 2 of this season, with the Bears falling 23-10. If the Bears want to keep the Packers from clinching the division on their home field and to also help improve their playoff chances, Sunday is a must-win.
Here is my list of five players to watch this Sunday:
Begin Slideshow

»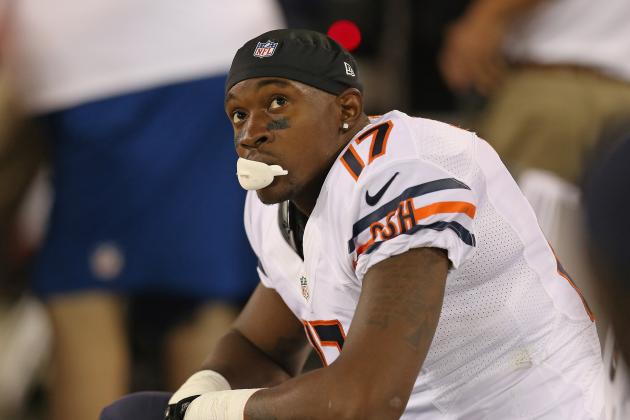 Jonathan Daniel/Getty Images

Rookie Alshon Jeffery returned to the Bears lineup last week following a scope on his knee after their matchup against the San Francisco.
In his return, he hauled in three catches for 57 yards and one touchdown. His season has had its ups and downs, and following an impressive first game against the Colts (3 catches, 80 yards, 1 touchdown), he has battled injuries for much of the season.
Sunday against the Vikings showed how valuable he is to their offense, forcing teams to not always be able to defend Brandon Marshall with two defenders, or if they do, Jeffery has the ability to productive opposite of him.
The Bears will need to get off to a fast start, and quarterback Jay Cutler has had his struggles against the Packers secondary in the past. Getting Jeffery involved early can force the Packers to play Marshall straight up, leaving him open for big play possibilities, and if they continue to give Jeffery single coverage, he can use his big frame to his advantage over the Packers' smaller cornerbacks.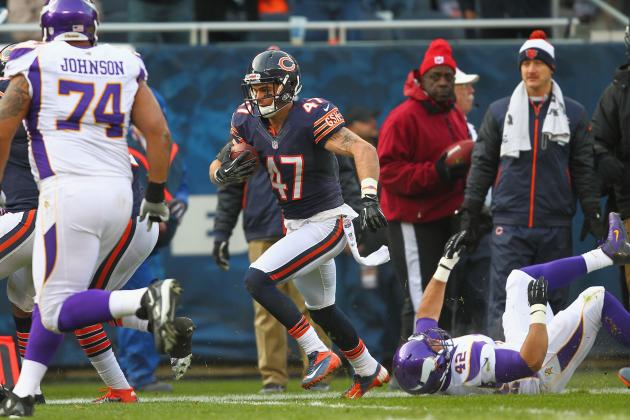 Dilip Vishwanat/Getty Images

Second-year safety Chris Conte has had his share of ups and downs this season, but the defense has look vastly different when he has not been able to play.
His athleticism has been proven beneficial against the deep pass, and despite a rough game against the Vikings this past Sunday, he has been a solid contributor against the run.
The Packers have proven a desire to move the football more on the ground this season, particularly in their last two games in which they're average 146 yards rushing per game.
Their running game helps set up the deep-play threat, and Conte has done a good job this season of coming up in the box, showing blitz and/or run support before dropping back into coverage. With Randall Cobb's and James Jones' deep-ball potential, Conte will have to limit his risk-taking in fear of what the Packers can do with play action.
With Rodgers' ability to roll outside of the pocket and to extend plays, it will be imperative for Conte to not break on his assignment and to keep the Packers' receivers from getting behind him.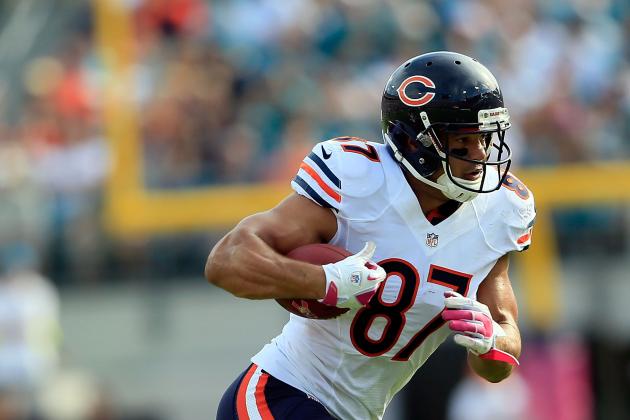 Sam Greenwood/Getty Images

In past five seasons in the NFL, no position has become more dynamic than the tight end. Tony Gonzales has been doing it for years and Antonio Gates started the trend, but in that time, guys like Jimmy Graham, Rob Gronkowski and Aaron Hernandez have all proven that a tight end can be more than just an extra blocker.
In the preseason, head coach Lovie Smith claimed that Kellen Davis could do all the things that the best tight ends in the league can do, but we have yet to see him make much of an impact.
So far this season, Davis has just 17 catches on 41 targets (including eight drops) for 210 yards and two touchdowns. The good news is, he is finding a way to get himself open; the bad news is he has struggled to hold onto the ball.
The Packers are aware of his deficiencies, but he was able to haul in a score during their Week 2 matchup. If he can continue to get open, expect Cutler to keep throwing him the football. Davis will need to worry solely on hauling in the grab instead of who is bearing down on him or what he is going to do with the football once he gets it.
If he can somehow haul in a couple of passes early, it will force the defense to play more honest against the receivers on the outside.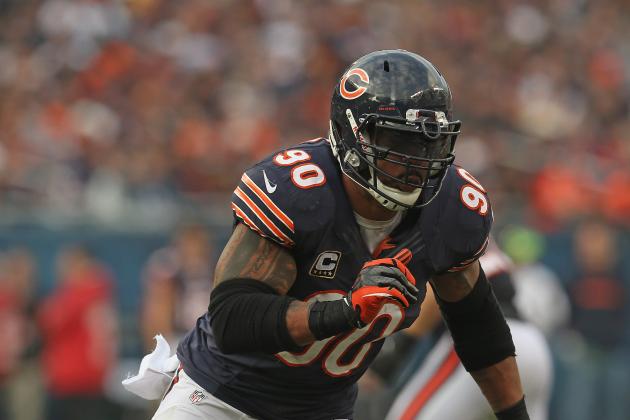 Jonathan Daniel/Getty Images

When signed by the Bears prior to the 2010 season, defensive end Julius Peppers was believed to be able to provide the consistent double-digit sack totals that their defensive line sorely needed.
In his first season in Chicago, he came away with eight sacks followed by 11 last season. Despite low sacks totals in comparison to what he has done in the past, his presence on the field is still felt. He has seven sacks this season, but he has also struggled from plantar fasciitis that causes him to typically not practice as often as others.
With the Packers' desire to run the football more, Peppers' play becomes that more critical. He often dictates a change in direction for most runners, and despite conventional wisdom that says to attack a speed rusher in the running game, he is one of the few that excels in both stopping the pass and the run.
He'll likely be matched up against Marshall Newhouse who has struggled at times this season, thus far allowing 8.5 sacks. If there was ever a time for Peppers to prove his worth to this team, Sunday offers the perfect opportunity with the Bears' playoff hopes hanging in the balance.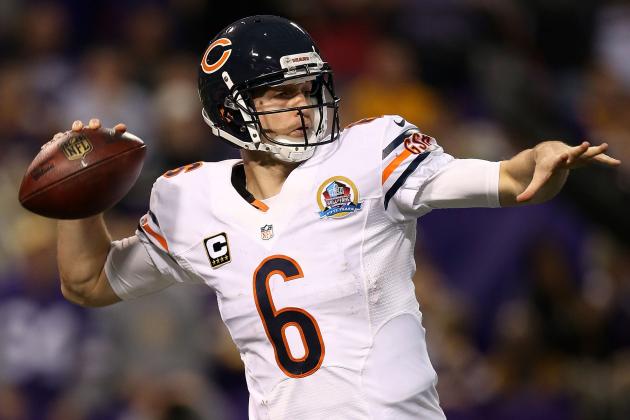 Matthew Stockman/Getty Images

The Bears have lost five straight meetings against the Packers, and with so much on the line this Sunday, much of it will fall on quarterback Jay Cutler's shoulders.
In seven games against the Packers, Cutler has thrown eight touchdowns to 15 interceptions, including four in their Week 2 loss in Green Bay.
The Packers have been effective at getting after him when blitzing, forcing the often risk-taking Cutler to force his throws. They did a nice job of slowing down Brandon Marshall in Week 2, holding him to just two catches for 24 yards.
It appears that injured linebacker Clay Matthews is set to return to the lineup on Sunday after participating in practice on Wednesday (h/t SB Nation), but defensive back Charles Woodson appears to be out (h/t Pack Report).
To offset the pressure that Matthews will likely get off the edge, the Bears will need to move the pocket for Cutler to try and offer more time for his receivers to get open downfield.
Cutler will need to understand that in some instances it is better to throw the ball away than to try and force a play, and by going against a defense known for getting after him and taking the ball away, risk taking should not ranked high on his to-do list.