What We've Learned About the Detroit Pistons After Season's First Quarter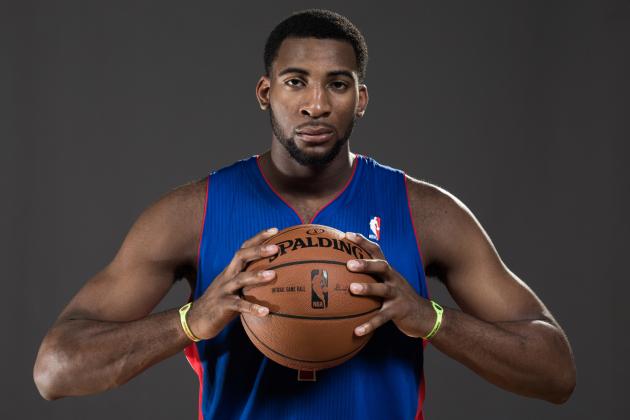 Nick Laham/Getty Images

We knew that this year was going to be an uphill climb. The Detroit Pistons, a once proud franchise, have been floundering for years and even the most optimistic fans knew that this year would be a struggle.
So far, the Pistons have performed overall like many had predicted. They are a team hovering near the bottom of the Central Division. They look good on some nights, terrible on others and down right pathetic on some others.
But it hasn't been all bad. The Pistons are still a team that is struggling but seemingly trending upwards.
Here are a few things we have learned thus far this season.
Begin Slideshow

»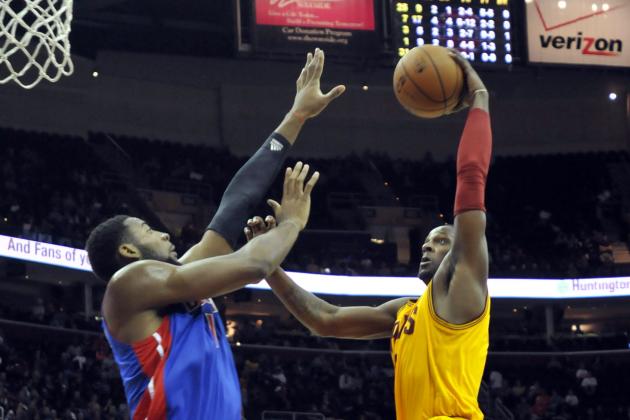 USA TODAY Sports

Remember hearing the prognosticators beat you over the head with the same word when it came to Detroit Pistons' draft pick Andre Drummond?
Project.
Everyone with a microphone to talk into or a computer to type with was telling us that Drummond would take time to develop, and we shouldn't expect too much out of him as a rookie.
Heck, I know I was one of those people. I saw the raw athleticism that seemed to be lacking in true offensive and defensive instincts. I saw a man-child that often was out of position when it came to rebounds and despite solid blocked shot numbers in college, left a lot to be desired when swatting away opponent's attempts.
But Drummond has easily been the biggest surprise this season, and easily the most exciting Pistons' draft pick since Grant Hill.
Drummond is blocking shots at a ridiculous rate and despite only playing about 18 minutes per game, is averaging six rebounds per contest.
He still has a long way to go, but Drummond has the makings of a potential All-Star.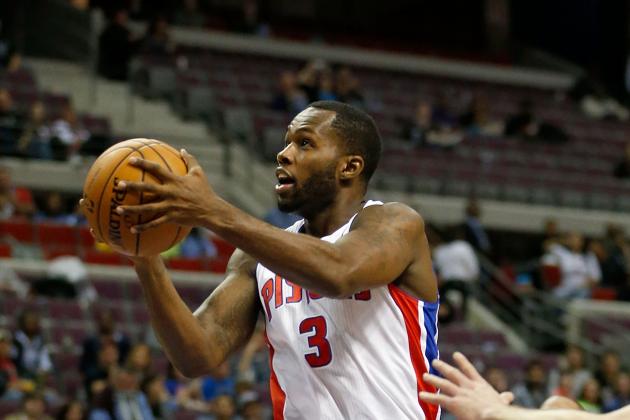 Gregory Shamus/Getty Images

Two things are true when it comes to Rodney Stuckey.
First, he is an absolute handful when he is driving to the hoop. He has great body control and is ridiculously strong. He can get to the foul line nearly every possession and knocks down those freebies more often than not.
Second, his shot discipline makes Monta Ellis look conservative.
I was watching the Detroit Pistons on Monday night against the Philadelphia 76ers with my mouth agape. It seems to me that a Rodney Stuckey bad shot drinking game would probably give you alcohol poisoning (I, nor Bleacher Report advocate drinking games, it should go without saying).
The fact of the matter is that on too many occasions, the Pistons let opportunities to take control of a very winnable game against a flawed opponent slip through their fingers. Mainly, this was due to poor shot selection. And the biggest culprit was Stuckey.
Stuckey, a notoriously bad three-point shooter (currently shooting 23 percent), decided to launch four from long range, most of which contested, and none of which meshed with the flow of the game. Sometimes it is as if Stuckey just thinks "hey, I haven't taken a three in a while, here goes nothing."
Truth of the matter is that Stuckey is just an extreme example of a team-wide issue, which is a lack of overall feel for the game.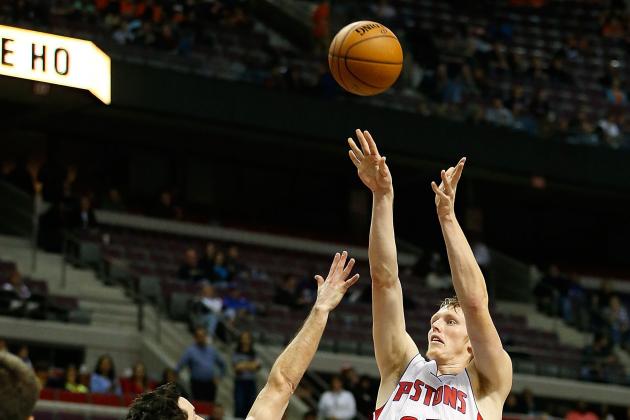 Gregory Shamus/Getty Images

Sometimes, we get so caught up watching basketball players that rely exclusively on their athleticism and lack basketball wit, that we think that is the status quo.
Then, someone that truly plays the game the right way shows up and reminds us how good this game can be when played correctly.
Kyle Singler is one of those players (the latter, not the former).
One play in particular during Tuesday night's game against the Denver Nuggets personified this assessment.
The Detroit Pistons were battling back (in a game that they should have probably won by 20 points) early in the second half.
It became apparent that each possession would be important, and the Pistons and Nuggets were trading hoops.
Andre Drummond found himself with the ball at the top of the key with Singler cutting along the baseline.
A lesser player would have run that route and then broken off and gotten out of the way when he didn't get the ball passed his way. Instead, Singler cut back, giving Drummond an easy option for a pass which led to a hoop under the basket.
This play is similar to what a good wideout does in football when his quarterback is in trouble.
Seemingly every night Singler does something incredibly smart and he is just a rookie!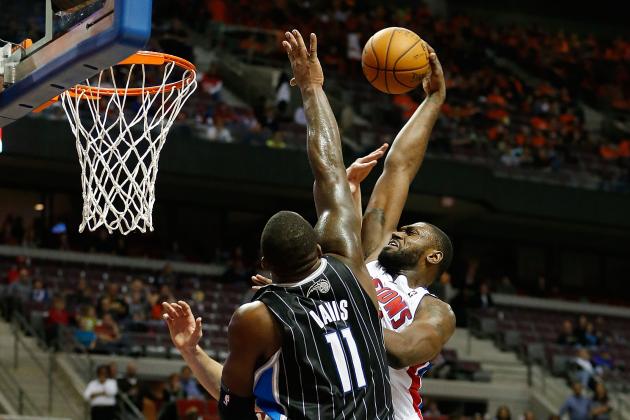 Gregory Shamus/Getty Images

Folks in Michigan can hear the drumbeat. I know, because I can hear it all the way out on the west coast.
The drumbeat is the fans clamoring for Andre Drummond to be inserted into the starting lineup. We all know that a front court of Drummond and Greg Monroe is the future of this team, yet we have only seen that pairing a couple times all season.
The main reason is a guy named Jason Maxiell.
Maxiell has responded to the fan's pleas with inspired play. He has become the team's best interior defender, and despite being only 6'7", he is quickly becoming the team's most feared shot-blocker.
Maxiell has shifted into beast mode over his last 10 games, averaging seven points, seven boards and nearly two blocks per game.
In Tuesday night's game against Denver, he nearly single-handedly took over the low post, blocking six shots to go along with six boards and 18 points.
Maxiell, a free agent after this season, is undoubtedly playing for what should be his last big contract. That might be with Detroit, or it might not be.
But either way, he is doing his best to keep Drummond on the bench.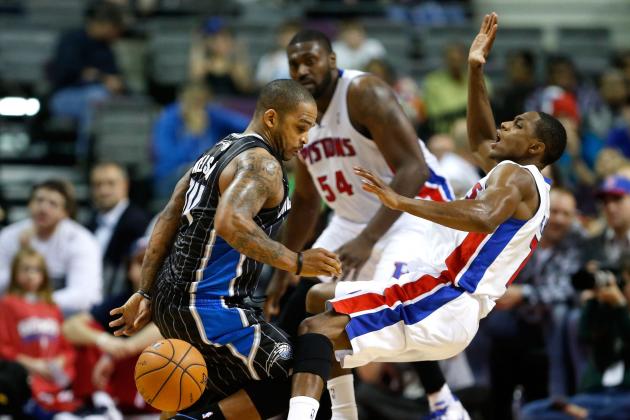 Gregory Shamus/Getty Images

A few weeks ago I wrote an article that basically lamented the fact that the Detroit Pistons drafted Brandon Knight over Kemba Walker.
Now I while I still stick to my opinion that Walker will be the better player (and is the better fit for Detroit), it is hard not to appreciate what Knight is doing.
He is a likeable kid that seems to be exceptionally hard on himself and is without question a hard worker. He really wants to be this team's next great point guard.
But his development has been an ongoing struggle. He can get to the hoop at will, but struggles to create easy shots for his mates. He has a great three-point shot (albeit one that is as ugly as Siamese-twin cats), yet he struggles to find players where they want the ball.
Over his last four games, Knight is averaging over 23 points per game. However, he is only averaging about four assists per game over that period.
So is Knight a point guard or a scoring guard trapped in a point guard's body? Only time will tell. But I no longer think that Knight was a wasted draft pick destined to become a poor man's Lindsey Hunter.
But his defense needs to improve, his shot selection could get better and his turnovers need to keep trending down.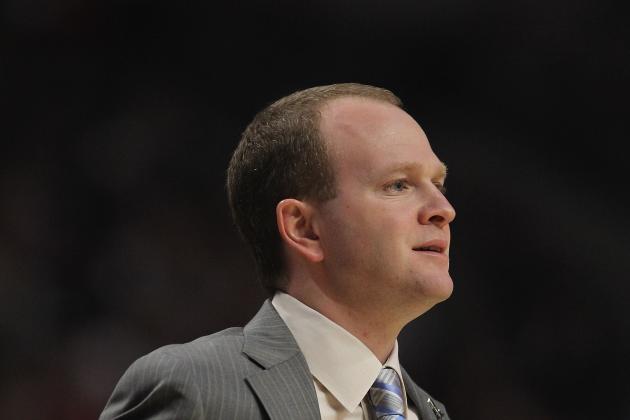 Jonathan Daniel/Getty Images

The Detroit Pistons' fans call for Andre Drummond to play alongside Greg Monroe. What does Lawrence Frank do? He let's the pair work together only twice all season for extended minutes.
The fans call for Tayshaun Prince to have his minutes reduced. What does Frank do? He has Prince leading the team in minutes.
The fans call for Slava Kravtsov to get minutes. What does Frank do? He refuses to even let the big Ukrainian suit up most nights.
The fans call for Jonas Jerebko and Khris Middleton to see more action. What does Frank do? He lets both guys ride the pine and instead inserts Pistons pariah Charlie Villanueva.
Frank is obviously taking a page out of Detroit Tigers' manager Jim Leyland's playbook of how to annoy the loyal fans.
To be fair, some of these moves have worked. Villanueva has been an effective stretch four, allowing more spacing down low for the likes of Stuckey and Drummond to operate.
Others, however, have been head-scratchers. Why exactly does he refuse to pair Monroe with Drummond?
The fact of the matter is that Frank is trying to build a culture of hard work, defense and minutes based on merit. Yet some of his moves seem to fly in the face of this logic.
The good news is simple: either he helps this team win, which is good for the fans, or he continues to lose and loses his job.