Norwich City vs. Aston Villa: 6 Things Learned from Capital One Cup Quarterfinal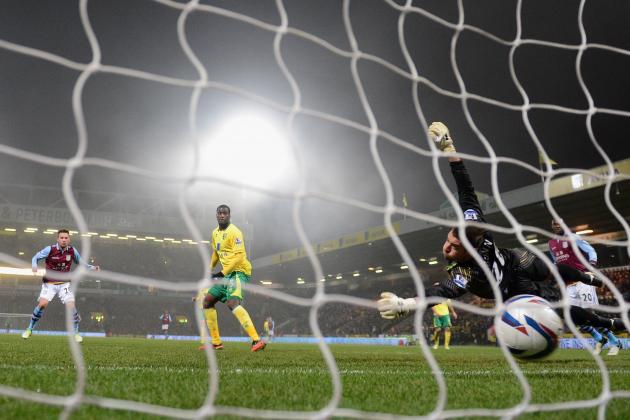 Jamie McDonald/Getty Images

With temperatures rapidly reaching their frosty climaxes, Norwich City and Aston Villa were both anything but off the boil as they put on a Capital One Cup display to remember.
The Premier League pair went back and forth in even fashion for 80 minutes before the visitors staged a last-gasp metamorphosis that saw Villa force their way out of Norfolk as the club to progress in the competition.
While they may have won on this occasion, Villa, as well as Norwich, will have a lesson or two to look back on from this League Cup encounter.
Paul Lambert's return to Carrow Road ended up bringing him as much success as he so often saw there as manager, and Chris Hughton will also have some tips to take from the former Canaries boss.
Begin Slideshow

»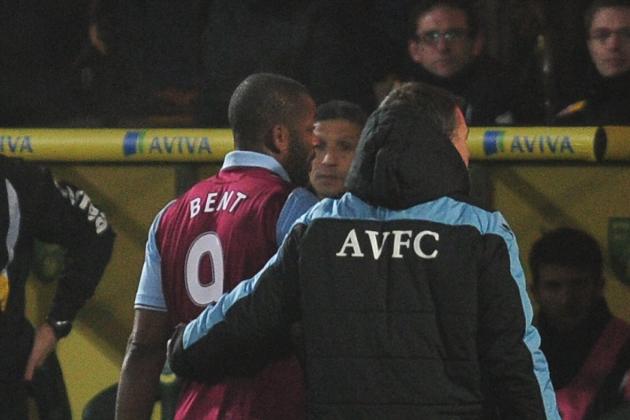 Jamie McDonald/Getty Images

All season long, the topic of Darren Bent's inclusion within an Aston Villa side managed by Paul Lambert has been one discussed at great length.
The £18 million record signing pulled up with what appeared to be a hamstring injury in the first half, bringing a premature end to his evening.
Following the arrival of summer signing Christian Benteke, Bent has seemingly slipped out of favour with Lambert this season, making just eight starts across all competitions.
With playing time hard enough to come by already, things are only set to transpire for the worse now that the Englishman has picked up an injury, especially if it's severe.
It's still quite unknown why Villa, the Premier League's lowest goal scorers, have seen Bent omitted from matchday squads so regularly in this campaign, although injuries are touted as the main cause.
While Sam Tighe has detailed a move to Liverpool as unlikely, talkSPORT have entertained the idea that the forward may leave Villa Park in January, and this latest setback may just increase those chances.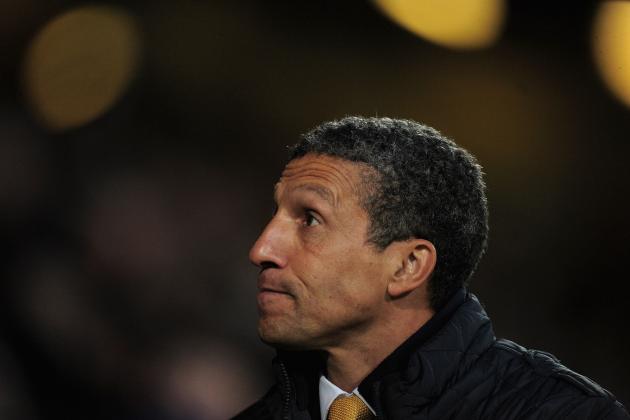 Jamie McDonald/Getty Images

Following on from the unheralded success that Paul Lambert enjoyed as captain of the Norwich City ship, the bar for which Chris Hughton had to hit his standards was incredibly high.
Despite a poor start, the Canaries are now shaping themselves into a major threat and, prior to the midweek loss against Villa, were 10 straight games undefeated.
While the League Cup exit brings an end to what was, in truth, quite a remarkable streak, the confidence in Norwich's manager is now firmly laid on the table.
In short, now that fans have seen what they and their club can achieve, there is no reason they can't show that kind of form on a more consistent basis.
Paul Lambert raised Norwich spirits, bringing them from League One status to the top tier of English football. With a little good fortune and a lot of work, Hughton can build off those foundations to craft an even more impressive dynasty.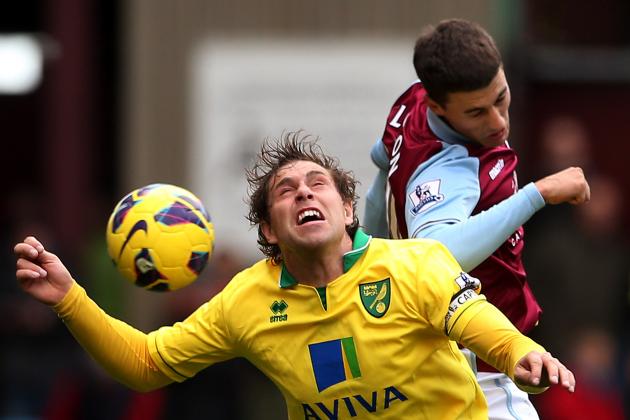 Scott Heavey/Getty Images
Matthew Lowton
Although the result that Villa achieved in Norfolk was impressive in itself, the squad that went out there and earned it makes the win that much more memorable for Villans everywhere.
In sport, youth development has always been a huge part of the game and is perhaps more valued now than it ever has been before.
During his time with not just Villa, but other clubs he's managed too, Paul Lambert has shown himself to be one of those helmsmen willing to offer the youngsters a shot.
On his way to a League Cup semifinal place, Lambert fielded an outfield X with an average age of just 24 years.
With senior figures such as Richard Dunne, Ron Vlaar and Stephen Ireland absent for various reasons, several youths, whether bred at Villa Park or purchased in recent months, have filled in quite admirably of late.
On Tuesday, it was the likes of Ciaran Clark, Nathan Baker, Matthew Lowton, Fabian Delph, Chris Herd and Christian Benteke—all of whom started from the first whistle—that showed why age is just a number.
With a young squad, Lambert's had his share of struggles in this campaign's early exchanges, and while results may not come straight away, his prodigious batch appears to be growing by the game and would appear to have a bright future ahead.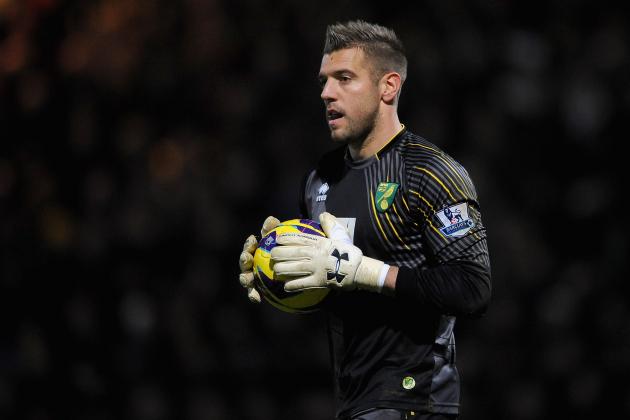 Christopher Lee/Getty Images

More than a few Norwich City hearts would have sank in late November when news arose saying that John Ruddy would require surgery and miss around three months on the sidelines with a thigh injury.
However, Mark Bunn has since stepped up into the substantially large boots left by Ruddy and has performed well in his new-found responsibilities, and the three late goals scored by Aston Villa don't do the stopper justice.
The likes of Brett Holman, Andreas Weimann, Ciaran Clark and Charles N'Zogbia all had their portion of scoring opportunities, but were largely spurned by some heroics courtesy of Bunn.
In the end, the Norwich defence was largely at fault for the majority of the four goals conceded against Villa on Tuesday, leaving Bunn with a minimal part of the blame, which is saying a lot in a 4-1 defeat.
Although England international Ruddy will assuredly reclaim his No.1 spot upon his return, it's nice for the Canaries to know their net is relatively safe while he's away.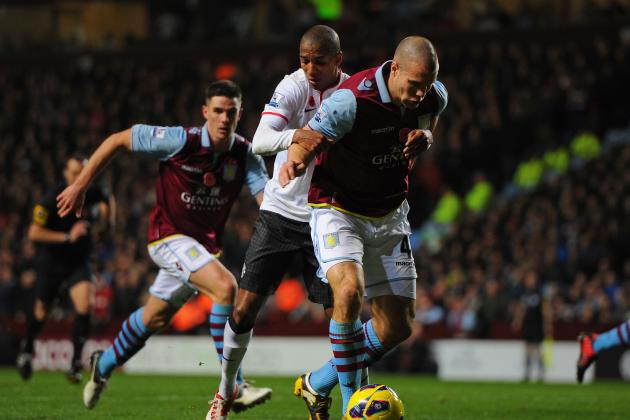 Michael Regan/Getty Images

As is important for any side playing in the Premier League, if Aston Villa are to challenge for silverware this season, their squad must be able to cope with the unforeseen injuries and absences that regularly occur during a campaign.
So, Paul Lambert will look at it as a blessing that he can rely upon players such as Ciaran Clark, Matthew Lowton, Nathan Baker and Eric Lichaj as well as others to perform in the absence of senior figures like Richard Dunne and Ron Vlaar.
What's more, Brad Guzan's assumption as Villa No.1 has the benefit of seeing Shay Given as a backup 'keeper of immense quality, although he definitely won't see it as nicely as that.
As was mentioned in an earlier slide, the youth that the Villa squad now holds is encouraging as long as they maintain quality and in the right areas of the pitch.
So, while the Villans may be finding it tough to come across goals this season—Norwich win excluded, of course—at least they would appear to have a reliable backline to fall upon.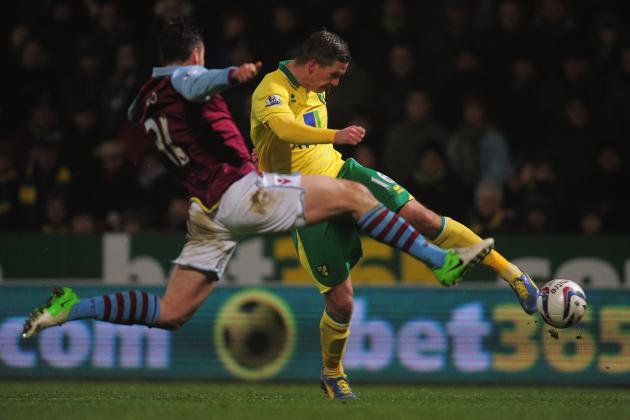 Jamie McDonald/Getty Images

To get the obvious matter out of the way, being beaten out of a trophy hunt is evidently bad because it would mean that you can no longer challenge for that piece of silverware or the glory that comes with it.
That being said, the major positive for a club of Norwich's scale leaving the League Cup is that Chris Hughton's side can now focus efforts and resources on success in the Premier League.
Some would have argued that this should have been the priority for Norwich City all along, but a run to the Capital One Cup quarterfinals will never go unappreciated.
Having enjoyed a very impressive spout of good form, Norwich can now look into not just surviving England's top tier, but thriving in it.