Manchester City vs. Manchester United: Who Has the Better Squad and Why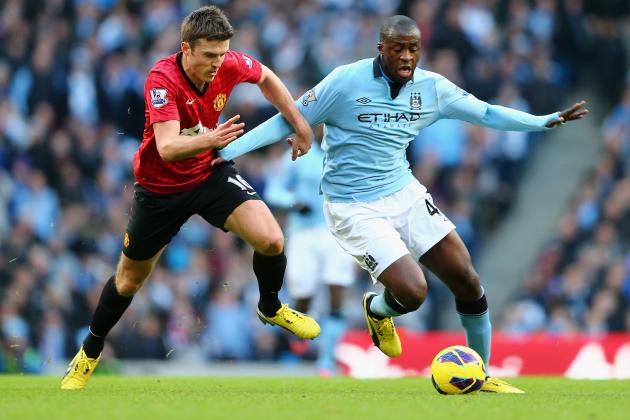 Clive Mason/Getty Images

As if there weren't already enough talking points to wade through following the fiery-as-ever Manchester derby from the weekend, Manchester City boss Roberto Mancini has gone and muddied the waters with a comment that his team are better than their United rivals—despite losing 3-2 at home to them.
Per ESPN Soccernet:
United have more experience but we have a much better team and play much better football.
The Italian manager will no doubt be disappointed, then, that his men offered scant evidence to back up his claims during the 90 minutes at the Etihad Stadium.
A one-off fixture, while exciting and important in its own right, perhaps doesn't offer too much insight as to the validity of those claims. An analysis of the entire squad from both clubs will help to determine if the claim was merely bluster after a painful late defeat, or realistic talk from the boss of the champions.
Begin Slideshow

»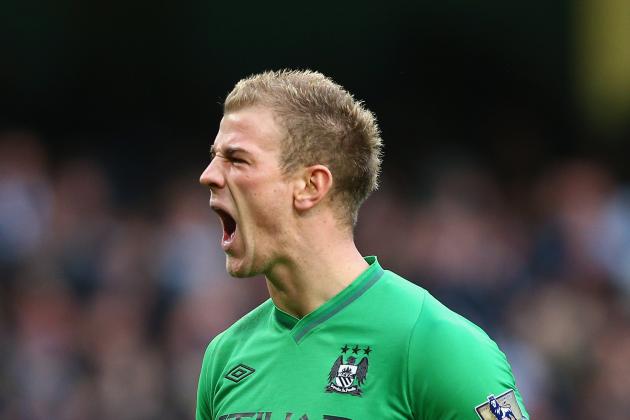 Clive Mason/Getty Images

Manchester City: Joe Hart and Costel Pantilimon
Manchester United: David De Gea and Anders Lindegaard
The first area to look at, the goalkeepers, offers an immediate contrast in selections.
City have used first-choice goalkeeper Hart in all 16 matches in the Premier League this season, while United's pair of De Gea and Lindegaard have started eight matches each.
A settled back line, primarily consisting of the goalkeeper, is regarded usually as a staple for any team to be successful, but the changes do not appear to have harmed United more than rotation in any other area of the pitch as they lie top of the table.
At their best, Joe Hart is clearly the most confident and difficult-to-beat goalkeeper. He is dominant aerially, an athletic figure and a great organiser and distributor of the ball. This season he has been off-colour though and is certainly not at his best, while Pantilimon barely gets a look in.
De Gea is the better shot-stopper of the United pair but has lacked both conviction and strength in dealing with high balls and crowded penalty areas—but he bucked this trend in a big way against City to put in a dominant and confident performance.
He has the potential to be one of the top stoppers in world football.
Squad depth: United have two "first-choice" goalkeepers so take this area.
Talent: It's a toss-up on form, but at their respective bests, Joe Hart is still the better goalkeeper.
Who is better in this area of the squad: City, just about.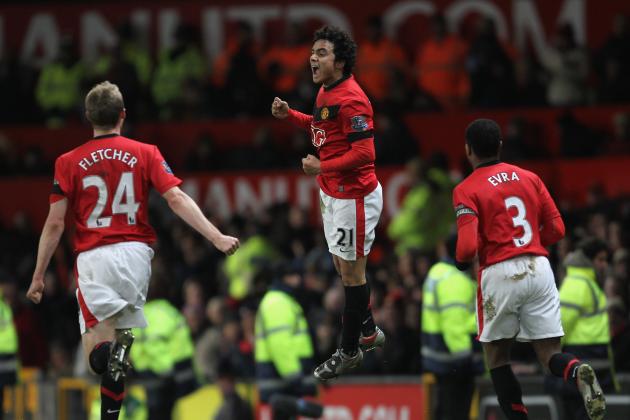 Alex Livesey/Getty Images

City: Micah Richards, Pablo Zabaleta, Maicon, Aleksander Kolarov, Gael Clichy
United: Rafael, Patrice Evra, Alexander Buttner
City have varied their system between the usual back four and a 3-5-2 formation this season. As such, the full-backs have been required to do somewhat different roles at times defensively—though they are always expected to contribute to the attack.
For United, they rarely if ever change shape at the back under Alex Ferguson and they have fairly settled full-backs.
Rafael and Evra have both started 15 of United's 16 games this term, while Alexander Buttner has had a single 90 minutes at left-back.
On the right Ferguson will often switch one of his young central defenders to the wider area when available.
Mancini has swapped his own defence around consistently, with none of the five having made more than 10 starts or reached 1,000 minutes of game time yet in the Premiership (Hart has played all 1,440 minutes).
The Citizens' full-backs have a great mix of power, pace and drive into the final third as well as being defensively solid, but consistency is arguably an issue for all of them except Zabaleta.
Squad depth: Easily City. They have five experienced full-backs whereas United rely on central players to plug the gaps on the right.
Talent: At their finest, Richards and Clichy last season were the best two full-backs in the league. Evra's powers have been on the wane for some time, and though Rafael has potential, he is far from one of the best in the league and is prone to lapses of concentration and conduct.
Who is better in this area of the squad: Manchester City are better on account of their ability to simply bring in somebody else when the current starters are not playing well. On recent form, though, it would have been United.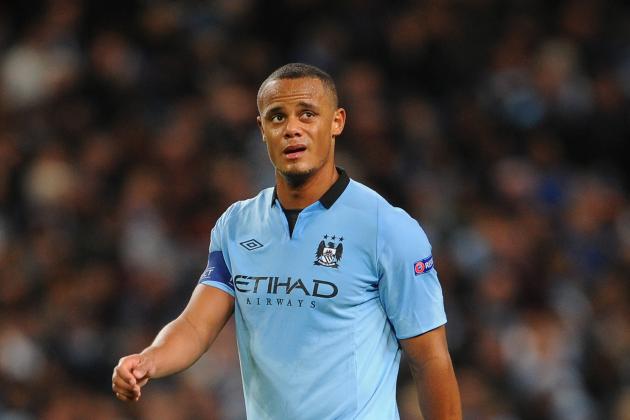 Michael Regan/Getty Images

City: Vincent Kompany, Joleon Lescott, Kolo Toure, Matija Nastasic
United: Rio Ferdinand, Nemanja Vidic, Jonny Evans, Chris Smalling, Phil Jones
United's collection of young defenders could feasibly be England's back line for the next generation. Smalling and Jones have a lot of ability between them and maybe lack only more experience to prove themselves as top class defenders.
However, they also need something else: stay fit.
While Vidic has been restricted to just four starts, Smalling has managed only one fewer and Jones has been out the entire campaign.
United are lucky that Evans has recaptured some sort of form, and though he still seems vulnerable in one-on-one situations and weak in the air, his partnership with Ferdinand has been unmistakeably solid overall.
City swapped the liability of Stefan Savic for the promise of Nastasic this summer, and the Serbian has made himself a regular in the team, starting more times than the more experienced Kolo Toure or Lescott.
Kompany, though, so often the rock for City of last season, has been unable to remain at his imperious best and suffered an injury in the derby last weekend.
Squad depth: United. Lescott has never been a truly top class defender and Toure is merely a squad player. City could be in trouble if Kompany is kept out for a lengthy spell.
Talent: United again. With everyone at their best and fit, it's a toss-up between Vidic and Kompany for the finest in the league, but United have more potential in their younger men and they look stronger and more confident than City's backups.
Who is better in this area of the squad: Has to be United overall. More quality to begin with and more numbers to replace them with.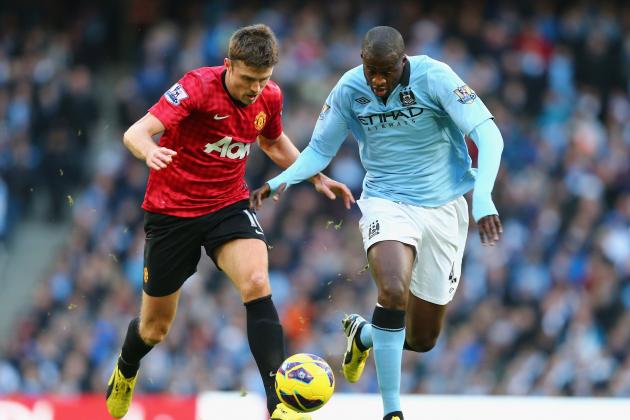 Clive Mason/Getty Images

City: Yaya Toure, Jack Rodwell, Gareth Barry, Javi Garcia
United: Michael Carrick, Tom Cleverley, Paul Scholes, Anderson, Ryan Giggs, Darren Fletcher
Unmistakeably, this is the area that City failed to improve in after the title-winning season.
Letting go of Owen Hargreaves was neither here nor there, given how little he featured, but both David Pizarro (returned from loan) and Nigel De Jong (sold) left the club, and though two new midfielders came in, neither have the technical ability nor the aggressiveness that the outgoing duo brought City.
Jack Rodwell could become a monster midfielder given the right tactical coaching and a prolonged spell in the first team, but will he get either at City? Javi Garcia has flattered to deceive at times, and four league starts in the first half a season for someone as expensive as him says it all.
United have been constantly talked about as needing a truly top-class attacking midfielder, but have a wealth of experience and quality who also possess that most priceless of mental traits of knowing how to win, whatever it takes.
Carrick has played in every league game except for one this term, and his influence on the team continues to grow, while the recent returns of Anderson and Fletcher are also big bonuses for the final third of the pitch if they can maintain form and fitness.
Squad depth: United again. They could easily cope with losing a couple to injury, while City could severely struggle when Yaya Toure heads off for the ACN.
Talent: On an individual level Yaya Toure is one of the best in the world, easily better than any of the United midfielders. This season, though, he has not hit the heights he is capable of, and United's better mix of abilities between their players has been more important.
Who is better in this area of the squad: United rule the midfield roost as a squad, though in a one-off game, picking two-vs.-two, you'd struggle to pick the ones from the group who would better Yaya and Barry at their best.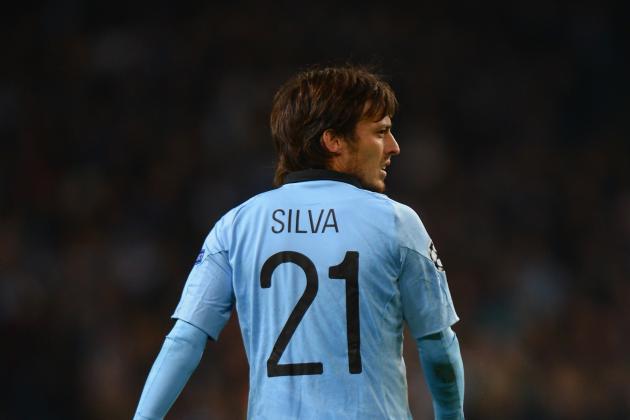 Shaun Botterill/Getty Images

City: David Silva, Samir Nasri, Scott Sinclair, James Milner
United: Shinji Kagawa, Antonio Valencia, Ashley Young, Nani
Four against four in the final third of the pitch for the creative midfield players.
City have a blend of inside forwards and playmakers, while United have long preferred the pacey, touchline-hugging winger variety who can contribute goals.
Shinji Kagawa has been the different option for them this term, though his absence has not really had a direct influence on United's play.
Consistency is often a key concern for the players who are grouped under this heading, and though David Silva is the standout name, even he hasn't performed as well as last season.
For United, Nani has dropped from sight in terms of the first team and on the opposite side, Scott Sinclair gave up playing every week to warm the City bench.
Squad depth: Fairly even. On the basis of having an extra player who can come in and not alter the quality of the squad, United take this point.
Talent: On the other hand, City's best is better than United's.
Who is better in this area of the squad: Just about, United. Silva and Nasri are terrific when they are confident and have good movement around them, but Nasri's petulance and the thought of Sinclair or Milner coming on as game-changers make City's lot less effective as a whole. Young or Valencia possess the explosiveness to have an impact as sub, or to constantly bombard teams for a full 90 minutes.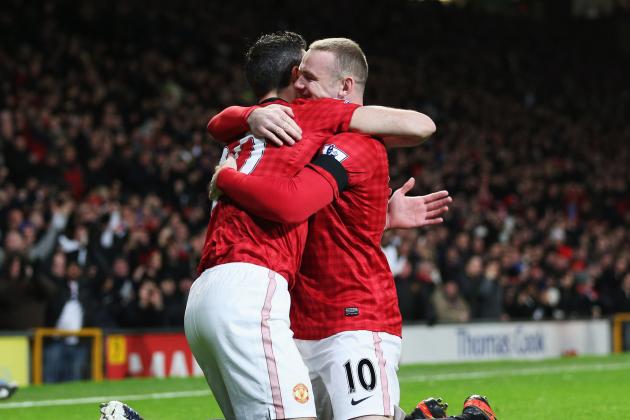 Clive Brunskill/Getty Images

City: Edin Dzeko, Kun Aguero, Carlos Tevez, Mario Balotelli
United: Wayne Rooney, Robin van Persie, Danny Welbeck, Javier Hernandez
First of all, let's just appreciate that there are eight forwards there who most Premier League sides would be glad to have just one of.
Having said that, five of them stand out rather more than the other three in terms of consistency, effectiveness and reliability. You can decide which players go in each group.
United's quartet have registered 23 league goals between them this season and 14 assists.
From City's side, 19 goals have come in the league and seven assists. That tallies up as 63 percent of the team's goals having been scored by the forwards, compared to 58 percent of United's.
City have strength, aerial ability, huge work rate, creation, dribbling ability and some fine finishers in their ranks. United have maybe the league's best finisher, versatility, even more strength and a fair amount of game-changers off the bench.
Squad depth: This is a very tight department. City just about have the depth from this quartet based on more experience and one more of the "attacking midfielders" who could double up as a forward if needed.
Talent: Again, two hugely talented sets of players. RvP and Rooney right now might be better than Aguero, and Tevez and Mancini hasn't really got a settled pair at present, so United. At their best, though, it might be the other way round.
Who is better in this area of the squad: Manchester United's forwards have goals in them off the bench at short notice, which maybe only Dzeko of City has proven to offer. But for a quartet over the season, it's got to be City's array.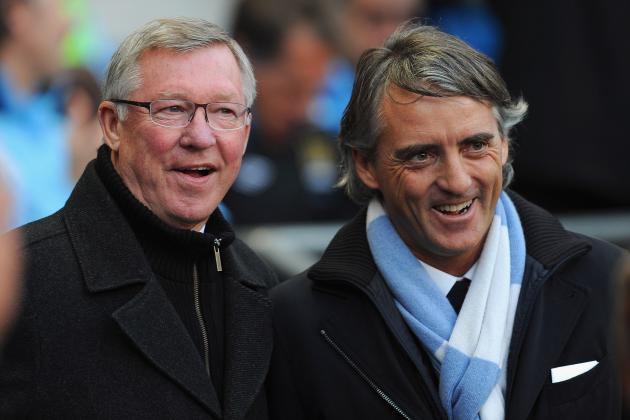 Michael Regan/Getty Images

Let's have a quick re-cap before any rash decisions are made...
Goalkeepers: City
Full-backs: City
Centre backs: United
Central midfielders: United
Attacking midfielders: United
Forwards: City
The strength of Manchester United over the past few years has been in their innate ability to grind out wins when they are undeserved, keep plugging away until the end of every match, and grind teams down when goals are hard to come by.
It is of little surprise, then, to see them with a solid central base to work from and plenty of attacking options to turn to in case three points are looking elusive.
City have maybe weakened their team over the summer in the centre of midfield and rely heavily on David Silva and Samir Nasri coming up with the goods in front of opposition defences, though they remain a hugely strong squad with the best striking quartet in the league.
Overall best squad: By small margins, United. Their mentality as well as their technical and tactical excellence is what gives them the edge in key areas of the pitch. City's spending power is such though that just one or two purchases in January could change everything.
One top signing in the centre of midfield could see their entire season change for the better and give them an overall stronger squad than their fierce rivals United.
Statistical data from EPLindex.com