Is Sidney Crosby a Hall of Famer If He Never Again Laces Up His Skates?
Use your ← → (arrow) keys to browse more stories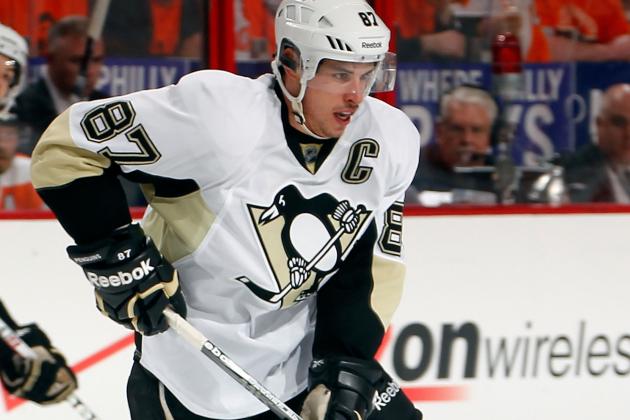 Paul Bereswill/Getty Images

In some ways, Sidney Crosby has been lucky.
Crosby and Penguins fans might disagree with that assessment. When he suffered a concussive hit at the hands of Washington's David Steckel in the 2011 Winter Classic and took another similar blow from Tampa Bay's Victor Hedman in his next game out, Crosby was given a one-way ticket into the land of the lost.
The hits were devastating to Crosby and the Pittsburgh Penguins. The league's top player did not return to the lineup until Nov. 2011, when he returned for eight games before he was sidelined again when his concussion-related symptoms returned.
Crosby did not feel strong enough to return until mid-March and he remained in the lineup through the Penguins' first-round playoff defeat at the hands of the Philadelphia Flyers.
When the NHL lockout finally comes to an end, Crosby will return to the Penguins. He has suffered no setbacks during the offseason or during the time the NHL has been locked out.
He has been lucky. Players like Marc Savard of the Boston Bruins and Chris Pronger of the Philadelphia Flyers have also suffered concussive hits while competing and neither of those players are likely to ever return to the NHL. Crosby could just have easily been in the same boat. His stellar career could be remembered for its meteor-like arc through the midpoint of the 2010-11 season.
He could've been the one suffering from brutal headaches, maddening fatigue and general lethargy. His career could've been on the rocks.
It is most decidedly not. But if he had been forced to hang up his skates after suffering major concussion issues, would he be a Hall of Famer based on his first five-and-a-half seasons in the NHL?
Would the Hall of Fame voters have made special accommodations for Crosby based on his accomplishments and future potential and voted him into the shrine?
Based on his ability to score, set up his teammates and team accomplishments, Crosby is already a Hall of Famer even if he could never lace up his skates again.
Look at the numbers:
Until he was forced out of the lineup following the Hedman hit, Crosby had played 412 games. He scored 215 goals and 357 assists for 572 points.
Crosby scored 100 points or more in four of his five full seasons. Crosby reached the 120-point mark in his second season in 2006-07 and scored a career-high 51 goals in 2009-10.
Crosby won the Stanley Cup with his Penguins teammates in 2009 when they defeated the powerful Detroit Red Wings in the Stanley Cup Final.
Crosby also scored the golden goal in the 2010 Winter Olympics in Vancouver. After taking a pass from Jarome Iginla, Crosby whipped a quick shot through the legs of U.S. goaltender Ryan Miller to give Canada the gold medal in the hockey competition.
Crosby went from legend to demigod with that goal.
His Stanley Cup triumph and gold medal performance are his crowning achievements.
However, his baseline is his scoring. Throughout his career, he has scored 1.403 points per game. That figure ranks fourth in the history of the NHL.
The top three players are Wayne Gretzky (1.921 ppg), Mario Lemieux (1.883) and Mike Bossy (1.497). Bobby Orr (1.393) is one spot behind Crosby.
Can there be any doubt?
Crosby has the brilliant moments and the career achievements.
If he had not been able to return to the NHL, he would have already earned his spot in the Hockey Hall of Fame.
Luckily, he does not face that dilemma.
The only thing holding him back from performing now is Gary Bettman and the NHL owners.