UEFA Champions League: Analyzing Juventus' Possible Opponents in Round of 16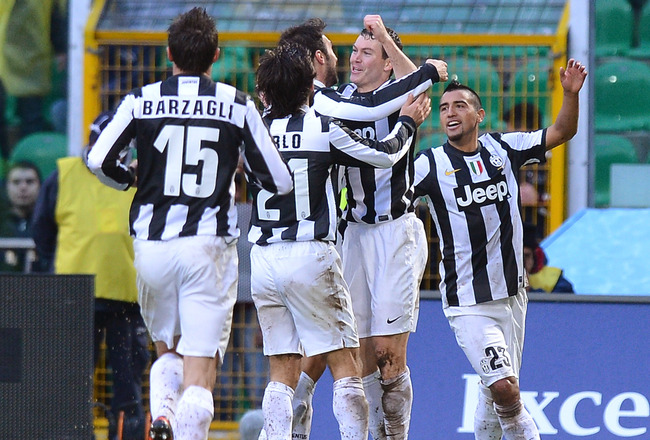 Tullio M. Puglia/Getty Images
We are almost one week away from the draw of the UEFA Champions League Round of 16 fixtures that will take place in Nyon, Switzerland, and it's time to take a look ahead at the possible opponents Juventus could face.
Out of eight teams that finished second in their respective groups during the previous round of the tournament, only six are eligible as opponents for the Bianconeri: Arsenal, Celtic Glasgow, Galatasaray, FC Porto, Real Madrid and Valencia.
In this article, we'll take a look at each and every team and how they match up against Juventus in an attempt to find the Bianconeri's most favourable opponent going into the knockout stages.
Enjoy.
Arsenal FC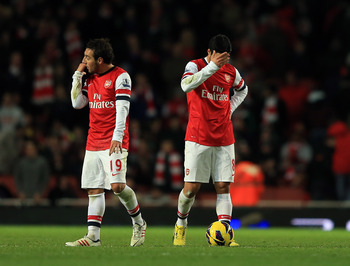 Richard Heathcote/Getty Images
League: British Premier League
UCL Pedigree: High
Star player: Santiago Cazorla
Main Weakness: Concentration, current form
Arsenal might be one of the bigger clubs Juventus could potentially face, but their play this season hasn't shown it.
They currently sit in seventh place in the BPL and did very little to instill confidence during the group stages of the Champions League.
Despite the poor season the Gunners are having, they would not be an ideal opponent for the Bianconeri. Their lack of success so far this season can be attributed to a number of things, like the loss of Robin Van Persie or the regression of Thomas Vermaelen, but form no doubt has its say in these results as well.
Arsenal can hang with the best Europe has to offer when they're on, and they have a tendency to play up to their competition. The Gunners often perform well against the bigger opponents in the UCL and can be very dangerous customers over the course of two games.
The 4-2-3-1 that Arsène Wenger likes to use plays right into the hands of Juve's 3-5-2, but Arsenal remain a strong opponent that has underachieved so far in 2012-2013.
Celtic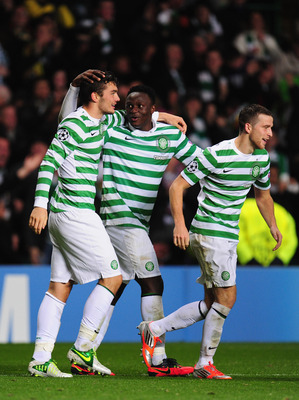 Stu Forster/Getty Images
League: Scottish Premier League
UCL Pedigree: Low
Star player: Victor Wanyama
Main weakness: Lack of world-class talent.
Celtic are this year's Cinderella story, and everybody likes an underdog. But from a pure quality perspective, the Scots are the easiest team to draw in the round of 16.
Take note: there is no such thing as an easy draw. All these teams have fought their way into the round of 16, and they all deserve to be here.
Celtic are a blue collar, hard working team that will rely on a solid organisation and great goalkeeping to keep opponents from scoring while making the most of the few chances they can muster.
No disrespect, but that is the formula teams in the Serie A have been using for decades. Juventus know how to deal with stingy defenses, and they have enough experience in defense and in goal to handle opportunistic strikers.
Celtic's 4-4-1-1 puts both the midfielders and the attackers at a disadvantage, and a lot would depend on how the Scottish wing backs would handle Juve's strong wingers.
Beating Barcelona is a fantastic result, but the Bianconeri are built for this kind of battle.
Galatasaray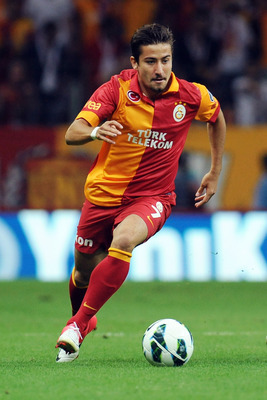 Valerio Pennicino/Getty Images
League: Turkish Super League
UCL pedigree: Low
Star Player: Burak Yilmaz
Main weakness: Inconsistent
Galatasaray are a team with two faces. When they play well, they can make life hard on anyone. Unfortunately, they don't always play well.
Yilmaz is as deadly an attacker as they come, but outside of the Turkish striker, the team doesn't have any world class talent on the roster. They play with a lot of heart instead, but it seems they're only able to muster the necessary amount of heart when it matters.
The Türk Telekom Arena, Galatasaray's home ground, is a very difficult stadium for visiting teams to play. Turkish fans are some of the most vocal around the planet, and I speak from experience when I tell you that as a visitor, their stadiums can be a scary place.
Overall, Galatasaray might be Juve's best fit. Their use of the 4-4-2 might not play into Antonio Conte's hands, but the Bianconeri have enough talent defensively to take someone like Yilmaz out of the game and take advantage of their superior talent on the other end of the pitch.
FC Porto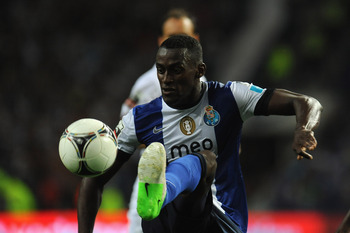 Valerio Pennicino/Getty Images
League: Portuguese Primeira Liga
UCL pedigree: High
Star player: Jackson Martinez
Main weakness: Inconsistent goalkeeping
Juventus had better pray they avoid FC Porto at all cost.
No team scares me more at the moment, because in a matchup between the two Juventus would always be expected to win and Porto are built as the perfect underdogs.
The Portuguese side has a knack for finding talented strikers in South America, and Jackson Martinez is the latest gem they've uprooted. Along with James Rodriguez, he is a member of perhaps the most explosive offensive unit in all of world football.
Defensively, Porto are very solid. There's a reason the attackers receive all of the attention: players like Nicolas Otamendi and Danilo don't make many mistakes. In midfield, Joao Moutinho and Lucho Gonzàlez are class players that would provide Juve's MVP midfield with a mighty challenge.
Porto reminds me of Shakhtar Donetsk, in that they fly under the radar and have a lot more talent than people give them credit for. Their use of the 4-3-3 with a high emphasis on attacking could also prove difficult for Juventus to deal with.
Overall, this is one matchup the Bianconeri will wish to avoid.
Real Madrid
Jasper Juinen/Getty Images
League: Spanish La Liga
UCL pedigree: Very high
Star player: Cristiano Ronaldo
Main weakness: Pressure, defensive positioning
The only team Juventus would face that would actually go into the contest as favourites. Real Madrid don't need an introduction: This is a world-class team with stars all over the pitch.
With Cristiano Ronaldo, Karim Benzema and Angel Di Maria, the Galacticos boast possibly the best offensive unit in all of football. Ronaldo's speed in particular could prove to be a nightmare for Juve's static back three.
But the fact of the matter is that Juventus play their best football against the biggest opponents, and their recent record against Real is favourable.
This would be a matchup in which the Bianconeri could rely on their strong organisation and defensive prowess to cope with the waves of attack Real would send, and the team could take advantage of the often sketchy positioning from Sergio Ramos and Pepe by using Andrea Pirlo's and Leonardo Bonucci's trademark deep balls.
Real's use of the 4-2-3-1 could also prove problematic against the Bianconeri's strong play on the wing, and Kwadwo Asamoah would have a field day diving into the space Real's defenders would leave behind their backs.
No one wants to play Real in the round of 16, but Juventus might be better equipped than most other teams to pull of the upset. And in order to be the best, you have to beat the best.
Valencia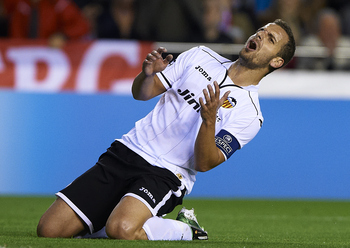 Manuel Queimadelos Alonso/Getty Images
League: Spanish La Liga
UCL Pedigree: High
Star player: Roberto Soldado
Main weakness: Lack of stability
Valencia might have looked impressive at times during the UCL's group stages, the club is in turmoil at the moment.
Coach Mauricio Pellegrino was sacked last week after a string of poor results on the domestic level, and the team currently sits at a lowly tenth place in Spain.
A quick glance at the results so far in Europe might not tell the whole story. Valencia are a good team, but they're not as good as their record indicates and their recent form has many analysts doubting their chances in the round of 16.
That doesn't mean the team lacks talent, though, and Valencia can be very dangerous when they are on form. They are your typical Spanish side that want to play football as opposed to stopping the other team from scoring, and they've received very strong play from their goalkeepers at the European level.
Like most top sides around Europe, Valencia utilise the 4-2-3-1, a formation Juventus love to go up against, but with a new coach it is uncertain how far Valencia would be able to alter their formation in a potential matchup with the Bianconeri.
Valencia are a bit of a wild card. No one really knows what the team will look like when competition resumes in February. Because of this, they might be a dangerous draw.
Ranking Juve's Possible Opponents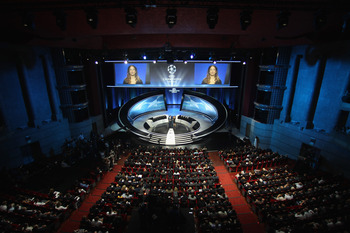 Michael Steele/Getty Images
From least favourable to most favourable match up:
FC Porto
Real Madrid
Arsenal
Valencia
Celtic
Galatasaray
Keep Reading

Juventus: Like this team?