Texans vs. Patriots: Houston's Biggest Winners and Losers from NFL Week 14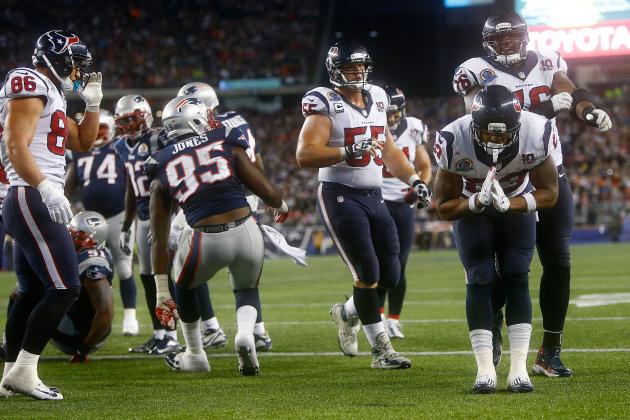 Jared Wickerham/Getty Images

Guys, I have a question: Did ESPN make a huge mistake and accidentally broadcast the wrong game? Because the game I watched Monday night, a 42-14 blowout, seemed eerily similar to the Week 6 Sunday Night Football game between the Houston Texans and Green Bay Packers.
In many ways, the Texans' Monday Night Football game against the New England Patriots followed the same pattern as the 42-24 loss that occurred in Week 6.
In both games, the opposing teams jumped out to early leads, and the Texans failed to score. Penalties against the Texans extended drives for both teams and allowed them to eventually score touchdowns.
In the end, the result was the same for both games: The Texans were embarrassed on national television.
Here are your winners—ouch—and losers from the Texans' Week 14 game.
Begin Slideshow

»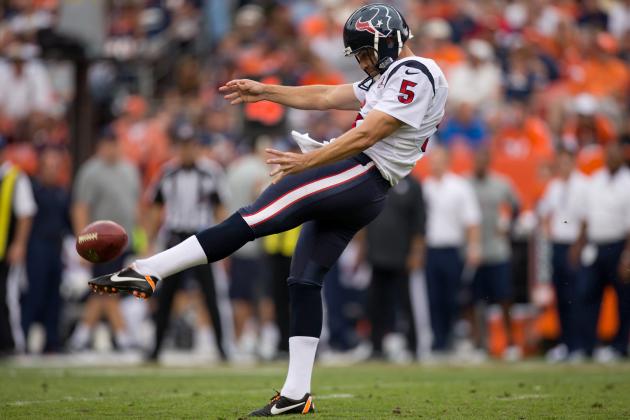 Justin Edmonds/Getty Images

Donnie Jones was by far the best player for the Texans on Monday night. Never before have I seen a Texans punter perform so well.
He averaged nearly 50 yards per punt, but this was without the ball bouncing 10 to 15 yards on the ground. All of his punts traversed this long distance completely in the air, including his long punt of 59 yards.
If this game was actually close, Jones' performance would have made a major impact. Despite the fact that their drives stalled deep in their own territory on a consistent basis, Jones was able to grant the defense some room to work—not that they did anything with it.
Jones has been excellent for the Texans so far this season, and he has been consistently able to pin opposing offenses back in their own territory.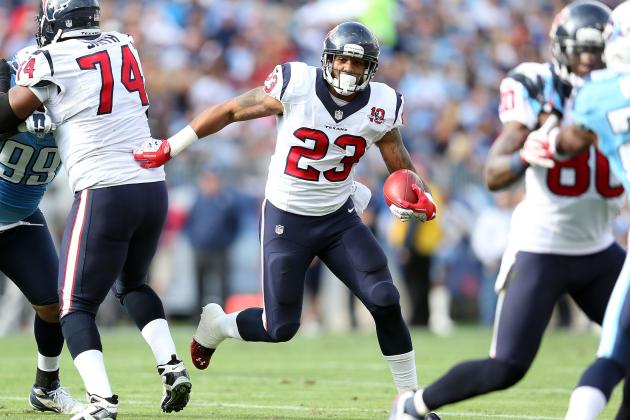 Andy Lyons/Getty Images

The offensive line had its worst performance of the season against the Patriots.
Rookie Ben Jones struggled to even put up a fight against Vince Wilfork, who almost single-handedly managed to stall the Texans' high-powered running game.
Wilfork disrupted so many running plays that it almost seemed like the offensive line was just letting him stroll though, as if they were afraid of touching him.
The offensive line was awful in pass protection. Matt Schaub was under pressure the entire game, which made it difficult for him to establish any type of offensive consistency.
This game proved that Houston's offensive success is built around the success of the offensive line. If the offensive line falters, the offense stalls.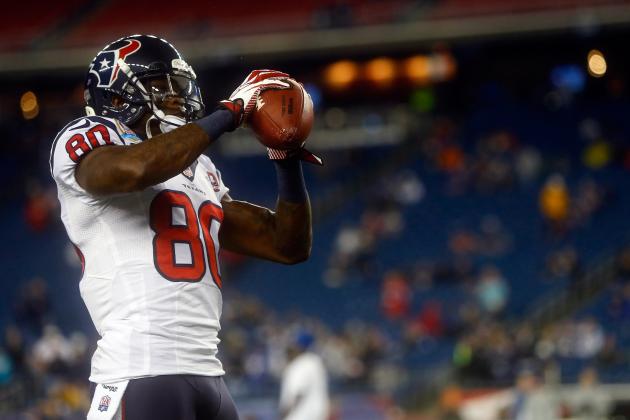 Jared Wickerham/Getty Images

If anything good can be taken out of the Texans' woeful offensive performance, it is that Andre Johnson had another great day of receiving.
Although he failed to record a touchdown, Johnson hauled in eight receptions for a total of 95 yards, the most out of any Texan.
Johnson was able to consistently get open for his quarterback, which must have been a great relief for Matt Schaub. No other receiving threats were able to create separation, aside from Lestar Jean.
Johnson continued his recent streak of hot games in this one, and he should be an extremely valuable asset for the Texans moving forward.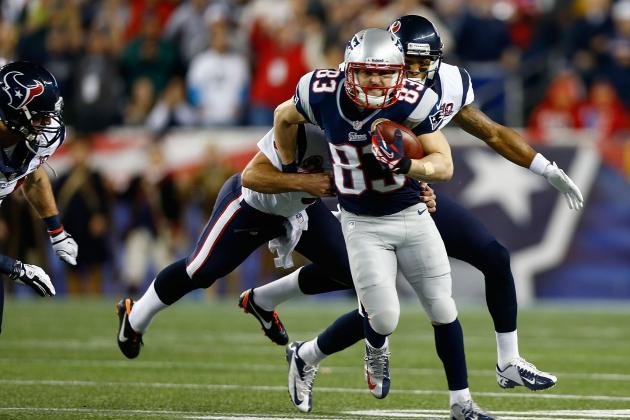 Jared Wickerham/Getty Images

The special teams unit was hard to watch. It seems like a player on special teams is flagged for either holding or an illegal block in the back every game.
Blame must be put on special teams coordinator Joe Marciano.
The blocking on punt and kick returns is horrendous, and the coverage teams cede huge amounts of yardage to opposing defenders.
Marciano must be fired. The Texans need to bring in someone who can actually discipline the unit and turn it into an advantage for the Texans.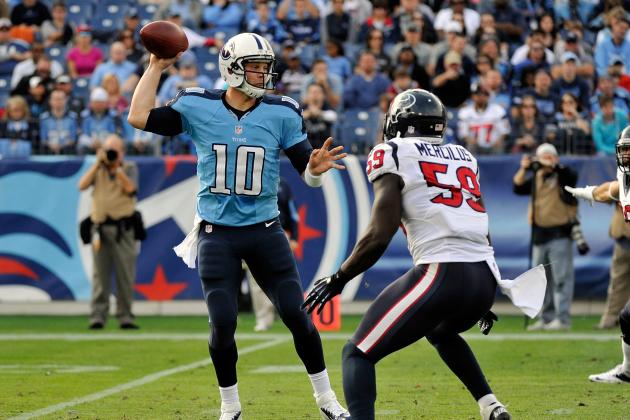 Frederick Breedon/Getty Images

Who would you assume tallied Houston's only sack on the night? J.J. Watt? Connor Barwin? Antonio Smith.
No, no and no.
Whitney Mercilus was the pass-rushing standout for the Texans this week. Last week against the Titans, Mercilus recorded two sacks in his first career game as a starter.
That gives Mercilus a total of six sacks on the year with limited playing time.
The success of the first-round draft pick may spell bad news for Barwin, the Texans' star pass-rusher from last season. Barwin is entering the final year of his contract, and the Texans will feel less obligated to doll out the big bucks to him if Mercilus continues to produce.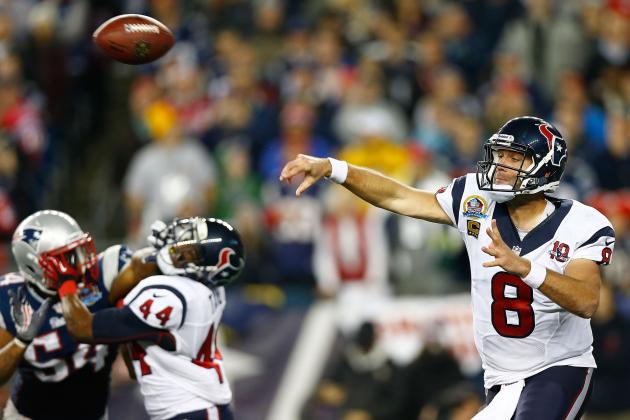 Jared Wickerham/Getty Images

In a game where everyone knows that Tom Brady is going to put up a lot of points, Matt Schaub needed to step up.
He did the opposite.
Schaub did not appear to be on his game at all, and he struggled with accuracy in both short- and long-yardage situations.
He also threw a devastating interception when the Texans were in scoring position. To make matters even worse, he could have thrown the ball to a wide-open Arian Foster on that play, who could have likely taken it in for a touchdown.
Schaub chose the wrong game to turn in an uncharacteristically bad performance.