NFL Playoff Picture: Updated Odds & Projections for Every Seed for Week 15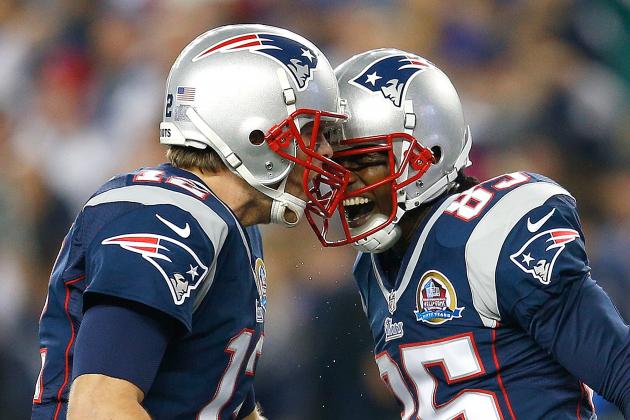 Jim Rogash/Getty Images
The Patriots are playing their best football of the season. Could Tom Brady be on his way to another Super Bowl?
Things are starting to come into focus in regards to the NFL playoffs.
Several teams have already clinched their respective divisions, while a handful of teams are battling it out to earn a couple of wild-card spots.
If the playoffs started today, the Pittsburgh Steelers would sneak into the postseason as a No. 6 seed. The Indianapolis Colts, at 9-4, are firmly in control of the AFC wild-card race.
But in the NFC, things are wide open in regards to the wild-card spot. Right now, the Seattle Seahawks and Chicago Bears are slated to earn wild-card berths. However, with a lot of uncertainty still within the schedule, anything can happen.
Let's take a closer look at the current playoff odds for every NFL team. While we're at it, why not take a stab at projecting each first-round playoff matchup?
Begin Slideshow

»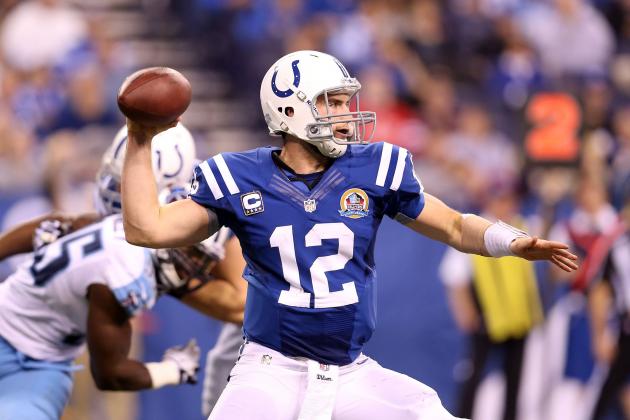 Andy Lyons/Getty Images
Andrew Luck and the Colts have their eyes set on the No. 5 seed in the AFC.
The AFC is a top-heavy conference this year. Right now, the New England Patriots and Denver Broncos appear to have as good a shot as anyone to win Super Bowl XLVII.
However, the Baltimore Ravens and Houston Texans are still lurking despite a less-than-stellar second half of the season.
AFC North
Baltimore Ravens (9-4)
Playoff Odds: In, but a brutal schedule to end the season.
Cincinnati Bengals (7-6)
Playoff Odds: Possible, but face an uphill battle.
Cleveland Browns (5-8)
Playoff Odds: Out—Trent Richardson. Brandon Weeden. Not yet.
Pittsburgh Steelers (7-6)
Playoff Odds: Possible. Likely comes down to Pittsburgh vs. Cincinnati for the No. 6 seed.
AFC South
Houston Texans (11-2)
Playoff Odds: In. More than likely the AFC's No. 1 seed.
Indianapolis Colts (9-4)
Playoff Odds: Likely. Best story of the 2012 season.
Jacksonville Jaguars (2-11)
Playoff Odds: Out. It's December and they have two wins.
Tennessee Titans (4-9)
Playoff Odds: Out. The Titans are not a good football team right now.
AFC East
Buffalo Bills (5-8)
Playoff Odds: Not happening. I thought they'd be better this year, and I was wrong.
Miami Dolphins (5-8)
Playoff Odds: Out. But the team has showed promise this season.
New England Patriots (10-3)
Playoff Odds: In. And they're as dangerous as ever.
New York Jets (6-7)
Playoff Odds: Just ain't gonna happen.
AFC West
Denver Broncos (10-3)
Playoff Odds: In. Could be the best team in football right now.
Kansas City Chiefs (2-11)
Playoff Odds: Out. Disastrous 2012 season.
Oakland Raiders (3-10)
Playoff Odds: Out. This is not a good football team.
San Diego Chargers (5-8)
Playoff Odds: Not gonna happen. Goodbye, A.J. Smith. Goodbye, Norv Turner. Hello, winning?
Tom Lynn/Getty Images
Things are setting up nicely for the Packers to enjoy a long playoff run this winter.
Much of the playoff picture in the NFC is set in stone. Three of four divisions appear to be settled, while the NFC East is setting up as a three-team race that will go right down to the wire.
The NFC North figures to produce a pair of playoff teams, as will the NFC West or NFC East.
NFC North
Chicago Bears (8-5)
Playoff Odds: Likely, but the Bears had better be careful.
Detroit Lions (4-9)
Playoff Odds: Not gonna happen. They're 4-9.
Green Bay Packers (9-4)
Playoff Odds: In. Their bags are packed for the postseason.
Minnesota Vikings (7-6)
Playoff Odds: Unlikely, but they still have a glimmer of hope.
NFC South
Atlanta Falcons (11-2)
Playoff Odds: In and likely headed for the No. 1 seed in the NFC.
Carolina Panthers (4-9)
Playoff Odds: Out. Even Ryan Kalil thinks their season is over.
New Orleans Saints (5-8)
Playoff Odds: Out. It's simply not happening at this point.
Tampa Bay Buccaneers (6-7)
Playoff Odds: Unlikely, but the Bucs are capable of beating nearly anyone.
NFC East
Dallas Cowboys (7-6)
Playoff Odds: Possible. Just possible.
New York Giants (8-5)
Playoff Odds: More than likely, but they can't afford to slip up over the last few weeks.
Philadelphia Eagles (4-9)
Playoff Odds: No. This team is done. Period.
Washington Redskins (7-6)
Playoff Odds: Possible, and if they get in the playoffs, watch out.
NFC West
Arizona Cardinals (4-9)
Playoff Odds: Nope. The Cardinals are who we thought they were—not a playoff team.
St. Louis Rams (6-6-1)
Playoff Odds: Unlikely, but on the upswing.
San Francisco 49ers (9-3-1)
Playoff Odds: They're in. But will they be playing in the Wild Card Round?
Seattle Seahawks (8-5)
Playoff Odds: Likely, but they don't have much room for error.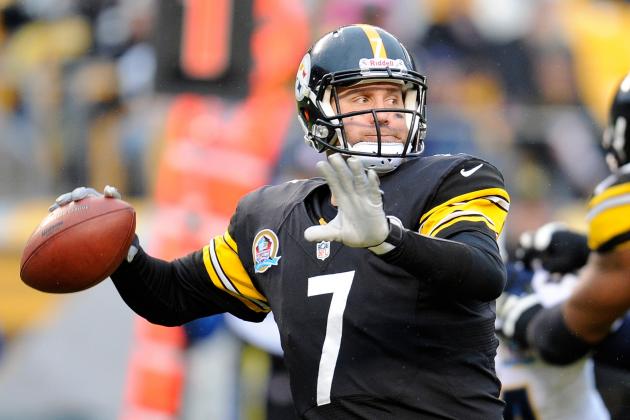 Joe Sargent/Getty Images
Pittsburgh faces an uphill battle to a wild card spot. It's now or never for the Steelers.
On paper, all four divisions are all but wrapped up.
However, both wild cards remain up for grabs. One of the final playoff spots will likely go to the Indianapolis Colts, and the other will probably come down to Pittsburgh or Cincinnati.
Denver has already claimed the AFC West division championship, and despite the San Diego Chargers' upset win over the Pittsburgh Steelers this week, there will only be one playoff team from the AFC West this season.
The Baltimore Ravens, at 9-4, are comfortably atop the AFC North, although both Pittsburgh and Cincinnati are lurking for wild-card berths.
The Steelers are 7-6 and play at Dallas before finishing at home against the Bengals and Browns in consecutive weeks.
Cincinnati plays at Philadelphia and Pittsburgh and at home against the Ravens to end the season.
On paper, it looks like Pittsburgh has the inside track at the Wild Card Round.
The Texans are coming off an embarrassing loss at New England, but they remain well positioned to earn the No. 1 seed in the AFC.
Indianapolis sits at 9-4 and appears headed for the playoffs. Not many people expected the AFC South to produce two playoff teams this season, but that's exactly what could happen.
The AFC East, once again, is owned by the New England Patriots.
The New York Jets still have some hope mathematically, but neither they, the Dolphins nor the Bills will be making the playoffs this season.
Projected playoff seeding
First-Round Byes
1) Houston 14-2
2) New England 13-3
Wild Card Round
6) Pittsburgh 9-7 at 3) Denver 13-3
5) Indianapolis 10-6 at 4) Baltimore 10-6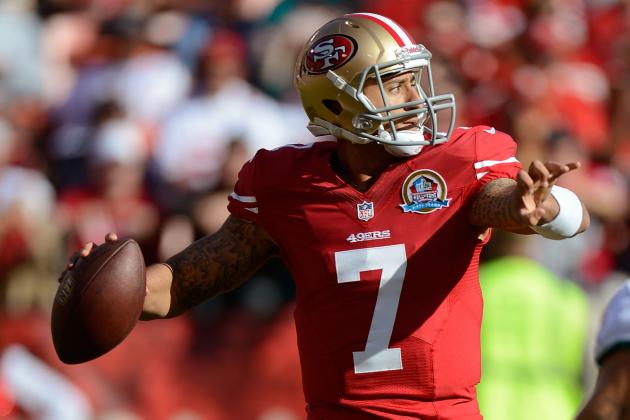 Thearon W. Henderson/Getty Images
Colin Kaepernick and the 49ers are comfortably in the playoffs and eyeing a bye.
Two of the divisions in the NFC are all but settled. The 49ers will most likely win the NFC West, and the Atlanta Falcons own the NFC South.
Beyond that, there's a lot still to be determined.
The San Francisco 49ers are very much in control of the NFC West division at 9-3-1, while the Seattle Seahawks currently sit at 8-5. Seattle is in control of its own destiny in regards to a wild-card spot, but San Francisco is sure to earn a home playoff game by way of winning the division.
Surprisingly enough, the St. Louis Rams are still in playoff contention. The Rams are 6-6-1 and play the Vikings, Buccaneers and Seahawks to end the season.
In the NFC North, the Green Bay Packers are hoping to go on a late-season run reminiscent of their 2010 run to Super Bowl XLV. The Packers have dealt with numerous injuries to key players this season, but Aaron Rodgers has been able to carry the team.
This division figures to send two teams to the playoffs. Either Chicago or Green Bay will win the division, and the other will likely earn a wild card.
The NFC South belongs to the Atlanta Falcons. They are coming off a disappointing loss to Cam Newton and the Carolina Panthers but still have the inside track at the No. 1 seed in the NFC.
Tampa Bay has an outside chance of sneaking into the playoffs, but at 6-7, the Buccaneers would likely need to win their last three games.
Defending Super Bowl champions the New York Giants sit atop the NFC East at 8-5. Washington and Dallas are 7-6, but both teams face an uphill battle to claim the division. The Giants will face a tough test coming up, traveling to Atlanta and Baltimore in consecutive weeks.
Still, there's a decent chance that this division produces two playoff teams. Things are about to get very interesting.
Projected playoff seeding
First-Round Byes
1) Atlanta 13-3
2) Green Bay 12-4
Wild Card Round
6) Chicago 10-6 at 3) San Francisco 11-4-1
5) Seattle 10-6 at 4) NY Giants 10-6