Handing out NY Knicks Team Awards Through the Season's First Quarter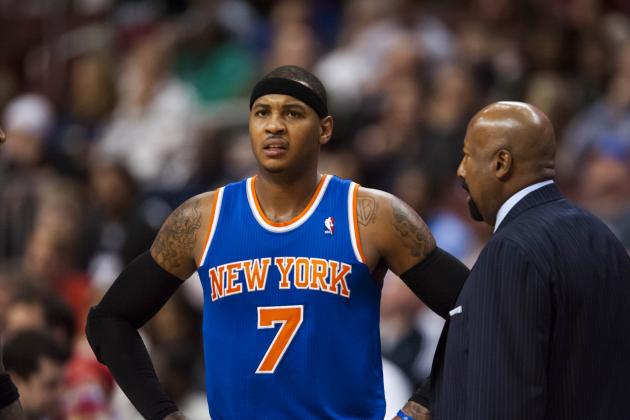 Howard Smith-USA TODAY Sports

The first quarter of the NBA basketball season has come and gone already.
After 20 games, the New York Knicks are sitting pretty in first place, and that's due in large part to the team playing great basketball and having a combination of stunning players performing above and beyond.
There's certainly valid claims for Carmelo Anthony to take home the Most Valuable Player award, and it's also said that J.R. Smith could be a top contender for the Sixth Man of the Year Award.
Can Tyson Chandler repeat as the Defensive Player of the Year?
And will Mike Woodson take home the honors of Coach of the Year.
I can't predict the future, but I'm going to make some claims here and hand out the awards for the first quarter of the NBA season.
All statistics are as of 12/12/2012.
Begin Slideshow

»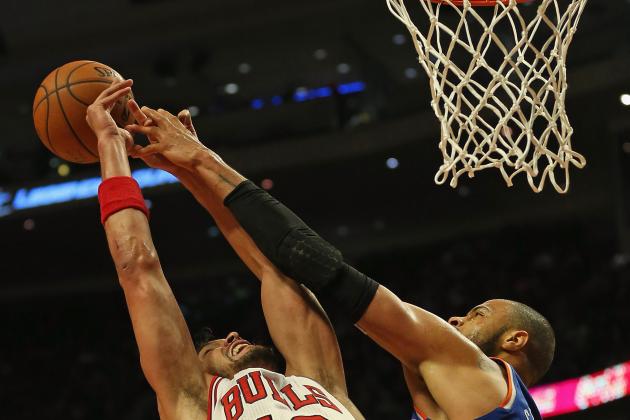 Jonathan Daniel/Getty Images

Although the whole team has bought in to the defensive mind state, the anchor of this team is Tyson Chandler.
Tyson is the one that gave New York its defensive identity; it all began last year, but has carried over into the 2012-13 season.
Tyson is just ferocious, and the intensity he plays with is second to none.
There's no denying that Tyson is the man who—along with Mike Woodson—got this team playing defense.
No. 6 is known to be the vocal leader of this New York team.
He's not afraid to bark at his teammates to get back on defense, and that's what a DPY does.
He's ferocious under the basket, and he's grabbing rebounds time after time, not allowing opponents second-chance opportunities.
Just look at the Knicks' loss to the Chicago Bulls on December 8.
Tyson grabbed 18 boards—a great deal of rebounds nowadays.
As of December 12, Chandler's averaging just under 10 rebounds a game with one block per contest as well, and he'll surely be fighting to retain his title.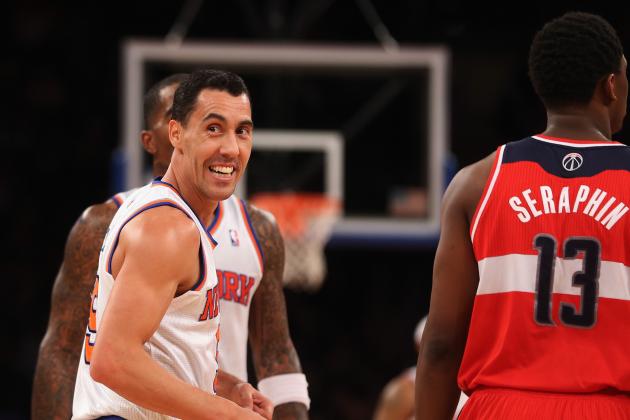 Bruce Bennett/Getty Images

While this is definitely a long shot when the awards are handed out throughout the league, for this article's purpose, it was between Pablo Prigioni and Chris Copeland—and Prigioni gets more quality minutes, so he's our go-to guy for this slide.
Prigioni is the 35-year-old rookie point guard from Argentina who's averaging 3.2 points per game and 2.8 assists per game in 14 minutes a game.
While Pablo hasn't done much to cement himself as a point guard of the future—hope you see my sarcasm—he's contributed enough to New York that they trust him to remain on the court during crunch time.
The more minutes he gets, the more he improves.
For example, at the beginning of the season, the point guard was quick to find his teammates, but he was passing up far too many open looks. Fast forward to the game against the Washington Wizards, and Prigioni connected on two of his three shots from beyond the arc.
The jitters have disappeared, and Prigioni is comfortably adapting to his new role on the Knicks—he was the star back home in Argentina.
No. 9 fills out the depth chart, if nothing else.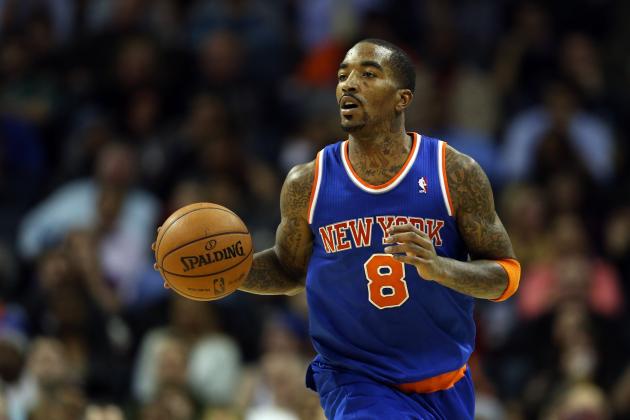 Streeter Lecka/Getty Images

With all the depth available at the fingertips of Coach Mike Woodson, time after time he calls upon J.R. Smith, and the faith Woody has in Smith shows on the court—and that's why J.R. is this team's Sixth Man of the Year...well first quarter.
J.R. has accepted his bench role and has excelled in it.
You might remember his game-winning shot against the Charlotte Bobcats?
That's just the type of season Smith has been having.
He's currently New York's No. 3 scorer—only behind Carmelo Anthony and Raymond Felton—with 13.8 points per game, and he's averaging five rebounds a game as well.
Although he's been slumping lately, there's no denying that Smith has improved his game to cater to that sixth-man role that he's filled all through his career.
It's only a matter of time before Smith finds his stroke from three-point land again, or is it?
While it's not clear if Amar'e Stoudemire will be inserted in the starting lineup or taking J.R.'s bench seat, for the time being, J.R. is the winner for this award.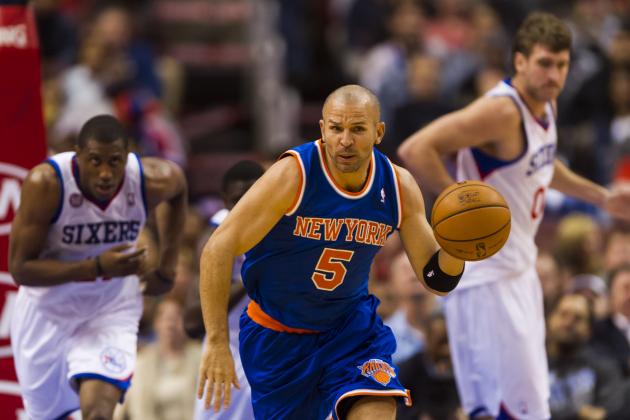 Howard Smith-USA TODAY Sports

After last season, everyone thought Jason Kidd was washed up.
He's silencing the critics with the way he's been playing lately, and the gamble New York took on him is paying off with high dividends.
Kidd was signed by New York to be the backup point guard, but because of injuries, he's filled in the vacant 2-guard role perfectly.
Having two point guards on the court at the same time has been a success for the Mike Woodson-led Knickerbockers.
With the Dallas Mavericks last season, Jason was averaging 6.2 points per game and 5.5 assists per game in just under 29 minutes.
This season, the point guard is averaging 9.1 points per game and 3.6 assists per game in 27.6 minutes a game.
Although his assists have dropped, Kidd is looking like an improved player. He's running up and down the court hard and not giving up on any plays.
He just looks more rejuvenated, and his game appears to have found the fountain of youth because what he's brought to this team is immeasurable.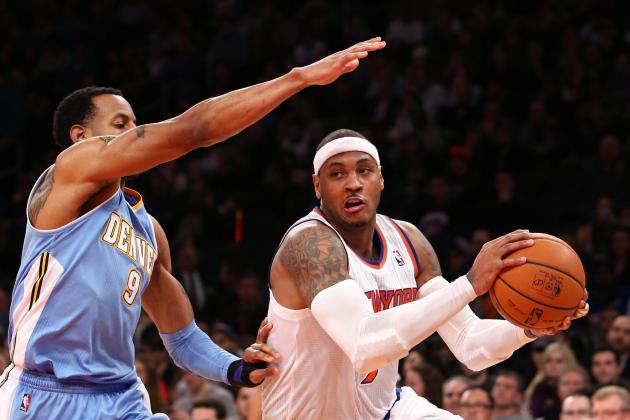 Debby Wong-USA TODAY Sports

The obvious choice for the team's MVP is Carmelo Anthony—it's a no-brainer.
Anthony is playing his best basketball since he entered the league, and he's only improving by the game.
As of December 12, Carmelo is averaging 27.7 points per game to go with the 6.6 rebounds and 2.1 assists.
After last night's 45-point game against the Brooklyn Nets, Melo is cementing his spot in MVP talks—making a valid claim for candidacy.
Carmelo is a legitimate choice to take home the MVP award, not just for what his stats show, but because of what his teammates are doing as well.
Anthony draws double-teams time after time, allowing his teammates to take an open shot or cut to the basket for an easy two points.
It's also worth noting that Melo has developed into a complete player since returning from the Olympics.
There appears to be no stopping Anthony right now, and who's to say that he'll stop at all until he gets his hands on that MVP award.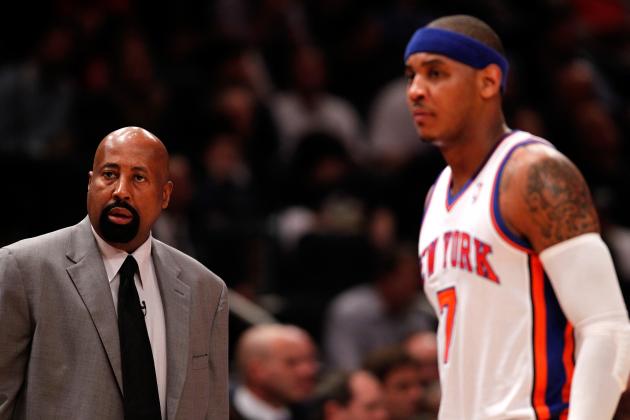 Jeff Zelevansky/Getty Images

This could, in all actuality, be the end result this year.
What Mike Woodson is doing with this Knicks team is unprecedented.
The way this Knicks team has been playing basketball should undoubtedly be credited from the top down—starting with Woodson.
As New York's coach, Coach Woody is 34-11—a .756 winning percentage.
Woodson has had the enigma at hand of meshing two superstars classified as not being able to play together in Carmelo Anthony and Amar'e Stoudemire; however, under Mike Woodson, the duo is 8-2 together.
The man just doesn't draw up plays for Carmelo Anthony to score, but instead something for the team. It could be Raymond Felton, Tyson Chandler or even J.R. Smith taking the shot because Woodson has that much trust in his team, and it's obvious they trust him.
The obvious factor here is Woody getting his team to buy into the defensive scheme.
New York is only allowing 95.3 points per game—good for ninth in the league, but you can bet they'll make their way back in to the top five by season's end.
This is the best New York Knicks team I've seen in years: players and coaches.
Knicks management are looking like a bunch of geniuses right now...