Dallas Cowboys: A Step-by-Step Guide to Rebuilding the Dallas Cowboys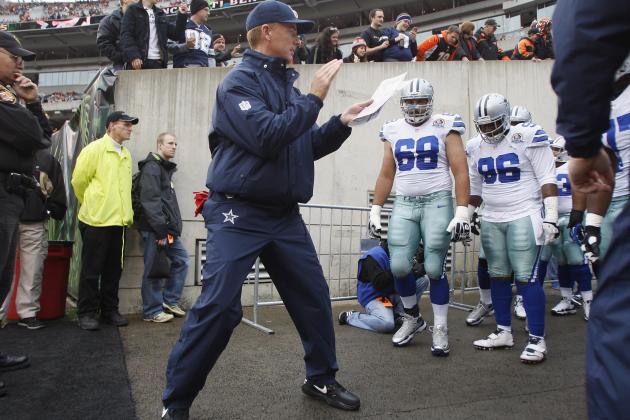 John Grieshop/Getty Images

Nothing tastes worse than the words "I'm wrong," but that's what happened to me this season.
I wrote early in this season that the Cowboys were done. Much to my surprise they are still in playoff contention.
Contention, however, doesn't erase the problems that surround this team.
There is a lot of work to be done if the Cowboys want to be considered contenders on a yearly basis. While they've maintained a level of competitiveness, they are still a team that's trying to rebuild it's core and it's identity.
I've devised a step-by-step plan to help the Cowboys reach the point of success they've been yearning for.
Begin Slideshow

»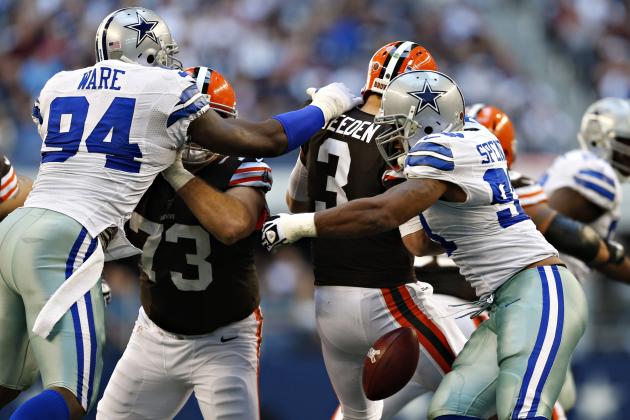 Wesley Hitt/Getty Images

At the beginning of this season, outside linebacker Anthony Spencer was franchised. Since then he has been flat-out dominant.
No, Spencer doesn't offer the complementary pass rusher the Cowboys want opposite DeMarcus Ware. However, he does offer a player who is high-intensity, high-production and loves Dallas.
I know we're talking about rebuilding the Dallas Cowboys, but Spencer, 28, offers a young veteran who can help take the young core of this team into the future.
Spencer is quietly putting together his best season to date. In 11 games played, Spencer has 76 tackles, eight-and-a-half sacks and two forced fumbles.
It's truly been a career year for Spencer.
Spencer may be the only move the Cowboys can make this offseason with their substantial cap issues. The issue really becomes that the Cowboys can't replace his production with any free agent on the market, and there are honestly bigger needs to address in the draft.
Whatever the cost, the Cowboys must pay. Their future depends on it.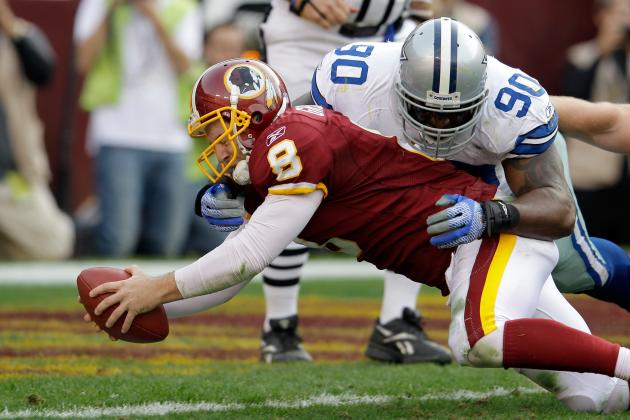 Rob Carr/Getty Images

Teams can be torn apart by problematic veterans. See Terrell Owens for further evidence of that.
That fact alone forces the Cowboys to analyze their roster for the future.
The Cowboys have some great veterans, some lousy ones, and some talented ones that never see the field. It's time to decide who is in the future plans.
While it's a no-brainer that players such as Tony Romo, Jason Witten and DeMarcus Ware will likely retire as Dallas Cowboys, there are a few players who are on the chopping block.
Jay Ratliff, who recently got into an argument with his boss, has been a solid contributor when healthy. If he were less injury-prone, I would say the Cowboys should keep him. With the Cowboys in a jam financially, releasing Ratliff would free up some valuable cap space and stop a cancer from developing in the locker room.
Other veterans such as Kenyon Coleman, Marcus Spears, Doug Free and Felix Jones have all worn out their stay in Dallas.
If the Cowboys are serious about building a team for the future, it needs to do so without the veterans that cause the most headaches.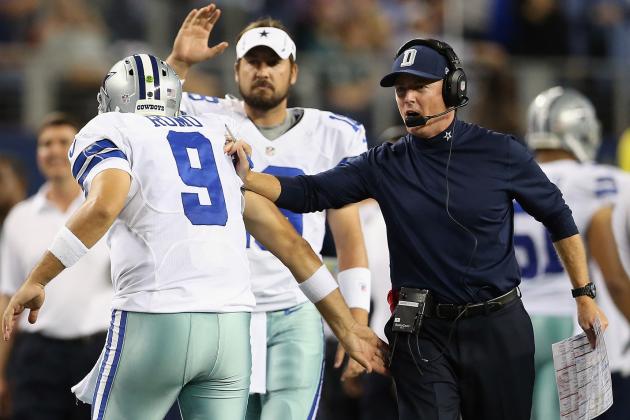 Ronald Martinez/Getty Images

Say what you will about Jason Garrett, but over the season he has slowly earned my respect.
You can point to his ability to handle scrutiny, to block out the outside noise surrounding the franchise or his classy handling of the Josh Brent/Jerry Brown tragedy.
Garrett has done his part in keeping this team afloat.
I get why the frustration is there with Coach Garrett, I truly do. Yet, I'm not willing to throw in the towel on him yet.
Tom Landry wasn't much different from Garrett; in fact, he was worse, record-wise. When fans called for Landry to be fired, you know what happened? The Cowboys gave him an extension as a sign of good faith.
Garrett is a young coach who has displayed good leadership and has changed the culture of the Dallas Cowboys.
Sure, he has some work to do in terms of play-calling and game managing, but I respect the way he does business and the way he has the team fighting.
So you can complain all you want, but there isn't a coach available that would put the Cowboys in a better position to win next year than Jason Garrett, who might just evolve into the next great coach if given the opportunity.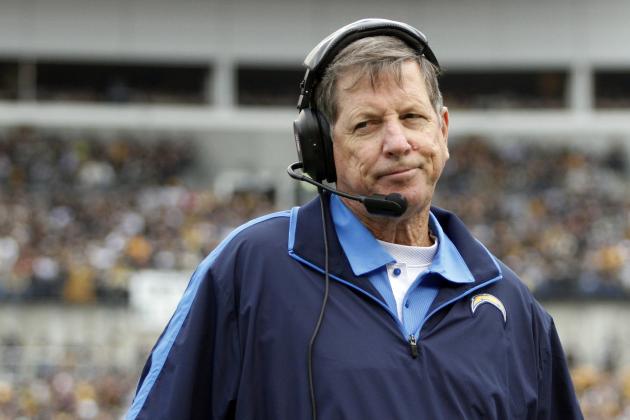 Justin K. Aller/Getty Images

So far, we're keeping Garrett, but we notice he has some deficiencies. So the next step is to hire an offensive coordinator.
Garrett could really benefit from having a trusted offensive play-caller while he learns what it truly means to be a head coach. It would mean less stress on game day and less pressure during practice.
Queue Norv Turner.
Turner is expected to be let go in San Diego and has had some really great success in Dallas in the past. His offenses are always among the top-ranked, and he has an exceptional amount of experience.
Turner could really help the development of Jason Garrett. Additionally, Turner would make our team truly balanced by maximizing the effectiveness of the Cowboys offense.
If Turner isn't available, there are still many other options. The point is that we need someone to ease the pressure off Garrett while still making the offense as dangerous as its talent says it is.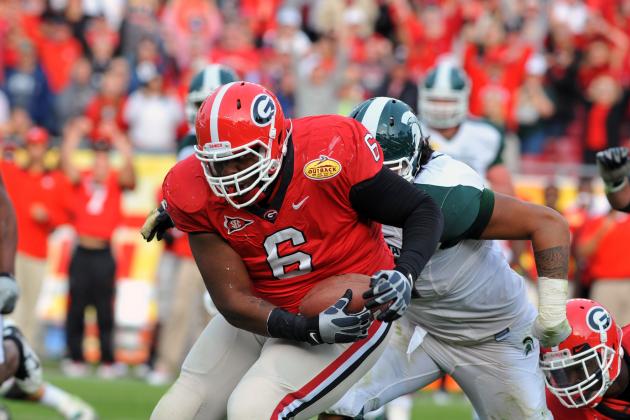 Al Messerschmidt/Getty Images

In case you just now tuned into this roller-coaster season of the Cowboys, there is one thing you need to know…
The offensive line is dreadful, and the defensive line isn't far behind it.
Doug Free is repeatedly getting beat off the edge, and the interior line isn't giving much hope outside of Nate Livings.
Thank heaven for the NFL draft.
The Cowboys need to focus on rebuilding the trenches with young impact players. With this draft as deep as it's been in a while in relation to both areas, the time to capitalize is now.
Ideally, the Cowboys could walk away with a franchise-caliber player on both sides and consistent contributors to go along with it.
Here are two scenarios I'd like to see work out:
A) The Cowboys draft John Jenkins (defensive tackle, UGA) and then trade up to grab Jonathan Cooper in the early second round.
B) The Cowboys draft Chance Warmack (offensive guard, ALA), Brennan Williams (right tackle, UNC) in the second, and Margus Hunt (defensive end, SMU) third.
There are a bevy of prospects in this 2013 NFL Draft. If the Cowboys play their cards right and do their homework they can have constructed both a solid defensive line and tough offensive line in one draft.
The pieces are there if the Cowboys are smart enough to take them.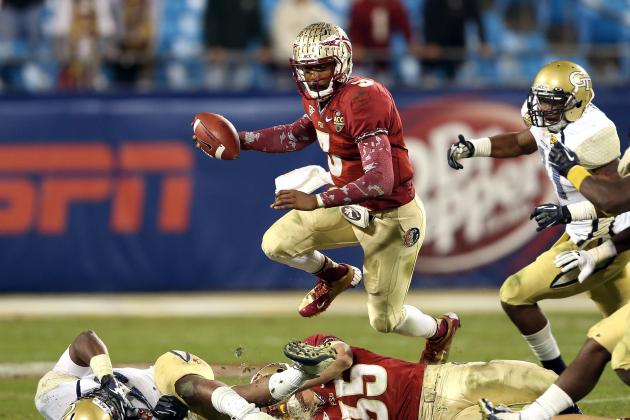 Streeter Lecka/Getty Images

Tony Romo isn't getting any younger, and Cowboys fans aren't getting any more patient.
While it is more than likely that the Cowboys re-sign Romo to create cap flexibility, I believe the Cowboys already see that Romo is a declining quarterback who has taken a beating.
If the Cowboys don't look toward the future now, they are dooming themselves to a future of mediocrity.
There are some solid quarterbacks available in this draft who will be around in the fourth round. Maybe that is where they want to pull the trigger.
Another option would be to inquire about Kirk Cousins. Cousins is a similar quarterback to Tony Romo and has already proven that he can have success against NFL talent.
Cousins may be expensive but might be worth it.
Nevertheless, Cousins is a pipe dream, and the Cowboys don't have much to bargain with. So the focus must be on the quarterbacks in college now.
Tyler Wilson, Tyler Bray, EJ Manuel, Aaron Murray and Zac Dysert are all quarterbacks who would be available to the Cowboys without risking their draft strategy too much.
Of all those quarterbacks, Manuel is the one I like best. He wouldn't be expensive and has a solid pro skill set. Manuel has a great combination of speed and arm strength. He is a project player who has a lot to work on, but his skills compare favorably to Romo.
Regardless of whom they chose, it's imperative that the Cowboys select a future field general sooner than later.