Michigan Football Recruiting: 5 Biggest Remaining Uncommitted Targets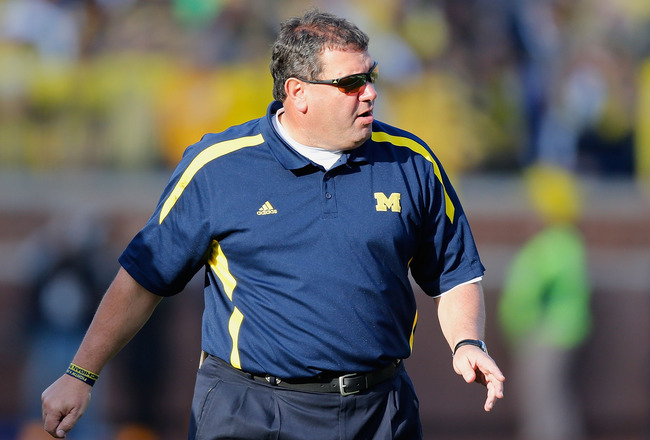 Gregory Shamus/Getty Images
Even though Michigan's class is just about wrapped up, there are still a few big names out there that could commit to the Wolverines.
These are guys that fans have known about for a long time now, whose recruitment the Wolverines faithful will have followed closely.
Now that it is winding to a close, which (if any) of them will choose Michigan?
Here's a look at the biggest uncommitted players Michigan is still in contention for, and the Wolverines' chances with each of them.
Leon McQuay III
This 5-star defensive back from Seffner, Florida has always seemed like a long shot to end up at Michigan, and that hasn't changed a whole lot.
His list of schools has been narrowed down to only a few, with Vanderbilt looking like the leader (Rivals.com)
McQuay is looking to get his degree in the music field (ESPN), and we all know what kind of music program Vanderbilt must have, being located right in Nashville.
USC is another school near the top of McQuay's list, and with Max Redfield's decommitment from the Trojans, it wouldn't be a surprise to see him end up in Los Angeles.
Michigan seemingly hasn't had an elite safety in a while, but McQuay could definitely step in and fill that role.
The odds aren't in Michigan's favor on this one, but it wouldn't be a complete shock if he wound up in Ann Arbor, either.
Odds: 34%
David Dawson
This sure is interesting.
After it looked like Michigan and the former commit had parted ways for good, things have turned back around.
Speculation suggests it is only a matter of time before Dawson is a Wolverine once again.
So what happened behind the scenes? Only a handful of people know the answer to that, but there's no question that head coach Brady Hoke's "no-visit policy" was tested to the limit (Detroit Free Press).
Dawson must have really been sorry. As a result, he faced the Michigan coaches like a man and apologized (ESPN).
Even though Michigan's offensive line crop is already in great shape for 2013, you'd hate to see a local Cass Tech kid wind up elsewhere.
Recruitment has been a roller coaster ride for Dawson, but it looks like it should end in a positive way.
Odds: 73%
Laquon Treadwell
The endless recruiting saga that has surrounded Laquon Treadwell will be coming to an end soon, but will he end up at Michigan?
Treadwell was No. 1 on the wish lists of most fans. He could have filled one of Michigan's biggest positions of need at wide receiver.
Things looked good in the recruitment of Treadwell for a time, but have gone downhill in the last few months.
Michigan, once the clear-cut leader, now seems to trail schools such as Oklahoma, Oklahoma State and Ole Miss (Rivals.com).
In fact, many fans have seemingly given up hope on Treadwell and have put a new name at the top of their wish list.
It's really a shame that things turned so bleak with Treadwell the way they did.
Odds: 31%
Derrick Green
No surprises here—Derrick Green sits atop Michigan's wish list right now, and the Wolverines are arguably the favorite to land the nation's top back (Rivals.com).
Why wouldn't they be?
His other top schools—Auburn and Tennessee—just had head coaching changes. Auburn revamped its entire staff. Another contender, Miami, is having major issues with the NCAA in terms of probation and punishments.
With Fitz Toussaint's leg injury, Green could potentially step in and start right away. Even if he doesn't start, early playing time would almost be a given.
With his 220-pound frame, he would fit absolutely perfectly into the smashmouth offense Michigan will soon be running.
When Green makes his pledge within the next few months, will he choose to go Maize and Blue? As a fan, there's reason to be optimistic on this one.
Odds: 71%
Conclusion
Gregory Shamus/Getty Images
After the red-hot start to this 2013 recruiting class late last winter, things have really slowed down over the last eight or nine months.
We saw the exact same scenario play out with the 2012 class. It was an extremely fast start followed by a slow and somewhat disappointing finish.
This year's class can avoid that disappointing finish with a commitment from one of the 5-star targets still on the board.
Derrick Green would probably be the preferred choice, but there's no way fans would complain if McQuay or Treadwell wound up committing instead of Green.
Either way, this year's class looks like it's going to end with commitment from a big name, which is something that the 2012 class failed to do.
Keep Reading

Michigan Wolverines Football: Like this team?