Dallas Cowboys: 3 Players Who Must Not Return for 2013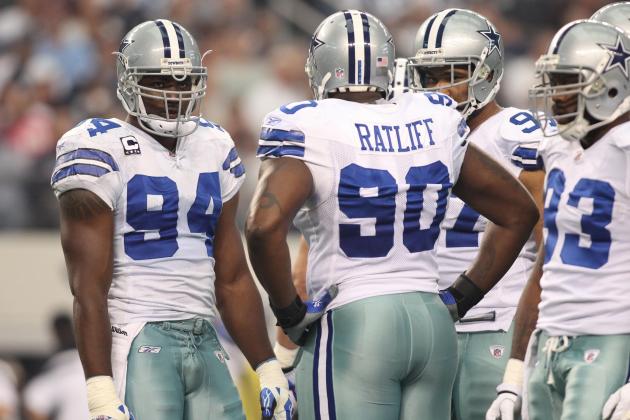 Tim Heitman-USA TODAY Sports

At 7-6, the Dallas Cowboys are rolling, but there are still numerous issues. Highly-paid players (cough, cough Doug Free) aren't playing up to their contracts and must be gone at the start of the 2013 season.
The Cowboys are talented, but there are some holes that must be filled on the roster if the team ever hopes to contend.
This means cutting players who aren't living up to their worth and letting go of popular players who the Cowboys can't quite afford.
But that's the business of the NFL. Some guys aren't doing their jobs and must be released. It's trimming the fat if you would like, because in order for Dallas to truly contend, they must round into shape.
So, let's examine three players on the roster that absolutely cannot return for the 2013 season.
Begin Slideshow

»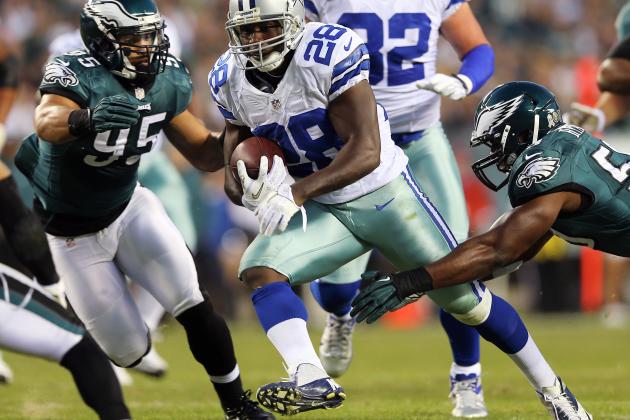 Elsa/Getty Images

When a player is drafted in the first round, expectations are sky high, and Felix Jones has failed to even partially live up to them.
Dallas selected him at No. 22 overall in the 2008 draft and his production doesn't approach what first-round picks are expected to do. He's rushed for 2,694 yards in a little under five seasons, along with just 11 touchdowns. Those are numbers Chris Johnson, the No. 24 pick in the same draft as Jones, almost eclipsed in the 2010 season alone (he rushed for 2,006 yards and 14 touchdowns that year).
Jones is now a backup, and hasn't been particularly efficient in that role either. In the six games DeMarco Murray missed with an ankle injury this season, Jones managed only 230 yards and two touchdowns.
Paltry numbers for a backup, let alone a starter.
His presence doesn't benefit the Cowboys any longer. They need a more consistent and durable back to offset Murray. Not to mention a back capable of punching it in on the goal line.
Jones should not be playing in Dallas next year. Perhaps when he gets to his new team he can shed the bust label.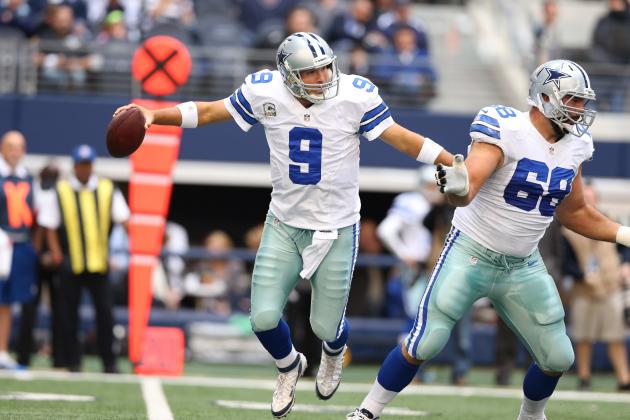 Matthew Emmons-USA TODAY Sports

Doug Free has been terrible in 2012.
Actually, horrendous.
No, let me take that back. Catastrophic.
He's been the Cowboys' worst player, by far, and it's a little hard to explain. It was only two years ago when everyone considered him to be the team's future at left tackle. Jerry Jones displayed his confidence by handing him a huge four-year, $32 million deal, but since then he's only regressed.
In 2011, Free allowed 9.5 sacks and committed 10 penalties on the left side of the line. That poor effort forced the Cowboys to switch Free back to his original spot at right tackle, moving second-year tackle Tyron Smith to the blindside.
The move hasn't helped, however. Free has allowed seven sacks and committed 13 penalties thus far in 2012. And if it wasn't for Romo's mobility, those numbers would look even worse.
Plain and simple, he's been atrocious.
The regression from just two seasons ago is almost unexplainable. But no matter the explanation, he's not living up to his contract, not even close.
Free has been benched on multiple occasions this season, and it doesn't seem to have made him any better.
Expect him to be cut at the end of this season.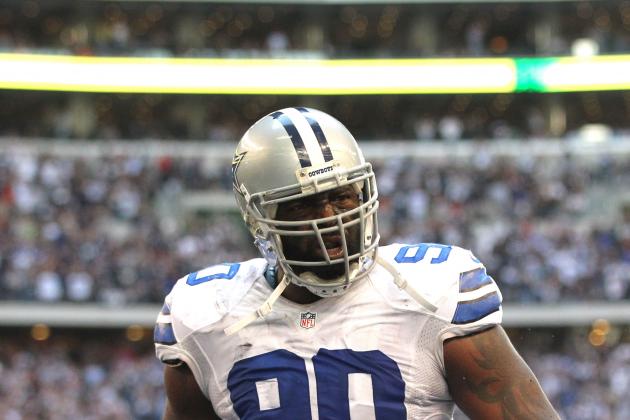 Tim Heitman-USA TODAY Sports

Jay Ratliff is one of the Cowboys' all-time best success stories. He's made four Pro Bowls despite being a seventh-round draft pick.
But fuzzy feelings about a popular Cowboy shouldn't stop Dallas from letting him go.
At 31 years old, Ratliff is entering the back-end of his career, and he's no longer worth the seven-year, $48.625 million contract he received last season. That's a huge amount of money, and money the cap-squeezed Cowboys need to allot elsewhere, especially when Dallas already has a capable replacement on the roster in Sean Lissemore.
Ratliff no longer forces pressure up the middle like he did only a few years ago—his sack total has dropped every season since 2008.
Now in 2012, Ratliff is starting to wear down. He's battled injuries for much of the season and has yet to record a sack in the six games he's played.
The lack of production seems to frustrate Ratliff too, as evidenced by the locker room tiff (via dfw.cbslocal.com) he got in with Jerry Jones after last week's game against the Eagles.
Dallas cannot afford to pump huge amounts of money into an aging, undersized nose tackle. The money is needed elsewhere and Ratliff can be replaced.
It'll hurt, Ratliff has been a fan favorite for years, but it is the right move for the Cowboys.