UCLA Football: Recruiting the Offensive Line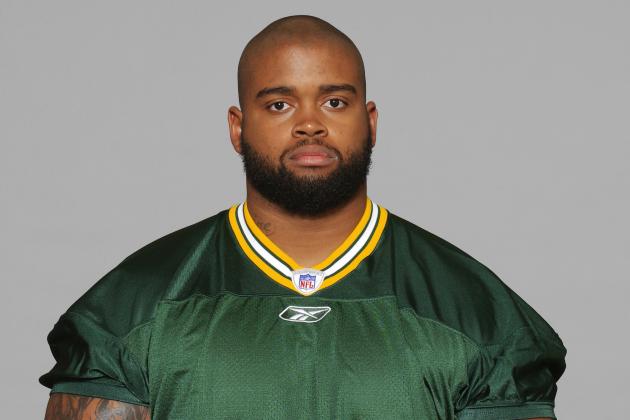 Getty Images/Getty Images
OL coach Adrian Klemm is a rockstar in the recruiting game
For the UCLA Football program, a significant impetus was placed upon offensive line recruiting.
The old football axiom often states that a football team is constructed initially with both the offensive and defensive lines.
In regards to the Bruins, both the talent levels and number of tangible bodies needed to increase in order to help the underwhelming unit. In order to remedy the situation, the Bruins hit the recruiting trails hard and currently have a staggering eight commitments along the offensive line.
Versatility is a common thread with this group—as multiple committed members have the ability to play both guard and tackle.
In the last week, UCLA got two commitments from highly regarded prospects in former Oregon commitment Alex Redmond and 4-star guard Caleb Benenoch.
Here is a look at the seven commitments UCLA currently has on the offensive line.
Begin Slideshow

»
On Monday morning, the Bruins got an early Christmas present as Benenoch committed to UCLA over the likes of Baylor, Texas, Oklahoma, Texas A&M and Alabama.
Of all the current offensive line commits, Benenoch might be the one who is physically most ready for the field. At 6'6" 320 pounds, he's an absolute giant on the high school level. Not surprisingly, he has been known to absolutely maul people, especially in the run game.
The Katy, Texas prospect is slated to come in as a guard and should have all the opportunity to start at the vacated spot left by current senior Jeff Baca.
A goal in this class is to bring in guys who are both physical and display a nasty disposition up front. Benenoch brings both aspects in droves.
It's extremely impressive that UCLA was able to win the services of Benenoch. Offensive line coach Adrian Klemm and the rest of the staff went head-to-head against multiple big-time programs in order to get his commitment.
This might be an indication of where the UCLA program is eventually headed.
Phoenix, Arizona prospect Kenny Lacy is one of three out-of-state commitments for the Bruins.
Lacy is a very similar prospect to Dowling. Like the aforementioned commit, Lacy has a nice combination of arm length and athleticism. He is also very adept on zone-run plays, which allows him to flash his mobility up the field.
He's more athletically gifted when compared to Dowling, but he also needs to gain both weight and strength before he's ready to play on the collegiate level. Lacy also needs to improve on refinement from a technique standpoint.
The 4-star tackle has already visited Nebraska and will be visiting Michigan, Ohio State and Vanderbilt officially in the upcoming weeks. His commitment status is somewhat up in the air at this point.
Like Dowling and John Lopez, Lacy will also play in the Semper Fidelis All-American Game.
Orange Lutheran prospect John Lopez is an absolute bear of a man.
At 6'5" 305 pounds, he already looks like a collegiate lineman. Unsurprisingly, Lopez has an extremely strong lower half, and thus it makes it hard to move him.
Lopez had the stigma of being somewhat complacent on the field, but those qualms seemingly were met, as he completed a very consistent senior year in one of the tougher leagues in the state of California.
He'll need to improve on his pass-blocking ability and quickness, but he looks like someone who can provide depth during his freshman year.
Lopez chose the Bruins over offers from Florida State, Washington, Arkansas, Vanderbilt and Oregon State. Like Dowling, Lopez will also play in the Semper Fidelis All-American Bowl.
Out of all the current offensive line commits, Poasi Moala could have the biggest overall upside.
When looking at Moala physically, he just drips with upside. At 270 pounds, Moala doesn't look like he has an ounce of fat on him. In addition, he runs like a tight end and flashes the athleticism of someone half his size.
Also, from a physical standpoint, he epitomizes what the prototype offensive tackle should look like. Athleticism notwithstanding, Moala is a very physical player on the field.
Moala could be the best prospect to come out of Rancho Verde High School since Tyron Smith—a former No. 9 overall draft pick and current starting tackle for the Dallas Cowboys. Although he needs to get physically bigger, Moala has all the ability to come in and play right away.
The Moreno Valley, California native chose to play in Westwood over the possibility of attending Washington, Boise State, Arizona and Oregon State.
After the high school season ends, Moala will participate in the Cal State All-Star Game.
A consensus 4-star prospect by multiple recruiting services, Christian Morris is in all likelihood the highest rated offensive line commit to date.
He could also be the toughest one to hold onto.
Morris surprised many when he decided to commit to UCLA months ago. It's surprising from the standpoint that not very many 4-star offensive linemen from Memphis, Tennessee decide to bolt across the country and commit to a program coming off of a 6-8 season.
Again, chalk it up to a relationship formed between Morris and Klemm.
Morris has the ability to contend for a starting spot the minute he lands (if he lands) in Los Angeles. The tackle has taken an official visit to Nebraska, and he has heavy interest from Ole Miss, Oklahoma and Georgia.
The dark horse in this race is Tennessee. With the coaching situation finally settled, it wouldn't be a shock to see Butch Jones make Morris a priority.
This one will probably go down to signing day. Morris will participate in the U.S. Army All-American Bowl in San Antonio, Texas on January 5th, 2013.
Scott Quessenberry represents the lone center prospect in this current eight-man offensive line class.
That's not to say that Quessenberry can't play other positions. In fact, he has the athleticism to play guard and even tackle if need be.
The Carlsbad, California native is one of the most athletic offensive line prospects in the state of California. His quickness allows him to be very effective in run blocking, and despite his somewhat undersized stature, he's very physical (as demonstrated above in the video).
During "The Opening" in Eugene, Oregon this past summer, Quessenberry proved himself against the top competition in the nation. The La Costa Canyon High School product stood his ground and used his hands well in order to gain leverage.
With redshirt freshman Jake Brendel entrenched as the starting center, it'll give Quessenberry time to gain strength and get bigger. If UCLA's depth problem in the interior of the line continues, Quessenberry can plug in at guard in a pinch.
The 6'4", 270 pound center chose the Bruins over an impressive list of schools including Nebraska, Wisconsin, Arkansas, Oregon, Washington and Cal.
Quessenberry will participate in the Under Armour All-American Game in Orlando, Florida on January 4th.
If you want to see physicality in a lineman, take a look at 4-star offensive guard Alex Redmond.
The Los Alamitos, California native just committed to UCLA this past Friday after being a long-time Oregon commitment. Redmond decided that Oregon's frenetic offense didn't exactly cater to his strengths as a football player, which ultimately led him to the hometown Bruins.
Redmond plays with a relentless and punishing nature on the field. His overall toughness is personified specifically on run-blocking opportunities. His physical nature should bode well with UCLA's propensity to run the ball frequently.
It was a big coup for UCLA to get Redmond's commitment, especially considering that he reneged on his commitment to a fellow conference foe. He has the size to contribute right away, potentially in a starting role.
Redmond chose the Bruins over offers from Oregon, Washington and Arizona State, among others.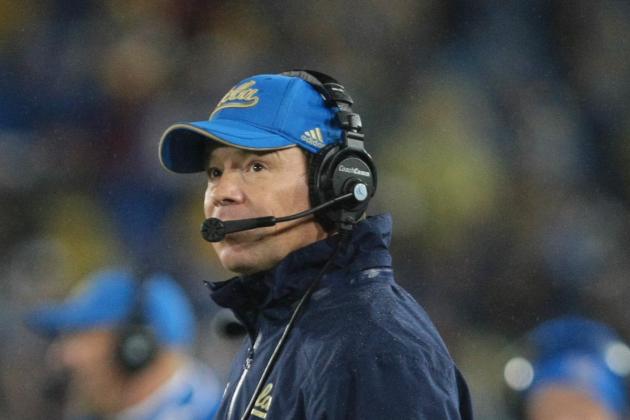 Kelley L Cox-USA TODAY Sports
Mora will be pleased with this haul
Not only will this group bring much needed depth to UCLA's roster, but it will also add a huge infusion of talent along a depleted offensive line.
Massive kudos have to be given to Klemm, as he was a big reason why the Bruins will bring in top talent not only from California, but also from the states of Tennessee, Arizona and Texas.
The eight current commitments each have their individual strengths that they bring to the table, and they form an impressive unit, fully equipped with athleticism, size, upside and ability.
By adding these types of talent to the fold, it will help to solidify what has been perceived as a traditionally weak unit for UCLA.