Lucas Leiva: 5 Reasons He's One of Liverpool's Most Important Players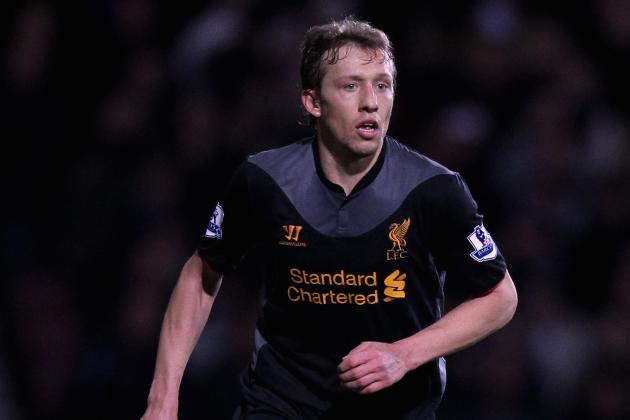 Ben Hoskins/Getty Images

After being out for more than a year with two unfortunate injuries, Liverpool's Lucas Leiva is getting back to playing regularly for his team. His timely return has coincided with an upturn in results for the Reds.
Having transformed from being one of the most maligned players on the squad to being one the fans desperately missed during his absence, Lucas' impact on the squad is clear to see.
Along with the likes of Daniel Agger, Glen Johnson and Luis Suarez, Lucas is most certainly one of Liverpool's best players these days. His growth began under Rafa Benitez, who brought him to Anfield, and increased during the days of Kenny Dalglish.
Brendan Rodgers has barely been able to select him competitively so far because of his injury, but it is evident that Lucas will be an important cog in the manager's machine.
Here are five reasons why the Brazilian is one of the most important members of the Reds squad.
Begin Slideshow

»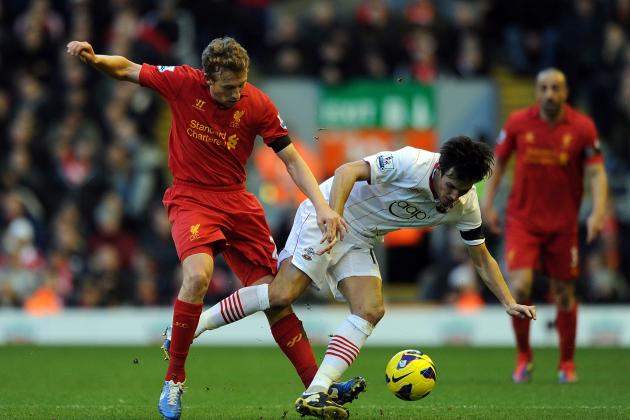 Chris Brunskill/Getty Images

Steven Gerrard, Joe Allen, Raheem Sterling, Luis Suarez, Jonjo Shelvey: A fine list of players who can operate in the final third with aplomb, but all of them are naturally attack-minded first and foremost.
In the absence of Lucas this season they have done fairly well in filling in as needed, though more often than not, a slight switch of tactics in the midfield three of Brendan Rodgers' 4-3-3 has been evident.
While Rodgers prefers to have one controlling midfielder operating deep and then two in front of him pushing forward and pressing higher up the pitch whenever possible, with Lucas missing there was often the need to invert the midfield shape.
Two deeper players behind one more adventurous one gave more solidity to the centre of the park and protection to the defence, but it also detracted from the creativity and options the Reds had in the final third—where resources are scarce enough to begin with for Liverpool.
Lucas returning to the centre gives the manager the option to return to the more natural shape of a 4-3-3 and fans have seen that in the past two league matches, against Southampton and West Ham.
The Brazilian midfielder is more than capable of patrolling the entire width of the field on his own, settled in front of the defence, and is tactically disciplined to reign himself in, curbing any desires to attack without regard for those behind him.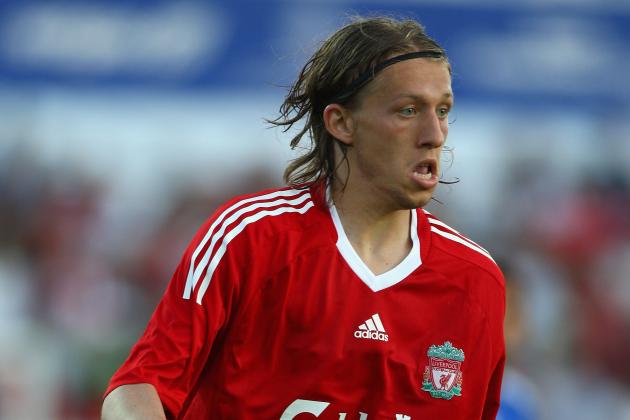 Michael Steele/Getty Images

Lucas is a favourite of much of the fanbase now, but it wasn't always the case.
Back in 2007, Rafa Benitez signed the midfielder from Gremio in Brazil and the Bola de Ouro winner was seen as a driving, box to box player with the capacity to create as much as destroy.
Early performances were not overly convincing and Lucas took plenty of abuse from the stands—so it is testament to his own inner strength and determination that he has now racked up close to 200 appearances for Liverpool.
Not only that, but he has captained the side and is the third most-often printed name at the club on personalised jerseys, such is the esteem in which fans now hold him.
Reds' first team coach Mike Marsh recently commented on Lucas' mentality and strong frame of mind despite the set-backs he has received over the past 13 months:
He got through pre-season and was looking strong, and he had to come off against Manchester City. He's a Brazilian international, he moved away from home when he was very young - he is a very mentally strong player. We're looking forward to having him back.
Similarly, current midfielder Jordan Henderson has had his own struggles with form and fans since arriving from Sunderland, and has perhaps found a role model in Lucas.
He will offer advice to younger players - I've spoken to him a couple of times about things. He's a really nice guy and he'll help you through times when it might not be going right for you. He's definitely a senior player that you look up to. He's a big player for Liverpool and as soon as he gets back, it will benefit the team.
Above all else, Lucas' will to win in matches is the big thing which shines through.
He's disappointed when things don't go well on the pitch; he refuses to easily roll over or give opponents a free ride—or pass, or tackle—and that sort of infectious approach to games should be an indication to certain others in the squad of what is expected in the Red shirt.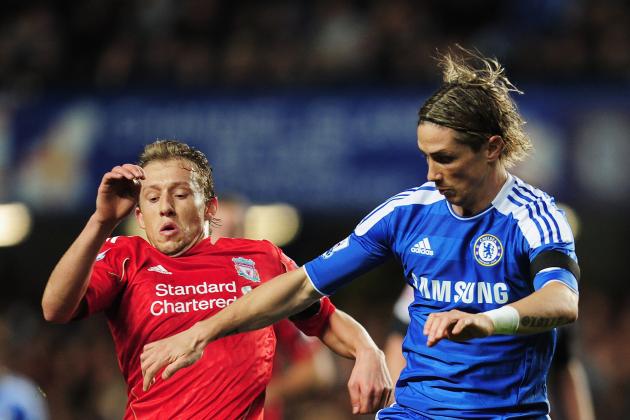 Jamie McDonald/Getty Images

It's all well and good being a talented player on the ball, but performing to the highest level week in, week out in the Premier League is a relative rarity.
Prior to his injury against Chelsea in the League Cup in November 2011, Lucas was undoubtedly the star of the team.
Every single match he was one of the Reds' top performers, winning the ball and distributing it equally well and generally helping his teammates perform to the best of their abilities.
It was an innocuous moment, but the anterior cruciate ligament injury he sustained during that match really hit the Reds.
It is possible to think that it might even have been a major contributing factor in Kenny Dalglish losing his job, as the Reds were largely poor in midfield from around a month or so after Lucas' injury until the end of the season.
There were certainly games, of course, where they outplayed opponents and central midfielders—Charlie Adam, Jordan Henderson, Steven Gerrard, Jay Spearing—had particularly excellent individual games.
But did any show anything like the level of consistency that Lucas had for the two years previous? Not a chance.
Now, only two games back, Lucas is already showing that he is playing well and as he gets more games under his belt to build up fitness and confidence, the management and fans should expect that reliability to come back quickly too.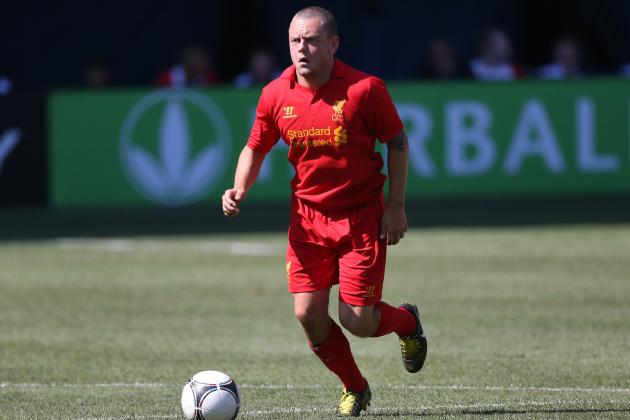 Tom Szczerbowski/Getty Images

Liverpool haven't lacked central midfielders for years now, but there hasn't always been a terrific balance since the years following the "best midfield in the world".
The Benitez-era quartet of Momo Sissoko, Xabi Alonso, Javier Mascherano and Gerrard gave a lot of everything for a successful midfield; pace, power, strength, aerial ability, tackling, positional awareness, passing, creativity and goals.
Piece by piece, though, it was broken up, and under Roy Hodgson the quartet consisted of Gerrard, Lucas, Christian Poulsen and Raul Meireles.
Kenny Dalglish got the best out of the Portuguese player from wide areas before selling him, Poulsen was jettisoned as soon as possible and Gerrard's injuries restricted him for the first part of Dalglish's return—so it was Charlie Adam and Jay Spearing who provided the partner for Lucas for around a year.
Spearing's best time in a Red shirt came at the end of the 2010-11 season when he and Lucas formed a good, solid partnership—Lucas doing the positional work, covering the defence and distributing the ball, and the Wirral-born youngster acting as the more energetic, chasing-down, box-to-box support partner.
Somewhere along the line this transcended into Spearing being Lucas' "replacement" when he was injured, though this has never been Spearing's real game.
Positionally and in terms of his agility, Spearing was and remains incapable of covering the width of the pitch in the same ways as Lucas. His passing was short and accurate, but never on the same level of consistency either—sometimes leading to gifting chances for the opposition.
Why, then, was no cover for Lucas brought in during either of the past two transfer windows?
Nobody can be sure, and it's certainly better for Liverpool if the Brazilian could simply remain fit.
But planning for a future in which one player is responsible for holding the whole team together as the controller does in Rodgers' side, it would seem folly to go too much longer without bringing in a genuine holding player as cover for the Reds' No. 21.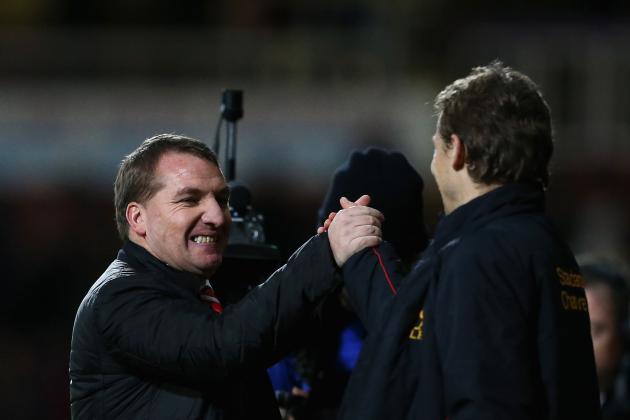 Scott Heavey/Getty Images

The role of the controlling midfielder in a 4-3-3 consists of two parts; that of the team being in possession, and that of when the team is defending.
In possession, the controller must always be available to receive the ball off a team mate.
No matter if the goalkeeper has the ball—and the midfielder drops deep, outside the penalty area, to receive and dictate play from his own goal area—or the false centre forward does, the man in the middle for Liverpool needs to be aware, in space and ready to receive.
When he gets the ball he needs to know already where his nearest team mates will be, who will be making a run into different areas of the pitch and exactly how capable he is himself of finding each potential recipient without risk of losing the ball.
The player in question needs to do this not just by looking up and using his eyes, but tactically already be aware of all these factors, in order to keep the tempo of the play going, provide a quick outlet and get the team building a new attack.
In form and with the team playing well, he might have to do this anywhere between 50 and 100 times per game.
Out of possession, the controller needs to know which midfielders from the opposition team are due to make forward runs, decide if he himself needs to track or block them off or if a fellow Red should do the job, and protect his entire back four.
This latter role might consist of remaining central, dropping into the defence itself or covering the full-backs who are expected to play and press high up the pitch.
All in all it is a hugely demanding role requiring great concentration, stamina, consistency and discipline.
In Lucas Leiva the Reds have someone capable of doing all of that.
Joe Allen, Liverpool's newest centre midfielder, has expressed his own more secure state of mind when Lucas is on the pitch:
His return, with the steel and quality he brings, is only going to help the team going forward. It's a very important role. If you look at the top teams, they all utilise that position and have a quality player there. Lucas is vital for the way we play. With him back playing, I'm sure we'll get the benefits of that in terms of points and our position in the table. I had that security of knowing that Lucas was there. It gives you the chance to express yourself further up the pitch, and try to get involved in creating and scoring goals.
There might be a time in the future when the role has additional demands; the odd foray forward, a more expansive or creative outlook to passing or driving shots in from range. When that happens, maybe Lucas is the player to build back up the attacking side of his game, or maybe not. Regardless, Liverpool are some distance from that time at present.
Right now though he is the perfect holding midfielder for Brendan Rodgers and for the team, and Liverpool are a much better side when he is in the starting 11.
It's fitting that Lucas himself should have the last word:
Very important 3 points and very happy to be able to play almost full game .Thanks for the reception that I got , it was amazing .

— Lucas Leiva (@LucasLeiva87) December 1, 2012