Nani: Reasons for and Against Manchester United Selling the Winger in January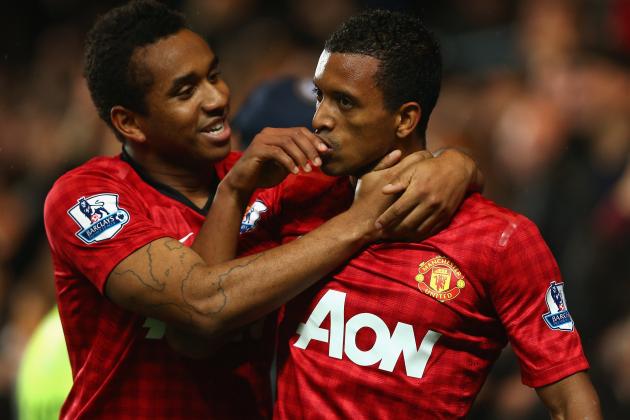 Clive Rose/Getty Images

By all accounts, the sun seems to be setting on Nani's Old Trafford career.
The enigmatic Portuguese winger was voted Manchester United's players' player of the season and was an inclusion in the Premier League's official team of the season only a year and a half ago.
During the 2010/11 campaign, he scored nine vital goals and impressed many with his improved performances from terms past.
But his stock at present couldn't be much lower.
Injury problems and a lack of form have seen Antonio Valencia displace him as the side's first-choice right winger, while an ongoing contract dispute looks to be giving Sir Alex Ferguson all the impetus he needs to look for replacements in January (via Daily Mail).
Here are reasons for and against United offloading Nani in the next transfer window, though naturally, the final decision will rest in the Scotsman's hands.
Begin Slideshow

»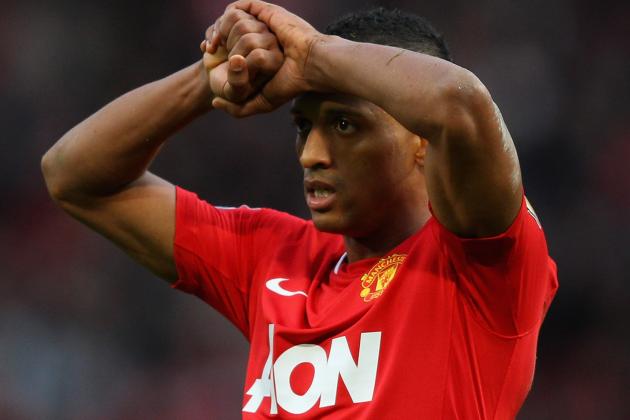 Alex Livesey/Getty Images

Nani has always been a footballer capable of the extraordinary, but too often has disappeared in games when his team has needed him most.
As mentioned before, he has had extended spells of form, most notably in the team's last title-winning campaign, but Manchester United are a club that requires excellence week in, week out.
One game, he may take on three defenders and fire a rocket past a helpless goalkeeper, the next, he may struggle to swing a decent delivery into the penalty area.
It must be said that players of his position are often renowned for their inconsistencies, but it is still important for one to earn the trust of fellow teammates and fans alike with regular performances at the highest level.
If not, nobody is safe when Sir Alex wields his fearsome axe.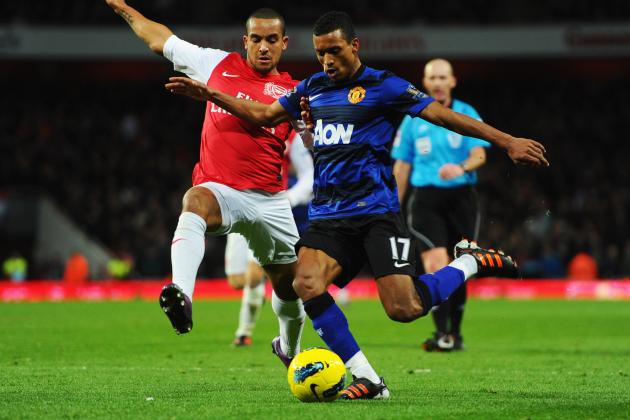 Mike Hewitt/Getty Images

Ah, the dreaded P word: potential.
In some cases, the potential tag can weigh a young player down with an immeasurable pressure, preventing great expectations from being met.
An inexperienced Nani arrived at United in 2007 full of promise and threatening greatness—the £20 million paid for his services showed those in Manchester's faith in him.
Now 26 years of age, he can no longer be described as "young," but rather, someone who is fast approaching the peak of his footballing career.
I for one still hold on to the optimistic belief that Nani could yet develop into a world-class player. But time is fast running out for that to happen.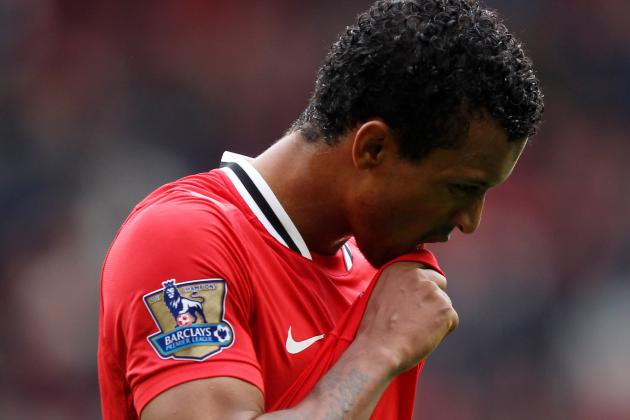 Alex Livesey/Getty Images

Since moving to Manchester, Nani has built a rather checkered career of controversial moments on and off the pitch.
He has not been afraid to criticise his manager in the press, once blasting Sir Alex for his cruel-to-be-kind methods during a barren run of form:
"If things are OK, he will be OK, but if there is anything he believes to be wrong, you are screwed. He can go from complimenting you to just plain trashing in a couple of minutes. Has it happened to me? Hell, yes." he once said of Fergie (via Daily Mail).
Nani has also built a reputation of being a drama queen, and of someone who often allows emotion to get the better of him. His infamous headbutt on West Ham's Lucas Neill instantly comes to mind in that respect.
Though he has recently cut back on the number of attempted dives, a question mark still lingers over his head in the heat of the moment.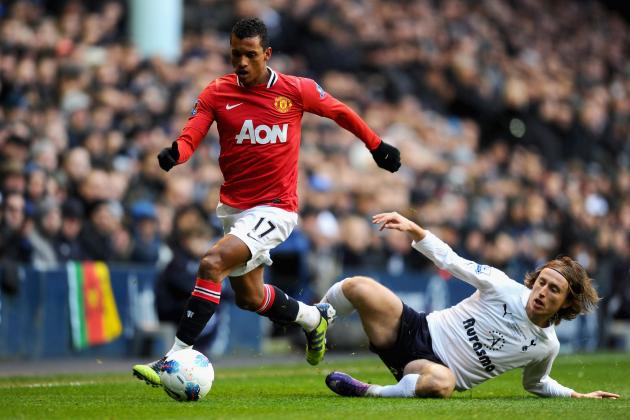 Mike Hewitt/Getty Images

There is no denying it; Nani has not been playing his best football since early 2012.
Whether this is due to his ongoing contract dispute or Sir Alex's apparent preference for Antonio Valencia on the right flank, this past calendar year has not been a good one for the winger.
But as many can attest to, form is temporary, quality is permanent.
Given an extended run in the first team and backed with the confidence of his manager, I have little doubt Nani would quickly return to his peak in a matter of weeks.
After all, it can hardly be said that either Ashley Young or Antonio Valencia have been consistently world-class for the Red Devils this season and will need plenty of game time to get into the swing of things come the new year.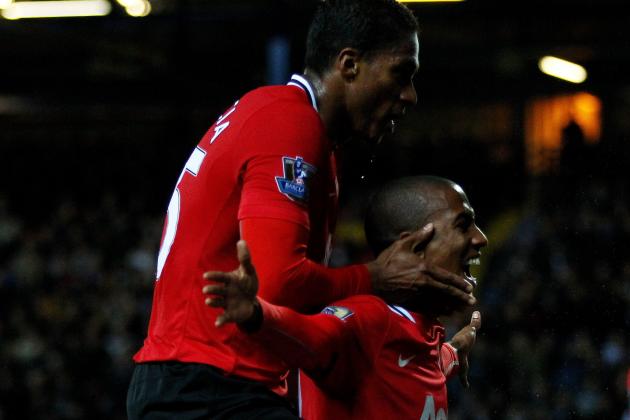 Clive Brunskill/Getty Images

The Red Devils' fantastic performance against Manchester City over the weekend proved that there is life yet in the 4-2-3-1 whoever plays on the flanks.
Plus, with the nature of the congested British fixture list, there will always be times when players on the periphery are needed for valuable game time.
With United already a little light in wide options as it is, the sale of Nani would leave the side with only two natural wingers—Ashley Young and Antonio Valencia.
Of the three, he is the only one who can boast of being at least competent on his left foot, and on his day, is the best at beating his man on the dribble.
Which leads us on perfectly to the next topic for discussion...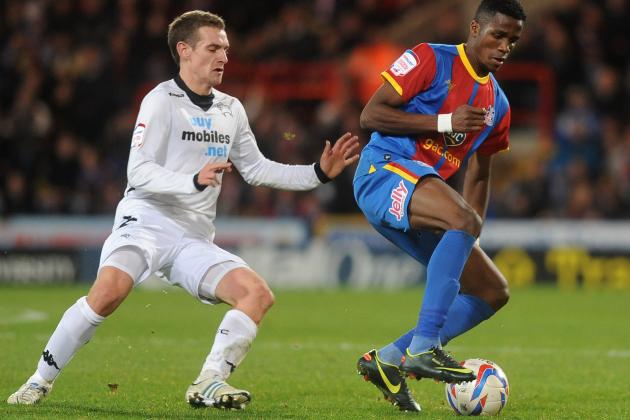 Charlie Crowhurst/Getty Images

The possible sale of Nani in January would surely see Sir Alex immediately look for a replacement in the January transfer market.
There is Wilfried Zaha—Crystal Palace's tricky prodigy who could either be the next Thierry Henry, or the next, well, Nani (via The Mirror).
There is Porto's James Rodriguez—a fantastic, versatile Colombian who seems to improve every game for the Portuguese club. The biggest issue regarding a possible transfer for him would be a price tag likely to be upwards of £30 million (via Daily Mail).
Or there could be an option yet to surface (please nobody mention Adel Taarabt or Raheem Sterling).
Either way, Fergie must soon decide whether or not he believes the grass is greener on the other side.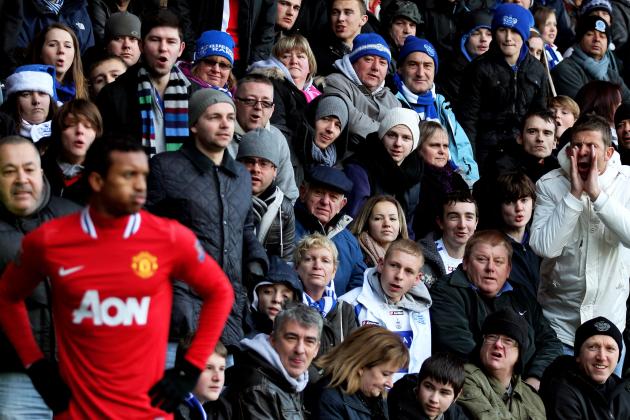 Scott Heavey/Getty Images

In my mind, this is the most significant issue preventing Nani from becoming a true United great—does he have the mentality to succeed at Old Trafford?
There are few, if any, clubs that carry such lofty expectations for a burgeoning player, and it often seems as if the Portuguese winger is bogged down by this.
The Manchester United faithful will rarely boo a player when he is not performing, but that does not make the pressure on him any less palpable.
Nani's strength of character has always been in question at United since his days as Cristiano Ronaldo's understudy to his most recent stuttering start to the season.
He could thrive given a change of scenery, but if he still has any desire to succeed for his current club, he must show more heart than he ever has in his career.
What do you think the future holds for Nani? Should United keep or sell him in January?