Lions vs. Packers: Detroit's Biggest Winners and Losers from NFL Week 14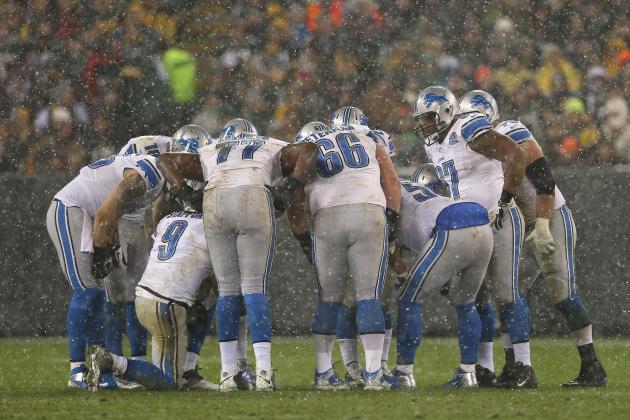 Jonathan Daniel/Getty Images

For the Detroit Lions, it was a game with only two things on the line: pride and history.
They managed to keep one of them going as they lost to the Green Bay Packers at Lambeau Field 27-20, bringing a 20-year road losing streak against Green Bay into its 21st year.
The Lions are pretty much playing for next year at this point, which is why it's still important to pay attention to who's playing well and who isn't. The performances some Lions players give while playing out the string of the 2012 season might have a lot to do with who returns next year.
Of course, that's not to say all of these guys are bubble players, but you never know. In a year when the Lions have struggled with discipline and commitment (albeit considerably less than the media would have you believe), this is a valuable time for the Lions' coaching staff and front office to pick out the guys giving less than maximum effort.
But in compiling this week's winners and losers list, we start with a guy who never has that problem.
Begin Slideshow

»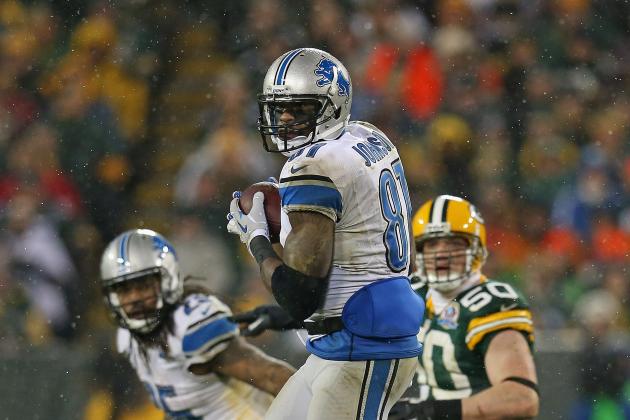 Jonathan Daniel/Getty Images

We'll start with the bad news.
Calvin Johnson wasn't dominant, he didn't catch a touchdown pass, and the Lions lost.
The good news is that he still caught 10 passes for 118 yards and improved on his pace to break Jerry Rice's record for receiving yards in a single season.
Johnson now needs 302 yards—or about 101 yards per game—to break that record. With the way he's been playing, he might top the mark before Week 17.
With the road losing streak to the Packers extended, a losing record guaranteed and the playoffs now mathematically out of reach, the Lions don't have a whole lot left to play for.
Getting one of the classiest and more talented players in the NFL some much-deserved recognition is something this team can rally behind.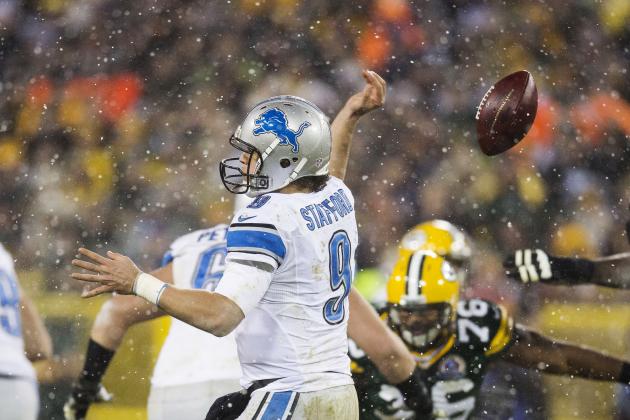 Tom Lynn/Getty Images

It's not that Matthew Stafford had an awful game, and his one interception was arguably not his fault.
But the fumble-six that popped out of his hand in the second quarter is entirely on him for not gripping the ball on the laces in bad weather, and that was the moment on which the game turned.
Stafford remains part of the solution, not the problem, but he is listed here because he is starting to lose what was a budding reputation as a clutch performer.
Now, I give Stafford a lot of credit for getting through this game (and much of the season, really) with only one effective wide receiver.
But in this game, as in many others, Stafford had a chance to engineer a drive to tie the game. He failed not once, but twice.
I'm not about to say that this failure all falls on Stafford, but he gets the credit when he succeeds, so the opposite must be true as well.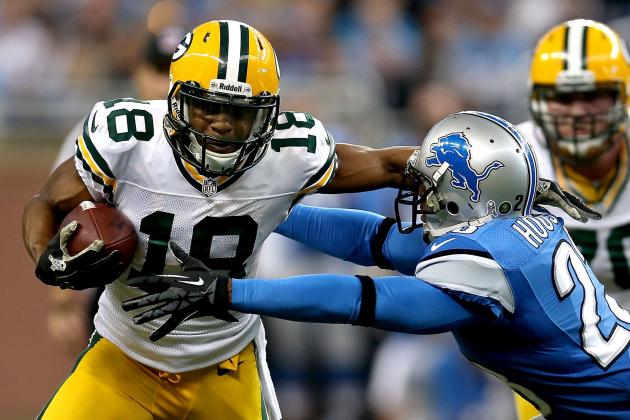 Matthew Stockman/Getty Images

I'll have to look into this, but I'm not certain the Lions have sent out the same defensive secondary more than twice all season.
But facing Aaron Rodgers and the dangerous Packers offense, and doing so without Louis Delmas (again), the Lions secondary held Aaron Rodgers to under 200 yards and no touchdowns.
On top of that, Ricardo Silva led the team with nine total tackles. And even though the Lions gave up over 100 yards receiving to Randall Cobb, they gave up only 71 to the rest of the team.
Granted, Rodgers' modest numbers had a lot to do with the poor weather conditions and the Lions offense controlling the time of possession.
But, regardless, the secondary had a job, and for the most part they did successfully. That's particularly impressive considering what a minimally talented group this is outside of Chris Houston.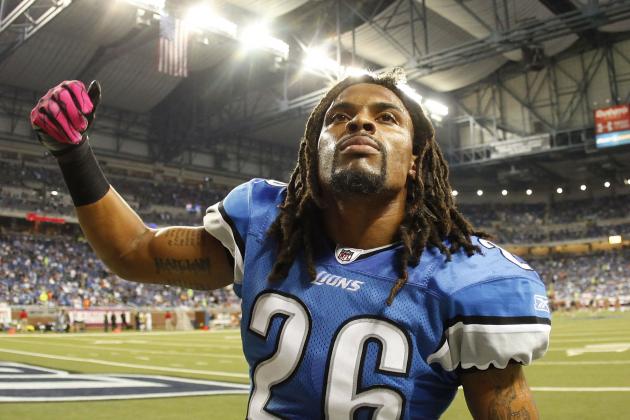 Leon Halip/Getty Images

With every game Louis Delmas misses, the Lions think more about how to get along without him.
And every time the Lions secondary plays well without Delmas, it gets easier for the Lions to think life after Delmas wouldn't be that bad.
Louis Delmas is a special player when he's on the field. There's no questioning that.
The problem is, he spends a Bob Sanders-like amount of time off the field, and the Lions are charging right up towards a big decision about whether to keep Delmas or let him and his knee issues head somewhere else.
Delmas didn't play in this game, and so his absence didn't really contribute to the loss. But the Lions have had to scramble so much to man the safety position with Delmas out that the Lions must be starting to wonder whether Delmas is worth whatever it will take to re-sign him.
We might see the Lions instead invest in another draft pick at safety in the middle rounds.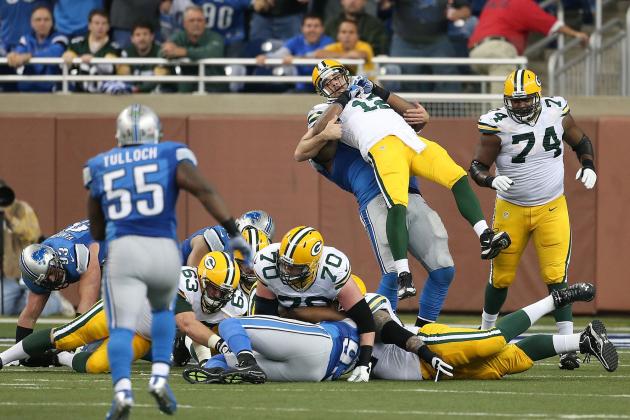 Leon Halip/Getty Images

Nick Fairley continues his "Thanks For Double-Teaming Ndamukong" tour of destruction, adding another four tackles, a sack and a forced fumble against the Packers.
The sack was of particular note, as he barreled into Evan Dietrich-Smith, drove him seven yards into the backfield, bumped him into Aaron Rodgers, then peeled off to finish the sack as Rodgers tried to roll out.
That play not only came on third down, but it moved the Packers out of field goal range in a tie game.
The Lions' 2011 draft yielded only five players. Two of them are already off the team and Titus Young might be the third.
The other two, Mikel Leshoure and Fairley, combined for four substance abuse-related arrests in the offseason.
But Fairley had his marijuana-related charge dropped and has spent the latter half of his 2012 campaign in beast mode.
After he missed much of last year with a foot injury, spent much of the offseason in trouble with the law and got called out by his defensive coordinator earlier this year, it looked like Fairley might be a bust.
Now it seems he's proving to be the complement to Ndamukong Suh the Lions hoped he he would be when they drafted him 13th overall in 2011.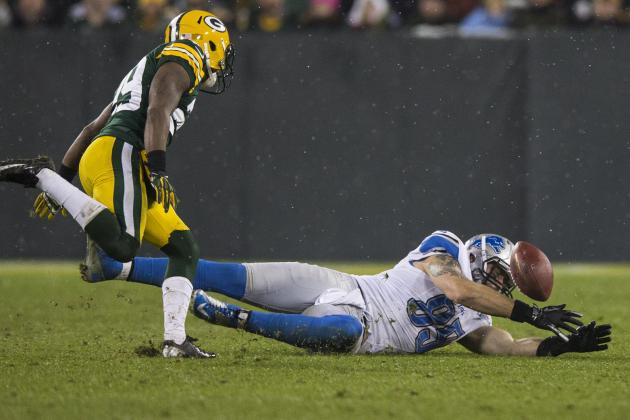 Tom Lynn/Getty Images

Tony Scheffler did catch a touchdown in this game, so he gets a little credit.
However, Scheffler also caught three passes for 20 yards in the entire game. Total. This, in a game where he was expected to get increased attention in the Lions' game plan because of a lack of wide receiver targets.
By comparison, Will Heller (!) caught four passes for 21 yards.
I get that the Lions lack of legitimate receiving targets carries over to the defense, too. The Packers knew Scheffler would be a target, too, so they made it a point to eliminate him. But we're in an age in the NFL where tight ends get covered by the other team's best coverage guys. They get double-teamed, jammed, spied on.
Guys like Jimmy Graham and Rob Gronkowski beat it anyway. Scheffler couldn't.
Some of that is Stafford's fault for not locating the ball well enough (the pass pictured here wasn't exactly on the numbers), but Scheffler deserves blame as well. It doesn't appear he's capable of carrying the load in the receiving game.