WWE RAW Rewind: Storyline Writers Deliver Atrocious Ending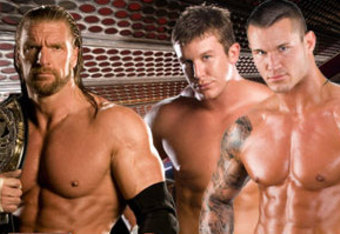 This article is not 100% done. I have something to say about the WWE Storyline Writers. But I need to say it in a whole other realm. So until then, here is the recap of the Atrocity known as WWE RAW.
Tonight's broadcast opens with WWE Hall of Famer Nature Boy Ric Flair in the ring getting the crowd pumped for WrestleMania. He then announces that the WWE Legends have accepted the challenge of Chris Jericho for WrestleMania 25.
As Flair continues his speech, Jericho appears in the Production Truck and explains to Flair what they're signing up for.
He then starts to walk towards the ring, but in the process, he continues to insult Mickey Rourke as well as the superstars he will be facing in Houston in about two weeks. As he walks down towards the ring, he begins to once again insult the WWE Legends.
He promises that he will indeed destroy Flair's friends at WrestleMania. He also promises that the only thing everyone will remember about the Legends is that they were killed off by him.
As Flair begins to fire back, Jericho cheap shots him in the eye and busts him open in the process. Jericho takes the fight to the outside and continues to launch the Hall of Famer around the announcers table.
Despite pleas from Jerry Lawler, Jericho continues his brutal cheap assault. Jericho tosses him around like a rag doll before grabbing a video camera and slamming it straight into the face of Flair.
When it's all said and done, Jericho pulls a Cryme Tyme and steals Flair's gold watch…but instead of just walking away, he places the watch on the steel steps and destroys it.
Back on the program, Jeff Hardy is making his way to the ring.
Extreme Rules Match: Jeff Hardy vs. Dolph Ziggler
Ziggler tries to get control early and often, but Jeff Hardy shows his tenacious side as he tries to get control. Dolph starts pulling out chairs and trash cans and puts them to good use.
Ziggler tries to stay in control, but Jeff reverses into a reverse Twist of Fate, but before he goes for the Swanton, he plays Home Run Derby with a Steel Chair followed by a second Twist and the Swanton to pick up the win in his second straight Extreme Rules Match.
After the bell, Jeff tells his "brother" that what he saw just now was not Extreme…but what he'll feel at WrestleMania 25 will be.
Following the video footage from SmackDown, John Cena is in Jay Leno's studios in Los Angeles reading a special poem and Get Well Card he wrote for SmackDown GM Vickie Guerrero.
Following a look at the first Money In The Bank Ladder Match, the mood shifts back to Kansas City.
MVP, CM Punk, Kofi Kingston & Christian vs. Shelton, Mark Henry, Finlay & Kane
The match could be considered back and forth, but the action is what goes on outside the ring as Finlay begins a huge brawl that spills both outside and inside. Following a Paydirt, Shelton gets caught with The Charisma Drop and Christian gets the pin. Following the match, Finlay comes in wielding a weapon and levels everyone within striking distance.
Following yet another preview of 12 Rounds starring John Cena, Cole and Lawler decide to let us know what is still on the horizon tonight…including a Handicap Match between WWE Champion Triple H and the remaining two members of Legacy.
After another look at WrestleMania 25 and a look at last week's actions involving Triple H and Randy Orton, Orton manages to grace the Kansas City crowd with his presence. Randy Orton tells Triple H to remember who he is dealing with.
He promises that he will do something that make his assaults on the McMahons seem tame. He ends it by telling Triple H that it was he and his family that brought it on themselves.
Main Event for First Hour: Edge vs. Big Show
As two of the three men battle it out, Vickie sits in a wheelchair along ringside…and John Cena watches from his dressing room in LA. Big Show gets complete control before taking the fight outside of the ring.
He delivers a huge chop on the announcer's table before trying to plea his case to Vickie. Back in the ring, Edge gets control by taking out the tree trunks of Big Show. As he delivers a series of punches following a DDT, Edge begins to feel the wrath of an irate Big Show.
As Edge gets tied up in the ring ropes, Big Show prepares to drop Edge with the BKO, but Vickie pleas for him not to. The ref has no choice but to ring the bell, but after the match is over, Chavo gets involved and gets speared by Edge for his troubles.
Following the Spear, Big Show delivers the BKO to the World Heavyweight Champion, tells Vickie "he did that for her" and walks away from the ring.
Rey Mysterio vs. William Regal
Thanks to some interference, Regal has early control, but Rey manages to once again defy the odds. Rey lands the 619 and the West Coast Splash to pick up the win. But after the bell, Mysterio launches a dropkick to an unsuspecting JBL to drop the Intercontinental Champion before he could make his way into the ring.
Back on the program, The Undertaker is giving Shawn Michaels a quick history lesson on their storybook rivalry history. He tells HBK that he will be afraid of him come WrestleMania. But Shawn comes on the screen and appears in the graveyard. Shawn makes it clear that he is not intimidated by him.
He then gives his own thoughts on their epic encounter at WrestleMania. He then stands over an open, empty grave that he has reserved just for The Deadman. After stealing one of Taker's famous lines, he begins to fill the grave. As the camera returns to Undertaker, the Phenom begins to fume at the site of what he has just witnessed.
Back on RAW, Glamarella is in the ring to discuss the 25-Diva Battle Royal. Santino makes it clear that he will be in the Battle Royal as well after Mickie's actions last week.
Santino vs. Mickie James (Santino's got one hand tied behind his back)
Santino tries to get the advantage, but Mickie gets early control…and even ties his other hand behind his back. Despite the disadvantage, Santino continues to fight back, but his fight is cut short by a dropkick from the former Women's Champion.
Santino tries to go up top, but thanks to Rosa Mendes, Beth Phoenix causes enough distraction to allow Mickie to hit the Mickie Kick to get the win and keep Santino out of WrestleMania.
Main Event: Randy Orton & Ted DiBiase vs. Triple H
Legacy tries to get control of this match on the outside by doubleteaming the WWE Champion. Orton lands an extreme punch that sends him to the outside.
But Triple H bounces back and gets control of the match…but as he goes for the sledgehammer, Cody Rhodes stops him in his tracks. All three members of Legacy managed to get control and handcuff him to the top rope.
The pack of imitation dogs simultaneously attack Triple H and beat him into the ground. Orton grabs a mic and tells Triple H that only one person can save him now…and she had better hurry. Orton then grabs a sledgehammer and goes back into the ring.
As Orton prepares to tee off, Stephanie sprints down to the ring to try and save her husband. As Stephanie tries to leave the ring, Legacy puts her in the ring. Orton then turns around and drops her with a DDT…right in front of a handcuffed Triple H.
Following the ambush and assault, Orton then focuses on Triple H. Orton prepares to tee off on Triple H…but he sees a prone Stephanie instead. He leans down and steals a kiss from the incapacitated Billion Dollar Princess.
The Game tries to reach for the Legend Killer, but Orton drops him with the hammer before leaving the ring and looking at the carnage he has left in the ring. As RAW goes off the air, there looks to be no help in sight for either the WWE Champion…or the McMahon Empire.
This article is
What is the duplicate article?
Why is this article offensive?
Where is this article plagiarized from?
Why is this article poorly edited?