Boise State Football: Why Joe Southwick Is Playing for His Job in Las Vegas Bowl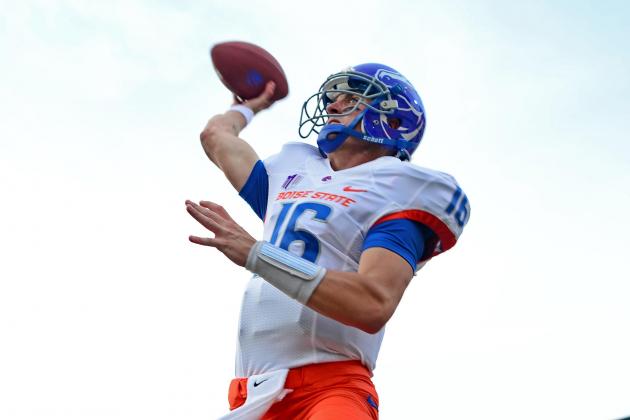 Andrew Weber-USA TODAY Sports

As the 2012 college football season commenced, Joe Southwick found himself standing at the bottom of an extremely tall and treacherous mountain. Behind him lay three years of accumulated history and lessons as a redshirt, and then backup, to school legend Kellen Moore.
In front of the newly appointed starting quarterback stood the enormous and intimidating peak of his former teammate's shadow and phenomenal success. To say Southwick would be facing a nearly impossible climb would be an overwhelming understatement—to say the least.
Kellen Moore wasn't just another college football player. He was something special. He was one of those players that come around only so often, and when they depart, they leave a space so big that the vacuum created is beyond understanding.
However, nature abhors a vacuum, and something has to fill it. Enter, Joe Southwick.
Faced with the impossible task of following one of college football's best quarterbacks to ever play the game, Southwick strapped on his cleats and began the ascent.
In 2012, it has been, at times, rocky for the junior, but he has also had his share of impressive moments and successes. Let's look back at what he has done, and forward to the Maaco Bowl Las Vegas, and what it might mean for his future.
Begin Slideshow

»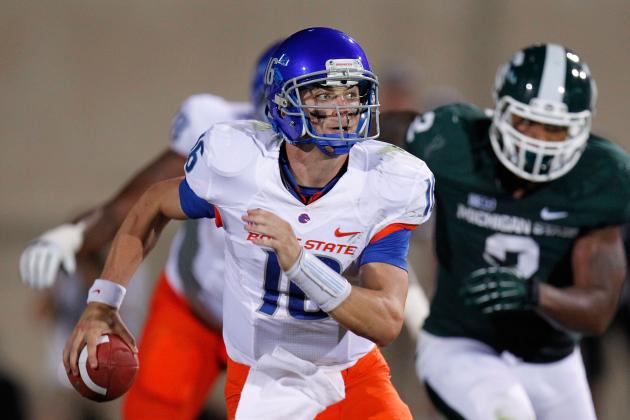 Gregory Shamus/Getty Images

It didn't start well for Southwick, as he would stumble right out of the gate. Against Michigan State, Joe would complete less than half of his passes and lead his team to its first season-opening loss since 2005 when the Broncos fell to Georgia in Athens.
His statistics were less than impressive, as he threw for 15 completions on 31 attempts, 169 yards and one interception. His performance earned him an 87.7 quarterback rating, and the Broncos lost the game 17-13.
Many people seemed to blame Southwick for this loss, but it must be noted that Boise State had almost no running game against the Spartans. A quarterback's best friend is the running game. When it is going well, a quarterback, any quarterback, normally does better.
Michigan State held the Broncos to just 37 yards rushing on the night, and D.J. Harper certainly could not have been happy with his performance. Harper carried 15 times for 8 yards and was frustrated all game long. Joe Southwick actually ended the game as the leading rusher for the Broncos with four carries for 18 yards.
The defense, of course, kept the game close, and it would become clear early on that Boise State had another incredible defensive squad. However, for Southwick it put even more pressure, no pun intended, on the junior quarterback.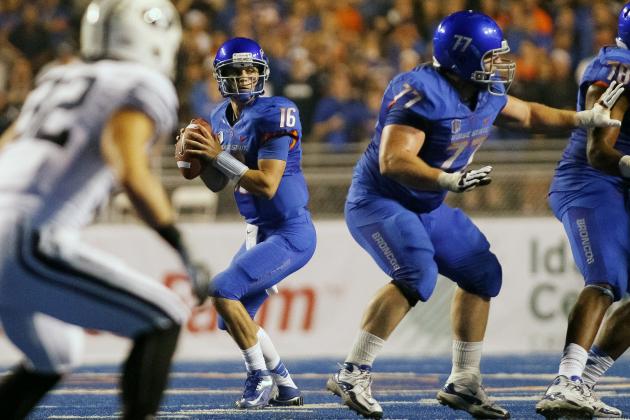 Otto Kitsinger III/Getty Images

Boise State played its second game of the season at home on "The Blue" against Miami of Ohio. Southwick did much better in the friendly confines of Bronco Stadium. On the day, Southwick would throw 31 passes for 24 completions, 304 yards, two touchdowns and a single interception.
The Broncos would win the game easily 39-12, and it seemed Boise State fans took a big sigh of relief. However, the very next game against BYU would light a fuse of criticism not seen in the Treasure Valley since—well, maybe ever.
BYU came to town on a Thursday night for a nationally televised game on ESPN. It was a time for Boise State to shine. But, in a game dominated by both defenses, many Boise State fans became frustrated.
The game was a win for the Broncos, but the score, 7-6, was almost treated as a loss by some. The offense didn't score a single point for Boise State, and the game embarrassed, frustrated and angered some fans.
Southwick took the bulk of the criticism. On the night, Joe threw 25 times for 15 completions and just 145 yards with no touchdowns. However, as mentioned, the Broncos did get the win, but a wave of blame engulfed Bronco Nation, and most of the tsunami was focused on Joe Southwick.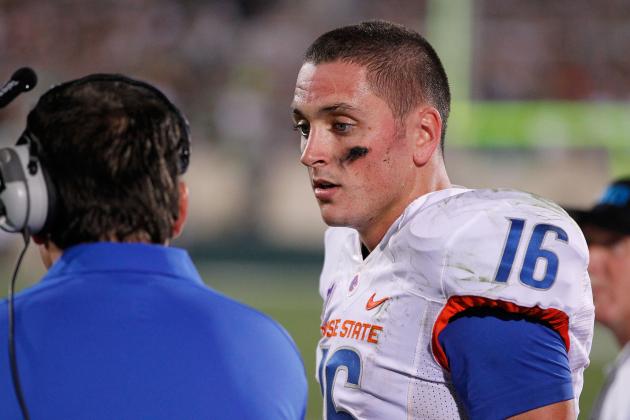 Gregory Shamus/Getty Images

After the BYU game, angry voices got louder—much louder. In fact, the criticism got so loud that in an Idaho Statesman article written by Chadd Cripe, he quotes Quarterbacks Coach Jonathan Smith's thoughts on the pressure Southwick was facing. Smith said:
There's a ton of pressure on him. He's getting it all over. He tells me all the time, he goes to the supermarket and he's getting heckled. I think he's handled it really well. He is a tough kid. It means so much to him. It's important to him to have success. He deserves to have success the way he works.
The online comments, calls to local radio stations and talk around the proverbial water cooler began to be some of the most negative Bronco Nation fans have ever unleashed. This, even after the Broncos were 3-1 following the New Mexico game.
Boise State was winning, even if it wasn't what it has always looked like. However, as stated in the introduction, nature abhors a vacuum, and something has to fill it.
The Memory of Kellen Moore
The hole Kellen Moore left was huge, and Joe Southwick couldn't, on his own, take away the empty space. So, in return, the criticism of many flooded the gap.
There is of course, nothing wrong with throwing critiques out at your favorite college football team or players on that team. However, there is something wrong when they become so personal those players begin to get heckled in public.
Core Bronco Nation fans are probably not to blame. However, some of the newer fans, fans who have never endured a season like 1996 or who don't even know the name Pokey Allen, may not realize that it hasn't always been smooth sailing and double-digit wins.
For those who don't know, they should do the research.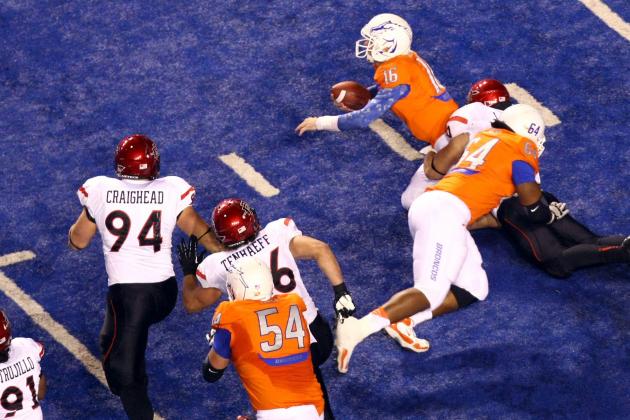 Brian Losness-USA TODAY Sports

Against Southern Miss and Fresno State, Southwick didn't play great, but he also did enough leading the offense to capture two more wins. Against UNLV, he completed over 75 percent of his passes and led the Broncos to a convincing 32-7 victory.
However, then San Diego State came to town. In that game, Southwick completed 20 of 31 passes for 164 yards, one touchdown and one interception. The running game struggled as well with D.J. Harper carrying 20 times for 81 yards.
In the end Boise State actually out-gained the Aztecs 276 to 269, but it was the 100-yard kickoff return on the opening play of the game that proved the difference. The Broncos lost the game 21-19 and it would be the one that kept them out of the BCS once again.
Boise State would of course rebound, and they finished out the season with three straight wins, including the season finale against Nevada in Reno. However, it still hasn't done much to sell all of Bronco Nation on Joe Southwick.
The game against Washington looms large for the junior, and it could cement the opinion of fans who are critical of the Boise State quarterback. However, if Southwick comes out and plays his best game of the season and leads the Broncos to victory, he might just win a few of those critical fans over and set himself up to retain his spot in 2013.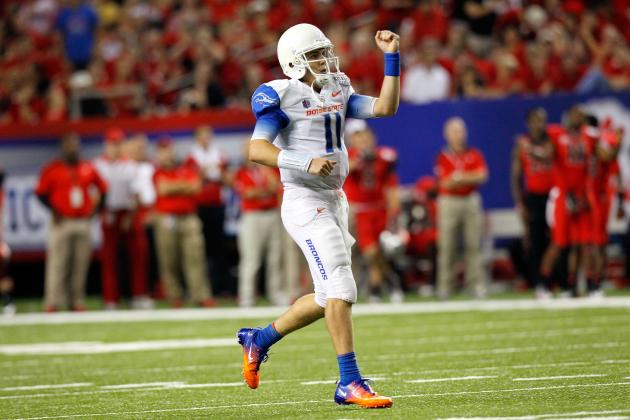 Kevin C. Cox/Getty Images

Comparing Joe Southwick to Kellen Moore is not fair. However, a look at how each player did in their first year as a starter gives some perspective.
Kellen Moore was of course a redshirt freshman. Joe Southwick is a redshirt junior who carried a clip board behind Moore for a few seasons.
Kellen Moore in his first season as a starter did some incredible things. He completed 291 passes on 405 attempts for a completion percentage of 69.4. On the season, he threw for 3,486 yards, 25 touchdowns, 10 interceptions and finished with a quarterback rating of 157.12.
He led the Broncos to a 12-1 record, with the only loss coming to TCU 17-16 in the Poinsettia Bowl.
Joe Southwick, in his first season, completed 222 passes on 333 attempts for a completion percentage of 66.7 percent. On the season, he threw for 2,466 yards, 17 touchdowns, seven interceptions and finished with a quarterback rating of 141.5.
He has led the Broncos to a 10-2 record, and the only losses were to Michigan State by four and to San Diego State by two points. They now face a good Washington team in the Maaco Bowl Las Vegas.
Kellen Moore's reputation wasn't tarnished by losing a bowl game, but Joe Southwick probably can't afford the same luxury. An impressive win however, might go a long way in helping the junior out.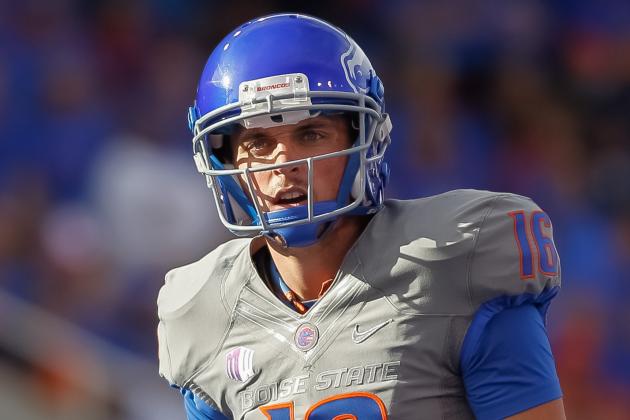 Otto Kitsinger III/Getty Images

When you look at the numbers, Joe Southwick is average to above average in few categories nationally.
For instance, Southwick's quarterback rating of 141.5 puts him at No. 40 on the list. He is ranked No. 18 when it comes to completion percentage at 66.7, his 17 touchdowns is tied for No. 50 on the list, and his 222 completions is good for No. 49.
The numbers aren't bad, but they are also not the type of numbers Boise State quarterbacks usually put up, and not just Kellen Moore. Southwick will need to step up his game next season if he wants to win the starting job.
Which, brings us to Southwick's future. Will he be the starter in 2013? Well, the answer starts in Las Vegas.
Otto Kitsinger III/Getty Images

Joe Southwick faced tremendous pressure in East Lansing against Michigan State. In the weeks that followed that game he has ran the gauntlet of criticism, complaining and supermarket cynics. Through it all, it seems, he has kept his smile and played better and better as the season rolled on.
That will need to continue in a big way if he wants the chance to improve his game in 2013 and remain the Bronco's starter.
Nipping at his heels will be the youngster Nick Patti. The freshman was recently named the Offensive Scout Player of the Year, and coach Chris Petersen had some glowing remarks about the kid out of Florida.
In an Idaho Statesman article written by Chadd Cripe, Petersen is quoted as saying, "He is an awesome, awesome person."
Petersen goes on to elaborate, stating:
All the coaches, his teammates, everybody likes being around him. We also obviously like him as a player, but that's the thing that has jumped out to me so far about Nick is that he's just got that it factor as a person. Now, hopefully he's got that it factor as a quarterback and then we've really got something going. Obviously he does have good talent. We've seen that for a long time. We haven't been disappointed since he's been here. It will be good to see him go for real now that he has had all this experience under his belt.
Patti gave Joe a run for his money in Fall camp for the starting job, and that competition should only continue in 2013. Both players have no doubt improved since the Fall battle, and it should be very interesting to see how it all pans out.
If Southwick wants to get a head start he must finish well. Las Vegas will be the first audition in the 2013 quarterback face off.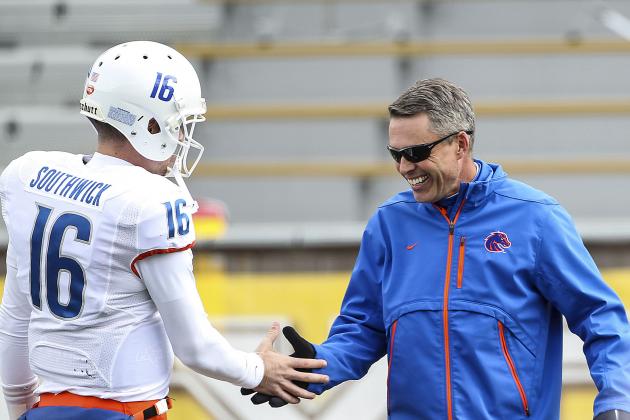 Troy Babbitt-USA TODAY Sports

Will Joe Southwick be the starter in 2013?
Who knows?
However, he is the starter now, and he has a big game on the horizon.
In the shadow of Kellen Moore many players would have faltered. Joe Southwick has stood under that mountain and the pile of criticism heaped on him during the season, and he is still standing.
You have to believe he is a better man and player because of it. You have to wonder how many other players could have dealt with the same situation and continued to smile and improve.
More Pressure
In saying that, Joe has another pressure situation brewing. The Maaco Bowl Las Vegas will be a challenge for the Broncos. The Huskies have a good defense, and Joe Southwick has not played well against good defenses this season.
If Joe can come out and play his best game and lead the Broncos to an impressive victory, it would give him an edge going into Spring camp next season. A dismal showing however, could be too much for him to overcome.
No matter what happens, you have to believe Southwick will show up and do his job, even if it means being the starter or the backup in 2013. Nick Patti, another one of the quarterbacks on the roster, or even one not yet on the roster, could very well be the starter next season.
2013 Quarterback Competition
Coach Petersen is all about competition, and you have to believe next year's quarterback battle will be even more fierce than the one in 2012.
Joe Southwick may not be the best quarterback Bronco Nation has ever had, but he may very well be developing the thickest skin of any in recent memory.
Not only that, but if his only year as a starter includes a 10-2 regular season, Bronco Nation can be thankful for a kid who didn't give up and kept smiling through it all.