Buffalo Bills Winners and Losers: Bills/Rams Edition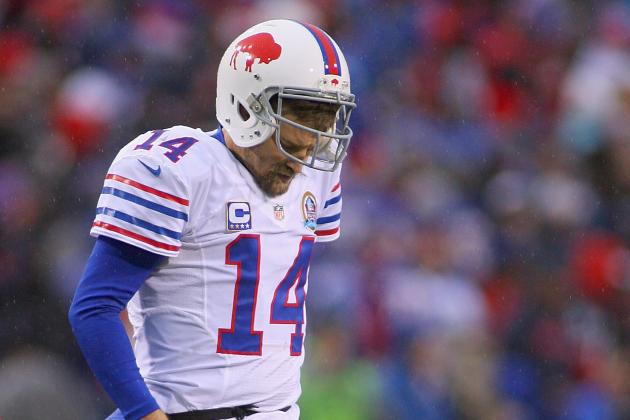 Rick Stewart/Getty Images
Pretty sure all Bills fans felt like this after the game.
It's time to do some serious college scouting, Bills fans! Following Buffalo's 15-12 loss to the St. Louis Rams, the team has fallen to 5-8 and are all but eliminated from the playoffs.
The longest playoff drought currently in the NFL will continue for at least another season.
While I don't want to see Buffalo tank its final three games, I wouldn't mind if the team lost in competitive fashion.
By losing, it'd help Buffalo's case to fire Chan Gailey and bring in a new coach. It'd also give Buffalo incentive to draft a quarterback early. Last, it'd hopefully get Buffalo closer to ending its playoff drought.
As for today's game, which Buffalo Bills came out as the biggest winners and losers? Read on to see!
Begin Slideshow

»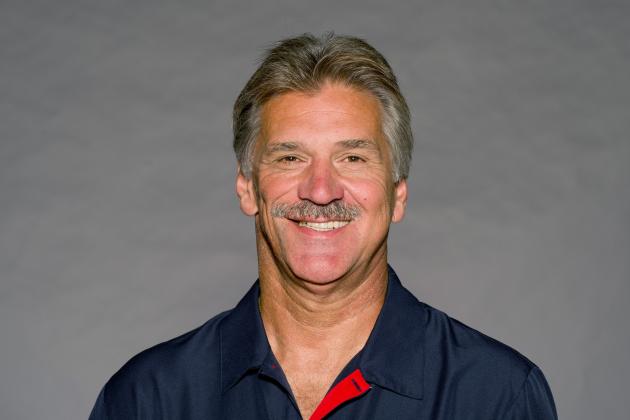 Handout/Getty Images
Smile if your defense has only given up 44 points in the last four weeks.
Wannstedt's defense continues to play well.
Over the last four weeks, the starting defense is on the hook for 44 points. You'd think that giving up an average of 11 points per game would be enough to be 4-0. Instead, Buffalo is 2-2. This is partially due to Buffalo's special teams giving up multiple touchdowns and Buffalo's offense not being able to score touchdowns.
I understand that Buffalo's defense gave up the late touchdown, but there were opportunities for certain players to end the game (see slide four).
On the game, Buffalo's defense recorded a sack, forced fumble and interception. It also kept Steven Jackson in check and had Sam Bradford nervous in the pocket.
I bashed Wannstedt quite a bit early this season, but his defense has been playing at an extremely high level as of late. Kudos to "The 'Stache."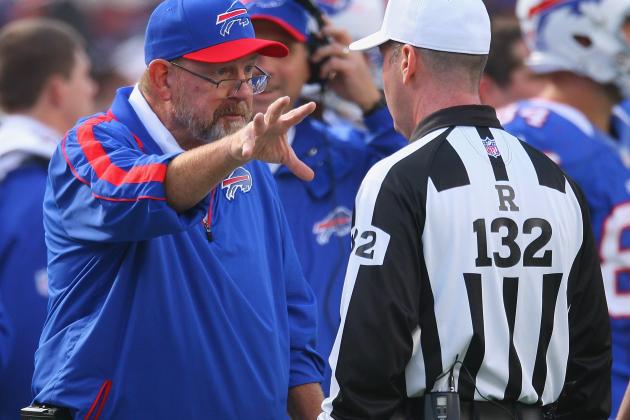 Rick Stewart/Getty Images
"Do not allow me to ever attempt a field goal over 50 yards at home, alright?"
Oh, Chan, I feel like I'm playing Bill Murray in Groundhog's Day whenever I write about you. It's the same issues over and over again, yet you don't learn.
I believe that mistakes from time to time are OK as long as you learn from them, but clearly, you haven't.
Rian Lindell had the opportunity to kick a 51-yard field goal early in the fourth quarter. Instead, you burned one of the team's timeouts and brought out Shawn Powell. Powell did his job and pinned the Rams back, but playing it safe clearly didn't work for the Bills. Those three points could have been huge, especially seeing the final score differential.
You have C.J. Spiller on your team, one of the most elusive backs in the NFL. Instead of using him as a weapon, he gets seven total carries. What's most frustrating is how often Spiller is on the sidelines. The Vikings wouldn't keep Adrian Peterson off the field, so I don't understand why Buffalo keeps Spiller out of the game.
Last, you had an opportunity to score a touchdown before halftime. Instead, you playing ultra-conservative football and run 30 seconds off the clock to kick a late field goal.
Mr. Gailey, you've worn out your welcome in Buffalo.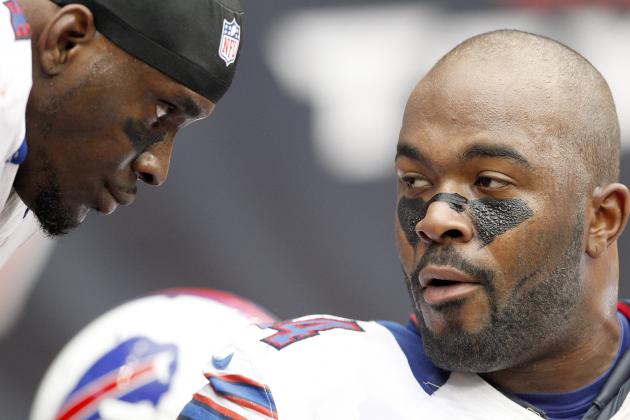 Thomas B. Shea/Getty Images
Mario Williams is the first Buffalo Bill to have 10+ sacks in a season since Aaron Schobel in 2009.
Another week, another sack for Mario Williams. He almost notched a second when he stripped quarterback Sam Bradford of the football, but Bradford recovered the fumble and ran with it.
Mario Williams finished the game with three total tackles, a sack and a forced fumble.
The sack took Mario Williams to 10.5 on the season. He is the first Buffalo Bill with 10-plus sacks in a season since Aaron Schobel in 2009.
Not too bad, considering Williams' wrist injury early in the season.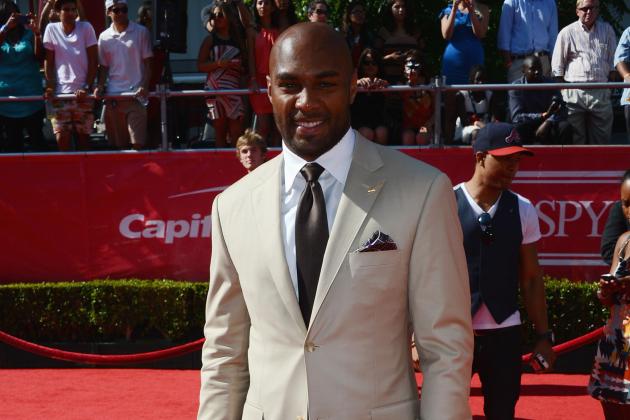 Frazer Harrison/Getty Images
Perhaps it's time to go full-time to modeling, George.
George Wilson had two opportunities to end today's ballgame.
Twice in St. Louis' final drive, Wilson had the chance to intercept Sam Bradford. On both attempts, it looked as though Wilson was trying to bat the ball into the turf. Why? I'm honestly not sure.
His lack of ability to secure the ball has cost Buffalo twice this season. Against Tennessee, Wilson had an interception hit him right in the midsection before it fell to the turf.
There's a reason that Da'Norris Searcy is taking snaps away from George Wilson. It's because Wilson is more of a liability than an asset in the secondary.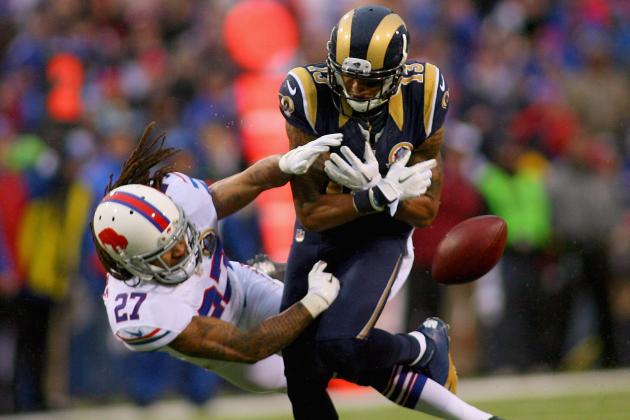 Rick Stewart/Getty Images
Gilmore's aggressive play deserves praise.
I'm sure people would mention that Gilmore bit on a pump fake late in the game today, leaving a receiver wide open. For that reason alone, I figured I'd mention it and get it out of the way right now. Gilmore is a rookie. He's still going to bite on a pump fake from time to time.
That said, he's had an excellent rookie season. His aggressiveness has cost the Bills some yards this season, but he's done a great job against opposing teams' top wide receivers.
Against the Rams, Gilmore registered his first interception. To be fair, it should have been a pick-six interception, but an awful holding call on Kyle Moore wiped the interception out.
Moore placed a hand on a St. Louis player, and said player then flopped better than Dwayne Wade of the Miami Heat.
It's clear that the Bills drafted a potentially great cornerback in Gilmore this year. He's one player that the Bills should feel good about heading into the 2013 season.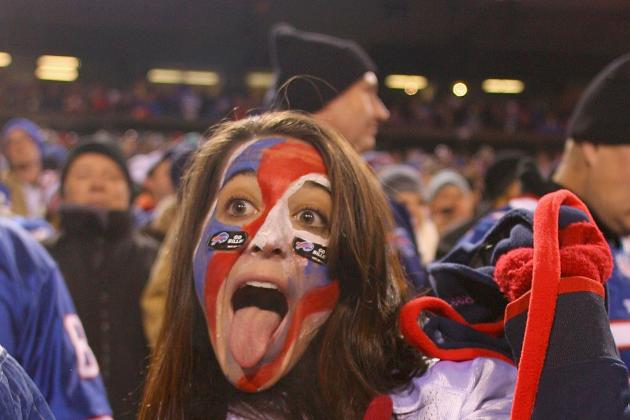 Rick Stewart/Getty Images
Bills fans deserve better. Yes, even this girl...
Bills fans don't deserve this.
In my lifetime, I've never come across a more passionate group of fans.
It's been over a decade since Buffalo last played in the playoffs, yet Bills fans have supported their team faithfully.
They've supported the team one mediocre coach after another and less-than-adequate quarterback after quarterback.
Bills fans have watched the team draft multiple busts and miss out on franchise players that they've clamored for.
It's once again time for the Bills to clean house. There is no way that Russ Brandon, CEO of the Buffalo Bills, can sell the fans on another season of Chan Gailey and Ryan Fitzpatrick.
It's time to hire a new coach. It doesn't need to be Bill Cowher. Hire a top coordinator in the league or a big-name college coach.
Draft a rookie in the first two rounds. I'm not sold on most of the quarterbacks in this year's draft, but can Matt Barkley, Tyler Wilson, Landry Jones or Aaron Murray be any worse long-term than Ryan Fitzpatrick? I highly doubt it.
It's time for the Buffalo Bills franchise to reward their loyal fans with a winning team, and it starts by canning Chan Gailey and cutting ties with Ryan Fitzpatrick.