Miami Football: 10 Bowl Eligible Teams the Canes Could Beat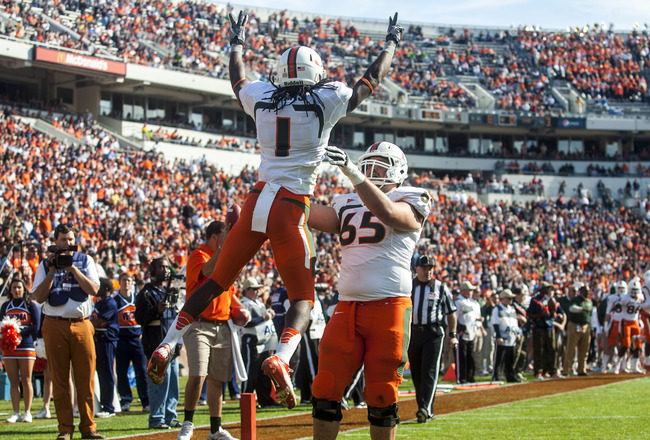 Miami does has a bright future but the Hurricanes won't celebrate any more touchdowns this year.
Peter Casey-USA TODAY Sports
The 2012 Miami Hurricanes football team won the ACC Coastal Division for the first time since joining the conference. But after the school self-imposed a postseason ban, the young Miami team did not play in the conference title game or in a bowl game.
Doesn't mean we can't pretend, right?
Seven of the Hurricanes' opponents this season are headed to a bowl game, and Miami finished 4-3 against those teams. Each loss came against teams—Kansas State, Notre Dame and Florida State—ranked in the top 12 of the final regular-season polls.
Here are the 10 best bowl-eligible teams the Hurricanes could beat this season.
Washington Huskies (7-5)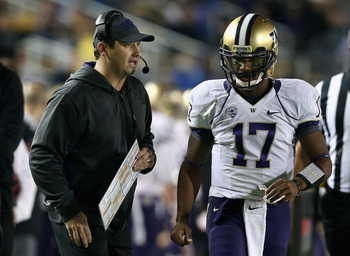 Keith Price threw nine touchdowns in his final three games.
Ezra Shaw/Getty Images
Hailing from the Pac-12, the Washington Huskies finished 7-5 and earned a bid to the MAACO Bowl Las Vegas.
The Huskies capped a 3-1 start by pulling an upset over the Rose Bowl-bound Stanford Cardinal but proceeded to lose three consecutive games.
Sounds kinda familiar, doesn't it?
Washington's defense was solid, allowing 23.8 points per game, but its offense couldn't pick up the slack. Keith Price and the offense managed an identical 23.8 points.
Duke Johnson could run over the Huskies defense that allowed nearly 170 yards on the ground per game, along with Stephen Morris finding receivers downfield.
This game could be compared most to Miami's contest with Virginia Tech with the Hurricanes coming out on top by double digits.
Texas Tech Red Raiders (7-5)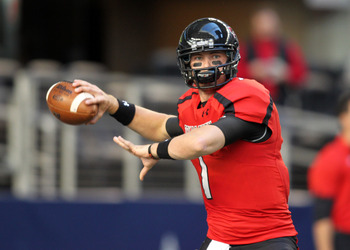 Seth Doege was fourth in the nation with 29 completions per game.
Tim Heitman-USA TODAY Sports
An interesting matchup for the Hurricanes would be against the electric Texas Tech Red Raiders.
Senior quarterback Seth Doege would be the most prolific passer that Miami would possibly see. Doege has thrown 38 touchdown passes to date and will eclipse the 4,000-yard mark for the second consecutive season in Tech's bowl game.
But like the Hurricanes, the Red Raiders defense is, well, rough.
Though their total defense is ranked in the Top 40, Texas Tech was 91st in the nation in points allowed with nearly 32 per game.
A matchup between these two teams would most definitely end in a shootout, which I believe Miami could handle.
Baylor Bears (7-5)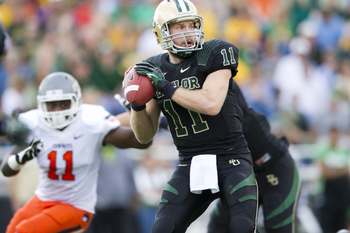 Florence has been responsible for 40 touchdowns this season.
Cooper Neill/Getty Images
Ha. If you thought a matchup with Texas Tech would be an offensive battle, bring on the Baylor Bears.
Nick Florence had the unenviable task of replacing the Heisman Trophy winner Robert Griffin III. Florence, however, led the best offense in the nation, gaining 578 total yards per game.
Let's face it, Miami's defense was horrific. The hometown senior could light up the Hurricanes through the air as running backs Lache Seastrunk and Glasco Martin would find holes on the ground.
But although I didn't think it was possible, a team from a major conference with a more porous defense than Miami exists.
This Baylor squad allowed the seventh-most points (38.17) of any team in the nation, the second-most yards (513.92) and registered only 13 sacks this season.
A matchup between these two teams has the potential to end somewhere around 137-124, give or take a few points of course.
Texas Longhorns (8-4)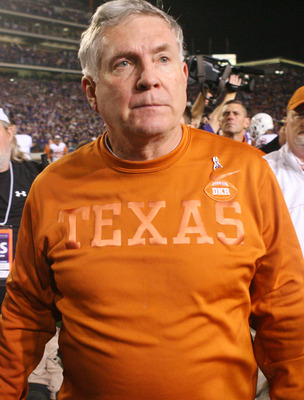 Mack Brown was searching for defensive answers all season.
Scott Sewell-USA TODAY Sports
If you're noticing a trend, you're right. Teams with horrible play on one side of the ball are getting picked on.
Mack Brown's Longhorns suffered one of the worst seasons defensively during his tenure. Texas has allowed nearly 200 yards per game to opponent's running games this year.
Duke Johnson exploded for the Hurricanes late in the season and would find a ton of open space to run against the Longhorns.
Texas also allowed 43 touchdowns to the opposition in 2012 while Miami hung 45 scores on the board.
Though the final score would not be as track meet-esque as a matchup with Texas Tech or Baylor, the offensive attacks would decide the game.
Vanderbilt Commodores (8-4)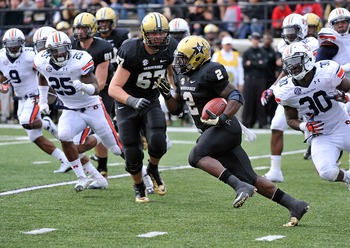 Zac Stacy led the Commodores with 1,034 rushing yards.
Frederick Breedon/Getty Images
All right, enough picking on the Big 12. Instead, let's go the best conference in the nation!
Led by Jordan Rodgers, the Vanderbilt Commodores finished the 2012 campaign strong with six straight wins.
A game comparable to this would be the Hurricanes' loss to Virginia. Rodgers, like Michael Rocco, isn't necessarily a big-play guy but consistently eats yards.
Though the Vandy offense was no better than average, the defense stepped up. The Commodores finished the regular season ranked 17th in the nation in total defense and allowed slightly more than 18 points per game.
But since the Miami offense started to click late in the season, I believe that Vanderbilt's middle-of-the-pack run defense would have trouble containing the one-two punch of Mike James and Duke Johnson.
North Carolina Tar Heels (8-4)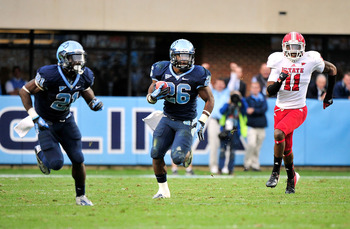 Giovani Bernard made a strong statement to be the ACC's best player.
Grant Halverson/Getty Images
North Carolina, like the Hurricanes, will not be headed to the postseason due to NCAA infractions.
The Tar Heels did in fact beat Miami 18-14 in mid-October, but they caught the Hurricanes at the perfect time. Their matchup was sandwiched between Miami's slaughter against Notre Dame and the week before a rivalry game with FSU.
Stephen Morris could not find a rhythm late in the game and hurt himself while engineering a possible go-ahead drive.
Excuses, excuses, I know. Ultimately, the Hurricanes did not finish the game, and UNC took the win.
But here it is again, Duke Johnson is the man. I would have loved to see a Miami team at full strength play against the Tar Heels.
The Hurricanes could absolutely defeat North Carolina, but it would be another tough contest.
Northwestern Wildcats (9-3)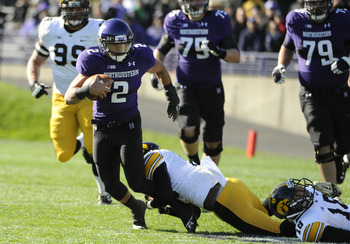 Kain Colter was a jack-of-all-trades for the Wildcats.
David Banks/Getty Images
Head coach Pat Fitzgerald is hoping to get the school's first postseason win since 1948 when NU faces Mississippi State in the TaxSlayer.com Gator Bowl. With a win, the Wildcats would earn their first 10-win season in 18 years.
While Kain Colter and Venric Mark have been bouncing around defenses all season, something makes this impressive Northwestern team look beyond beatable.
The 112th-ranked pass game is hardly used and only slightly effective.
Miami's defense started to limit big plays from opponents' running games late in the season. Northwestern would, however, provide one of the toughest tests in that category.
This matchup would likely be a first-to-24-points type of game, but Morris, Duke and James could make enough plays to beat a solid Wildcats defense.
Cincinnati Bearcats (9-3)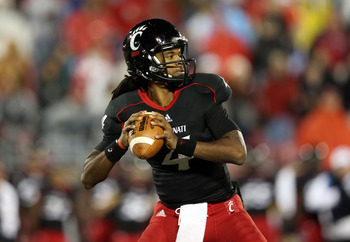 Munchie Legaux? Best name in the NCAA.
Andy Lyons/Getty Images
Now-former Cincinnati head coach Butch Jones had Brendon Kay replace Munchie Legaux under center with four games remaining.
Legaux was 6-2 in his starts, but Kay finished with an identical winning percentage at 3-1. The Bearcats' offense under the leadership of both quarterbacks wasn't flashy, but it was effective.
Cincinnati also played solid defense, but it still allowed nearly 250 yards through the air per game.
Though that number is nothing to be appalled by, Miami's strength throughout the year was Morris' arm. Phillip Dorsett, Rashawn Scott, Allen Hurns, Clive Walford and Mike James could slowly help their quarterback pick apart the Cincy secondary.
The Hurricanes would need to step up on defense, but when was that not the case this season?
Rutgers Scarlet Knights (9-3)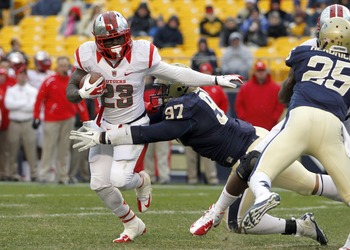 Jawan Jamison has scampered for 1,054 yards so far in 2012.
Justin K. Aller/Getty Images
These two teams have a history as they squared off yearly when Miami was a member of the Big East Conference.
Greg Schiano left first-year coach Kyle Flood a Big East championship-caliber squad, and it showed.
Rutgers allowed a mere 14.3 points per game, which ranked fourth in the nation, and gave up only 321 yards to the opposition.
The squad started the season 7-0, but the Scarlet Knights lost three of their final five games because the offense basically disappeared. Rutgers scored just 22.4 points per game—third-worst in the Big East.
This matchup would be one of few in which Miami's defense could possibly win the game. Even if that isn't likely, it could happen.
But as repeatedly stated, the true deciding factor would be the success of the Hurricanes' offense.
Florida State Seminoles (11-2)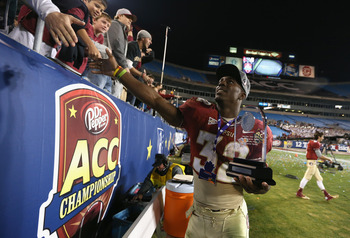 Fans can only wonder what could have happened in a rematch.
Streeter Lecka/Getty Images
Florida State is headed to the Orange Bowl after winning the ACC Championship Game against Georgia Tech.
Miami should have been there. Darn it, Nevin.
That said, Florida State absolutely earned the victory over the Hurricanes. The Seminoles defeated Al Golden's team during the regular season in a hard-fought 33-20 game. Maybe I sound like a homer, but I wish Stephen Morris could have played on two good legs.
FSU lineman Cornellius Carradine disrupted the Hurricanes' line of scrimmage all night long. The senior, though, is now out with an injury.
Morris could take advantage of a slighty (and I mean slightly) thinner Seminoles defense. Miami's defense, on the other hand, played its best game of the year against the rival Seminoles.
A rematch likely would not be a shootout or a track meet, but a streaky FSU team can be beaten just as a 6-7 Georgia Tech nearly showed.
Keep Reading

Miami Hurricanes Football: Like this team?