Colorado Football: Spring Practice Preview of Defense/Special Teams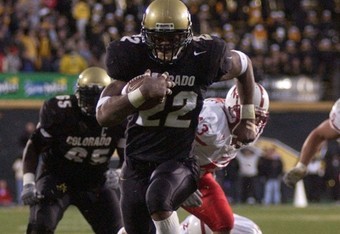 Greetings, Buff fans, from www.cuatthegame.com
Posted this week on the website:
A preview of each unit of the defense:
How will the Buffs replace three starters on the defensive line?
Will CU play more 3-4 defense to take advantage of its linebacker depth?
Will any of the redshirt freshmen see action in the defensive secondary?
Will the kicking game .... oh, never mind.
The Week that Was - March 15th - 21st.
CU Glass Bowl bound? The CU/Miami (Ohio) game appears to be all but dead, but the replacement game for the Buffs has yet to be announced. The consensus now appears that the Buffs will still travel to the state of Ohio, but will face Toledo instead of Miami.
CU Athletic Director Mike Bohn reportedly stated in an email this week that Colorado would be playing against the Toledo Rockets on ESPN on Friday, September 11th. As yet, though, this is only a report from a poster on AllBuffs.com. There has been no confirmation of this matter being finalized from any of the parties involved. (I'll have much more about the Rockets - 3-9 in 2008, including a win over Michigan in Ann Arbor - if the story ever gets confirmed) ....
Buffs in good condition. In an article in the March 22 edition of the Boulder Daily Camera, CU strength and conditioning coach Jeff Pittman had nothing but praise for the work of the Buffs in January and February.
"They accepted all the challenges I put to them and surpassed all my goals I had for the team and individuals," said Pittman. The only coach allowed to have contact with the players during the offseason, Pittman attributed the better attitude of the players to the average age of the players increasing as the team matures, as well as everyone in the program being "tired of losing."
Singled out by Pittman was praise for running back Darrell Scott, "We're extremely happy with Darrell's progress ... That guy has got a lot of pressure on him and he responded", and offensive tackle Nate Solder - "He's a freak ... in 16 years he very well be one of the best athletes I"ve ever worked with. He took it to a whole different level." Also encouraging to Buff fans is the news that no fewer than nine players were consistently timed in the 4.4 and 4.5 range in the 40-yard dash ....
Florida State loses round one in effort to keep victories. Florida State's proposal that a "blue-ribbon committee" be formed to review the policy of vacating wins as a form of punishment was shot down this week by NCAA president Myles Brand.
In a March 20 letter, Brand wrote, "It would be arbitrary to suspend only the vacation-of-wins penalty". The Seminoles are trying desperately to preserve 14 wins from 2006 and 2007 vacated by the NCAA as a result of an academic scandal involving ten different FSU teams. If Florida State is unsuccessful, it is highly unlikely that Bobby Bowden, currently one win behind Penn State's Joe Paterno on the all-time victories list, will ever be able to catch the Nittany Lions' coach ....
Lynn Katoa unlikely to play this spring - or this fall. Troubled freshman linebacker Lynn Katoa may never see the playing field as a Buff. The highly-recruited Utah prep star enrolled early in 2008, but did not make it to spring practice after being suspended as a result of a second-degree felony assault charge.
Katoa received a deferred sentence, and has had no legal issues since. His academic record, however, continues to keep him from playing. Katoa reportedly did poorly in the classroom last fall, and the speculation is that it is unlikely that he will be able to make up enough ground to become eligible for the fall. Asked if Katoa will even be on the team come the fall of 2009, Dan Hawkins could only reply, "I don't know that".
The Colorado Daily - daily spring practice updates start March 29!
Go Buffs!
This article is
What is the duplicate article?
Why is this article offensive?
Where is this article plagiarized from?
Why is this article poorly edited?