7 Benefits of Kane and Daniel Bryan's Partnership in WWE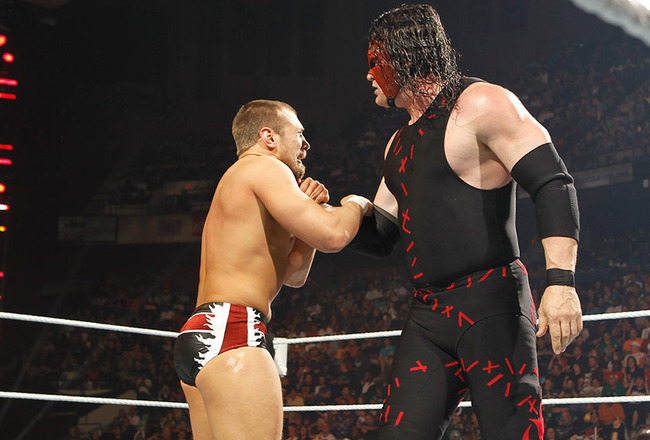 Photo courtesy of WWE.com

One of the WWE's biggest surprises of 2012 has been the success of the unlikely pairing of Kane and Daniel Bryan.
When the year started, Bryan was in the midst of a heel turn as World Heavyweight Champion and Kane had just returned, wearing a mask for the first time in nearly a decade.
As 2012 nears its end, however, Bryan and Kane find themselves still sticking together as the very odd, yet wildly entertaining, WWE Tag Team Champions.
Not many could have predicted that Kane and Bryan would end up as the Tag Team Champions at the beginning of the year. But it's safe to say that these two have done a lot of great things for both themselves and the WWE in general in 2012.
While some may always prefer Bryan and Kane as two separate singles stars, their partnership has resulted in plenty of good throughout the course of this year.
Here are seven benefits of Kane and Daniel Bryan's tag team partnership.
7. It's Reinvigorated Kane's Career
When Kane returned under his mask in December 2011, many thought that would be the spark he needed to reinvigorate his career.
But lackluster feuds and storylines with both John Cena and Randy Orton did next to nothing for "The Big Red Monster," and the hype surrounding him upon his return quickly died out.
What had been a pretty bad 2012, however, turned around when Kane suddenly found himself teaming with Daniel Bryan as Team Hell No.
Kane instantly went from someone who, despite a lengthy run in the main event, was struggling big time to someone who was thriving in his new-found role as a comedic babyface.
While not every fan enjoys Kane in his role as a good guy, it's hard to say that he hasn't excelled since turning babyface, because that's exactly what he's done.
Kane is on one of the best rolls of his career right now, and his partnership with Bryan is the biggest reason why that's been the case.
6. Showing Bryan's Range as a Performer
Upon Daniel Bryan's WWE debut, there was this seemingly widespread notion that he was a phenomenal wrestler and nothing more.
We heard fans say things like "he has no charisma" or "he can't work the mic," and it was up to Bryan to prove his doubters wrong.
Needless to say, he's definitely done that.
Bryan has been the breakout star of 2012, in large part because of the work he's done alongside Kane. After showing that he could be a top-level heel earlier in the year, he's shown during his run with Kane that he can also be a great comedic tweener and babyface.
What was once the biggest knock on Bryan (his abilities as a performer) is now arguably his biggest strength.
The guy has shown tremendous range in his performances throughout the year, as his partnership with Kane has helped him evolve into one of the best overall performers in the business.
5. Added Star Power to the Tag Team Division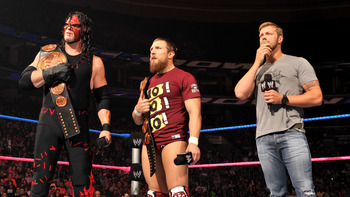 Photo courtesy of WWE.com
The most star-studded tag team in the WWE has got to be Team Hell No.
On one side, you have Kane, who's a multi-time World Champion and a surefire future Hall of Famer. On the other side, you have Daniel Bryan, who's a former Money in the Bank winner, World Heavyweight Champion and the breakout performer of 2012.
When two top guys like Kane and Bryan are paired together, they instantly bring a ton of star power and credibility to the tag team division.
The WWE's tag team division needs to feature some top stars in order to succeed, and both Bryan and Kane have hit a home run with their performances as the biggest stars of the division.
Could you imagine a tag team division that featured all lower-card and midcard performers? It would be hard to generate a ton of interest in it, right?
Well, thanks to Bryan and Kane, the WWE doesn't have that problem right now.
4. Genuine Comedic Entertainment
The WWE has scaled back the comedic elements of Kane and Daniel Bryan big time as of late, but at their peak, they put on some of the best comedic performances we've seen in years.
What the WWE writers think is funny typically doesn't result in them producing legitimately funny segments. But Team Hell No has been the exception to that rule.
We've witnessed a bunch of genuinely hilarious skits and segments involving Kane and Bryan throughout the year.
The infamous "anger management" skits were instant classics, as was the Tag Team Title victory celebration and the "stress ball" segment on SmackDown.
While the creative team has gradually cut back on Team Hell No's comedic antics, the climax of the partnership between Kane and Bryan resulted in plenty of unforgettable comedic moments.
Why the WWE can't always come up with creative skits like that, we can't be sure.
But it is up to the performers involved to deliver the goods, and Bryan and Kane have done that in just about every segment they've had together.
Thanks for the laughs, fellas.
3. Elevating Other Stars
One thing about pro wrestling that will never change is the use of established stars to elevate new ones.
In the WWE this year, it's been Daniel Bryan and Kane who have helped plenty of stars rise up the card.
Working with Team Hell No has helped Team Rhodes Scholars excel, helped Sin Cara thrive in his role as a tag team wrestler and given the Prime Time Players the added boost they needed to get over with the crowd.
Even now, Kane and Bryan are in the midst of a major rivalry with the much-talked-about faction, The Shield, which features three up-and-comers that the WWE obviously has big plans for.
It's not a coincidence that Dean Ambrose, Seth Rollins and Roman Reigns are feuding with Team Hell No. It's a smart creative move to pair those three youngsters up in a rivalry with the WWE's most over duo.
Kane and Bryan make everyone around them better, and in all likelihood, they will continue to do that as long they remain together.
2. Keeping Bryan Relevant While He's Not a World Title Contender
It's not easy to keep a former World Champion from becoming rather irrelevant when he stops working in the main-event scene.
But despite Daniel Bryan no longer challenging for World titles, he's managed to stay more than relevant as part of Team Hell No.
While the WWE could have simply put Bryan in a random midcard rivalry and significantly scaled back his push, that hasn't happened. Instead, Bryan's stayed right in the middle of the spotlight.
He's just as big of a star now (if not a bigger one) as he was when he was World Heavyweight Champion or when he was challenging Punk for the WWE Championship.
We can hate on the creative team all we want, but it's done an absolutely excellent job of continuing to push Bryan without consistently having him in the World title or even main-event pictures.
Bryan is proof positive that you can keep a guy relevant and, more importantly, keep him over without having him dominate the top storylines.
1. The Increased Focus on Tag Team Wrestling
As soon as Daniel Bryan and Kane began teaming together, we started to see an increased focus on the WWE's tag team division.
After Team Hell No won the WWE Tag Team Championship, an eight-team tournament was held to determine their No. 1 contenders, putting a major spotlight back on the tag division (for the first time in a while) in the process.
That allowed a number of deserving tag teams to get some much-deserved TV time and matches, and plenty of those teams are still relevant within the tag team division today.
Duos like the Prime Time Players and Sin Cara and Rey Mysterio have benefited in a major way from the extra exposure tag team wrestling has gotten since Kane and Bryan became the faces of the division.
It's not a stretch to say that the push of Kane and Bryan has also resulted in the first real push of the tag division of the last few years.
Whether that was intended or not doesn't matter. What matters is that Team Hell No has, well, made tag teams matter again.
Drake Oz is a WWE Featured Columnist for Bleacher Report. Follow him on Twitter!
Keep Reading