TUF 16 Finale: Roy Nelson vs. Matt Mitrione Head-to-Toe Breakdown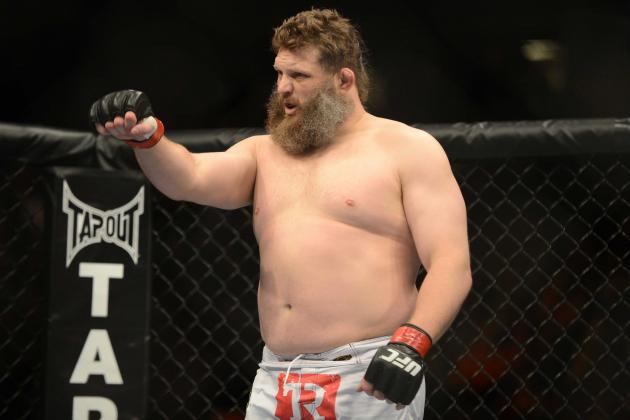 Ron Chenoy-USA TODAY Sports

Roy Nelson was originally expected to meet opposing The Ultimate Fighter 16 coach Shane Carwin at Saturday's season finale. However, Carwin suffered an injury, which allowed Matt Mitrione to step in as a replacement for the main event bout with Nelson.
The event headliners both competed on The Ultimate Fighter 10, which Nelson won by knocking out Brendan Schaub. Mitrione was submitted by James McSweeney on the reality series, but his pure athleticism has taken him far since joining the UFC roster.
Now, Mitrione has a chance to show just how far he has come as a fighter by beating the fighter who won a tournament which he was eliminated from in the quarterfinal round. Let's take a look at Mitrione's chances of picking up what would be the biggest win of his career.
Begin Slideshow

»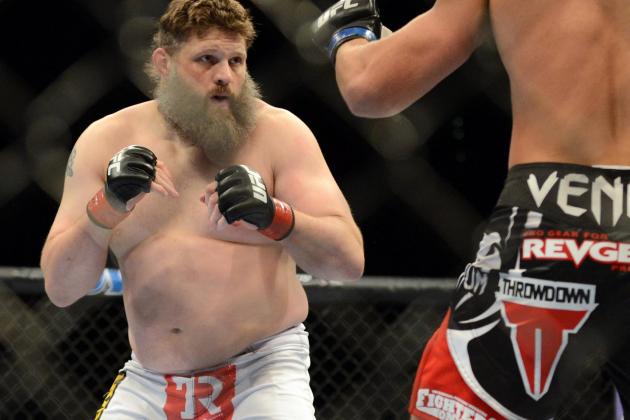 Ron Chenoy-USA TODAY Sports

Striking Percentage
Nelson—54%
Mitrione—56%
Striking Defense Percentage
Nelson—42%
Mitrione—59%
Over their past five fights, Matt Mitrione has had more success on his feet than Roy Nelson. However, that is due in large part to the level of competition the two fighters have been facing.
While Nelson has fought two UFC heavyweight champions in his past five fights, Mitrione's toughest opponent to date was Cheick Kongo.
When it comes to striking, Nelson has a longer history of success against some bigger names than Mitrione has beaten. Nelson's advantage isn't insurmountable, but he has the chin to take Mitrione's best shots and the power to become the first to knock "Meathead" out.
Edge: Nelson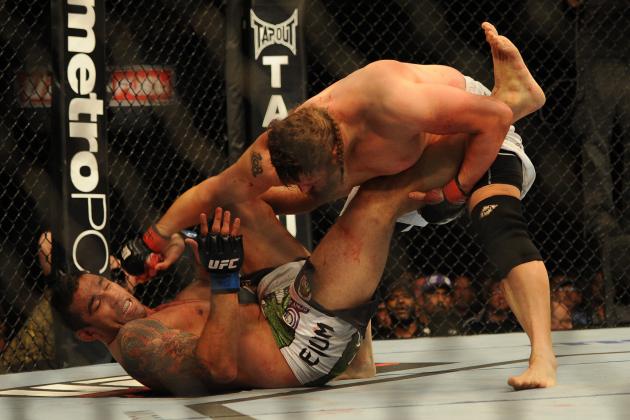 Kelvin Kuo-USA TODAY Sports

Takedown Percentage
Nelson—20%
Mitrione—N/A
Takedown Defense Percentage
Nelson—42%
Mitrione—56%
Even though Roy Nelson may have a slight advantage in the standup department, there's no doubt Matt Mitrione will plan on keeping this fight standing. Since joining the UFC in December 2009, Mitrione has not attempted one takedown.
Still, Mitrone's takedown defense has been unpredictable against fighters with much less impressive ground games than Nelson. Only Tim Hague has been unable to take Mitrione down, and the former NFL player has competed against the likes of Kimbo Slice and Marcus Jones.
Nelson hasn't had much success against elite heavyweights recently, but he should have no problem dragging Mitrione to the ground should he decide to do so.
Edge: Nelson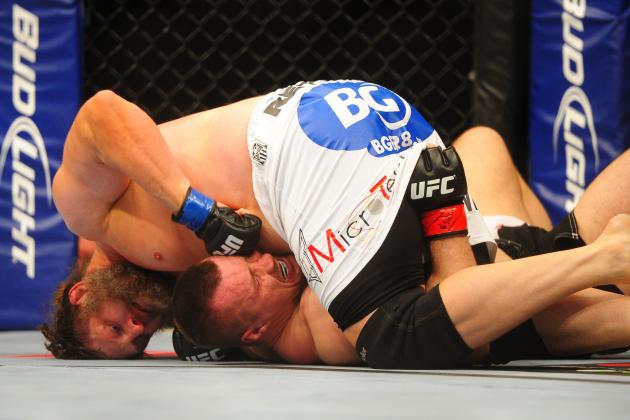 Mark J. Rebilas-USA TODAY Sports

Submission Percentage
Nelson—0%
Mitrione—0%
Submission Defense Percentage
Nelson—N/A
Mitrione—N/A
Though Roy Nelson hasn't submitted any opponents since July 2006, he's a very skilled grappler and more than capable of forcing Matt Mitrione to tap.
Only Marcus Jones has attempted to submit Mitrione since "Meathead" was caught in a guillotine by James McSweeney on The Ultimate Fighter. If Nelson finds himself in a position where he can sink an arm under Mitrione's chin, he could end this fight quickly.
Edge: Nelson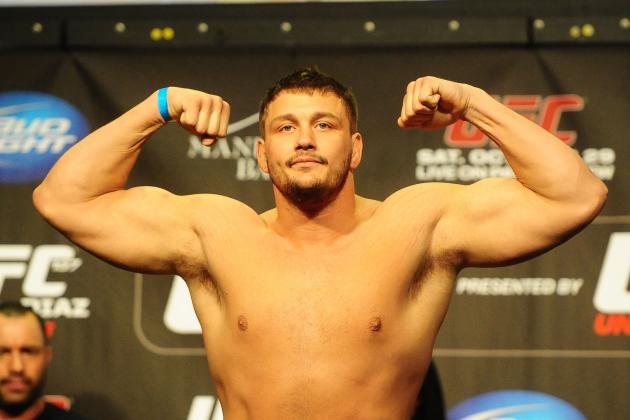 Mark J. Rebilas-USA TODAY Sports

UFC Fights
Nelson—7
Mitrione—6
Days Inactive
Nelson—203
Mitrione—413
Roy Nelson and Matt Mitrione may have joined the UFC roster at the same time, but "Big Country" has much more experience. Nelson was an IFL champion before appearing on The Ultimate Fighter, whereas that reality series marked the beginning of Mitrione's MMA career.
In addition to his time spent competing in the sport, Nelson has remained more active than Mitrione recently. It has been over one year since Mitrione suffered a decision loss to Cheick Kongo, and he hasn't stepped into the Octagon since.
Edge: Nelson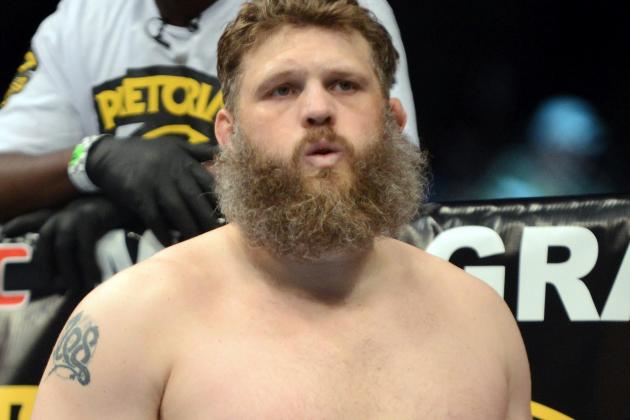 Ron Chenoy-USA TODAY Sports

There's a good chance Roy Nelson could stand with Matt Mitrione and walk away with a knockout or definitive decision victory. However, Nelson's biggest advantage over Mitrione comes on the ground, where he should try to take this fight early.
Nelson should have little problem taking Mitrione down, and once he does, this fight might not make it out of the opening round. After being pounded on from Nelson's signature mounted crucifix position, Mitrione will eventually give up his back.
From there, Nelson will have his choice between finishing the fight with a number of unanswered punches or with a rear-naked choke.
Prediction
Nelson defeats Mitrione by submission (rear-naked choke) at 4:28 of the first round.
Statistics from fighters' past five fights via FightMetric.com.