Despite being the serious underdog in Saturday night's main event, it was Juan Manuel Marquez (55-6-1) that knocked out boxing legend Manny Pacquiao (54-5-2) in the sixth round of the fourth installment of their storied rivalry.
This was the biggest upset of 2012.
While each man had earned a knockdown early in the fight, it was Pacquiao clearly pushing the tempo with his aggressive style.
The game plan was for Pac-Man to get on the inside and do his damage, and it was paying off.
Marquez was reeling for most of the fifth and early sixth rounds, and Pacquiao was landing some heavy shots on the defensive fighting Dinamita.
That's when the trouble started for Manny.
After dominating his opponent and almost finishing the fight in Round 5, Pacquiao began to get too aggressive and was leaving himself open throughout the sixth round. It wasn't until the waning seconds of those three minutes that Pac-Man made the biggest mistake of his career.
Marquez was fighting off his heels throughout the bout, but it wasn't until Pacquiao dropped his hands and stutter stepped to try and open up a final shot in Round 6 that JMM stepped into a punch.
Better late than never.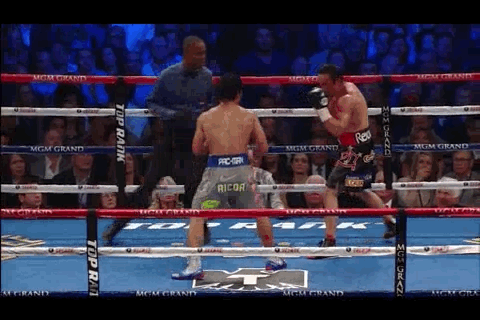 Dinamita's devastating right hand landed flush in to the charging Pac-Man's face and left the legend lying on the mat; he was out cold.
The knockout loss for Pacquiao has to be the most devastating of his career, but this victory will define how the sport of boxing views Marquez's legacy in the sport.
If JMM wasn't a Hall of Famer already, he's sure to be inducted once he retires after shocking the world on such an enormous stage.
Check back for more on boxing as it comes, and don't miss Bleacher Report's Boxing page or listen to Ring Rust Radio for all of the hot topics.