UCLA Football: Comparing Johnathan Franklin to Maurice Jones-Drew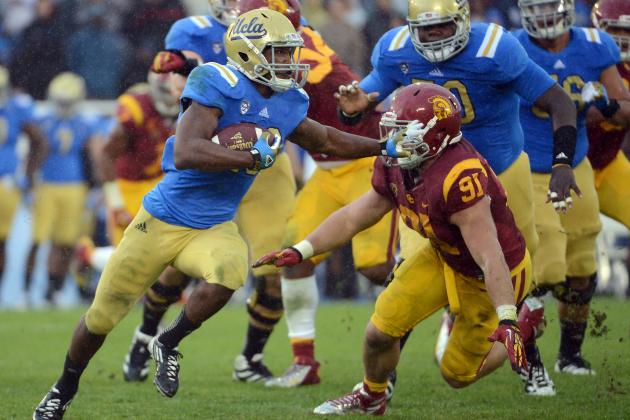 Harry How/Getty Images

When Johnathan Franklin takes the field against the Baylor Bears in the Holiday Bowl, it will be his final game in a UCLA uniform.
The redshirt senior from Los Angeles' Dorsey High has had an amazing career in Westwood, leading the Bruins back from the abyss that was most of the past decade.
Now, as "The Mayor" prepares for his last hurrah, it's interesting to consider how he compares to other great Bruins running backs.
Franklin's most relevant UCLA contemporary is Maurice Drew, or as NFL fans know him, Maurice Jones-Drew.
Before emerging as a superstar for the Jacksonville Jaguars, MJD was an all-conference, all-American selection in college, leading the Bruins to a 10-2 mark in his final season (2005).
Jones-Drew set a multitude of records, both school and league-wide, on the way to UCLA's best season since 1998 when Bob Toledo took the Bruins to the Rose Bowl.
Flash forward to 2012 and Johnathan Franklin is having similar success in his final year of NCAA eligibility.
After three seasons of frustrating mediocrity under former head coach Rick Neuheisel, Franklin helped UCLA to its best record since MJD's last season, reaching the nine-win mark and barely missing out on the Rose Bowl.
In the process, Franklin has broken a number of UCLA records, including the mark for most career all-purpose yards, previously held by Jones-Drew.
So how do the two Bruins backs' strangely parallel careers stack up side-by-side?
Read on for an in-depth comparison of Johnathan Franklin and Maurice-Jones Drew, looking at their relative successes while wrecking it in Westwood.
Begin Slideshow

»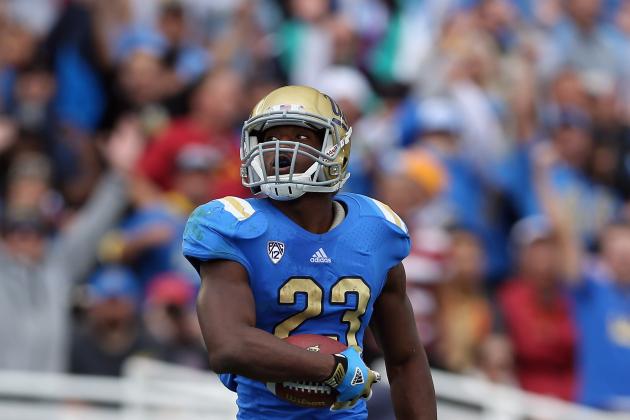 Jeff Gross/Getty Images

It only makes sense to start a head-to-head comparison of Franklin and Jones-Drew by looking at their current measurables.
Height
Franklin - 5'11"
Jones-Drew - 5'7"
Weight
Franklin - 195 pounds
Jones-Drew - 210 pounds
Vertical Leap
Franklin - 36.0 inches
Jones-Drew - 36.0 inches
40-Yard Dash
Franklin - 4.5 seconds
Jones-Drew - 4.39 seconds
Despite being four inches shorter than Franklin, MJD has an equivalent vertical leap, which is really quite impressive. Both backs have top-flight speed, clocking impressive times in the 40, as well as power, weighing in around 200 pounds.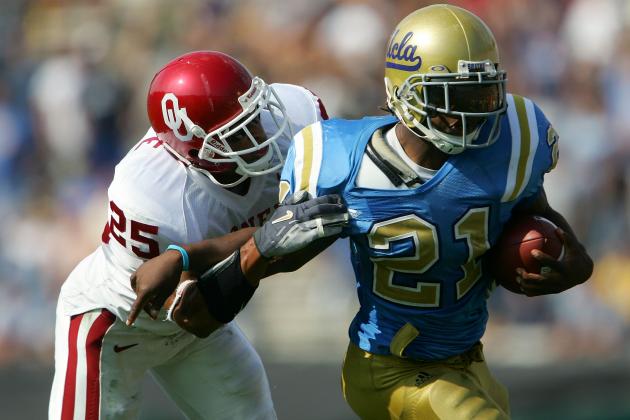 Jeff Gross/Getty Images

One of the most important things to be aware of when comparing Franklin and Jones-Drew is how much time they each spent in Westwood.
Franklin, as a redshirt senior, has been a member of the UCLA program for five years and has seen game action in four full seasons.
Two of Franklin's seasons resulted in conference championship game appearances, while three ended with bowl games.
On the other hand, Jones-Drew declared for the NFL draft after his junior year, ending his Bruin career after three seasons of play.
MJD played in a bowl game in each of his collegiate seasons, but his sophomore and junior campaigns only featured 11 regular-season contests.
As we move forward in this analysis, be sure to remember that Franklin had 16 more games than Jones-Drew, giving him ample time to accumulate his statistical resume.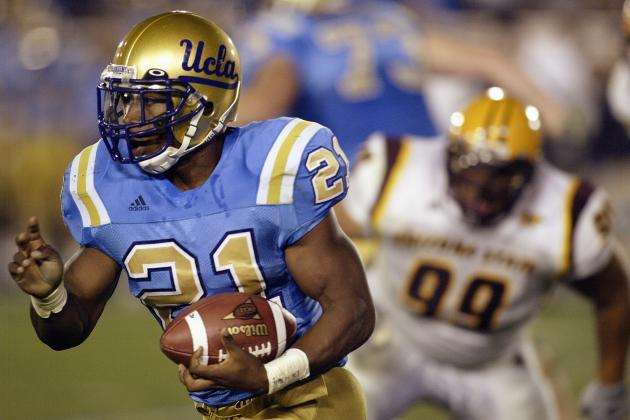 Stephen Dunn/Getty Images

Jones-Drew undoubtedly had the better first season at UCLA, leading the Bruins in rushing and touchdowns scored as a true freshman in 2003.
In contrast, Franklin redshirted in 2008, eventually seeing his first college action as a "freshman" in 2009.
MJD's numbers were far from jaw-dropping, as the undersized tailback compiled just 582 yards rushing and five TDs, while also scoring twice as a return specialist.
But Jones-Drew was the go-to scoring threat for UCLA as an 18-year-old, earning him Freshman All-American and All-Pac-10 honors for his exploits on special teams.
Franklin had similar numbers in his redshirt freshman season, rushing for 566 yards and five TDs, including two 100-yard games.
UCLA finished the 2003 season with a 6-7 record, losing to Fresno State in a bowl game that doesn't operate anymore. In 2009, UCLA was slightly better, finishing with a 7-6 mark after defeating Temple in another bowl game that no longer exists.
All in all, Jones-Drew and Franklin both had moderately successful freshman seasons for Bruins squads that failed to do much.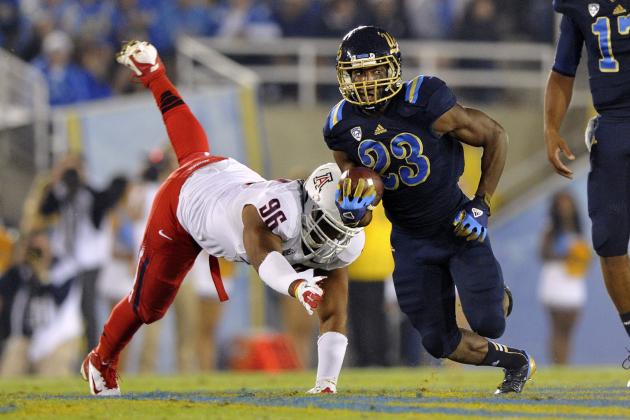 Andrew Fielding-USA TODAY Sports

For both MJD and Franklin, their final season for UCLA was by far the best of their respective careers.
As a junior in 2005, Jones-Drew led the Bruins to a 10-2 overall record, including a victory over Northwestern in the Sun Bowl.
It was only UCLA's second bowl win since 1998, resulting in a No. 13 ranking in the coaches' poll and a No. 15 ranking in the AP poll.
MJD rushed for 914 yards and 13 TDs while also catching 31 passes for 453 yards and three more scores.
The stellar season effort earned Jones-Drew All-Pac-10 first team selection as a punt returner, and All-American honors as a running back.
In similar fashion, Franklin's final season in Westwood was extremely successful, as the Bruins finished the season with a berth in the conference title game and a victory over rival USC.
On the year, Franklin rushed for 1,700 yards, moving him into first on the all-time UCLA rushing list.
Along the way, Franklin broke numerous other records and lead his team to a Holiday Bowl berth, and a No. 17 ranking in the BCS and AP.
If the Bruins can beat Baylor in San Diego, it will be UCLA's first season with double-digit wins since MJD's last year in 2005.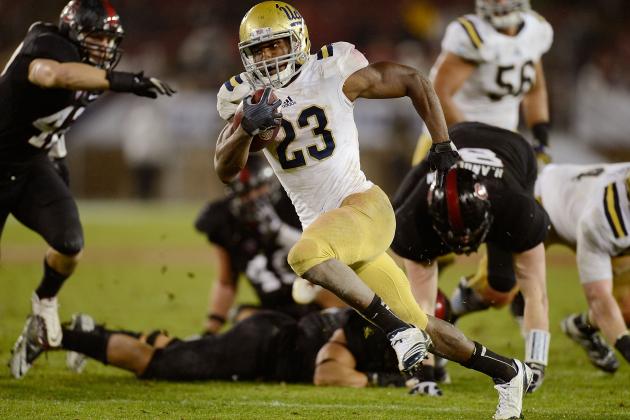 Thearon W. Henderson/Getty Images

As a pair, Franklin and Jones-Drew hold most of the all-time UCLA rushing and yardage records, including a one-two placement in all-purpose yardage.
Here is a complete list of the Bruins records held by these great running backs.
Most Career Rushing Yards - Franklin (4,369)
Most Career All-Purpose Yards - Franklin (4,688)
Most Single-Season Rushing Yards - Franklin (1,700)
Most Single-Season All-Purpose Yards - Franklin (2,024)
Most Single-Season Punt Return Yards - Jones-Drew (427)
Most Single-Game Rushing Yards - Jones-Drew (322 vs. Washington in 2004)
Most Single-Game Punt Return Yards - Jones-Drew (162 vs. Cal in 2005)
There is one noteworthy NCAA record to consider as well.
Highest Single-Season Punt Return Average - Jones-Drew (28.5 yards per)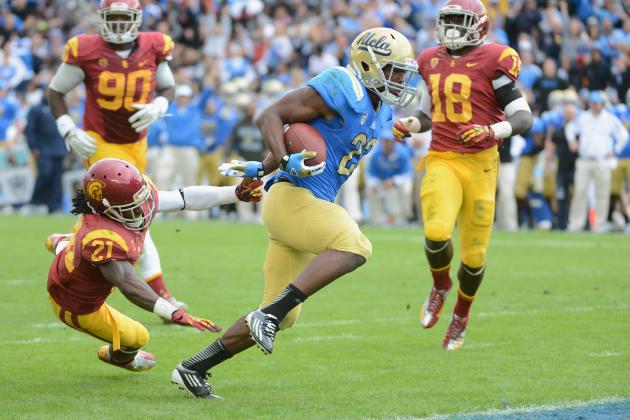 Harry How/Getty Images

For UCLA fans, winning the Battle for Los Angeles and knocking off rival USC is one of the most important goals each and every season.
And when evaluating a Bruin footballer's success, career record against the Trojans carries a lot of weight.
Unfortunately for Jones-Drew, he was never fortunate enough to unseat the crosstown Goliath, finishing his UCLA career with an 0-3 record in the series.
In his sophomore and junior seasons, MJD faced USC squads ranked No. 1 in the country, both of which went on to appear in the BCS National Championship Game.
Jones-Drew's three losses to the Trojans were the last of a seven-game run by 'SC, a winning streak that would be broken in upset fashion the following season.
While MJD didn't have much success against Southern Cal, Johnathan Franklin can at least hang his hat on the results of his senior season.
After watching his team fall to the Trojans four straight times (once as a redshirt and three times as a player), Franklin was determined to make a difference in 2012.
Against USC this season, Franklin rushed for 171 yards and two TDs with an average of 5.9 YPC. The gargantuan effort was enough to lift the Bruins past the Trojans, 38-28.
The victory was UCLA's first in the series since 2006 and only its second in the past 14 seasons.
For that reason alone, Franklin's senior season will be remembered by the Bruin faithful for years to come.
Brian Bahr/Getty Images

While it isn't exactly fair to equate UCLA's overall success with the success of any individual player, it is one way to differentiate between two very similar careers.
During Jones-Drew's time in Westwood, the Bruins had an overall record of 22-15, including a 1-2 mark in postseason bowls.
MJD's best season was a 10-2 finish in 2005, but one of the two losses was a 66-19 embarrassment at the hands of the USC Trojans.
Ultimately, Jones-Drew's tenure didn't have much lasting meaning, as his final season was followed up by a 7-6 campaign.
For Johnathan Franklin, the story is pretty much the same, except for the ending.
During the four seasons that Franklin actually played, UCLA had an overall record of 26-26.
The Bruins won a low-tier bowl game when Franklin was a freshman, but lost in ugly fashion to 6-6 Illinois in the Fight Hunger Bowl last year.
Franklin's time at UCLA has been tumultuous, featuring the firing of his recruiter, Karl Dorrell, and the canning of the coach of his first three seasons, Rick Neuheisel.
But after hitting rock bottom in a 50-0 loss to USC, Franklin and the Bruins picked themselves up by the bootstraps and got back to work in 2012.
Under the guidance of first-year head coach Jim Mora, the Bruins played their way to a 9-4 record, including three wins over ranked opponents.
Considering UCLA earned its way to the Pac-12 title game outright in Franklin's senior season, it's clear that the Bruins are heading in the right direction, and that's thanks to the hard work and extreme productivity of the senior captain.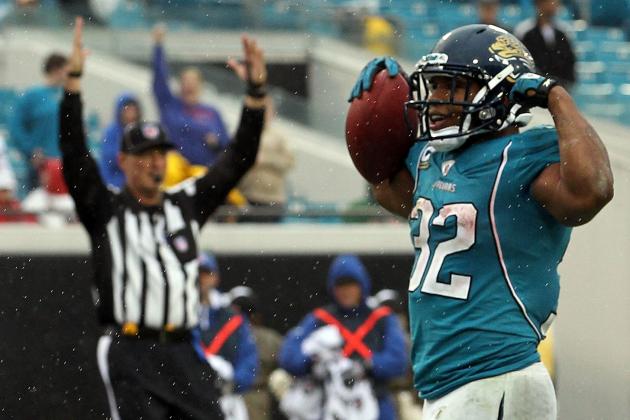 Sam Greenwood/Getty Images

It really goes without saying that Jones-Drew has had more success in the NFL, but that's only because Johnathan Franklin still has another game of college ball left to go.
To omit Jones-Drew's professional success in this slideshow would be a glaring oversight, as the former Bruin has been an absolute beast in his seven NFL seasons.
MJD was drafted in the second round (No. 60 overall) of the 2006 draft by the struggling Jacksonville Jaguars.
As a rookie, Jones-Drew worked mostly as a returner and third-down power back, finishing the season second in voting for Offensive Rookie of the Year.
Since then, MJD went on to lead the Jaguars in rushing in four consecutive seasons, including leading the NFL with 1,606 yards in 2011.
Jones-Drew is a three-time Pro Bowl selection, and holds the Jacksonville franchise record for single-season rushing yards and all-purpose yardage.
For Franklin, there are certainly NFL expectations, but I don't know of any pundit that thinks he will rival his UCLA counterpart.
According to a mock draft on CBSSports, Franklin is the No. 10 RB in the 2012 draft and is projected to go in the third or fourth round.
If Franklin can have even a fraction of the success that MJD has had in the NFL, he will be remembered as the best Bruins running back of all time.