San Francisco Giants Hot Stove: Pros and Cons of Acquiring Each Winter Target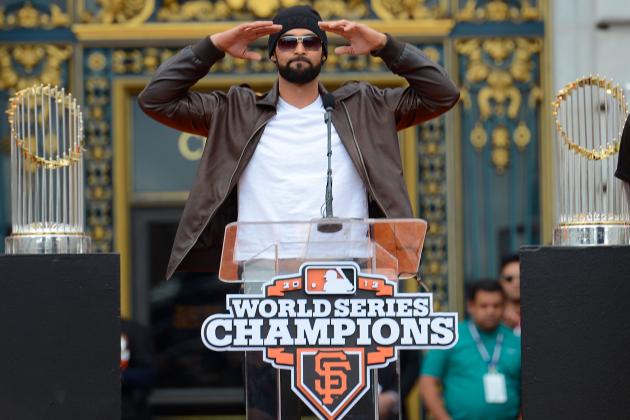 Thearon W. Henderson/Getty Images
Angel Pagan salutes the crowd at the Giants' victory parade
The world champion San Francisco Giants have made strides towards their goal of winning another title. After a 52-year period in San Francisco with no World Series championships, the Giants have now won in two of the last three years.
GM Brian Sabean has already signed three players who were instrumental to the Giants' success in 2012. Angel Pagan, Marco Scutaro and Jeremy Affeldt will all return in the orange and black.
In addition to these three, the Giants are looking to add a right-handed-hitting outfielder to share time with Gregor Blanco in left field. The Giants have been considering Cody Ross, Scott Hairston and Ryan Ludwick, who just agreed to return to the Reds on a two-year contract.
The Giants are also looking for a right-handed relief pitcher to bolster their bullpen. They failed to tender Brian Wilson a contract. Now a free agent, Wilson is shopping his services.
Let's take a closed look at the pros and cons of acquiring each of the players the Giants have already signed or are targeting.
Begin Slideshow

»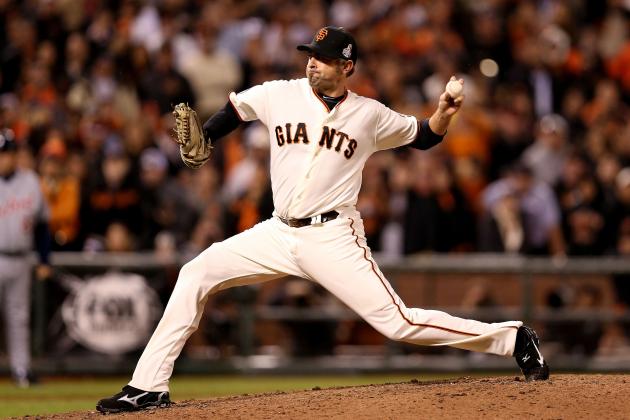 Christian Petersen/Getty Images
Jeremy Affeldt had an excellent season in 2012.
The San Francisco Giants' first big move of the offseason was to reach a contract agreement with reliever Jeremy Affeldt. He had a fine 2012 campaign, compiling a record of 1-2, with an ERA of 2.70 and WHIP of 1.263.
Affeldt also threw 63.1 innings, which tied Santiago Casilla for the most innings pitched by a San Francisco relief pitcher this season. Unlike fellow lefties Javier Lopez and Jose Mijares, Giants' manager Bruce Bochy is comfortable letting Affeldt face both left- and right-handed batters.
Affeldt's value soared following his 2012 postseason performance. He threw 10.1 innings, allowing only five hits and no runs. At the age of 33, this is likely Affeldt's last big payday. He made the most of the opportunity by coming to terms with the Giants on a three-year, $18 million contract.
I would have preferred signing Affeldt to a two-year deal, but interest in him was high and there were not a lot of proven left-handed relievers on the market. Giants' GM Brian Sabean did not want to risk losing Affeldt, so he gave him the extra year.
Is this a good deal for the Giants?
If Affeldt can pitch effectively for at least two of those three years, the Giants will have gotten their money's worth.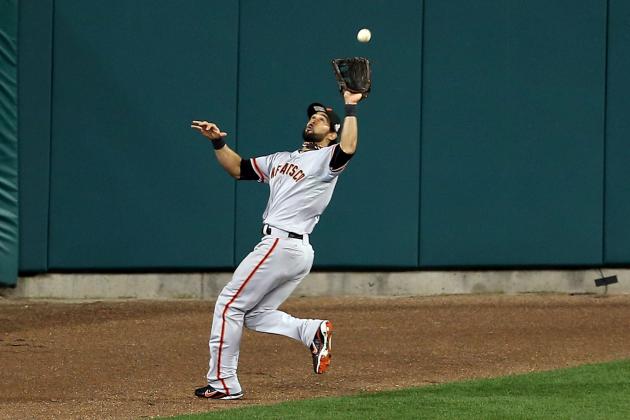 Christian Petersen/Getty Images
Angel Pagan hauls in this long drive in Game 4 of the World Series.
Angel Pagan was coming off a poor season in 2011 when Giants' GM Brian Sabean was able to work out a deal with the Mets to acquire Pagan for fan favorite Andres Torres and reliever Ramon Ramirez. Pagan found a home in San Francisco and the fans embraced him.
Pagan plays the game with a great deal of emotion and the roaring crowds at AT&T Park energized him. Pagan said on numerous occasions how much he loved the fans, which made them adore him even more.
On the field, Pagan put up some great numbers while playing a career-high 154 games. He hit .288, with an OBP of .338. Pagan's OPS was .778, which was solid for a leadoff hitter.
Pagan led the league in triples with 15 and also stole 29 bases. Pagan's defense also improved steadily over the second half of the season.
The Giants signed Pagan to a four-year, $40 million contract. Looking at what some of the other outfielders on the free-agent market are commanding, this deal for Pagan is actually a very good one.
Torii Hunter was the first big-name outfielder to sign. He completed a two-year, $26 million contract with the Detroit Tigers. Hunter is 37 years of age, so the size of this deal was somewhat of a surprise.
The Giants were hoping to land Pagan with a three-year deal, which I figured would be around $36 million. When they signed him to a four-year contract for $40 million, I was okay with that. Pagan will be 35 years old when this contract expires, but in my view, the Giants got the extra year for only $4 million more.
Then, when I see Shane Victorino signing a three-year, $39 million contract with the Red Sox, I am even more pleased with the Pagan deal. In addition, the other top quality center fielders on the free-agent market, Michael Bourn and Josh Hamilton, are both looking for far bigger deals than what Pagan agreed to.
Hopefully, Pagan will be productive for the duration of the contract. However, even if the Giants are forced to eat the final year of this deal, but Pagan plays three solid seasons in San Francisco, this will have been a very good deal for both parties.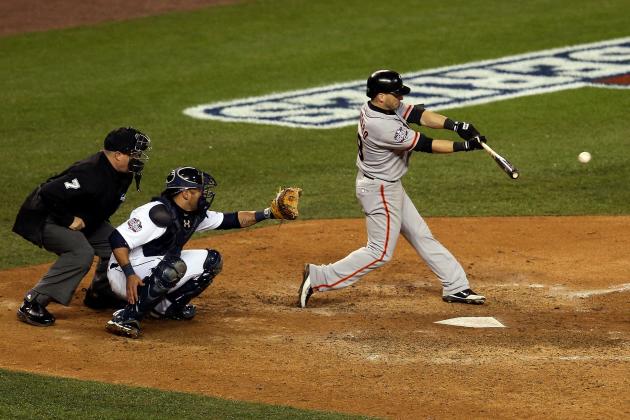 Jonathan Daniel/Getty Images
Marco Scutaro drives in the winning run in Game 4 of the World Series.
When Giants' GM Brian Sabean made the trade with the Rockies, I figured that was a nice deal. Scutaro could fill in for the injured Pablo Sandoval at third base. The Giants gave up rookie Charlie Culberson, who I was never really high on anyway.
However, Scutaro had other plans. He played so well that when Sandoval returned, manager Bruce Bochy moved Scutaro over to second base, replacing Ryan Theriot.
In 61 games with the Giants, Scutaro had 243 at-bats and hit .362. He drove in 44 runs and also scored 40. Scutaro was also a bonding force in the dugout as his professional approach was well received by everyone.
It was the postseason that endeared Scutaro to Giants fans forever. He was the MVP of the NLCS, as he went 14-28 for a .500 batting average, drove in four runs and scored six. He also showed tremendous grit when he was able to fight through a great deal of pain after being run over by Matt Holliday at second base.
Scutaro also drove in the winning run in extra innings of Game 4 of the World Series. His hit gave the Giants the sweep over the Tigers.
The initial talk was that the Giants would try to sign Scutaro to a two-year deal for around $16 million. When it appeared the Cardinals and Yankees were interested, the Giants actually offered Scutaro a three-year contract for $20 million, which he agreed to.
Scutaro is 37 years old, so on the surface, it seems like this may be too long. However, he keeps himself in excellent shape and it's very possible that Scutaro will be able to play effectively for the duration of this deal.
At $20 million for four years or $16 million for two, even if Scutaro gives the Giants two solid seasons, if he bombs out in the final year, the Giants will in essence be spending an extra $4 million for that final season. With that in mind, I believe this was a good deal for both the Giants and Scutaro.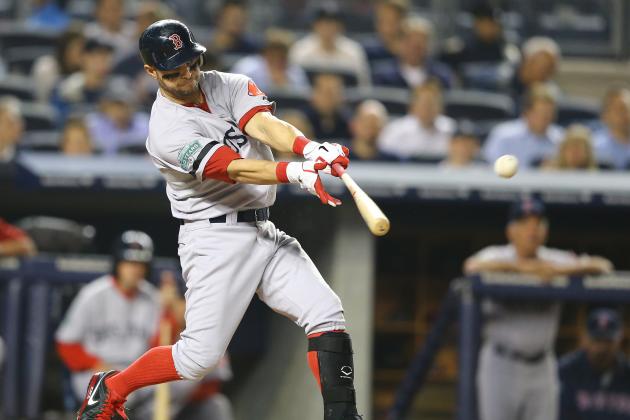 Al Bello/Getty Images
Cody Ross had a solid year for the Red Sox.
Rewind back to October of 2010 and the NLCS. Cody Ross destroyed the Philadelphia Phillies and was named the series MVP. He hit .350 with three home runs and five RBI, to lead the Giants to the NLCS victory. Ross is a notorious streak hitter and he got hot at the right time.
The Giants have expressed an interest in bringing Ross back to San Francisco, but only on a one-year deal. The Giants are looking for a right-handed bat to split time with the left-handed-hitting Gregor Blanco in left field. Ross is looking for a multi-year deal, which has kept the two sides apart.
In 2012, Ross hit .267 with 22 home runs and 81 RBI. The power numbers are inflated, however, as Ross played half of his games in Fenway Park. I do not believe Ross would compile those same numbers in San Francisco.
The Giants have top outfield prospect Gary Brown getting more seasoning and probably a year away from the majors. With that in mind, a one-year deal is all they should offer a player like Ross.
I believe GM Brian Sabean will stick to his guns with Ross and only sign him if he can get him to agree to a one-year contract. If Ross gets a multi-year offer from someone else, so be it.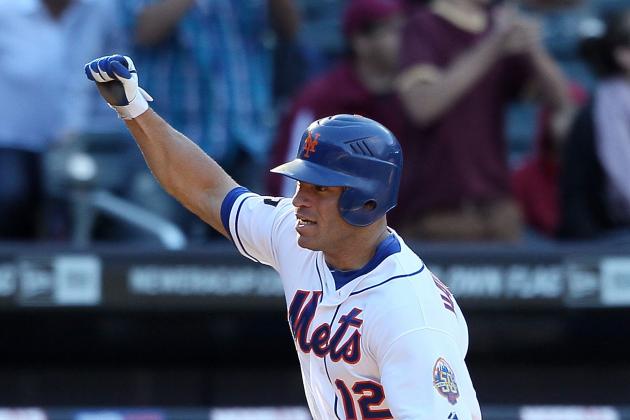 Alex Trautwig/Getty Images
Scott Hairston would be a good fit for the Giants.
Scott Hairston is another left-field candidate that I believe would be an excellent fit for the Giants. He only made $1.1 million in 2012 while with the Mets and would be a good value at $3 million or below.
Like Ross, Hairston wants a longer-term deal, while the Giants would like to sign him for just the one season. In 2012, Hairston hit .263 with 20 home runs, 57 RBI and 52 runs scored. These are solid numbers, especially considering Hairston received only 377 at-bats.
Hairston has been a "Giant-killer" over the years and has had some of his biggest games against the Giants. If for no other reason than to not have to face him, Hairston would be a good acquisition.
Hairston is a proven veteran, but will also be 33 years old in May of next year. For this reason, I believe Giants' GM Brian Sabean will also wait him out and see if he can get Hairston to commit to a one-year contract only.
I would be more comfortable with Hairston over Ross for two years, so we'll just have to wait and see how the market unfolds.
The Giants were also said to have interest in Ryan Ludwick, but he came to an agreement with the Reds on a two-year, $15 million deal. This may make signing Hairston or Ross even more difficult for Giants.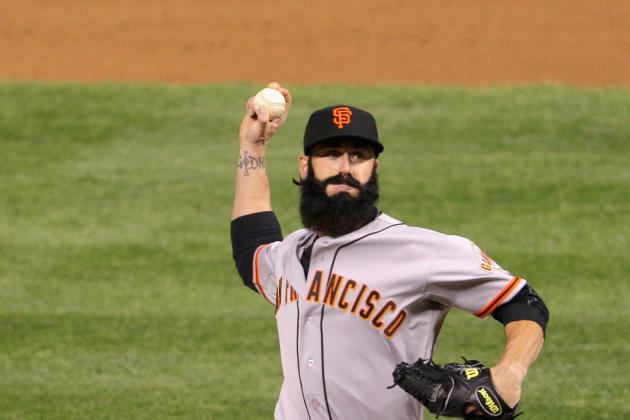 Doug Pensinger/Getty Images
Will Brian Wilson be back?
Brian Wilson was one of the most valuable cogs in the Giants' 2010 World Series championship. In 2012, when the Giants won it all again, Wilson had to stand aside as a spectator.
Wilson pitched in only two games this past season and made $8.5 million. The Giants declined to offer him the minimum arbitration-level contract this year, which would have been $6.8 million.
The Giants were correct in not offering Wilson the big guaranteed money. This will allow Wilson to see what else is out there for him, as a free agent.
Wilson is a charismatic figure in the Giants' dugout and clubhouse. The players like him and he is a fan favorite. Unfortunately, Wilson is also coming off his second Tommy John surgery.
The Giants would like to have Wilson return, but on an incentive-laden contract. If nobody else is willing to give him a large guarantee, that makes the Giants' chances much better.
Giants' GM Brian Sabean will keep tabs on Wilson and if he gets no long-term, big-money offers, Sabean will definitely have a chance to retain him.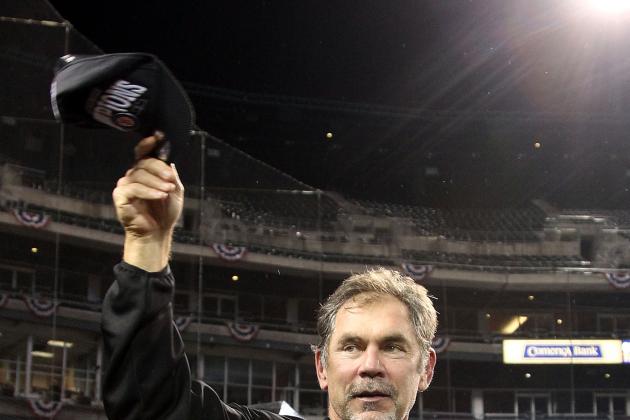 Christian Petersen/Getty Images
Bruce Bochy tips his cap to Giants fans in Detroit after the World Series triumph.
The San Francisco Giants accomplished their main goal, following their second World Series title in three years. GM Brian Sabean set out to maintain the core of the roster by making Angel Pagan, Marco Scutaro and Jeremy Affeldt, primary focal points for this offseason.
Sabean was successful in retaining all three players, which will give manager Bruce Bochy the same nucleus that won it all in 2012.
Now, just a bit of fine tuning is in order, as the Giants would like to add a right-handed-hitting outfielder to split time with Gregor Blanco. They would also like to pick up a solid right-handed relief pitcher, which would further solidify one of the top bullpens in baseball.
In addition, one more utility spot remains, which could be filled with a veteran, low-priced free agent. The Giants could also opt to go with an internal prospect such as Francisco Peguero or Brett Pill.
The Giants' outlook for 2013 looks very promising. Their stellar pitching staff remains a strength and as long as that's intact, the Giants' window of opportunity will remain open.