Pacquiao vs. Marquez 4 Results: Winner, Twitter Reaction, Recap and Analysis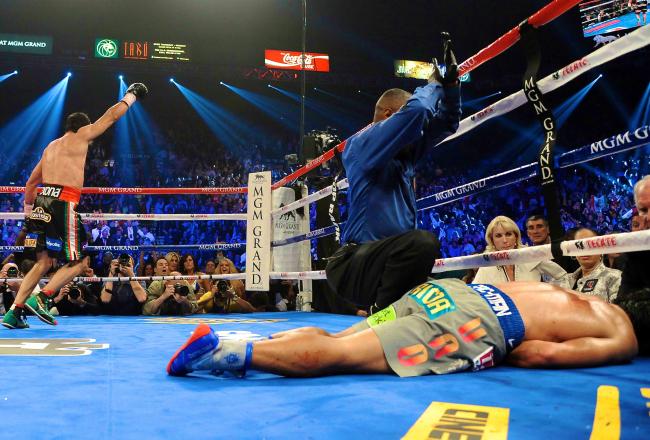 Juan Manuel Marquez recorded a shocking upset over Manny Pacquiao with a massive right hand in the sixth round that gave him his first victory over Pac-Man.
The fourth meeting between these two fighters generated a significant amount of hype, and the bout still somehow managed to exceed expectations.
It was clear from the start that Pacquiao was active, in shape and ready to fight. It only took until the second round for the announcers to start gushing over Pac-Man's legendary straight left hand.
But it was Marquez who landed the first blow, knocking down Pacquiao in the third round with a hard right hand. Nevertheless, the Filipino fighter was able to get up and regain control of the fight.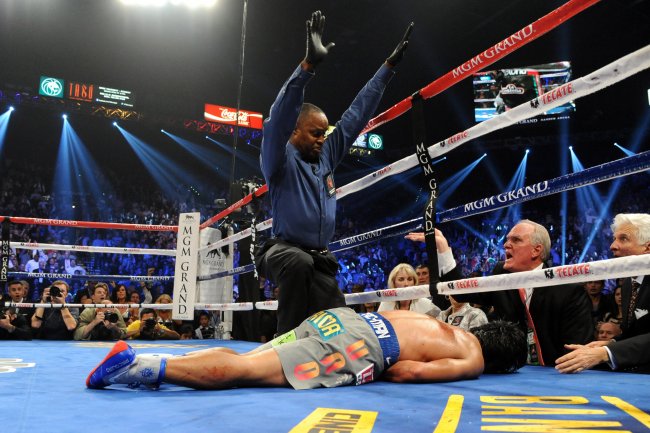 In the fifth round, he evened the score by catching Marquez with a straight left hand and knocking down the Mexican fighter.
With an advantage on the scorecard, Pacquiao just needed to avoid Marquez' lethal counter punches. But in the sixth round, Marquez found an opening when Pacquiao attacked and landed a vicious punch directly to Pac-Man's face.
The Filipino star dropped straight to the canvas, and the fight ended as a victory for Marquez via knockout. This is Marquez' first victory over Pacquiao and the first time any of their matchups ended early.
It was a shocking result and after an incredible bout, fans certainly wouldn't mind seeing a fifth fight.
Twitter Reaction
According to GMA News, Manny Pacquiao isn't retiring after sustaining a brutal knockout loss:

Pacquiao: (I will) take a rest. After a few months, back to training and back to fight. #PacMarquez

— GMA News (@gmanews) December 9, 2012
Pacquiao wasn't the only politician in the arena Saturday night. Mitt Romney was among the spectators, and he gave a brief bio to the Filipino fighter when the two met, as the Associated Press noted:
"Hello Manny. I ran for president. I lost," @mittromney reportedly says to @mannypacquiao before big fight: apne.ws/XE7tW0 -JM

— The Associated Press (@AP) December 9, 2012
ESPN's Dan Rafael noted that the Las Vegas crowd was heavily in favor of Marquez:
This is a Marquez house. Booing for Pacquiao. #boxing #PacMarquez

— Dan Rafael (@danrafaelespn) December 9, 2012
Marquez' monster right hand to knock down Pacquiao in the third shocked the crowd. Once again, Bleacher Report provided a pic, and Grantland's Bill Simmons gave the punch all the exclamation points it deserved:
Down goes Manny Pacquiao in the 3rd! twitter.com/BleacherReport…

— Bleacher Report (@BleacherReport) December 9, 2012
Whoa!!!!!!!!!!!!!!

— Bill Simmons (@BillSimmons) December 9, 2012
B/R kept rolling with the Twitpics and displayed just how much damage Pacquiao was inflicting:
Epic round 5! Marquez took some lethal blows to the face. #Pacquiao in control. twitter.com/BleacherReport…

— Bleacher Report (@BleacherReport) December 9, 2012
ESPN Stats & Info showed how truly rare it is for Pacquiao to lose via knockout:
The last time that Manny Pacquiao was knocked out in a fight, he was a flyweight fighting in his 28th pro fight (1999)

— ESPN Stats & Info (@ESPNStatsInfo) December 9, 2012
And back to B/R for the punch that ended an incredible night:
The huge shot by Juan Manuel Marquez that knocked out Manny Pacquiao twitter.com/BleacherReport…

— Bleacher Report (@BleacherReport) December 9, 2012
This article is
What is the duplicate article?
Why is this article offensive?
Where is this article plagiarized from?
Why is this article poorly edited?