Real Valladolid vs. Real Madrid: 6 Things We Learned from Royal Victory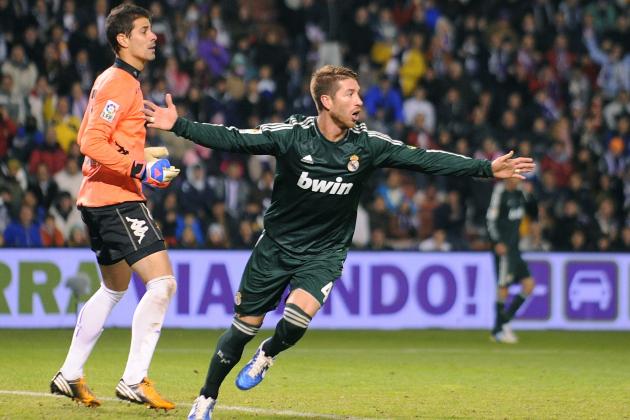 Denis Doyle/Getty Images

While it looked more than a little worrying for Los Merengues at times, Real Madrid managed to make their way out of a slippery situation when faced with the competition of Real Valladolid.
The Real clash put on its share of thrills, which included the away side managing to come back from a losing position twice before then going on to snatch victory at the death.
It may be nice for a title-challenging outfit to know that they can win ugly, as is vital for any league giant, but Jose Mourinho's men will certainly have lessons to learn from this close brush with defeat.
Mistakes are a common by-product of even the most successful teams; it's how they learn from those mistakes that impact their season the most.
Begin Slideshow

»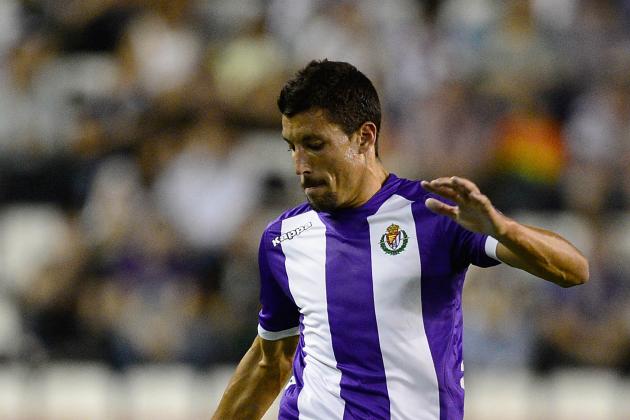 Gonzalo Arroyo Moreno/Getty Images

Having only come up from Liga Adelante in this year, it would be an understatement to say that Valladolid's surge through the La Liga ranks has been a surprise to say the least.
When instances such as this occur, it's easy to fall under the disposition that the run is simply a spout of good fortune and that equilibrium will come about, coinciding with a drop in the club's form.
Real Valladolid would undoubtedly fall under this category and with the gap between being a top-half team or a bottom-half team so marginal, a plummet could happen at any time.
That being said, Saturday's slight loss to one of the world's biggest sides was nothing to be ashamed of in a performance El Pucela took control of for long periods.
One particularly strong point for the losing outfit would evidently be set-pieces, given that they scored both of their goals directly from corners.
On the night, Manucho was the man who profited from this aspect of Valladolid's game, and considering the striker scored just four goals in the whole of last season, him scoring six so far in the current campaign makes for good omens.
Miroslav Dukic would appear to be a much-liked figure in Valladolid at the moment, and although they welcomed a heap of Real Madrid attacks, challenging Mourinho's men in the way they did is a massive boost for this minnow team.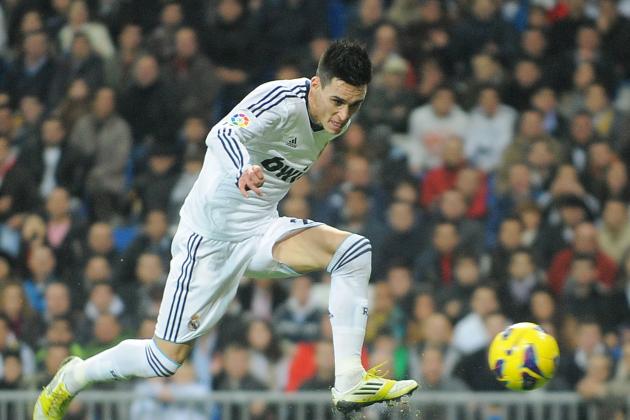 Denis Doyle/Getty Images

Considering that José Callejon was limited to just five La Liga starts last season, there's now reason to think that Jose Mourinho is beginning to value the Castilla product more this term.
Callejon has already started in four matches this campaign, nearly matching last season's total in a fraction of the time.
A man in the winger's position should latch onto any playing time they receive with both hands, and Saturday provided evidence that the wide man is doing just that this term.
With all the multi-million euro investments with the Real Madrid roster, it would be easy for Callejon to be looked at as an inferior candidate for a starting spot, although the display at the Estadio Nuevo José Zorrilla would tell you otherwise.
It was Callejon's speed and instinct that allowed the visitors to score their first equaliser before then playing a small part in his team's second.
When you then consider that the speedster got converted to a left-back at halftime—not doing a terrible job there, at that—his mentality would also appear to be in the right place to go along with his considerable talent.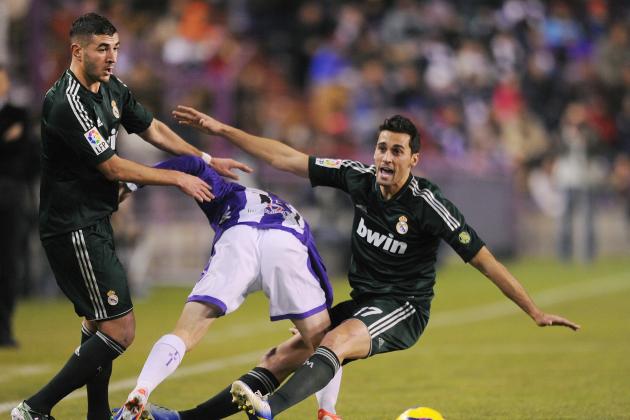 Denis Doyle/Getty Images

Although two goals against Real Madrid will never come as part of a terrible display, conceding three is the real lesson to learn for Dukic's side at this time.
It was once said, "Attack wins you games. Defence wins you championships." If this is considered to be true, Real Valladolid won't be winning any trophies for some time.
In fairness, one minor slip-up in defence and an unstoppable free-kick were two very significant factors in this loss.
However, El Pucela welcomed a barrage of attacking chances upon themselves and were lucky that Dani Hernandez kept the deficit down (more on that later).
While it may seem slightly obvious, knowing your weaknesses is actually a skill that many managers, players and teams as a collective fail to realise.
Although defence has actually been one of their stronger suits this season, Real Valladolid's defensive display wasn't their greatest against Real Madrid and would be the area looked upon as the one in greatest need of attention.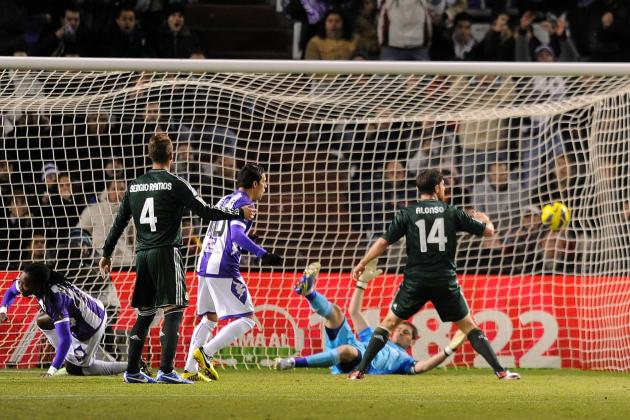 Denis Doyle/Getty Images

As part of a display between two sides very much focused on their attacking displays, Real Madrid weren't much better at the back than their Saturday opposition.
Given the vast amounts of money that has been spent on Jose Mourinho's squad in recent seasons, one would think that defensive acquisitions are as valued as any other part of the pitch.
As do a lot of sides with wealth at their disposal though, Real Madrid have beefed up their attack and midfield of late without putting the same level of concentration into the backline.
With Marcelo out with a broken foot and both Raul Albiol and Ricardo Carvalho seemingly out of the club's plans, Nacho was given a rare start at left-back against Real Valladolid.
While not terrible, the youngster made way at half-time and at the risk of rubbing salt in an open wound, José Callejon arguably did a better job in the position.
Alvaro Arbeloa's substitution signalled Xabi Alonso's shift to central defence, and the introduction of Rafael Varane late on shored up a strolling defence.
When you consider the strength in depth in regards to midfield and the attacking line at the Santiago Bernabeu, the shallow resources closer to goal are slightly worrying for a team hoping to fight for domestic and European honours.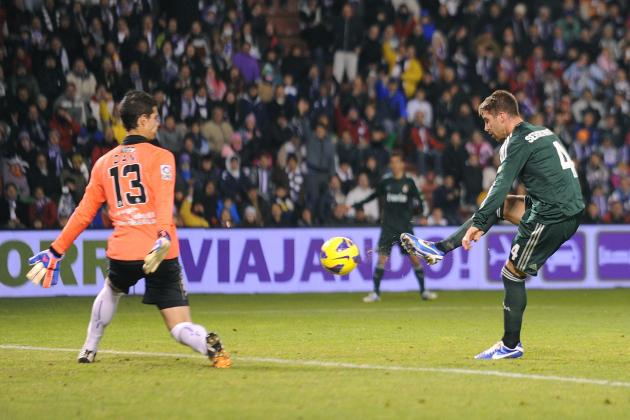 Denis Doyle/Getty Images

As probably the sole reason that Real Valladolid managed to keep their loss down to a margin of just one goal, Dani Hernandez will have raised the attention of many with a strong showing against one of the best attacking forces in world football.
Cristiano Ronaldo, Sergio Ramos, Karim Benzema and company all attempted to penetrate the Venezuelan's net on numerous occasions, but only the latter managed to do so, and just the once at that.
Cumulatively, Real Madrid had 20 shots at goal on Saturday, 13 of which were on target, meaning Hernandez pulled off a very respectable 10 saves.
For Real Madrid's first equaliser, a defensive error left Hernandez on the worse side of a two-on-one scenario, leaving the 'keeper with very little to even hope for in preventing the goal.
In regards to the winner, Mesut Özil's curled free-kick will probably be talked about for some time and was a glimpse of magic that very few stoppers would be able to keep from going in.
With numerous moments in which he could say he kept his team in the game, Hernandez is a candidate for Man of the Match, regardless of the fact he was on the losing side.
Now, that's saying something.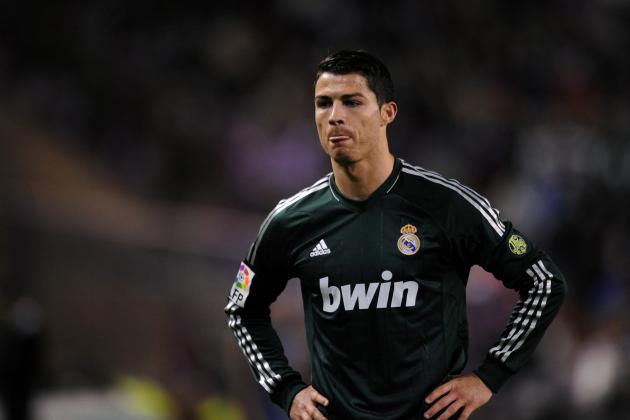 Denis Doyle/Getty Images

Probably the most obvious and evident part of the game that Real Madrid need to learn from is the manner in which they conceded their goals—set pieces.
Manucho found great fortune going up against the Merengues from dead-ball scenarios, scoring both his goals directly from two corners.
Height-wise, Mourinho's aren't the tallest of men, and some sides just happen to struggle with this aspect of the game, Manchester United being a prime example of a club currently doing so in England.
If there was any one lesson for Real Madrid to take note of following their 3-2 victory in Valladolid, this would be it.