NBA Scouting Report, Analysis and Predictions for Michigan's Trey Burke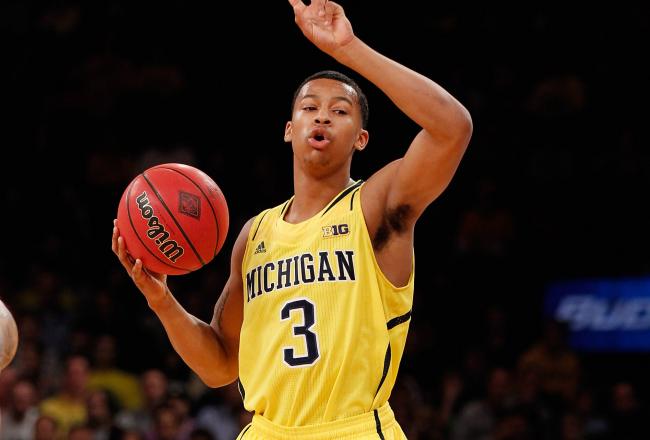 Mike Stobe/Getty Images
Trey Burke, Point Guard, 6'0'', 190 lbs—Sophomore
Trey Burke was on the verge of declaring for the NBA draft after his freshman season before deciding to return and attempt to inflate his stock.
It was a wise decision for Burke. With new talent around him, he's been able to focus more on facilitating and less on scoring, which is what his role will require him to do at the next level.
Through nine games, Burke is scoring 17 points and dishing out seven assists, both increases from his 14-point, four-assist averages as a freshman.
He's also raised his field goal percentage from 43 percent to 49 percent, suggesting that he's taking better shots.
Physical Outlook
Burke is a feisty little guard at just 6'0'', with excellent athleticism and lightning quick feet.
At the next level, his size will be a factor as a finisher at the rim, a shot-creator on the perimeter and an on-ball defender. If he were three inches taller, we'd be talking lottery with Burke.
He's visibly stronger than he was as a freshman, and he will need to continue building his upper body strength for play at the next level.
Dribble Creativity
What makes him an attractive NBA prospect is his ability to breakdown a defense off the dribble.
He's got an explosively quick first step and "turn-the-corner" speed with the ball in his hands. Take a look at how this speed beats the hedger on the pick-and-roll.
He's able to beat defenders to the spot before they can make their rotation. This creates scoring opportunities not only for himself but for teammates, too. Burke's ball-handling creativity is a nightmare for opposing defenses. He forces off-ball defenders to keep an eye on their man and the ball throughout an entire possession.
Here's an example of Burke breaking down a defense and choosing to drive and dish.
Burke's penetration forces Glenn Robinson's defender to help out down low, leaving him wide open from downtown. Burke has good enough vision and athleticism to see his teammate and execute the pass.
As a ball-handler, Burke stays low to the ground and can change directions on a dime. He's so tough to stay in front of because of his ability to stop, accelerate and stop again.
Here's his hesitation dribble move that gets him a few easy points every game.
Perimeter Game
While Burke's jumper isn't a weakness, it's not exactly a strength either.
He's a much better shooter when his feet are set and balanced. When Burke steps into his shot, chances are he's putting it through, but because of his lack of size and reach, he's not always able to get off a clean look.
The ability to knock down 20-footers off the dribble makes him a two-way pick-and-roll player and a valuable asset for the NBA. Perimeter ball screens are prevalent at the next level. We've seen that Burke can turn the corner and accelerate to the hoop, but he's also capable of pulling up and shooting off the dribble.
Burke will make defenders pay for going under screens. With both feet set he's got good balance and rhythm pulling up off the dribble, as seen here:
Ball-dominant guards generally don't see many catch-and-shoot opportunities, but he seems confident and fluid when spotting up.
Burke shot 34 percent from downtown as a freshman, and through nine games as a sophomore, he is shooting just around 36 percent.
His range is his biggest problem as a shooter, as it looks like he's chucking it up instead of taking a natural, effortless stroke.
Predictions
Burke has NBA speed and quickness with a point guard's mentality. He's only 6'0'', which limits his upside and appeal as a long-term starting point guard.
Where should Trey Burke go in the 2013 NBA Draft?
Chances are Burke will get drafted anywhere from the mid-first round to the early second round and start his career as a lightning rod off the bench.
The NBA has become a breakdown league, and that's exactly what Burke can bring. Teams with limited back-court depth, like the Lakers for instance, could be looking at a guy like Burke to bring some life to the point guard position.
This article is
What is the duplicate article?
Why is this article offensive?
Where is this article plagiarized from?
Why is this article poorly edited?