Notre Dame Football 102: Scoring in the Red Zone Against Alabama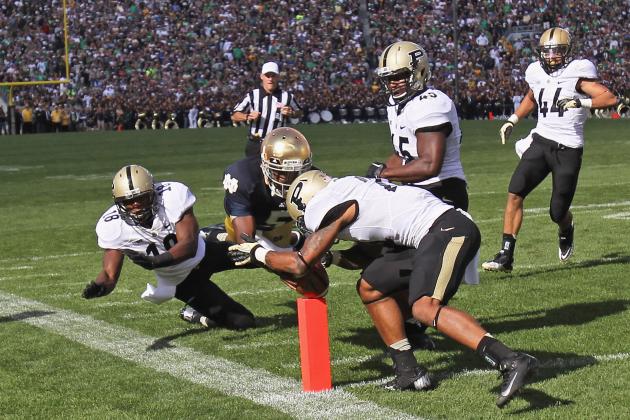 Jonathan Daniel/Getty Images
The red zone offense wins games, or loses them.
ND's 2012 Fighting Irish offense checked in with a solid 421 yards a game in 2012. Alabama's Crimson Tide was a slight bit better at 439 yards an outing. In similarly brutal fashion, the Tide stoned their competition, allowing a miserly 10.9 points a contest, while the Irish were even stingier, allowing a nation-best 10.3 per game.
The Fighting Irish went undefeated, playing no FCS teams, while beating conference champions Oklahoma and Stanford, as well as pounding the tans off of USC's gridiron track team.
Bama won the rugged SEC, rolling such perennial non-conference powers as Florida Atlantic, Western Carolina, and their sister school, Western Kentucky, but dropping a game to two-loss Texas A & M before edging one-loss Georgia in the title game. Yet, Las Vegas says ND is a 9 ½ point dog.
Why no love from Vinnie the Fix and the boys?
Six words: Red Zone, Red Zone, Red Zone.
While the 2012 Tide converted 41 TD's on 57 scoring opportunities inside the twenty, the Irish were anemic in close quarters with a pitiful 27 TD's on 58 attempts.
That means when it got time to man up, on roughly the same red zone opportunities, the Tide ran up an extra 57 points while ND yelled things like "Kicking team!" and "Damn!."
Give them a couple fifths of Bailey's in their coffee and my mom's Friday bingo team can convert more than 46% TD's when they are close enough to actually see the goal line. I'm fairly sure her Sunday night bingo team could too if any of them could actually see, or still knew what a goal line was, but I digress.
We can all see the problem. The Irish need to solve it.
Begin Slideshow

»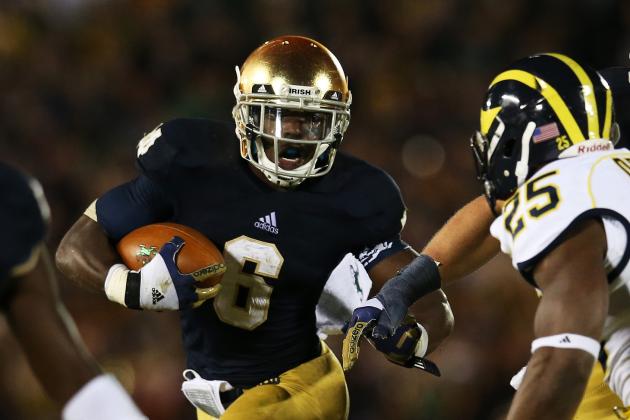 Jonathan Daniel/Getty Images
Notre Dame can catch it and hoof it as needed.
Bama is great at making you pay in the red zone, and one reason why is their offensive balance. They can hit you a number of ways: They roll you for 5.6 yards a carry, or they drop the ball over the top for 219 yards a game.
The Irish do the same thing, hitting for five yards a carry and throwing for the identical 218 yards a game. These numbers show that both offenses are not one-dimensional—a trait which kills many red zone offenses.
Without balance, that intemperate, defensive crowd has to think about fewer assignments and less space to cover and will therefore be exponentially more aggressive within that space.
Think fighting 22-year-old Mike Tyson inside a phone booth versus a Walmart.
Both the Irish and Alabama attack the end zone by land and by air (possibly by sea if it rains like the Stanford game), and both have sound personnel to do it. A myopic tendency toward one or the other isn't the difference between ND's and Bama's contrasting red-zone success.
It's something else.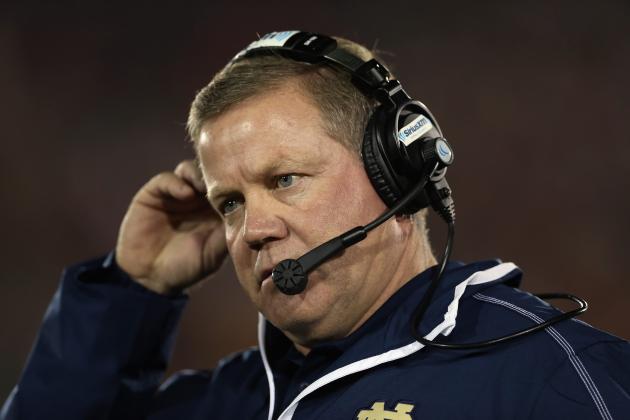 Jeff Gross/Getty Images
Coaching has done okay when the situation is taken into account.
Brian Kelly's '10 Notre Dame team hit pay dirt in only 26 of 46 trips inside the 20, while last year's Irish offense converted a mediocre 32 of its 48 red-zone forays into touchdowns.
This year's Irish have a miniscule 26 TD's in 58 red-zone appearances. My drunk Uncle Frank gets tanked at the 20 and falls into the end zone by accident at least that often.
So does that mean that Kelly doesn't know how to score from inside the 20? Or that he should get drunk more often?
Trust me, Kelly ain't fat, drunk or stupid. Okay, maybe he's big boned, but he knows how to run a red zone offense when he needs to.
Kelly's 2009 Cincinnati Bearcats scored a whopping 42 touchdowns and nine field goals in 58 red-zone trips in 2009: That's 88 percent scores and 72.5 percent TD's. Brian Kelly clearly knows how to get a team into the end zone from inside the 20, but knowledge without action doesn't count for much on a football field.
The 2012 Irish played lots of close games, and with the best defense in the nation, Kelly played them close to the vest, many inside his left pocket. The same man that rolled the stupid dice then told us after the Tulsa game in '10, "Get used to it," has become a veritable right-wing conservative in the shadow of a goal post.
That goes double when Kelly faces teams with the best D's. ND played five teams with top-21 scoring defenses–MSU, UM, Stanford, BYU and Pitt. The Irish averaged 19.8 points on offense and was a miserable 8-23 (35 percent) on TD's in the red zone in those games.
The Irish did pick up eight red-zone field goals, which coincidently provided the winning score in three of those contests.
Point is, while Kelly has shown the historical ability to get production in the red zone, generally this year's Irish staff took few risks and more or less took the easy points before deferring to the defense to make it hold up, which it did.
With a 12-0 record and the nation's top-scoring defense, it's hard to question that approach even if the final red-zone stats suck the big wazoo.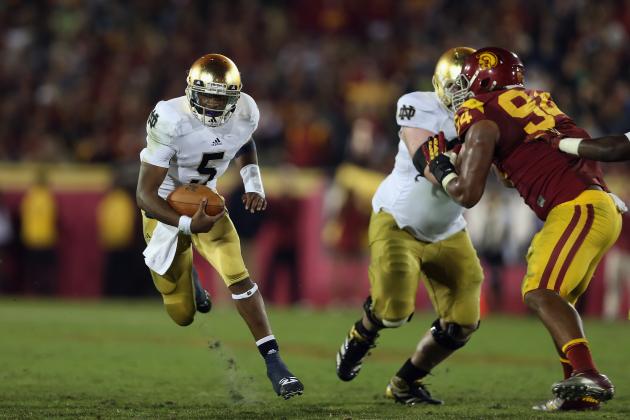 Jeff Gross/Getty Images
Talent? Yes. Experience? No.
When it comes to the red zone, Alabama has the biggest, meanest sons-a-y'knows up front and they will steamroll you if you don't bring eight in the box. Senior QB A. J. McCarron doesn't have to be the next Peyton Manning to find which of the four receivers are open on the off-chance he doesn't hand it to one of his 1,000 yard backs.
Ultimately, a great line, great backs and a seasoned QB translates to the Tide scoring 90 percent of the time within the 20's, with TD's more than three out of four times.
Frankly, I think I and the half of a rotator cuff I have left could quarterback Bama to 95% red-zone efficiency.
While ND's O-line held up for 22 rushing touchdowns, they weren't steamrolling the better defenses, meaning it was critical for their quarterback play to be exceptional to score in the red zone, both running and passing.
Of the Irish's eight red-zone touchdowns against the five top-21 defenses, four were passes, three were quarterback runs, and only one was a rushing TD by a running back. Against the better defenses, the red-zone offense required great play by the Irish QB to take home seven.
That didn't always happen.
When Rees was in the game, ND was at a big disadvantage in the red zone— As we all know, Tommy is a dual-threat quarterback. One threat is he has a decently accurate arm, the other is he runs so slowly that the NBC contract will expire before he crosses the line of scrimmage.
The glue-footed Rees is relegated to the pocket regardless of defensive scheme or blitz package, so he is forced to find a one-on-one matchup immediately after the snap as his only option.If that doesn't happen it's take a sack or toss one to the chain gang and start over.
Everett Golson has a different issue: His coach has properly conditioned him to not take chances, and he rarely does. To complicate the issue, he doesn't have the necessary experience needed to read tight D's and to relay that message to his team efficiently.
Golson can often extend the play with his feet and has the gun and accuracy needed to be an effective end-zone weapon. However, he doesn't have the experience to know what the D is giving, to set the play up or to take that shot before the window closes.
It's fairly easy to see why Golson spends a lot of red-zone plays waiting, breaking out of the pocket, then running to the sideline and unloading at the ushers when nothing opens up.
For the Irish, recognizing what the defense is doing and making the right choice before the opportunity closes is key. Knowing when to tuck and head for the pylon when all else fails will also be a decision that, when made earlier, will make EG a solid red-zone QB.
A month of practice should make a mountain of difference to Mt. Everett.
Jared Wickerham/Getty Images
Sucks to be a safety.
Alabama has the best run defense in the country. So while you don't expect to push them into the end zone from inside the 20, you do need to take a few shots on the ground to try to hit one and at least keep the pass rush down to a bone-crushing stampede.
Just don't try to outrun them to the corner unless they've agreed to give you a decent head start or your back will be joining the band without a music degree. Run at them and you might find a seam before the collision. Although most times you'll just find the collision.
As with most teams, Bama can't always account for the QB in their run defense. So designed QB draws and scrambles, after the pocket breaks down, aren't a bad way to go in a pinch.
As for the pass, red zone D's have no backside to protect, so blitzes come from all over. There's always a crowd in the secondary, and press coverage doesn't have a deep ball to make them back off. Screens, deep posts and slow-developing crossing routes are non-starters unless you have completed your bucket list and a quick but painful death is a welcome friend.
With less room to operate, timing throws with touch for fades, bullets at hook routes, and slants into tight windows become the flavor of the day. Escaping for the second needed to throw or having the speed to run to the pylon can be the difference between six points and three or a crushing turnover.
Golson has a month to look at film, practice his reads, and get quicker at his decisions. Here's what he needs to look for, practice and exploit: Is anybody trying to be the hero or looking to jump a route under Saban's orders? This distorts the coverage and could open up seams for receivers in the end zone.
How tight is the coverage? If defenders start creeping up to the line of scrimmage, coach the receiver to run past them to a pre-determined spot with a quick double move and let the ball go before the DB recovers.
At what spot in the field does Bama move to a goal line look? If you can run a quick hitter before they line up their truck-sized wall of meat, it might be worth a shot when they are still expecting a pass.
On coach Kelly's part, he can't let the defense relax. Not for one damn second. He needs to attack in the pregame and during TV timeouts. Calling a deep post during the half-time entertainment makes good sense.
Kelly has to have somebody attacking the end zone at all times so that the Tide has to defend that part of the field. Stretch Bama out and there may be running and passing lanes to exploit.
Kelly also has to keep something from his red zone football playbook in his back pocket–a look the defense hasn't seen before and isn't likely to anticipate. Saban will dissect his offense and know his formations and tendencies better than Kelly will.
I have it on good authority that Saban's spies have already interrogated Kelly's housepets for any inside info: The man is a jerk, but he's thorough.
Kelly knows what to do to have a surprise in the bag. Tommy Rees had a QB draw for two yards and the game's only TD vs. Michigan. Nostradamus didn't predict that one.
Kelly will give a different look, and it may be extremely different. Don't be shocked to see Hendrix in a wildcat formation in flippers playing a tuba.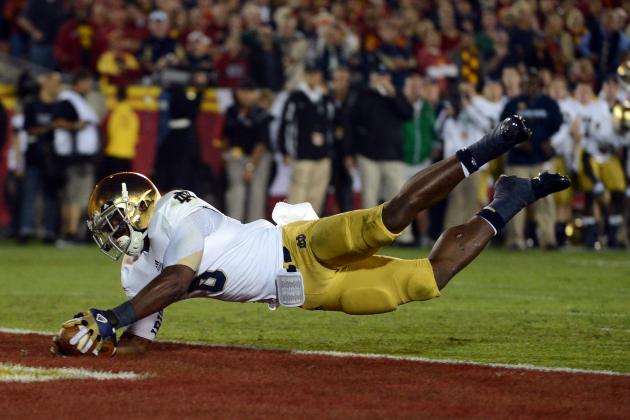 Harry How/Getty Images
You think, you fight, you score.
The red zone is a torrential wasteland of contact and collisions. It is a haven for unmitigated violence and high-speed confusion. There is little room to breathe, much less run. For every trick that works, there is an endless trail of bodies of those whose tricks didn't.
It is a place for men.
The Irish have men. For very short yardage, Theo Riddick can find the seam with a little push from the Oline, and he will sacrifice a rib or two to do it. Despite what doctors say, Riddick must run to the light, and hit it hard when he gets there.
The Irish's more obvious red-zone weapon is 6'6" Tyler Eifert, and a lob to the end zone on the shorter corners. Bama will punish him for trying, and he'll have to fight off two DB's and have a perfect throw to make it work.
While most point to jump balls as the chief mode of transport in close, it's much safer to throw low and quick—inside or outside the hashes—which is most difficult for any defense to stop.
Bama is no different.
Having Eifert use his huge body to shield the defender from a well-thrown short ball while sitting at the goal line is a nightmare for a corner. Slashing players such as Theo Riddick, Roby Toma or Junior T.J. Jones have the discipline to operate inside short zones and get the timing down to catch hard balls in that tight window, and to hold on when their bodies are slammed shut in it.
Golson has plenty of accuracy and arm to throw a rope at a shoulder or into a seam, but he needs to see the seam and have confidence in his rope throwing. Practice will help. That's why God created the weeks before bowl games.
In general, Notre Dame has plenty of red-zone talent, with plenty of physically tough football players. More than anything though, mental toughness is necessary in closing the deal in the red zone.
Being big and fast with good hands isn't enough. A warrior mindset is required. Focus, discipline, the innate understanding of a game's situation and the complete disregard for one's body are bigger tools when there's no room to run and no place to hide.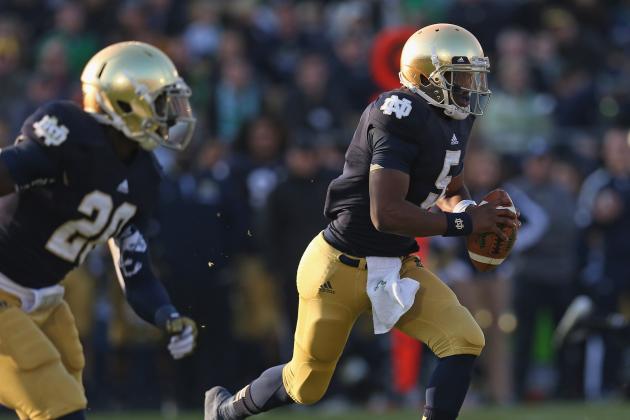 Jonathan Daniel/Getty Images
QB play will determine how the red zone plays out for ND.
The Irish under Brian Kelly have never dominated the red zone offensively, but they have the knowledge, physicality, and talent to do it.
More than brains and brawn, this year's Irish seem to have a mental toughness to fight for every yard and defend every inch, without the mental mistakes and lack of discipline we saw throughout most of last year.
To score on Bama in tight spaces, they will need more of it.
When it comes down to it, it's my guess that it's that mental toughness that will determine whether the Irish win a ninth national championship on January 7th.
We shall see.