How to Fix Biggest Holes in the New Orleans Hornets' Rotation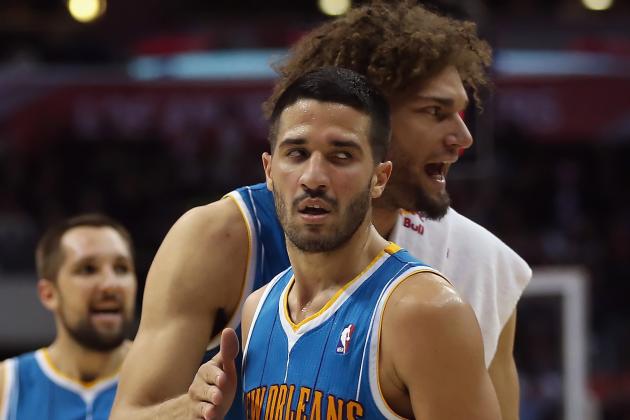 Jeff Gross/Getty Images

The New Orleans Hornets still need to work out some kinks in their rotation before they can start the long journey back to respectability. After their most recent loss, a 96-89 heart-breaker to Memphis, New Orleans falls to a paltry 5-13 on the season with a showdown with the defending champion Miami Heat on deck.
The Hornets are going to continue to struggle as long as they are playing without their two best players. No. 1 overall pick Anthony Davis is coming along in his recovery from an ankle injury, but it might be a few more games before the talented big man returns to the lineup. He did participate in the walk-through with the starters prior to the Grizzlies game, according to Hornets courtside reporter Jennifer Hale.
#Hornetshttps://twitter.com/search/%23Hornets">#Hornets> Anthony Davis running up & down court w/trainer today! Still no contact drills, but did participate in walk through w/starters. — Jennifer Hale (@JenHale504) https://twitter.com/JenHale504/status/277093396512911360" data-datetime="2012-12-07T16:53:08+00:00">December 7, 2012
Shooting guard Eric Gordon hasn't played a second for New Orleans yet this season. He's still battling with the same troublesome knee that kept him out most of last season. The initial timetable on Gordon's return was four-to-six weeks, as of early November, which would project his return to be right around the end of December. Still, there's definitive date as to when the former Clipper will be suiting up.
The absence of those two key guys has been a huge blow to the Hornets, particularly offensively. Gordon is the team's best offensive weapon and Davis was the team's leading scorer prior to getting injured. The team doesn't have enough quality depth to be able to play admirably with Gordon and Davis sidelined.
Those aren't the team's only issues. The small forward position is a mess. Head coach Monty Williams announced shortly before the game against Memphis that Xavier Henry would be getting a surprise start at the 3. Incumbent Al-Farouq Aminu registered his first DNP of the season, while rookie Darius Miller is still coming along slowly.
Any playoff aspirations for this Hornets team seem like a distant memory now. Assuming they won't be at full strength until at least the start of the new year, it might be time to do some more tinkering with the rotation and see what works going forward.
Here are five things New Orleans must do to fix the biggest holes in their rotation.
Begin Slideshow

»
Chris Humphreys-USA TODAY Sports

Head coach Monty Williams' decision to start Xavier Henry at small forward and bench Al-Farouq Aminu prior to the Grizzlies game was a head-scratcher. After all, Henry has been terrible so far this season, averaging a little over four points per game in 14.1 minutes.
Henry didn't do much to change the people's minds in his first start of the season. Granted, he scored a season-high 12 points in 21 minutes, but that isn't the kind of production that warrants keeping him in the starting lineup.
Williams told Jim Eichenhofer that Henry's potential to improve the team's weakside defense was one of the main factors in giving the ex-Jayhawk the starting nod. That's a bit odd considering Aminu is one of the team's better defenders. Regardless, Henry couldn't stop Rudy Gay from dropping a game-high 28 points.
One specific Monty gave for Henry as starting SF was his potential to improve weakside defense. Monty: "That's one thing we've lacked."
— Jim Eichenhofer (@Jim_Eichenhofer)https://twitter.com/Jim_Eichenhofer/status/277198129969917952" data-datetime="2012-12-07T23:49:18+00:00">December 7, 2012

Aminu isn't a world-beater by any stretch of the imagination, but he has the talent and athletic ability to have an impact on both ends of the court. He's the team leader in steals and he can make an impact on offense when he's aggressive attacking the basket.
With Aminu, Henry and rookie Darius Miller, there's a logjam at small forward. Things will only get tougher once Anthony Davis returns because the team will need to find a way to play him and Ryan Anderson together.
One of the best ways to solve this problem would be to move Henry in exchange for either a draft pick or another big man to add depth to a front-court depleted by injuries. Henry is in the final year of a deal that will pay him $2.3 million this season. A couple of cheap big men include Boston's Chris Wilcox, Denver's Anthony Randolph and Cleveland Omri Casspi.
Williams won't be able to solve his problem at small forward by continuing to play musical chairs with the starting lineup. If benching Aminu was a motivational tool, then it's only right he re-inserts him back in the lineup to see if the experiment worked and then moving Henry to open up playing time for others.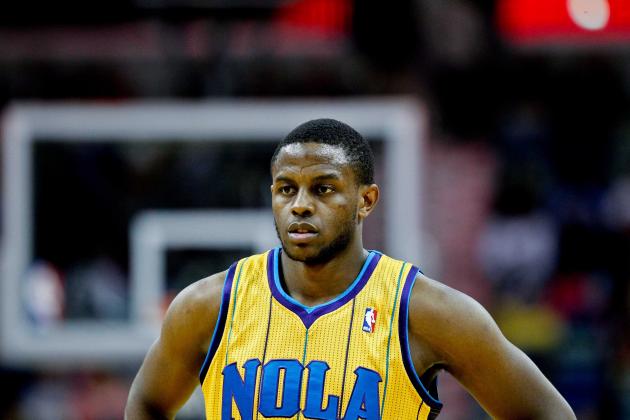 Derick E. Hingle-USA TODAY Sports

This goes along with the previous suggestion of trading Xavier Henry. With Henry out of the equation, that opens up more playing time for second-round pick Darius Miller. With the team's playoff chances pretty much shot, it's time to start taking a long look at the younger players on this team.
Henry and Al-Farouq Aminu are free agents after this season. One of the two could play well enough down the stretch to get re-signed, but there's always the possibility that both men walk this summer. That would leave Miller (assuming the team picks up his option) as the only true small forward on the roster, barring any new arrivals.
Miller played well in the preseason, especially when it came to shooting from behind the arc. The former Kentucky Wildcat shot nearly 67 percent from the three-point line, nailing eight of his 12 attempts. That success hasn't transitioned to the regular season so far, where Miller is shooting just 38 percent from three.
With more consistent playing time, Miller could develop a rhythm and find his comfort zone. His numbers are virtually identical to Henry's and the team could benefit long-term by seeing what they have in Miller sooner rather than later.
Miller could run with the second unit as the team grooms him to potentially take over the starting small forward job, much like they did with Aminu last season. Aminu took the starting job from Trevor Ariza late last season and has played, at times, like a guy the team can build around.
Henry has been a disappointment since the team acquired him last season. There's a chance that he can turn it around with more playing time, but the smarter move would be to give his playing time to a guy more likely to be on the team next season.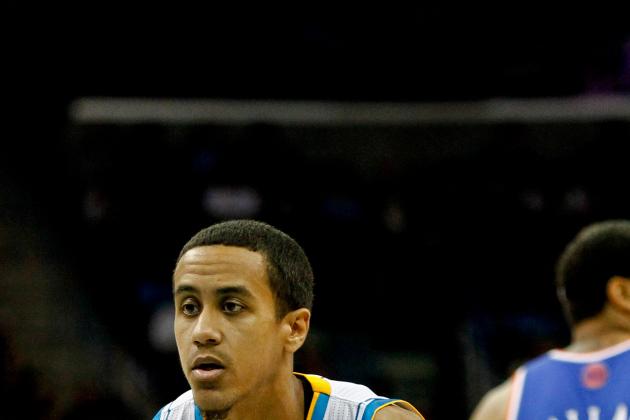 Derick E. Hingle-USA TODAY Sports

Besides small forward, the Hornets' biggest hole is at backup point guard. The team drafted Austin Rivers out of Duke and signed Roger Mason Jr. over the summer with the idea that both men could see some action behind starter Grievis Vasquez.
The problem is that both men are better suited to be shooting guards. Undrafted rookie Brian Roberts, however, played his way onto the team after an impressive showing in the Summer League and in the preseason. After averaging 10.4 points and four assists a game during the exhibition season, it seemed only right that Roberts get the nod to spell Vasquez.
Instead, Vasquez has logged most of the minutes at point guard while Roberts has feasted on the scraps. Roberts plays an average of 15.9 minutes a game, but his playing time is too inconsistent to call him Vasquez's true backup.
Prior to logging 26 minutes against Memphis in the team's most recent game, Roberts played just 11 minutes in the game before that against the Lakers. Part of that could be attributed to Vasquez's breakout season, but there are a couple reasons why it would be wise to bump up Roberts' minutes.
First, Vasquez has never averaged more than 25 minutes per game for an entire season. This season, he's averaging nearly 33 minutes a game. At just 25 years old, it seems likely that Vasquez can handle the uptick in playing time, but it would be wise to conserve him so he doesn't burn out down the stretch.
Perhaps the most important reason for the team to take a longer look at Roberts is.....the kid can play! Roberts tied for the lead among all Hornets in the loss to the Grizzlies. He's averaging just under eight points per game while playing just under 16 minutes. He's shooting 40 percent from the three-point line and 46 percent from the field.
Roberts isn't the facilitator that Vasquez is, but he offers a scoring punch off the bench. On a team as offensively challenged as New Orleans, that's a nice asset to have. The Hornets aren't playing for much beyond a better draft spot unless the team gets significantly better once they are at full strength. It makes sense to reward one of training camp's nicest surprises by giving him the chance to prove he isn't a fluke.
It's not like the team has any better alternatives.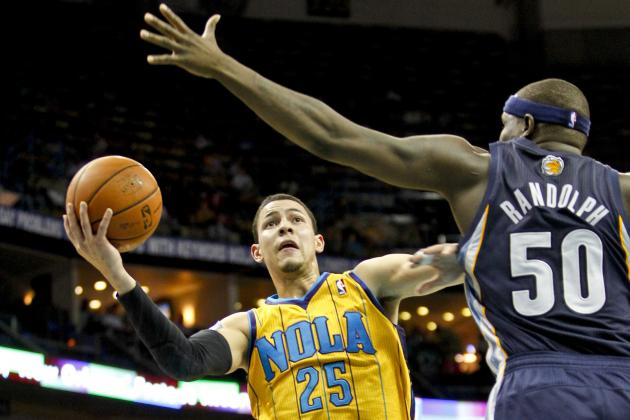 USA TODAY Sportss

Austin Rivers hasn't been the dynamic scorer in the pros that he was in college, but it's safe to say he's a better player than Roger Mason Jr. Still, head coach Monty Williams has opted for the veteran to start at shooting guard for the past eight games after Rivers started the first nine.
In fairness, Rivers played his way out of the starting lineup. However, Mason hasn't done much to keep the former Duke standout on the bench either. Mason has scored in double-digits once since taking over the starting job. Meanwhile, Rivers had a huge bounce-back performance against Memphis, scoring 15 points on 7-of-13 shooting.
The overall theme you'll find in this piece is that the Hornets seem to be headed nowhere and their best strategy going forward would be getting the young guys some much-needed experience. Neither Rivers or Mason will have to worry about starting once Eric Gordon comes back, but Rivers deserves the nod seeing as he figures greater into the team's future plans.
Roger Mason is a decent journeyman shooting guard and his ability to stroke the deep ball is a huge asset on a team that has the potential to shoot the lights out on any given night. That being said, he'll be an afterthought when the season's over.
Rivers is the future and the fact that he wasn't sent to the D-League despite his poor play is a strong sign to the team's commitment to letting him work through his struggles.
"In most situations, with a young guy struggling the way he has, he would sit down or go to the D-League," Williams said after the Grizzlies game. "(But) we made a commitment to developing his game and making sure he matures. The only way he's going to mature is going through some of that tough stuff.".
Rivers proved to be a nice spark off the bench against Memphis, but he has all the time in the world to be the Hornets' sixth man once Gordon comes back. Mason hasn't proved himself worthy to keep the starting shooting guard job. It's time to go back to Rivers and see if he can keep this momentum going.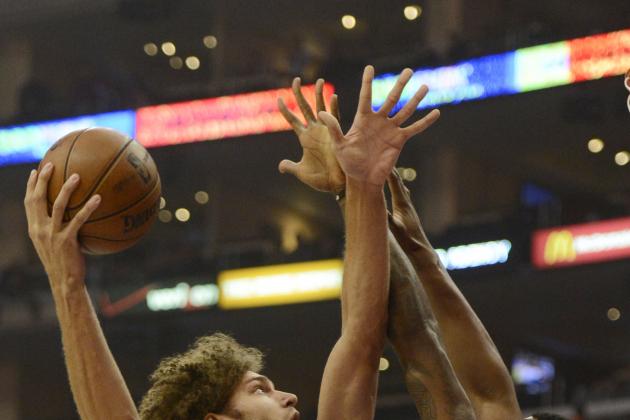 Richard Mackson-USA TODAY Sports

Without Anthony Davis, the Hornets don't have many offensive options in the post. Offseason acquisition Ryan Anderson has done an excellent job of providing points in the paint and behind the arc, but the team needs more than just him until "The Unibrow" comes back.
Robin Lopez is having a career year offensively, averaging 11.4 points per game. He's also only taking an average of just under nine shots a night. With Lopez becoming more than just a solid defender who can work the glass, the team should consider running more plays on offense for the former Suns big man.
Lopez is converting 53 percent of his shots and he seems to have found a comfort zone in utilizing the baby hook as his go-to move. He isn't the second coming of Tim Duncan, but he's a healthy big man who can score. That's a pretty important asset given the Hornets' luck with injuries so far this season.
With Davis out, the team should bump up Lopez's touches to about 12-14 a game. By becoming a more reliable option in the paint, Lopez will command more attention and that will open up the mid-range and three-point shots for Anderson.
Lopez has been one of the team's big surprises. After being stuck behind Marcin Gortat in Phoenix, Lopez has taken advantage of his new opportunity with the Hornets. New Orleans needs Lopez's inside scoring, so it's only right that they feed the big man the ball down low more to take advantage of his new-found confidence.