Chicago Bears vs. Minnesota Vikings: Final Game Grades and Player Analysis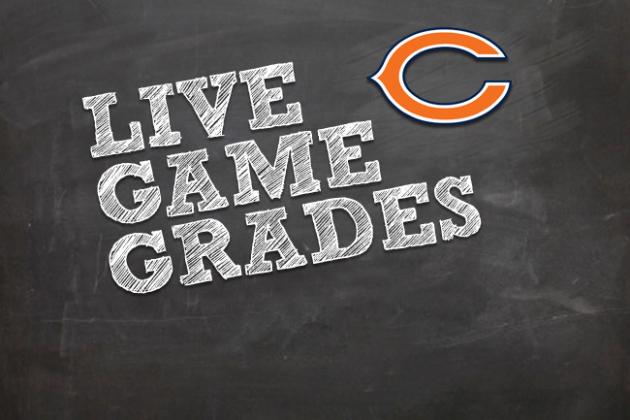 For the second week in a row the Chicago Bears dropped a game to a team that was more physical than them on both sides of the football.
From the star of this game, the Vikings came out as the more inspired football team. Early on it was a heavy dose of Adrian Peterson who had over 100 yards on the ground and two touchdowns by the end of the first quarter.
The Vikings sacked Jay Cutler only twice but they knocked the quarterback around quite a bit. Cutler was removed from the game in the fourth quarter after taking a multitude of big hits. He finished the game with 260 passing yards, one touchdown and two interceptions on 44 pass attempts.
Both of Cutler's interceptions led to touchdowns by the Vikings. The first set up a touchdown by Adrian Peterson and the second was returned for a touchdown by safety Harrison Smith.
The lone bright spot for the Bears' offense continued to be Brandon Marshall. He is the first Bear to go over 100 receptions since Marty Booker. Marshall finished with 10 catches for 160 yards and a touchdown.
The Bears now fall to 8-5 and in danger of falling out of the playoff picture. They will come home to face the Green Bay Packers next Sunday.
Begin Slideshow

»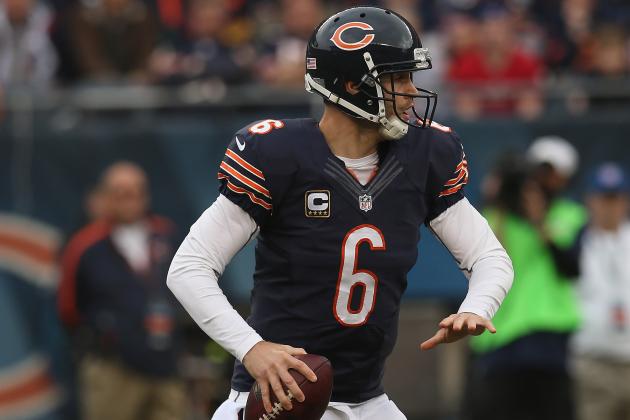 Jonathan Daniel/Getty Images
Jay Cutler
Jay Cutler: C-
Yes Cutler wasn't helped by the drops but he never got into any rhythm all game. He missed some throws often high and struggled to pick up the rush including the big hit he took in the fourth quarter. His two turnovers were the difference in the game as the Vikings scored two touchdowns off of them.
Jason Campbell: A
Campbell came into the game late in relief for Cutler. All he did was go six for nine for 64 yards and a touchdown pass.
Jonathan Daniel/Getty Images
Matt Forte
Matt Forte: C
There just is no burst coming from Forte. He is not making anybody miss nor is he running by anybody. He looks slow through the hole and looks like a guy who is worn out physically and mentally. He finished with 85 yards on 13 carries but 36 of those yards came on one run.
Michael Bush: C
Only one carry for Bush for six yards. Is he in the coaches' dog house? He should have a bigger role in this offense.
Armando Allen: C
Allen had one carry for three yards. Most importantly, what was Allen doing on the field for third and one when Cutler threw the pick six?
Evan Rodriguez: C-
There were a couple of nice blocks for Rodriguez early but other than that he was mostly forgettable.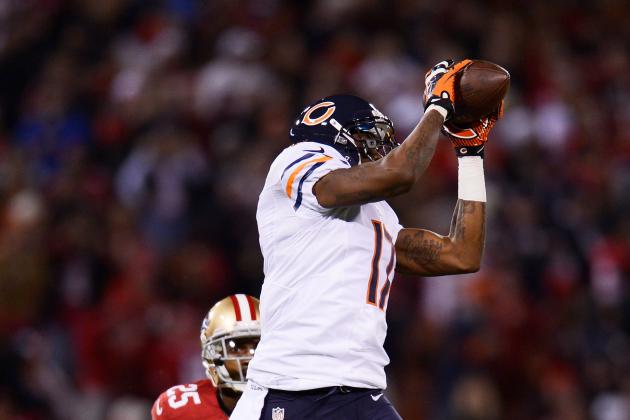 Thearon W. Henderson/Getty Images
Alshon Jeffery
Brandon Marshall: A
Another week, another awesome game for Marshall. He now has over 100 receptions on the season and continues to be the only consistent guy on offense.
Alshon Jeffery: C-
Yes Jeffery had a touchdown but the rookie also slipped on Cutler's first interception, was allowing corners to push him around and he dropped a touchdown late in the game. It's his first game back from injury but he still should have had a better game.
Devin Hester: D
Hester continues to prove every week he does not need to be on the field as a wide receiver. He dropped a touchdown in the fourth quarter and was ineffective throughout the game.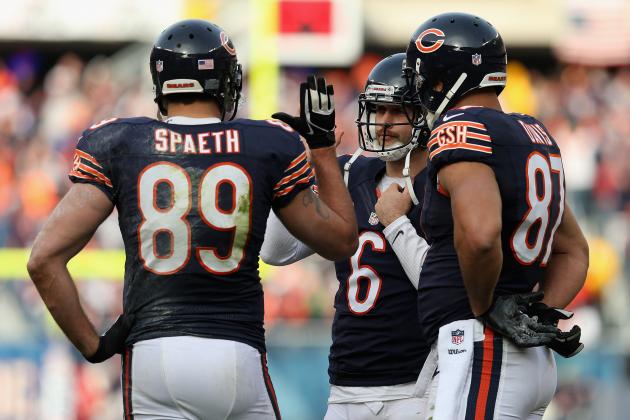 Jonathan Daniel/Getty Images
Matt Spaeth, Jay Cutler & Kellen Davis
Kellen Davis: F
Such a big target who is having such a bad season. More drops for Davis and continues to be a bust of a player all year.
Kyle Adams: C-
One catch for Adams on three targets who has to have the awareness to know he can't be the first player to touch the football after going out of bounds. He needs to stay in bounds if he's going to work the sidelines.
Matt Spaeth: C
Used as a blocker all day, Spaeth's name was called once for a penalty on special teams.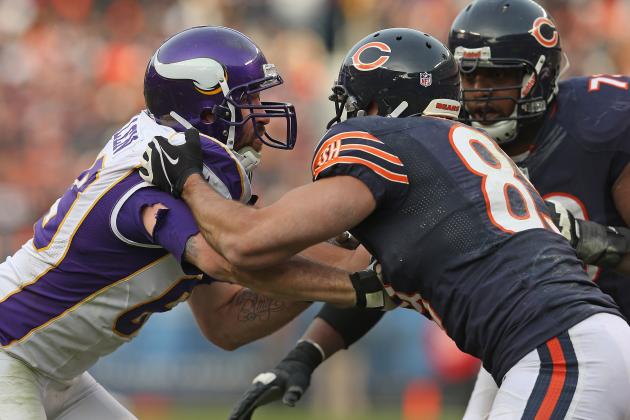 Jonathan Daniel/Getty Images

J'Marcus Webb: D-
Penalties and poor blocking all day for Webb Nation.
James Brown: D
Didn't do much to help the running game.
Roberto Garza: D
When was the last time you saw Garza get to the second level of a defense when it comes to run blocking?
Edwin Williams: D
Struggled badly early on and was in and out of the lineup all game due to a coach's decision.
John Scott: D
Was dusted all game. Had a key fumble recovery, after allowing his man to get a sack/fumble on Cutler.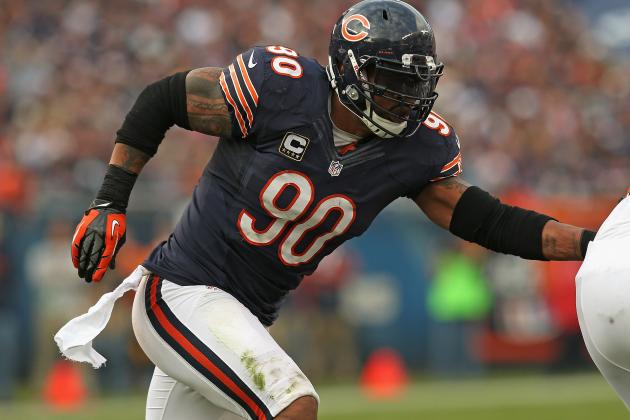 Jonathan Daniel/Getty Images
Julius Peppers
Julius Peppers: C
There were times when Peppers had good pursuit of Ponder but he still had no sacks and has yet to make his mark in a game in quite some time now.
Henry Melton: C-
Melton was shaken up early. He did come back but never really got involved in the game.
Nate Collins: D
Collins started for the inactive Stephen Paea and did nothing to slow down Adrian Peterson.
Israel Idonije: C
Idonije was force to move around the line due to injuries. It's tough for a lineman to get into a groove when he is moved out of position.
Shea McClellin: C
The rookie was out early due to an injury.
Corey Wootton: B
Wooton continues to be the team's most effective pass rusher. He had a sack and almost caused a turnover by Ponder.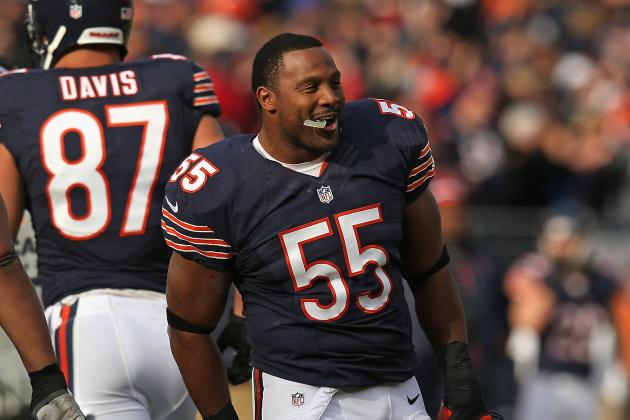 Jonathan Daniel/Getty Images
Lance Briggs
Lance Briggs: B
Early on Briggs was a part of a group that missed tackles on Adrian Peterson. As the game went along he became more dominant and had his nose in on almost every play.
Nick Roach: B
Roach did well locking down the middle of the field. The tight end was a non factor for the Vikings and Peterson's big runs were not on him.
Geno Hayes: C-
Here's where the Bears missed Urlacher the most. By Roach forcing to move inside, you miss out on a guy on the outside who funnels those running plays back in. Hayes just can't do it like Roach does.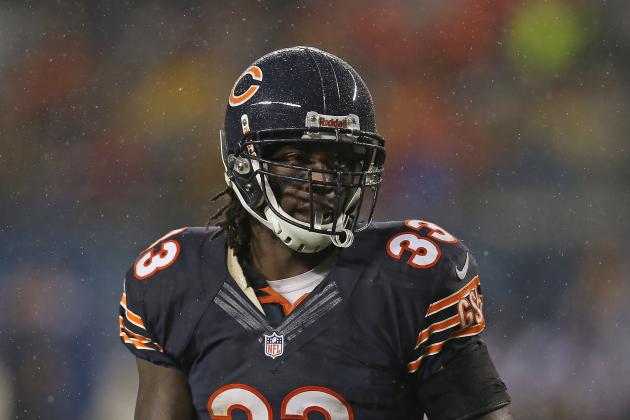 Jonathan Daniel/Getty Images
Charles Tillman
Charles Tillman: B-
Tillman did well in pass coverage. He was especially effective down the field eliminating any deep play threat.
Kelvin Hayden: C
Hayden just doesn't have the on the ball skills like Tim Jennings. He also can't tackle like Jennings which was on display early on when Peterson was running wild.
Major Wright: C
Easy interception for Wright in the second quarter. He took some bad angles when trying to tackle Peterson early on.
Chris Conte: C-
Conte did not play his usual disciplined football. Like Wright, he was burned by bad angles on Peterson early and had a bad penalty in the second half.
Craig Steltz: C
Steltz came in briefly in the first half after Conte suffered an injury. Steltz then left with an injury of his own.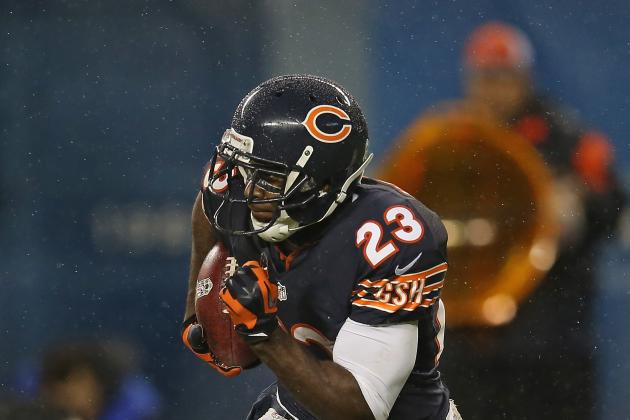 Jonathan Daniel/Getty Images
Devin Hester
Devin Hester: C-
At this point teams are kicking to Hester and have no fear. He's not doing anything to make them think otherwise.
Eric Weems: F
Four kickoff returns and you don't even average the 20-yard line. Not good at all.
Adam Podlesh: B
Podlesh did a nice job pinning the Vikings deep especially in those in between spots because the team could not attempt long field goals.
Robbie Gould: C
Pretty much a non factor due to his calf injury he suffered in pregame warm ups. Gould remains shut out when it comes to onside attempts for his career.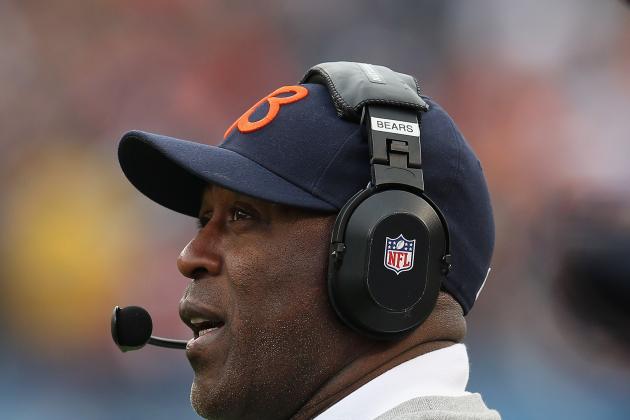 Jonathan Daniel/Getty Images
Lovie Smith
Lovie Smith: F
It's been a theme all season for this Bears team to start slow. Another slow start has cost them a game and has them in danger of missing the playoffs.
Mike Tice: F
Only one run for Michael Bush, 13 carries for Forte and Cutler is allowed to throw the ball 44 times. The Bears abandoned their offense way too early and became one dimensional. It really cam back to bite them in the fourth quarter.
Rod Marinelli: C+
Marinelli gets a save for the way his defense rebounded after a very rough first quarter. The last two touchdowns by Minnesota were not on his unit. Peterson could have ran for over 200 yards after his first quarter effort but was slowed after his hot start.