Pacquiao vs. Marquez 4: 5 Reasons to Watch Massive Rivalry Matchup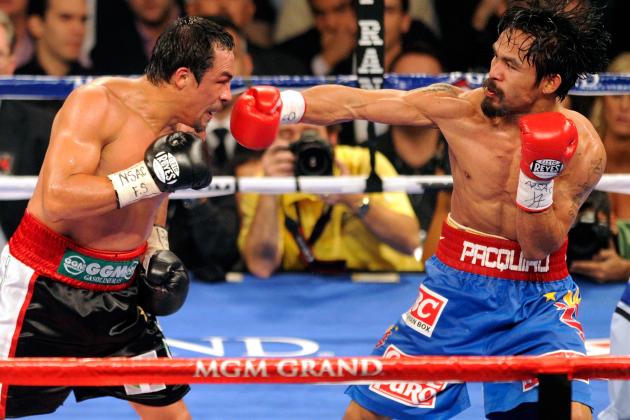 Ethan Miller/Getty Images

It's finally fight night. In the MGM Grand Garden Arena on Saturday, Manny Pacquiao will defend his undefeated record against archrival Juan Manuel Marquez in a marquee pay-per-view matchup.
There are several reasons to watch this massive rivalry unfold for what is likely the final time. Despite the absence of a championship belt at stake, there is plenty of pride on the line in Vegas. Also, it's simply a great fight every time Pac-Man and Dinamita face one another, and this should be no exception.
Here are five reasons in particular that this bout is a must-see sporting spectacle between two modern-day boxing greats.
Begin Slideshow

»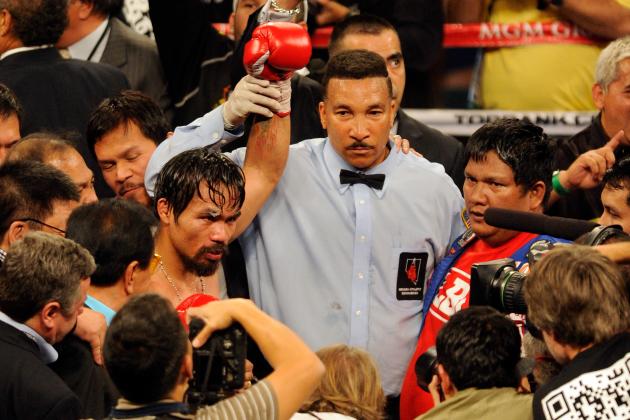 Ethan Miller/Getty Images

Fittingly, there is no world title belt or any sort of official accolades on the line in this showdown. There doesn't need to be, because the legacies of both Marquez and Pacquiao and their respective trainers, Nacho Beristain and Freddie Roach, will also be shaped around their recent track record.
No one doubts the legacies of Beristain and Roach, as both have been inducted into the World Boxing Hall of Fame already. But each have a chance to add a feather in their caps.
Each have had a perceptive drop-off in recent years. Roach won't want his man, Pacquiao, to lose his second consecutive fight—and first to Marquez—while Beristain will not want to be considered one of the better trainers of all time and not have one victory in four shots at Pacquiao on his resume.
Both fighters clearly have the power of self-belief, and both feel like they have a chip on their shoulder to definitively prove who is the better boxer this time around.
But a loss for Pacquiao would signify the likely downfall of his career, and the criticism surrounding his recent religious transformation he underwent combined with his other ventures into politics would be magnified.
Roach himself accused Marquez of using performance-enhancing drugs before backtracking (h/t FightHype.com).
Nevertheless, that is quite an indictment. Combine that with the three previous disappointments, and the 39-year-old fighter has plenty to fuel him—but plenty to lose in the public eye if he can't produce a convincing enough result in the ring for the judges to finally give him a favorable decision.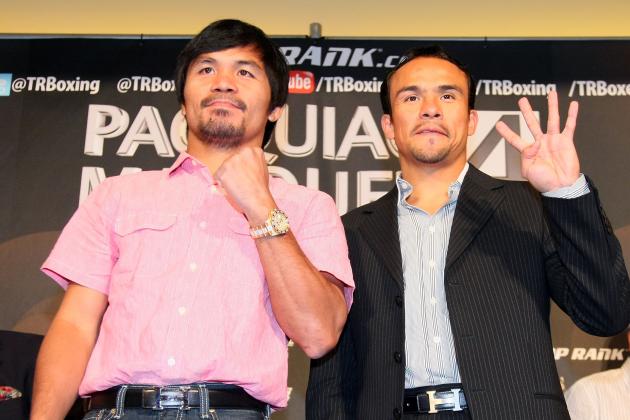 Victor Decolongon/Getty Images

It is the insistence of both fighters that this will be the last time the two face each other (h/t The Daily Mail). If even casual sports fans have missed the first three entries into this epic clash of boxing titans, this makes it all the more of a must-see event.
The previous three fights were all shrouded in controversy. In fact, ESPN's trio of expert boxing analysts recently scored the matchups. They came out with the conclusion that Marquez—not Pacquiao—won two of the three fights and that one resulted in a draw.
Whenever either of these fighters take the ring, it is electric. But both have provided something magical when they have squared off head-to-head.
A common denominator that makes this fight so intriguing is the extremely business-like approach each man is taking.
An article by ESPN's Dan Rafael sheds light on the rivals' sentiments toward each other, as described by them and those in their inner circles. Marquez had the most insightful quote of all, which revealed some of his bitterness about the previous decisions that have been made in fights involving him and Pac-Man:
"I think we respect each other as professionals. We're professional boxers. We both do our jobs," Marquez said. "But after what happened in the first three fights I don't think we can ever have a personal relationship. Inside the ring there's a respect that will always be there. Outside of it, who knows?"
One thing that we definitely seem to know is that this will be the last time Pacquiao and Marquez share the ring. It will be bittersweet to many, but it adds to the incentive for the uninitiated to watch.
Harry How/Getty Images

If the first three bouts between these two are any indication, this entry of the Pacquiao-Marquez phenomenon will once again go the full 12 rounds, just as all the previous fights did.
That will leave the fate of the fighters in the hands of the judges, whom Marquez has frequently felt slighted by, as has his fanbase. Every decision has not been short on polarizing debate, as the sweet science of boxing is one of the most difficult to objectively analyze.
The fact that all the previous encounters have been so close creates nearly impossible expectations for Marquez-Pacquiao IV to live up to, but it's not unrealistic to think the rivals will not exceed them.
That has happened time and time again—and has been the root cause of what makes the rivalry so great.
No matter which fighter wins the marquee matchup at the MGM Grand on Saturday night, it will surely stir debate, because neither of these boxers are going to drop on the deck for good.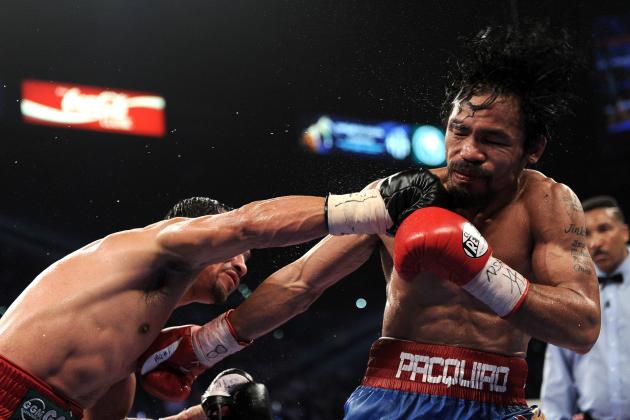 Harry How/Getty Images

Both boxers stand at roughly the same height at around 5'7" and have the same 67-inch reach. Beyond the natural physical measurements, though, they are extremely different.
Pac-Man plays some of the best offense in the ring of all time, while Marquez is known for his world-class ability to counter-punch and methodically wear down an opponent in later rounds.
That uncanny ability Marquez has to get up off the canvas or fire back when it looks as though he took somebody's best punch is something that definitely hurts Pac-Man since he doesn't have the best defense and absorbs a lot of punishment.
The southpaw advantage that Pacquiao has against most is so well known by his orthodox counterpart that there should be no surprises this time around.
If anything, the styles of the fighters will be even more polarizing than in all the previous occasions. Pacquiao has stated that he has trained to be more aggressive, and trainer Freddy Roach is saying that his pupil will knock out Marquez, simple as that.
Whether that attacking style will be enough to end Marquez's night prematurely remains to be seen, but Pacquiao's strategy could backfire if he does go even more on the attack and can't bring Marquez down.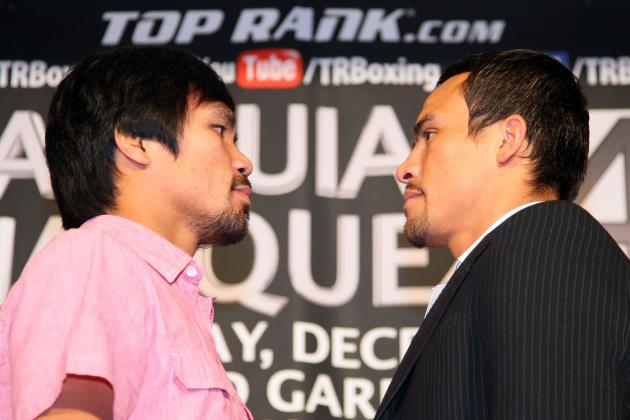 Victor Decolongon/Getty Images

It would be difficult to fathom a better rivalry in the sport of boxing than the Pacquiao-Marquez battle.
Both are fantastic, savvy veterans who know how to work the ring and provide some of the most exciting fighting in history.
In the previously cited Daily Mail preview by James Andrew, Pacquiao makes a gaudy comparison to a particular rivalry, arguably the greatest in the history of the sport:
"When you say 'Muhammad Ali,' you think 'Joe Frazier,'" the Filipino said. "And I think when you say 'Manny Pacquiao,' you think 'Juan Manuel Marquez.' And when you say 'Marquez,' you think 'Manny Pacquiao.'"
It's true; Pacquiao has a point that is very difficult to dispute. He and Marquez were made for each other, and they have produced a rivalry beyond any boxing enthusiast's wildest imagination. The closeness of their three previous outcomes and all that hangs in the balance in the absence of a title belt makes this the greatest rivalry in the sport.
That's another point that few can argue with.