Texas Football: Why David Ash Should Start over Case McCoy in the Alamo Bowl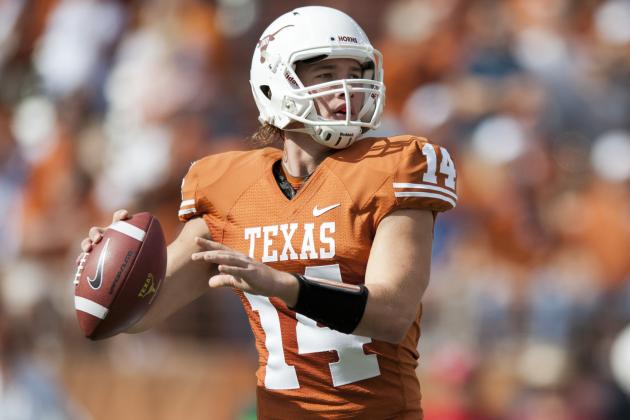 Cooper Neill/Getty Images

It is deja vu all over again with the No. 23 Texas Longhorns as they gear up for their December 29 matchup with the No. 13 Oregon State Beavers in the Alamo Bowl. For the second year in a row, the 'Horns still do not have a starting quarterback, but the ultimate decision should be to go with David Ash for the second bowl game in a row.
First off, the quarterback situation is way overblown heading into this game. Neither the sophomore Ash nor the junior Case McCoy is capable of single-handedly leading this team to victory. Especially not with the way this defense has been playing and with the already-struggling offensive line losing its only all-conference player for the rest of the season.
Regardless, Texas still needs to name a starter for the game that it believes will give this team the best chance to win. Not go with both and figure it out over the course of the game, but one that the coaches at least believe can play the entire game.
Based on his superior arm strength, his ability to run and the care with which he handles the ball, David Ash should be the starter against Oregon State. Here's why.
Begin Slideshow

»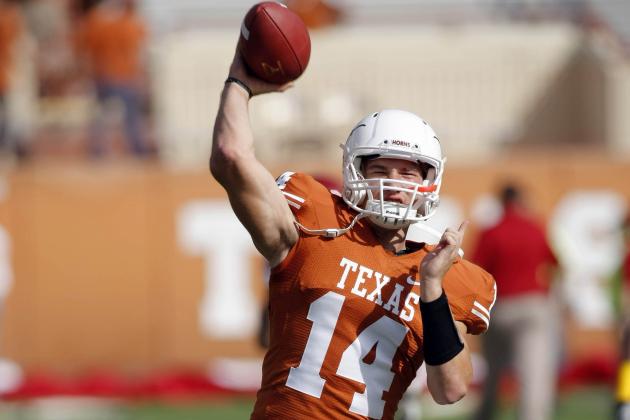 Brett Davis-USA TODAY Sports
Ash's arm strength gives him the edge over McCoy in a game where rushing yards will be hard to come by.
A major reason that David Ash should be the starter against Oregon State is that he has the bigger arm between he and McCoy. Against a tough rushing defense like that of Oregon State, the ability to get the ball downfield will be essential.
Tied for No. 28 in the nation in total rushing defense, Oregon State does not give up much on the ground. That spells bad news for the Texas offense, which has struggled mightily in games that it cannot run the ball effectively. This is especially off-putting given the aforementioned loss of guard Trey Hopkins, who is Texas' best run-blocker.
That said, Ash and his superior arm strength will be needed in this game. He may not be as accurate as McCoy, but he can make most of the throws and get the ball to his receivers outside the numbers. This trait is important because getting the ball outside will spread out the defense and maybe open up some running lanes in the middle of the field for the Texas backs.
McCoy, while a good leader and improviser, does not provide this dimension to the offense.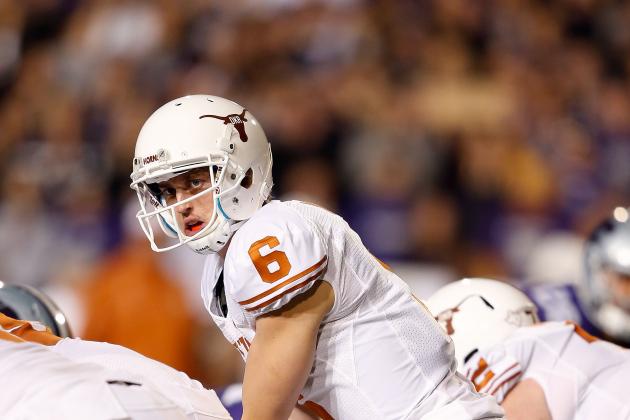 Jamie Squire/Getty Images
McCoy has had his moments, but his tendency to force the ball into coverage is too much of a risk.
Sure Ash has had his bad interceptions over the course of this 2012 season, but he has taken better care of the ball than last season. Most of all, he takes better care of it than does McCoy, and Texas cannot afford to turn the ball over in this game.
The Beavers are not just good at stopping the run. They also do a very good job creating turnovers and are ranked tied for No. 6 in the nation with 19 interceptions and tied for No. 12 in total turnovers created.
Based on those statistics, the comparatively more careful Ash should get the starting nod in this game. This season he has thrown some bad picks, but most of them were because of poor accuracy rather than poor decision-making. McCoy, on the other hand, has thrown a pick-six and a game-sealing interception into triple coverage in his past two games.
Just to quantify this assertion, McCoy has thrown an interception this season about once every 25 times he throws the ball. Ash has thrown one about every 41 times.
Going up against a pretty good defense with an offensive line that has struggled and is depleted, the case could be made that McCoy and his ability to escape pressure would be valuable in this game. But his tendency to force the ball into coverage is too much to look over as Texas has lost three of the four games in which it lost the turnover battle.
Ash gets the nod in this department, but only if he can avoid critical inaccuracies. Especially in the red zone.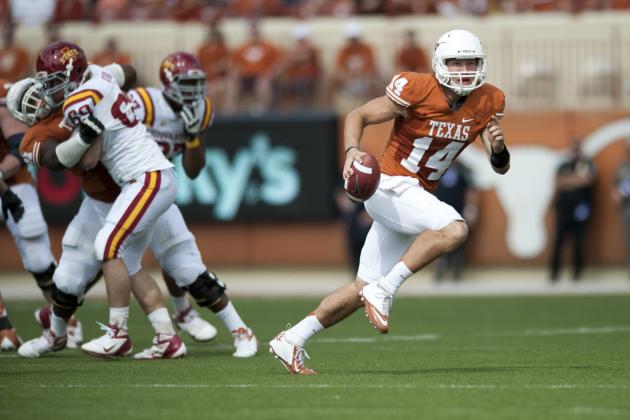 Cooper Neill/Getty Images
Ash's legs give him an edge over McCoy in this matchup.
David Ash has not run the ball as much as he did a season ago, but he is the better runner between he and McCoy. Given that the Texas offense has not done a whole lot that would keep a good defense on its heels, a running quarterback might give it that extra boost it needs.
This season Texas, outside of giving the ball to Daje Johnson, has done very little on offense that has truly scared the better defenses it has faced. In the past, the Longhorns have been able to utilize the rushing abilities of quarterbacks like Vince Young and Colt McCoy to at least keep the ball moving. Ash is not the runner either was during their collegiate careers, but he has 4.5 speed and is definitely the better runner between he and McCoy.
Think about it. If Ash has a run-option on the speed-sweeps and shotgun handoffs that Texas currently utilizes, then the defense has to account for that. Not only would this wrinkle in the offense slow the Oregon State pursuit, but it would force the entire Beaver defense to make an extra decision in coverage and run support.
In Oregon State's only blowout loss of the season, its defense gave up 85 rushing yards and a touchdown to the opposing quarterback. Sure, that quarterback was Marcus Mariota of the Oregon Ducks and their third-ranked rushing attack, but Oregon State also allowed two other Ducks to put up over 100 years as well. Prior, the Beavers had allowed only three 100-yard rushers all season.
This is all contingent on Ash actually running the ball, which he has only done out of necessity for most of the season. But he has the ability and Texas could use the extra weapon on offense, so that should earn him some extra consideration.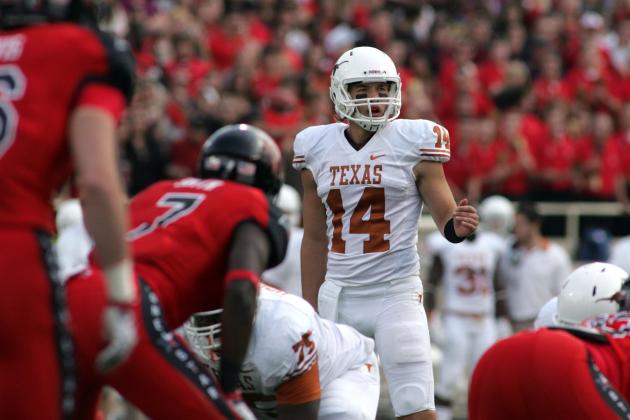 Michael C. Johnson-USA TODAY Sports
Mack Brown will be back in 2013, but the Alamo Bowl is probably Ash's last chance to prove he can get the job done.
Not only does playing Ash at quarterback give Texas the best chance to win the Alamo Bowl, but it gives Texas a chance to further evaluate a position that will be cluttered in 2013.
Unlike the past two seasons, Texas actually has options at quarterback in 2013. Probably too many to be honest.
Ash and McCoy will be back, Connor Brewer and Jalen Overstreet will both be available after being redshirted for their freshman seasons, and Texas is also looking at two separate JUCO quarterbacks in Tanner McEvoy and Nick Marshall. Assuming Texas only settles on one JUCO prospect, that would mean the program would have six quarterbacks on scholarship once you throw in recruit Tyrone Swoopes.
The Longhorns need to know what they have and what they do not have at quarterback before committing six scholarships to the position. At this point, it is safe to say that McCoy, who will be a senior in 2013, is not in the future plans. And since there is no way to assess either Brewer or Overstreet without burning a redshirt, Ash is the logical choice for this game.
If he has a great game, maybe Texas does not have to push so hard to use a valuable scholarship on another quarterback. If he struggles like he did against Oklahoma or TCU, then maybe the coaches can confidently decide it is time to go in another direction. Either way, starting Ash is the right move for the program.