NY Knicks Players Making the Strongest Case for More Minutes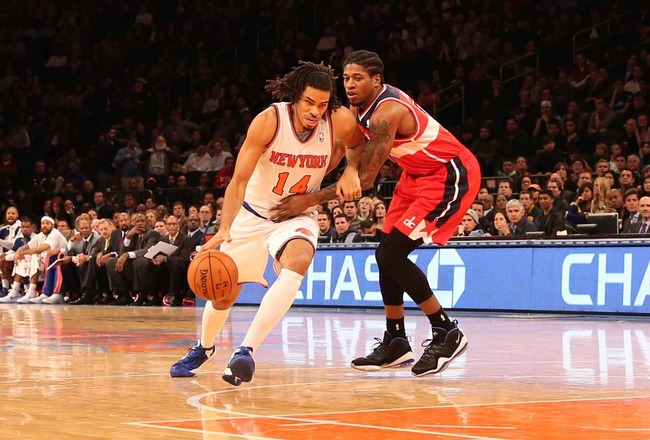 Anthony Gruppuso-USA TODAY Sports
The New York Knicks are playing some fantastic basketball at the moment, with contributions coming from throughout the roster.
With some significant injuries hurting the team early on, the Knicks have managed to survive, and it's all due to the depth of this squad.
Of course, not everyone on the roster has been playing particularly large minutes so far, and there are some who probably deserve more court time moving forward.
Let's go through the players making the strongest case for increased minutes from Mike Woodson after what they've done to this point.
Pablo Prigioni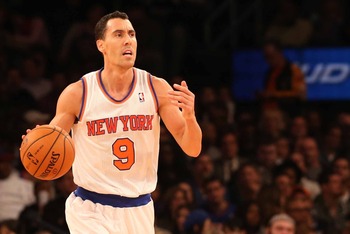 Anthony Gruppuso-USA TODAY Sports
The Knicks are stacked at the point guard position with Raymond Felton and Jason Kidd, but third-stringer Pablo Prigioni is making a good case to take minutes away from them.
That's not an indictment of Felton and Kidd—both have been fantastic in these opening weeks—but Prigioni brings a lot to the table as well.
With Kidd recently missing time with injury, Prigioni stepped up as the backup point guard, and finally started to look comfortable with playing in the NBA.
Prigioni's vision and pass-first mentality can make a big difference on the Knicks bench, as at times he can really get the second unit going.
Moving forward, a lot of Kidd's minutes are going to be coming at the 2, so there should hopefully be some significant minutes available for Prigioni at the point.
Expect to see more experimentation from Mike Woodson with dual point guard backcourts as long as these three players are playing at a high level.
Marcus Camby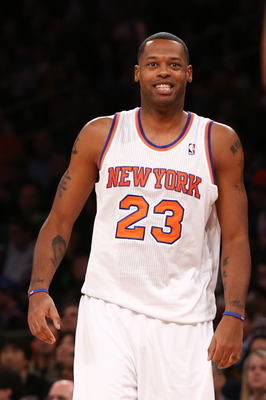 Debby Wong-USA TODAY Sports
Returning center Marcus Camby has had little opportunity to play so far this season, but when he returns from his latest injury, he could be a very helpful addition to the rotation.
Camby is currently out with plantar fasciitis, and has spent the majority of the opening few weeks trying to get back into shape after missing a huge chunk of training camp.
Though Camby obviously hasn't really done anything to earn more minutes at this point, his reputation as a strong rebounder and interior presence should be enough to attract Mike Woodson's attention.
The Knicks are currently one of the league's worst rebounding teams, and are running very thin inside with Amar'e Stoudemire missing.
Once you factor in Rasheed Wallace's penchant for getting into foul trouble, Camby is a player the Knicks will be hoping can get into game shape as soon as possible.
Just last year, Camby led the league in rebounding rate at 22.8 percent, and even in limited minutes could be a major helping hand for New York on the boards.
Chris Copeland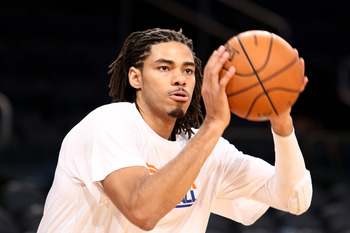 Debby Wong-USA TODAY Sports
Chris Copeland was the star of the show in preseason, showing fans that he had potential to be a rotation-quality player in the NBA.
The former Belgian League MVP put up huge offensive numbers, and looked like the best player on the team this side of Carmelo Anthony.
Even so, minutes have been hard to come by for Copeland early in the season, with the forward patiently waiting for the opportunity to prove himself in regular-season action.
That opportunity came in the Knicks' recent victory over the Phoenix Suns, when Copeland was brought in to replace the ejected Rasheed Wallace.
What Copeland showed us in his 10 minutes of action was that he can flat-out score, putting up eight points on 80 percent shooting.
There are still questions as to whether or not he can handle other facets of the NBA game, but his ability to score is for real.
New York is an old team, and Mike Woodson should be wary about using players like Rasheed Wallace and Kurt Thomas too much early in the season.
Instead, a player with much younger legs (who may actually be a better player right now) in Copeland could eventually emerge as one of the primary forwards off the bench.
If nothing else, Copeland at least deserves a shot at playing some more serious minutes in the near future.
Tyson Chandler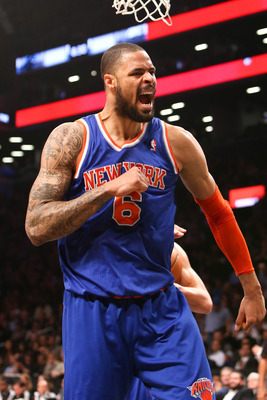 Debby Wong-USA TODAY Sports
After a slow start to the season, Tyson Chandler is rapidly picking up form, stepping up on both ends of the floor.
Chandler is playing some of the best basketball of his career, and is in the process of setting an all-time record for true shooting percentage.
During the first few games, it appeared that Chandler was still struggling from his preseason knee injury, but all appears to be fine now and his minutes are due for an increase.
On the season, Chandler is averaging under 30 minutes per game, but as the only true center on the roster currently healthy, the Knicks will need him on the floor a little bit more.
At the moment, Chandler is the only truly dominant rebounder available, and as a team that struggles on the boards, the Knicks will need him to play as much as he can without wearing his body down.
Once you take into account Chandler's super-efficient offense and great defensive presence, he's a player that can make a big difference with a few extra minutes.
Steve Novak
Anthony Gruppuso-USA TODAY Sports
Last year, Steve Novak really had a breakout season for the Knicks, establishing himself as one of the league's premier outside shooters.
The one problem with Novak, which stopped him from being an even bigger part of Mike Woodson's rotation, was that he didn't bring anything to the table other than shooting.
Though you would still hesitate to call him a well-rounded small forward, things have changed for the better for Novak this season, as he has added a little bit more to other areas of his game.
In particular, Novak is playing much stronger defense this year, contributing well on the perimeter as well as in the post when called upon. He's even shown a surprisingly physical side to his game, with the occasional hard foul to stop an easy bucket.
So long as Novak doesn't hinder the team in other areas, it would make sense to increase his minutes just to benefit from his ability to shoot the ball.
Novak's range does so much for the team in terms of spacing, and his teammates know that if they make the extra pass and create a good look for him, that's three points in the bag.
It's hard to see where minutes might come from with Ronnie Brewer also playing at small forward, but there is a chance that he could take a few minutes from some of the team's big men here and there.
Keep Reading

New York Knicks: Like this team?