5 Adjustments Steve Nash Will Make to LA Lakers Offense to Rejuvenate Pau Gasol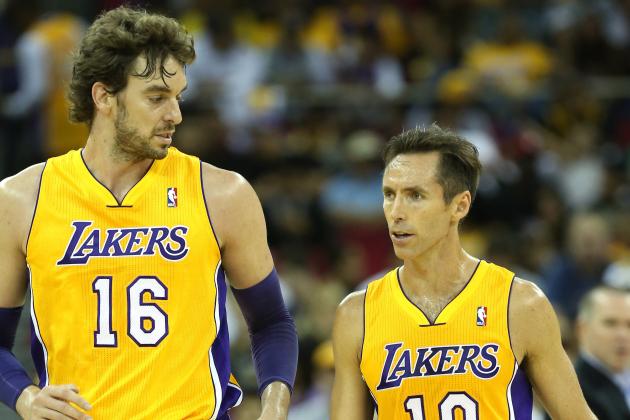 Stephen Dunn/Getty Images

With Pau Gasol struggling to get himself easy baskets, he could use a best friend like Steve Nash.
There's a number of things that Nash does well which should ultimately lead to a more productive Pau Gasol. A more productive Pau Gasol should lead to more Laker wins.
Their games are built to coexist, and should give the Lakers a more balanced attack once they are on court together.
Begin Slideshow

»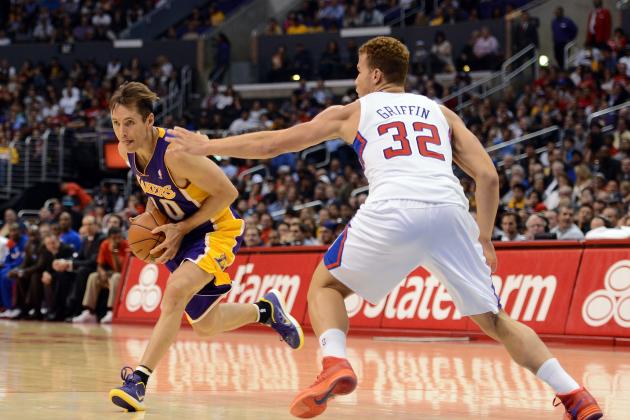 Harry How/Getty Images

Pau Gasol had his best game of the year on opening night, the only full game that Steve Nash played.
He shot 8-of-19 from the floor with 23 points and 13 boards, recording a season high in points and shot attempts.
That's no coincidence. With an actual point guard driving the offense, Gasol is more effective. There are certain spots on the floor where Gasol likes to operate. With Nash he'll get the ball where he's most comfortable.
While anyone can dribble a ball up the court, it takes a natural point guard to make sure all the mouths are fed accordingly.
The fact that Kobe Bryant leads the team in assists reflects the team's lack of balance. You can't expect offensive consistency without an NBA-caliber point guard running the show.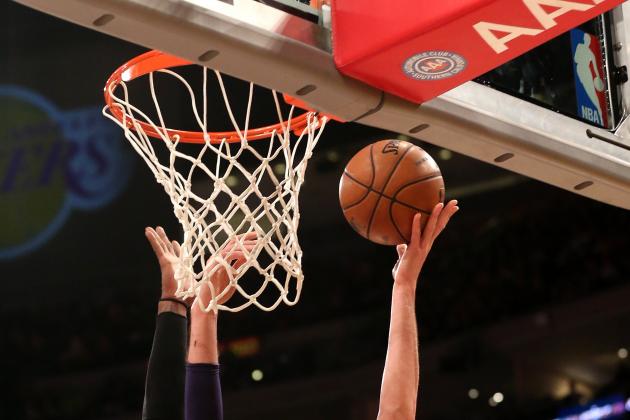 Stephen Dunn/Getty Images

Pairing Pau Gasol with the best pick-and-roll facilitator since John Stockton probably won't be a bad thing.
Steve Nash has the ability to make a ball-screener a scoring option. Through the pick-and-roll or pick-and-pop Gasol should get jump shots in rhythm and easy finishes at the rim.
They key word here is "easy." You won't see Gasol shaking and baking in the post anymore. One of the benefits of the pick-and-roll is that it creates open looks, either in the midrange or inside.
Considering Mike D'Antoni's offense is centered around this very play, Gasol should see a rise in usage rate once Steve Nash returns.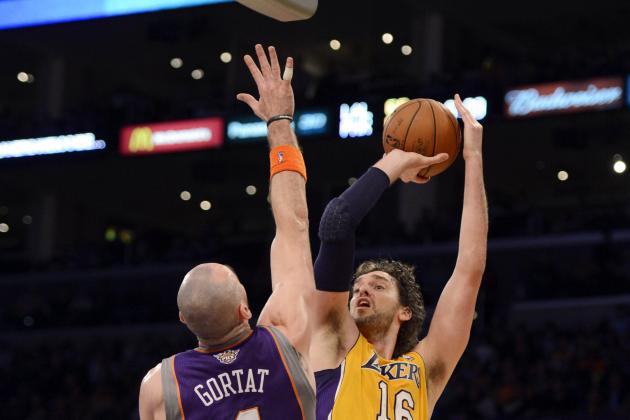 Richard Mackson-USA TODAY Sports

Some big men score 8-10 points a game simply by catching and dunking. That's because they have a point guard who can break down a defense and feed them for layups.
With Nash, the Lakers will be able to do a better job of infiltrating the heart of opposing defenses and forcing them to collapse.
Nash's vision, passing skills and patience should allow him to find Gasol as either a spot-up shooter on the perimeter or target at the rim.
The drive and dish has become an integral part of NBA offenses. Once Nash gets past the initial line of the defense, he'll be looking to find his man rather than get to the hoop or go to the line.
Gasol is still a reliable catch-and-shoot big man and can finish at the rim effectively. Steve Nash's drive-and-dish game should get Gasol more scoring opportunities in both departments.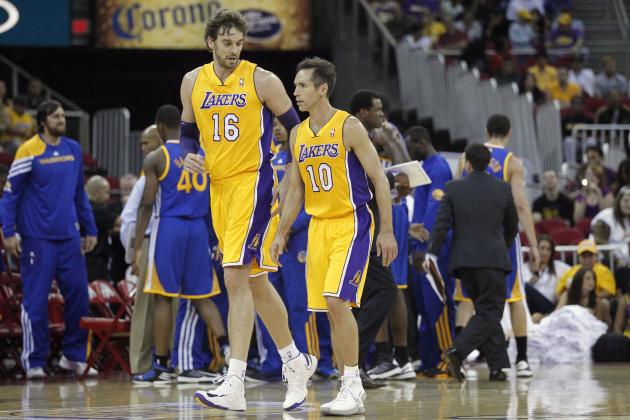 Cary Edmondson-USA TODAY Sports

The Lakers are tied for last in the NBA in turnovers at 16.1 per game. To nobody's surprise, they are tied for 22nd in assists at just 20.9 per game.
That's what you can expect when you're switching between Kobe Bryant, Darius Morris and Chris Duhon at point guard.
The Lakers' ball security will be much improved once Steve Nash returns. Less turnovers equal more possessions; more possessions equal more scoring opportunities.
You can be sure the Lakers will rack up more dimes with Nash in the lineup.
With the ball in Nash's hands, Gasol should get more open looks during a 48-minute stretch.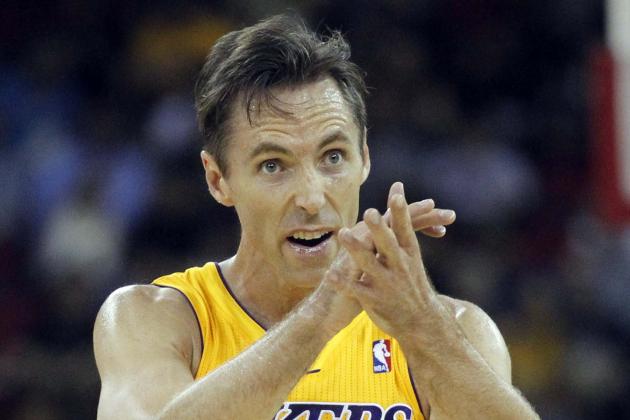 Cary Edmondson-USA TODAY Sports

There's tension right now. Steve Nash should be able to help ease it.
For one, he was promised before signing with L.A. that Pau Gasol would not be traded, which means it's fair to say the two get along.
Kobe Bryant made it pretty clear he was unhappy with Pau after telling reporters his power forward needed to "put his big-boy pants on" (Via ESPN). While Kobe's public criticism has worked in the past, Nash does things differently.
Maybe the fact that he leads in a different, less intense manner might help take off some of the pressure.
Steve Nash's likability could provide a calming effect for players who tend to lose patience when things aren't going well. He can provide a sense of trust that could possibly keep Gasol's head in the game and confidence from slipping.