WWE TLC 2012: Ranking the Top 10 Tables, Ladders and Chairs Matches of All Time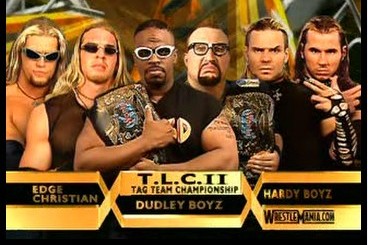 Photo courtesy of WWE.com
Although the Tables, Ladders and Chairs match has become synonymous with the WWE and has even spawned a pay-per-view, it is still a concept that is fairly rare. The TLC match debuted at SummerSlam in 2000, and there have been just 11 more such matches since then.
The 13th is set to take place at this month's TLC pay-per-view as Ryback, Kane and Daniel Bryan will face Dean Ambrose, Seth Rollins and Roman Reigns in the first TLC match that can end only through pinfall or submission. While it has the potential to be one of the all-time best TLC matches due to the mixture of solid in-ring workers as well as brute strength, we can only speculate how good it will be at this point.
WWE fans have had the opportunity to see 12 TLC matches over the years and all of them have been great in some respect. Some of them have obviously outshone others, but it's very difficult to put on a poor TLC match.
With that said, I regrettably had to leave off two matches in my top-10 countdown.
Edge vs. Ric Flair on Raw from 2006 and The Miz vs. Jerry "The King" Lawler from Raw in 2010 fell just short of consideration. Both were solid matches in their own right, but TLC is generally a young man's game and the likes of Flair and Lawler couldn't do some of the things that their younger counterparts have.
Now that the omissions are out of the way, here are the top 10 Tables, Ladders and Chairs matches to ever be contested in WWE.
Begin Slideshow

»
The most recent TLC match comes in at No. 10 on this list in the form of CM Punk defending his WWE Championship against The Miz and Alberto Del Rio at TLC 2011.
This match came on the heels of Punk defeating Del Rio for the title at Survivor Series, and it was his first defense in a title reign that has now exceeded 380 days.
It seemed like expectations were tempered for this particular match as John Cena was left off the TLC card, and there wasn't a ton of buzz surrounding it. Regardless, all three combatants put in a great effort, and the result was a highly-entertaining contest. Punk ended up coming out on top, but the manner in which he did was definitely the story of the night.
Punk was handcuffed to the turnbuckle, and it looked as if he would have no chance to recover, but he showed great resourcefulness in unscrewing the turnbuckle. He went on to win the match but not before knocking Del Rio's personal ring announcer, Ricardo Rodriguez, off a ladder and through a table.
It may not have been the greatest TLC match of all time, but the bout had plenty of action and high-impact spots, so it definitely deserves a spot in the countdown.
Although D-Generation X vs. Jeri-Show at TLC 2009 isn't usually mentioned among the greatest TLC matches of all time, it was certainly a memorable match.
Shawn Michaels and Triple H joined forces to defeat Big Show and Chris Jericho for the Unified Tag Team Championships in a bout that is significant because it main-evented the show despite not involving a world title.
On top of that, Michaels, Triple H, Jericho and Big Show were four of the biggest stars in the history of the business, so there was obviously some top-flight talent involved. Michaels and Jericho in particular provided some outstanding in-ring work, while Triple H and Big Show provided the muscle. There was a little bit of everything in this match and that is what made it so entertaining.
The best spot came near the end of the match when Big Show decided to break all the ladders so DX couldn't use them. He then had Jericho scale his shoulders in an effort to grab the belts, but Michaels struck with Sweet Chin Music. Michaels and Triple H then used half of a broken ladder and that was enough to secure the victory.
If nothing else, it was certainly one of the more creative TLC matches in WWE history.
The Tables, Ladders and Chairs match between Edge, Kane, Alberto Del Rio and Rey Mysterio at TLC 2010 has the unique distinction of being the first and only TLC Fatal 4-way, and it was a great match in its own right.
Kane entered the match as the World Heavyweight Champion, but the numbers game got the best of him as The Ultimate Opportunist, Edge, walked away with the gold.
I enjoyed this match because of the diverse styles of everyone involved. Mysterio was the high flyer of the bunch, Kane provided the muscle, Del Rio was an all-around threat and Edge had experience on his side as he has been in more TLC matches than anyone. It made for a bout that flowed incredibly well, and it came as no surprise that several tables were broken in the process.
One of the main reasons why I hold this match in high regard is that it was the start of Edge's final run with the World Heavyweight Championship. Although Edge "losing" the title to Dolph Ziggler very briefly is technically recognized, he truthfully held it from TLC 2010 through WrestleMania. He was forced to vacate it soon after, however, due to a career-ending neck injury.
This may not have been Edge's best TLC match, but it was his last, and there's something to be said for that.
Although most probably consider CM Punk's pipebomb promo in 2011 to be the defining moment in his WWE career, one of his biggest accomplishments prior to that was defeating Jeff Hardy in a TLC match at SummerSlam 2009. Hardy is synonymous with TLC matches, but Punk was able to outlast him in an exciting bout to recapture the World Heavyweight Championship.
Punk had turned heel not long before SummerSlam and was touting himself as a moral superior to Hardy. It was well known at the time that Hardy had some substance abuse issues, but Punk was straight edge and used what should be viewed as a good thing to turn himself into a bad guy. This ensured that there was plenty of heat heading into the contest, and it was certainly a grudge match.
A high point of the match came when Hardy executed a Swanton Bomb through a table, but it appeared as though he could not continue. Medical personnel attempted to wheel Hardy away and just as Punk was about to grab the title, Hardy got up and stopped him. Hardy ultimately had too much taken out of him, though, as Punk was able to push him off the ladder and secure the title.
While the match itself was good, it should be noted that it marked one of the first steps in Punk's development as one of the WWE's top heels.
When talking about the TLC match, it's impossible not to mention Edge and Christian, The Hardy Boyz and The Dudley Boyz.
All of them competed in the third ever TLC match on a 2001 episode of SmackDown, but the team of Chris Jericho and Chris Benoit was also thrown into the mix. With all of that talent in one ring, it was bound to be an incredible bout.
This match remains the only true Fatal 4-way TLC tag team match to ever take place. Another would be set up the following year, but one of the teams consisted of only one superstar. This one had four spectacular teams, and that translated into a match that many fans remember fondly. Jericho and Benoit entered the match as champions, and they were able to beat the odds and leave with the belts as well.
Although this TLC match wasn't quite as good as the original ones, it definitely brought some different elements to the table. Rather than simply featuring all-out hardcore action, Jericho and Benoit brought a little bit of refined wrestling to the table. They certainly engaged in the hardcore stuff as well, but they applied their technical skills and essentially complemented the mayhem surrounding them with the beauty of mat wrestling.
I doubt that this match will ever gain the notoriety that the original TLC matches have received over the years, but it is one that shouldn't be forgotten.
There haven't been many one-on-one TLC matches over the course of WWE history, but one of the best was undoubtedly Edge vs. The Undertaker for the vacant World Heavyweight Championship at One Night Stand 2008. The title was initially vacated because Taker beat Edge for it with a choke hold that was later deemed illegal. This prompted one of the most memorable TLC matches ever.
Despite the fact that Edge will always be viewed as the master of TLC matches because of his 5-2 record, he needed a lot of help in this bout.
Edge was in a relationship with Vickie Guerrero at the time, and they formed a stable known as La Familia. Since no rules apply to a TLC match, all members of La Familia assisted Edge. It essentially became a handicap match as Taker had to deal with Edge, Zack Ryder, Curt Hawkins, Chavo Guerrero and Bam Neely throughout the contest.
The Undertaker was able to fend everyone off and seemed poised to grab the title, but Edge pushed The Deadman off a ladder and through four tables. Edge was victorious and, as per the stipulations of the match, The Undertaker had to leave the WWE. His departure was short-lived, however, as Vickie later hired him back.
Although the fact that so many people became involved detracted from the quality of the match to some degree, it was still one of my favorite TLC matches.
To say that the Fatal 4-way, tag team TLC match on a 2002 edition of Raw was one of the most unique matches in WWE history would be an understatement.
In that contest Kane had to single-handedly attempt to defend the Tag Team Championship against capable teams in the form of The Dudley Boyz, Christian and Chris Jericho and Jeff Hardy and Rob Van Dam.
Despite the fact that Kane's partner, The Hurricane, had been attacked earlier in the night by Triple H and Ric Flair and couldn't compete, Kane was forced to defend the titles. The odds were obviously stacked against him as he was on his own against six great superstars, but he overcame them as he so often has.
Because of the exciting spots, the storytelling and the spontaneity of the match, many considered it one of the best of 2002.
The ending was quite fitting as Kane and Jericho were doing battle atop a ladder. Kane tried to set up Jericho for a chokeslam, and he was eventually able to execute one off the ladder. Both men were limp on the canvas, but Kane did his signature sit-up, scaled the ladder and retrieved both belts himself. It was definitely one of the signature moments in The Big Red Monster's long and impressive career.
One guy defending the Tag Team Championship had been done before and it has been done since, but Kane made it both convincing and believable due to his utter dominance.
John Cena has never been viewed as a guy who excels in daredevil-type matches like TLC, but he and Edge engaged in the best singles TLC match of all time at Unforgiven 2006.
Edge entered the match as WWE Champion and had experience on his side in terms of TLC matches, but it was Cena who came out on top, and that signaled the start of his 380-day run as champion.
Cena and Edge had quite a history with each other heading into the match as Edge initially won the title from Cena when he cashed in his Money in the Bank contract at New Year's Revolution. Their feud was on and off throughout the rest of the year as they traded the belt a couple times, but it came to a head at Unforgiven. The bout was given the necessary time to tell a proper story, and both men brought their respective "A" games.
At one point, Cena appeared as though he was going to win, but Edge's valet and girlfriend, Lita, pushed the ladder over. Cena was eventually able to recover, and he eliminated Lita from the equation with an Attitude Adjustment.
With the bout coming to a close, Cena and Edge were both atop the ladder. Cena managed to get Edge on his shoulders and deliver a thunderous Attitude Adjustment onto two stacked tables. This allowed Cena to grab the belt.
Cena has gotten a bad rap over the years as a poor in-ring worker, and while he is rarely perfect, he has managed to put on some great matches. The TLC match against Edge was one of the best, though, and he owes a lot of that to the performance of the Rated R Superstar.
When it comes to the top two TLC matches of all time, it wouldn't be crazy to just flip a coin in order to determine the best.
I tried to take a more scientific approach, though, and that led to the first ever TLC match between Edge and Christian, The Hardy Boyz and The Dudley Boyz at SummerSlam 2000 falling just short of the top spot.
The original of anything is often considered to be the best, but that isn't always the case.
The first TLC match was great, though, because most of the fans had no idea what to expect. Ladder matches had been around for quite some time, and it wasn't uncommon for tables or chairs to be incorporated into matches either, but they had never all been used in a single match. The proper tag teams were chosen to make it work, however, as they had plenty of experience with all of the weapons that were used.
The action was fast and furious, and it definitely exemplified the true meaning of the match type. There were tons of cool spots with guys constantly going through stacked tables and both Jeff Hardy and D-Von Dudley were even hanging from the titles in midair at one point. Edge and Christian were able to knock them off, though and won the first ever TLC match.
Due to the mere fact that it was the first of its kind, the SummerSlam 2000 TLC match deserves a lofty spot on this list. It was an incredible contest on top of that, though, and it is undoubtedly required viewing for any wrestling fan.
It may have been the sequel to SummerSlam 2000, but the TLC match at WrestleMania X-Seven has no superiors.
Just like the inaugural TLC match, this one featured Edge and Christian against The Hardy Boyz and The Dudley Boyz. The Dudleys entered the match as Tag Team Champions this time, but the result was exactly the same as Edge and Christian once again reigned supreme.
Since there had already been one TLC match, fans knew what to expect to some degree, but it still left many in awe. The overall action in both matches was great, but the fact that this one took place on the grandest stage of them all garners extra points. There were several great matches on that card, but most would agree that TLC stole the show.
Not only did it feature the debuts of Spike Dudley and Rhyno attempting to help their compatriots, but there were high-impact spots throughout the match as well. In fact, the TLC match at WrestleMania X-Seven had perhaps the greatest spot in professional wrestling history. As Jeff Hardy hung from the belts, Edge climbed up a ladder and delivered a spear to Hardy that sent them both to the canvas. Despite that, Edge eventually regained his bearings and secured the belts with Christian.
Although this particular match happened more than a decade ago, wrestling fans still talk about it to this day. It was such an incredible match that some believe it's the greatest WrestleMania match ever. I wouldn't necessarily go that far, but it is certainly the best TLC match of all time.
Follow @MikeChiari on Twitter and listen to him on Ring Rust Radio.